Rajasthan Local Body Polls Over, More Farmers to Join Protest at Delhi-Jaipur Highway
Farmer leaders in the desert state, which has seen major struggles in the recent past, said "strong mobilisation" was going on across districts.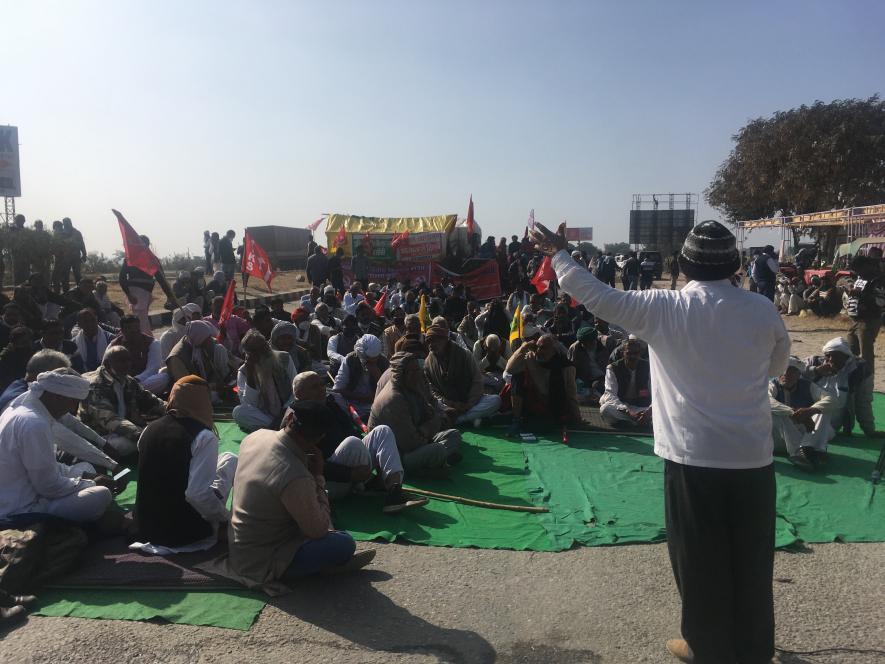 Chagan Lal Chaudhary of AIKS addressing the protesters at Rajasthan-Haryana border. Image clicked by Ronak Chhabra
Shahjahanpur/Alwar: Multi-layer barricading at the Delhi-Jaipur highway, the latest addition to protest venues, may have hindered the movement of Rajasthan's farmers' march into Delhi, but mobilisation is on in full swing in villages as the agitation demanding repeal of the three agri laws intensifies.  For now, local body polls are also holding back some farmers, but in the days to come, more farmers are likely to join in. 
"Once we attain a strong strength, we shall definitely march ahead… we will not let the police barriers stop us then. Our aim is to block the Delhi-Gurugram border" Balwan Poonia, CPI-M leader, and MLA in Rajasthan Assembly from Bhadra constituency, told Newsclick, adding that "strong mobilisation" was taking place in parts of Churu, Jhunjhunu, Hanumangarh among others.
On Monday afternoon, despite the wind bringing winter chills, farmers had parked themselves at the Delhi-Jaipur Expressway, shouting slogans against the three controversial agri laws. The nearest towns from this location are Neemrana and Bawal -- both boasting an industrial model townships, at a distance of around 10-12 km from both Rajasthan and Haryana. 
The farmers, mainly from Rajasthan and south Haryana, have occupied one carriageway -- the road that run towards Delhi.  Public meetings are held throughout the day, addressed mainly by leaders belonging to All India Kisan Sabha (AIKS), which has led strong farmer struggles in Rajasthan, especially in Sikar.
Facing the protesters are yellow barricades, with "Rewari Police" painted on them, preventing the protesting farmers from moving ahead into the national capital, which is about 80 km from the venue. Two water cannons vehicles, a crane, boulders, kerb stones, truck containers are also deployed for the same purpose.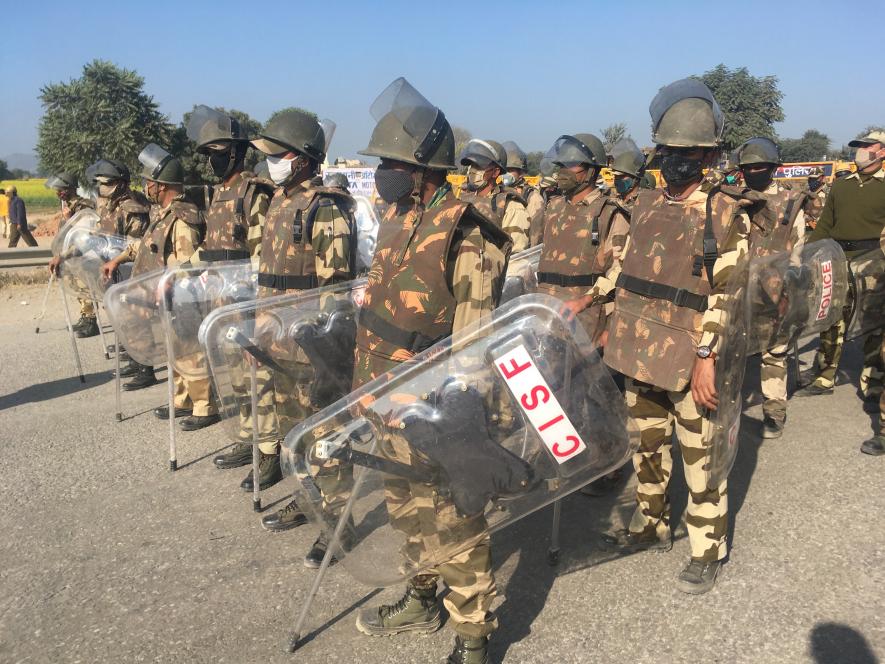 A company of CISF is deployed along with RAF and Haryana police personnels. Image clicked by Ronak Chhabra
However, more than the barriers, what is holding back farmers is the low turnout (over 200 farmers) of protesters at the venue, thanks primarily to local body elections in Rajasthan.
Some farmer leaders from Rajasthan admitted that the number of farmers should have been more had they got more time, such as Punjab and Haryana. "There were gram panchayat elections across the state, which concluded only recently. We didn't have enough time as Punjab and Haryana had - about two months - in mobilising farmers," said Chagan Lal Chaudhary, joint secretary, AIKS-Rajasthan.
Among the public addresses and sloganeering, farmer leaders from Rajasthan recalled their massive struggles in the state which continue to be a source of inspiration, such as the 2005 farmers' movement against the hike in electricity rates in the state during the tenure of the then chief minister Vasundhara Raje.
Said Chaudhary : "Nearly a lakh farmers from across Rajasthan had then staged a dharna in front of state Vidhan Sabha in Jaipur." The agitation, which ran for over a week, had concluded with the farmes forcing the then Bharatiya Janata Party (BJP) -led state government to go back on its decision.
"Abhi idhar toh shuruwaat hui hai; aane wale dino mein idhar bhi zabardast aandolan cheda jayega," (this is just a beginning, this time round, too, there will be a massive movement), the 60-year old said.
However, Abid Hussain, 39, a farmer from Sikri, points out that one reason for low mobilisaton could also be because of the "prevailing nature" of agriculture in Rajasthan, which is not so similar to that of Punjab and Haryana. "Not many farmers hold large pieces of land in the state; also, most of the land is still not irrigated," he said.
As a result, the crop produced by an individual farmer is often less - in majority of cases - and thus "not enough" to be carried to an APMC-regulated mandi.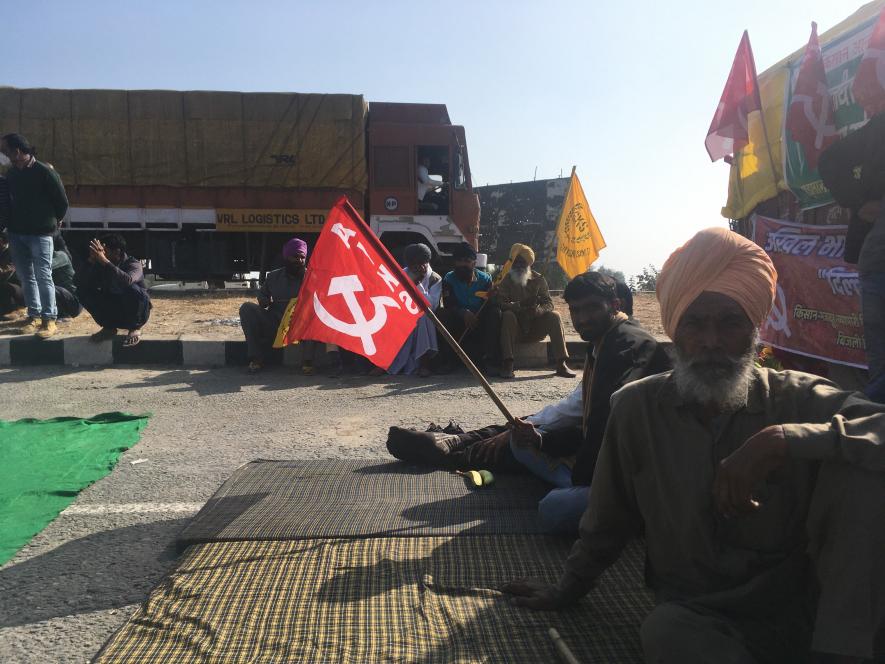 A farmer from Rajasthan posing for the picture. Behind him is the union flag of AIKS. Image clicked by Ronak Chhabra
"Also, the government anyway doesn't procure much in Rajasthan so the question of a minimum support price (MSP) doesn't even arise," said another farmer, Sonu Jilowa, 28, who had come from Churu district.
Then why are Hussain and Jilowa protesting? "It is because we are demanding the enactment of a law to ensure MSP and increased  government procurement for crops like bajra, jowar, and others," said Hussain.
Also, we have local demands, said Jilowa, adding: "For example, in Churu, Jhunjhunu and Hanumangarh, immediate action over the claims against fasal bima (crop insurance) is one burning issue. And farmers from parts of Sikar have been demanding better irrigation facilities."
'Ladenge, Jitenge'
Meanwhile, several student and youth groups have been expressing solidarity with the farmers. An all-teen theatre group from Haryana, under Students Federation of India (SFI), was in the venue on Sunday with a play, "Ladenge, Jitenge" (We Shall fight, We Shall Win).
Ankita, 13, from Kaithal, who was with the group said:  "We will show how the Modi government's farm laws will affect the nation's agriculture. We are also talking about the issue of unemployment."
On Monday, food for the protesters was being arranged by members of nearby district units of Youth Congress. "The organisation is currently serving food to almost 10,000 protesters each at Singhu and Tikri border; about 6,000 are getting served at Ghazipur border," a local youth leader told NewsClick.
Asked for reactions to the government's allegations of the farmers' protest being "hijacked" by "some opposition political parties," Deen Bandhu Sharma, district president, Youth Congress, Alwar district, pointed at the absence of "any flags or posters that showcase one's party name."
"Earlier, when the lockdown was imposed, we were serving food to migrants who were travelling through our districts. Now, we are here only to 'serve' farmers," he said.
At the call of Samyukt Kisan Morcha, a joint front of farmer unions, five farm leaders from Rajasthan sat on a one-day hunger strike on Monday at the venue. Rampal Jat of Kisan Mahapanchayat, among those abstaining from food, said they were praying that "good sense prevails over the government," that has so far supported its claims only by "false" facts.
We are also paying our tribute to the farmers who got "martyred" during the protests so far, he added.
Get the latest reports & analysis with people's perspective on Protests, movements & deep analytical videos, discussions of the current affairs in your Telegram app. Subscribe to NewsClick's Telegram channel & get Real-Time updates on stories, as they get published on our website.
Subscribe Newsclick On Telegram