Rajasthan Polls: Stark Silence on Farm Loan Waivers in Campaign
Incumbent CM Ashok Gehlot seems to have opted for conspicuous silence on loan waivers this time.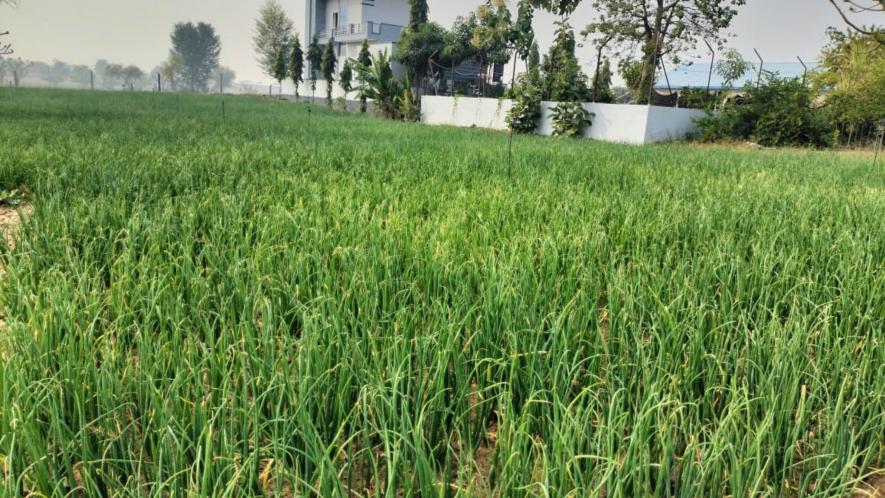 Suresh Bagria and his friends sit on a cot to discuss the raging onion prices and the possibility of minting profit in the upcoming months. Based in Bhadar village in Sikar district of Rajasthan, Bagria's family has been traditionally growing onion for generations. 
Amid the chat on elections and politics, Bagria said that both the Congress led by Chief Minister Ashok Gehlot and the Bharatiya Janata Party delivered too little on promises made in the last elections. While the Congress campaign relied on waiving off farmers' loans, the BJP tried to woo them by promising double incomes. However, Gehlot seems to have opted for conspicuous silence on loan waivers this time and promised to give a milch cow under the Gau Dhan Guarantee.
Bagria and his friends told NewsClick that the cost to grow onion was Rs 5 per kilogram, but dwindling prices in the last two seasons forced them to sell it at a price as low as Rs 1.75 per kilogram. 
He said, "We made a good profit two years ago, but the last seasons have been a complete disappointment. The prices of seeds, fertilisers, pesticides and herbicides have increased exponentially, and so has our vulnerability. Agriculture is a gamble now, and farmers are hoping that someday they too will hit the jackpot."
When asked about loan waivers, Bagria said that only loans up to Rs 50,000 from cooperative banks were waived off. "Only four farmers in the entire panchayat got the benefit," he claimed.
Rajender Kumar narrates his story that traders were not willing to pay 5 paise per kg extra last season. "I requested for Rs 1.80 per Kg whereas he was adamant on Rs 1.75 per Kg. To save the money, I had to offload the bags myself. Our problem with onion is that it cannot be stored or turned into powder. So, traders know our compulsion to sell the produce at the earliest."
"We used to sell milk too and it garnered us good profit but Modi government decided to import milk powder and prices plunged too." Ministry of Finance in June 2020 had given its nod to import 10000 tonnes of milk powder even when leading dairies had enough stock of milk powder.
Away from Sikar, Puniya in Rajgarh tehsil of neighbouring Churu district is grappling with the issue of non-payment of claims under Pradhan Mantri Fasal Bima Yojana (PMFBY). He told NewsClick that different insurance companies have rejected claims of 72000 farmers on one pretext or other.
"We have been struggling while keeping a cautious watch on the manoeuvres of insurance companies. The scheme takes 2 percent and 1.5 percent contribution respectively from farmers on Rabi and Kharif crops and rest of the contribution is given by state and union governments. Why cannot this contribution paid to farmers through subsidy on seeds and fertilisers?"
He added that banks and insurance companies have behaved in autocratic manner in realising the claims. The banks would deduct the premium automatically from account if farmer has taken any kind of loan on Kisan Credit Card from them. However, the non-debt farmers are often turned away from depositing their premiums. The assessment of loss is also done through crop cutting method where crop is cut in 3x3 feet plot to assess the damage against the normal parameters. Often the crop was cut in the absence of the farmer. However our consistent struggles have compelled companies to pay for claims.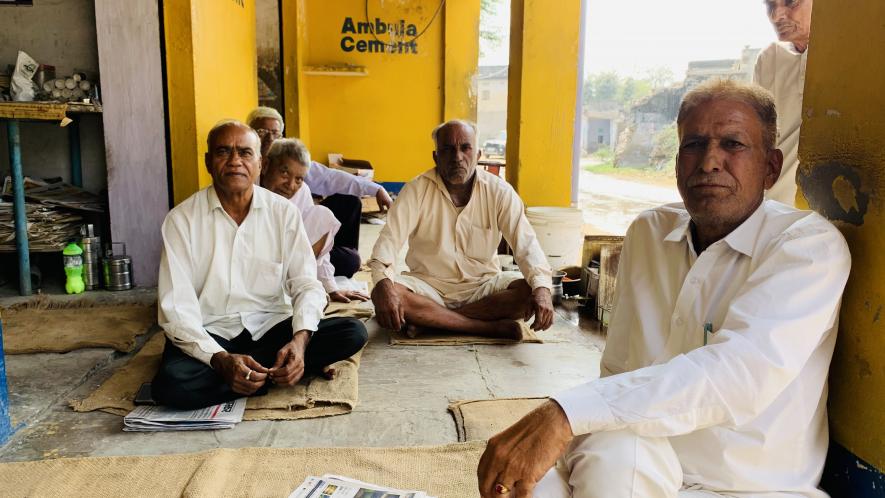 Nirmal Kumar, who led the farmers' movement on Fasal Bima Yojana several times, said that the campaign of the Modi government on launching this scheme is misleading. The scheme was launched during the period of UPA I under the name "Weather Based Crop Insurance Scheme".
Later, it was restructured and named Pradhan Mantri Fasal Bima Yojana. The farmers could get the benefit in only those districts where the farmers' movement has its reach. The farmers did not get the benefit everywhere in India, he said. "All general insurance companies jumped into this business because it's highly profitable. Normally, an insured person pays his premium, but under the scheme, the majority of money is given through state and Union governments," Kumar added.
The governments are using the money under the farmers' welfare fund in the budget to fund this scheme. In response to the question in Rajya Sabha in July this year, Union Agriculture Minister Narendra Singh Tomar said that the insurance companies saved Rs 57,000 crore under the scheme in the last seven years. In 2022-23, the insurance companies received Rs 27,900.78 crore as premiums, whereas they paid Rs 5,760.80 crore in claims.
Talking to NewsClick, Veteran farmer leader Amra Ram highlighted the dire financial plight of farmers in post-Independence India, attributing their indebtedness to economic hardships. He emphasised that this struggle prompted their activism.
"We first fought a battle in 1970 in this part of Rajasthan over land reforms and were able to get 50,000 acres of land redistributed to Dalit landless families. Then, other struggles have been focused on loan waiver and getting water access to farmers," Ram explained.
He recounted instances when the Rajasthan government waived off loans amounting to Rs 10,000 crore in 2017 under Vasundhara Raje Scindia's tenure. However, subsequent promises by politicians like Rahul Gandhi and Ashok Gehlot led to partial waivers, neglecting farmers with loans from nationalised and private banks.
"Farmers only seek loan waivers when they receive inadequate prices for their produce. In Sikar, for instance, farmers sell onions at Rs 6-7 per kilogram despite retail prices hovering around Rs 50-60 per kilogram. This disparity enriches trading companies at the expense of impoverished farmers," Ram asserted.
He underscored the failure in implementing the Swaminathan Commission's recommendations against corporate exploitation of farmers during the UPA government's tenure. Ram lamented the unfulfilled promises by both Congress and BJP regarding farmers' welfare, particularly in ensuring fair prices for agricultural produce.
"The government's pledges to double farmers' incomes, amend the Electricity Act, and resolve farmers' issues remain unfulfilled. The proposal for online satellite surveys of crops like peanuts and Bajra, critical in Rajasthan, has yet to materialise," Ram said.
Regarding MNREGA and electricity subsidies, the farmer leader said there were discrepancies in promised benefits and actual delivery, citing delayed payments and additional fees. He criticised the timing of waivers, questioning their delay until election years.
Ram, however, sees hope in the collective opposition to the three farm laws, which empowered farmers and instilled confidence in challenging governments. Despite ongoing struggles for fair Minimum Support Prices (MSP), he remains optimistic about systemic transformation.
"History teaches us that societal changes stem from a collective belief in transforming systems. Farmers' ongoing collective struggles signify a crucial step toward this transformation," Ram concluded.
Get the latest reports & analysis with people's perspective on Protests, movements & deep analytical videos, discussions of the current affairs in your Telegram app. Subscribe to NewsClick's Telegram channel & get Real-Time updates on stories, as they get published on our website.
Subscribe Newsclick On Telegram