Ram Navami Procession: What Led to Violence in Bihar's Sasaram
Locals claim that police inaction contributed to the extent of damage that endured as rioters were allegedly allowed to run amok for hours.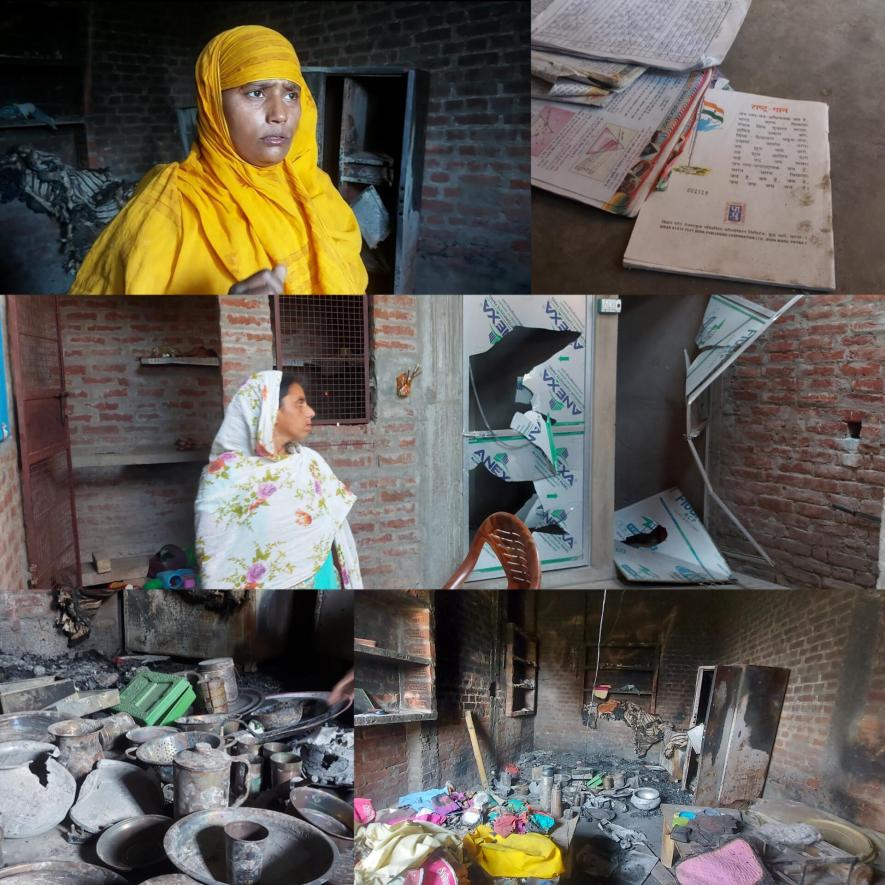 Sasaram (Bihar)/New Delhi: It was a usual Friday on March 31 for Yasmin Khatoon. Her husband was performing ablution before going for the weekly congregational prayer. Neither of the duo had any idea that their neighbourhood would soon turn into a battlefield as everything was calm and peaceful.
Around 250-300 people allegedly gathered near Jama Masjid at Shah Jalal Peer locality of Sasaram — the administrative headquarter of Rohtas district — and began chanting slogans, praising lord Rama. After the prayer, Muslim devotees allegedly retaliated by shouting "Allahu Akbar" (God is the greatest).
The heated sloganeering from both sides triggered stone pelting, said some local residents, adding that the Muslim-concentrated neighbourhood of Shah Jalal Peer in no time began witnessing large-scale arson and loot.
The newly settled colony on the other side of the mosque was allegedly outnumbered by "armed men" from surrounding areas such as Qadirganj, Saifullahganj, etc, said a some eyewitnesses.
Since almost all the male folk were in the mosque to perform the prayer, eyewitnesses said, two virtual fronts were formed — one group on the side of the mosque while the other had taken over the colony. The two sides were separated by a 10-12 feet concrete road.
Gold and silver jewellery and costly brass utensils that Yasmin had kept for the marriage of her two daughters were looted along with a cash amount of Rs 50,000. After ransacking the newly-constructed unplastered two-room house, they allegedly also set it ablaze.
"The rioters first surrounded and then entered our colony after the men from every household left for the mosque. Bricks and stones were raining on our houses, which were looted, ransacked and set on fire after the police rescued us to safety," Yasmin told NewsClick.
A peep into her first room was enough to assess the level of devastation. A burned steel almirah — which broke open –charred utensils, clothes and electrical fittings were narrating the reign of terror the rioters had caused.
Though the police claimed that it efficiently controlled the violence, the ground reality suggests that the rioters were left to run amok for hours without any administrative intervention. They allegedly enjoyed some impunity, said some eyewitnesses, perhaps because the police "willingly let loose the troublemakers or were helpless to confront them".
"When our houses were being burnt, the policemen — instead of chasing away the rioters — were standing like mute spectators as if they had some tacit alliance with them or they were there to give them protection," said Yasmin.
No administration official has visited the affected to take stock of the damages they suffered. When asked about compensation, a senior official in the Bihar government told NewsClick, "All the damages will be compensated as per the government's policy."
However, no ex-gratia amount has been announced by the state government to help the victims recover from the losses they suffered during the Ram Navami violence witnessed in at least four districts.
The state government and the district administration need to answer Yasmin's question: "How will we rebuild this house? Where will we go? How will we marry our two daughters, who have to get married soon after Eid?"
Her husband earns a living for the family of seven by doing menial jobs. Buying a small piece of land and constructing a house (still unfinished) are the family's two biggest investments in years.
Close to Yasmin lives Shabban, a mother of five, in her unfinished one-room, newly-constructed house. She said despite protests and slogan chanting from both sides during the Ram Navami procession on Thursday (March 30), there was no tension at all.
"They attacked us the next day in a well-organised and coordinated manner," she alleged, narrating the sequence of events that unfolded the fateful day.
"While I was preparing lunch for children, my house was suddenly attacked by a group of people shouting 'Jai Shri Ram' and hurling abuses at us. I realised after some time that it was not only my house but the entire area was surrounded by rioters, who were attacking Muslim houses one by one. I saw two of my neighbours' houses turning into ashes. Now, it was our turn. I somehow managed to escape along with the children," she added.
When the family returned the next day, the steel door on the main entrance was open. It had big holes. All the valuables were allegedly missing. What was left were broken pieces of furniture, shattered books, etc.
"They attempted to burn our house as well, but failed as it could not catch fire," she added.
Her husband, Muslim Qureshi, earns a living by trading goats.
Syeda Khatoon, a mother of three, had a similar story. She said there was heavy stone pelting and commotion. She feared that the rioters would soon target her house, and preferred to save the lives and modesty of her children. She has an 18-year-old daughter.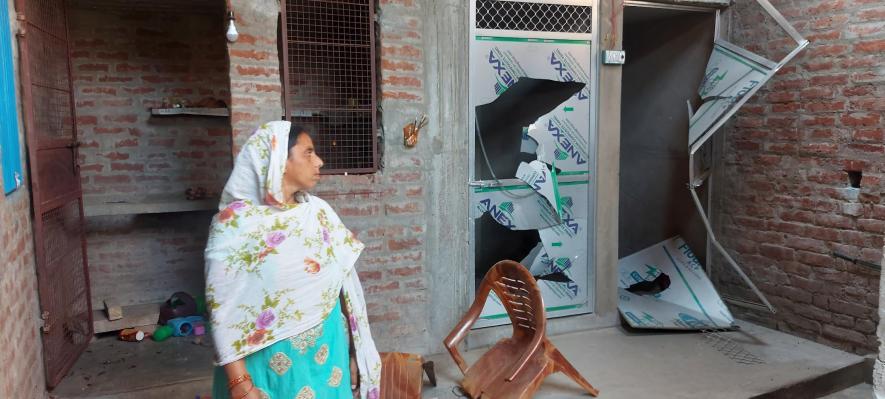 "I locked all the rooms and the main gate and escaped to safety. The attackers broke open all the locks and looted everything we had. They took away all the jewellery, sewing machine and other items we had bought for the marriage of our daughter. They also robbed a cash amount of Rs 45,000. They set ablaze whatever was left, which they found unworthy of taking away," she said.
HOW IT ALL BEGAN
No violent incident was reported on March 30 when Ram Navami processions passed through its designated route — Shiv Ghat, Jani Bazaar, Madar Darwaza, Shah Juma, Sherganj, Adda, Dharamshala, Chaukhandi, Chowk Bazaar and Hanuman Gadhi.
When the rally passed through Shah Juma, eyewitnesses claimed that some participants allegedly stopped near a mosque along the route and began dancing to loud DJ music and raising objectionable slogans. Youth from the Muslim community also allegedly raised slogans to retaliate against the "aggression", they said.
Meanwhile, the police arrived and controlled the situation. When the rally proceeded, a similar incident happened at Madar Darwaza.
"There also no untoward incident took place. The police pacified the two sides, and the procession finally reached its destination without any incident of violence," they said.
The next day (March 31), a bandh call was given by the Bajrang Dal to register a protest against alleged 'attacks' on Ram Navami processions across the state.
"Muslim shopkeepers at Madar Darwaza refused to shut their shops. This enraged local Bajrang Dal activists, who mobilised people from Nauratna Bazaar and Jani Bazaar to teach a lesson to those who refused to participate in the closure.
"The two sides allegedly indulged in stone pelting. It continued for around three-four hours," some local residents alleged, adding that the Bajrang Dal workers then "marched towards Muslim localities and looted and destroyed properties".
The district administration in Sasaram was a bit more vigilant compared with Bihar Sharif. It curtailed the violence in time and did not let the rioters go scot-free, though a few areas were attacked, and the role of the police there seemed to be highly suspicious.
What emerged as a common feature in both places was the largest-ever crowd in Ram Navami processions across the state this year. This huge mobilisation and violence during the processions are being linked to the 2024 general elections and then the Assembly elections in the state.
Several local journalists NewsClick spoke with in Bihar Sharif and Sasaram said they had never seen such a huge crowd ever before in Ram Navami processions.
"Processions have been taking place here for the past few years, but we never saw such a big participation of people in the rally. The violence in Bihar Sharif was not at all spontaneous. It was manufactured. People from across Nalanda and outside were mobilised," said a local journalist from the district headquarters of Nawada, adding that the perpetrators have done it to "consolidate the drifting voting blocks of the Bharatiya Janata Party (BJP)".
Agreeing with him, another journalist said the riots would benefit the BJP.
Journalists in Sasaram, too, said the Ram Navami procession this year had a larger-than-normal crowd.
"Nothing major happened in Sasaram, but the minor clash has been exaggerated on social media to promote hatred and divide society into communal lines," he said.
Ram Navami processions have traditionally been used for politics in the state. Violence erupted during the processions in 2018 in Aurangabad, Nalanda, Nawada and Sheikhpura districts.
Get the latest reports & analysis with people's perspective on Protests, movements & deep analytical videos, discussions of the current affairs in your Telegram app. Subscribe to NewsClick's Telegram channel & get Real-Time updates on stories, as they get published on our website.
Subscribe Newsclick On Telegram