Ranchi Violence: Principal Secretary Demands Explanation from Police for Hoardings with Images of Alleged Rioters
Jharkhand Police had put up these hoardings in popular public places, and then taken them down; now Allahabad police have released images.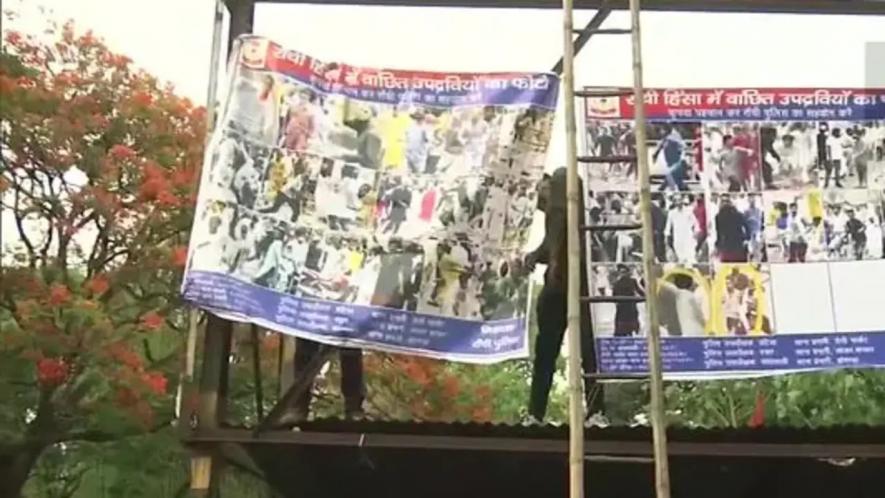 In fresh developments pertaining to the hoardings of alleged rioters that were first put up and then taken down by the Jharkhand Police in the state capital of Ranchi, the Chief Secretary of the state has now written to the Senior Superintendent of Police demanding an explanation as to why such an illegal action was taken in the first place.
In a strongly worded letter addressed to SSP Surendra Kumar Jha, Chief Secretary of Jharkhand, Rajiv Arun Ekka said in Hindi, "On April 14, the police put up posters of pictures of people allegedly involved in the violence that took place on June 10. This is not in accordance with the law, and is a violation of the orders passed by the Allahabad High Court on March 9, 2020 in the PIL 532-2020. You are requested to submit a written explanation for your actions within two days."
The letter may be viewed here: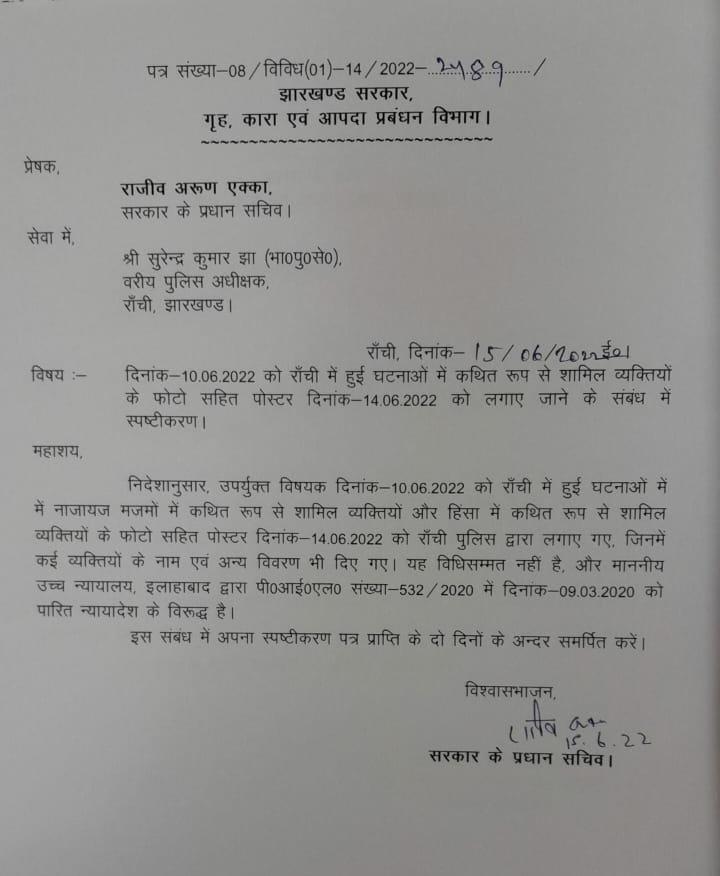 Revealing a person's identity by way of sharing their pictures without following due process of law to determine their guilt can have far reaching repercussions on not only their reputation, but also on their privacy and safety, placing a virtual bull's eye on their backs. 
SabrangIndia had reported previously on how the Jharkhand Police had put up hoardings at public places in Ranchi on June 14, with images of people accused of participating in the violence that broke out in Ranchi on June 10. The violence had broken out during a protest that took place in wake of former Bharatiya Janata Party (BJP) spokesperson Nupur Sharma's objectionable remarks about Prophet Mohammed. But these posters were taken down later the same day after police claimed they needed to make some corrections.
The act of putting up hoardings revealing identities of alleged rioters was reportedly done after Jharkhand governor Ramesh Bias summoned DGP Neeraj Sinha and Deputy Commissioner Ranchi Chhavi Ranjan on Monday, and asked them to make public names and addresses of all protesters and display their photographs on hoardings at main places so that the people can identify them and help the police.
Meanwhile, the Indian Express has carried a disturbing report on how minorities were facing targeted violence in Ranchi. The report brought to light the case of two brothers, 24-year-old Mohammad Zeeshan Ashfi, and 20-year-old Faizan, who were stopped by a group of men armed with sticks. The mob asked the brothers their names and physically assaulted them upon learning that they were Muslims.
"Suddenly 20-25 people carrying lathis came out of Sujata Patel Compound, and started beating us after asking us our names… We were badly injured and the mob was raising 'Jai Shri Ram' slogans. Somehow, we managed to escape and found a PCR vehicle outside and the police took us to Sadar Hospital," the Indian Express quoted Zeeshan's complaint.
Meanwhile, state-sponsored doxing continues in Allahabad where police have released images of 59 people suspected to be involved in the June 10 riots. SSP (Prayagraj) told media persons, "Photographs of suspects have been released to seek information from the public. The name and identities of the informers will be kept secret." Posters were pasted across the city by the police and reportedly show the suspects pelting stones, or having stones in their hands, or being present at the protest site. Earlier, Kanpur Police had released images of 40 people suspected of been involved in the June 3 violence. 
This is once again a violation of an Allahabad High Court order. Readers would recall that pictures and names of people who had participated in protests against the Citizenship Amendment Act (CAA) had been displayed on hoardings in Lucknow. As many as 57 persons were named and with their addresses and photographs put up on posters and hoardings. They were accused of being part of the violence during the protests. The alleged protestors were also arbitrarily asked to pay huge sums compensation for "damage to public property" that took place during the violence at the protest in December, 2019. The hoardings also said that if these people fail to pay up, their properties will be attached/confiscated. The total amount of damage to property listed in the hoardings was up to Rs. 1.55 crore. 
Before putting up these posters, UP Chief Minister had declared that properties of those involved in the violence would be seized and auctioned to compensate for destruction of public and private assets during the protests over the amended citizenship law and issued three recovery orders for the same. 
These activities prompted the Allahabad High Court to take suo motu cognisance and hold hearings on Sunday, March 8, 2020, observing injury to the right of privacy. It held that this incident amounted to gross negligence on part of public authorities and government. The Court deemed these actions of the state to be "colourable exercise of powers by the Executive" which amounted to violation of Article 21 of the Constitution. The court also held that there was a valid apprehension of causing serious injury to the rights protected under Article 21 of the Constitution of India. It said that this caused injury to the precious constitutional value and its shameless depiction by the administration. "The cause as such is undemocratic functioning of government agencies which are supposed to treat all members of public with respect and courtesy and at all time should behave in manner that upholds constitutional and democratic values", the court remarked. It then directed the Lucknow administration to remove the banners and file a compliance report by March 16, 2020. 
The Uttar Pradesh Government then approached the Supreme Court challenging the High Court order which was finally heard by Justices UU Lalit and Aniruddha Bose. On March 12, 2020, the Apex Court refusing to stay the operation of the High Court order held that the 'name and shame banner' was not backed by law, highlighting the value of Privacy as the Allahabad High Court did. It referred the matter to a larger Bench for consideration. In July 2020, Supreme Court directed the Uttar Pradesh government to not proceed with earlier notices issued to alleged protestors for recovering losses caused by damage to public property during the agitations against the Citizenship Amendment Act, 2019 (CAA). Instead, the court asked the state government to follow the new law and the rules laid down thereunder to recover damages.
In February 2022, Uttar Pradesh government was given one week to show the Supreme Court how Additional District Magistrates (ADMs) supervise recovery based on notices issued to people who had protested the Citizenship Amendment Act (CAA) "prior to the legislation" and show "that notices issued before the Act were not in contravention to Supreme Court directions". The Apex court pulled up Uttar Pradesh government and warned it will quash notices itself.
A bench of Justices D Y Chandrachud and Surya Kant said that they are taking note that Additional District Magistrates (ADMs) and not judicial officers, as mandated by the apex court, had adjudicated recovery notices to pay damages for destruction caused to public property during protests in December 2019, even before the Act came into force on January 10, 2020. The SC said that they were in contravention of guidelines laid down by the court. Justice Surya Kant reportedly told UP Additional Advocate General Garima Prashad, "You have become complainant, you have become adjudicator, and then you are attaching property of the accused." Justice Chandrachud reportedly asked, "When we had directed that adjudication has to be done by a judicial officer, how is ADM conducting proceedings?"
The court was referring to its 2009 ruling that the Claims Commissioner, who will estimate damages in such cases and investigate liability, will be a judge. Under fire from the SC, the UP Government withdrew the notices on February 14 and 15, and directed the cases to be overseen by the Tribunals constituted under the Recovery of Damages To Public and Private Property Act 2020. But in March, the state government initiated fresh proceedings against them for allegedly damaging public property. Since the state government failed to recover the damages in its previous attempt under Supreme Court orders, they now decided to claim damages through the Claims Tribunal established under the Uttar Pradesh Recovery of Damages to Public and Private Property Act, 2021. As per the Uttar Pradesh Recovery of Damages to Public and Private Property Act, 2021, persons found guilty by claims tribunals of damaging government or private properties will face imprisonment of one year or a fine ranging between Rs 5,000 and Rs 1 lakh.
The fact that different police departments flout the high court's orders with such impunity suggest that they have the regime's blessings in not only violating the privacy of people whose guilt is yet to be proven, but also placing them in harm's way by making it easy for people seeking retribution to identify and attack them.
Get the latest reports & analysis with people's perspective on Protests, movements & deep analytical videos, discussions of the current affairs in your Telegram app. Subscribe to NewsClick's Telegram channel & get Real-Time updates on stories, as they get published on our website.
Subscribe Newsclick On Telegram