'Ready for Bigger Fight if Govt Doesn't Relent', Farmers' Mahapanchayat in Delhi Declares
Apart from the promised MSP and other demands, farmers from South to the North are also demanding one-time loan waiver due to adverse weather impact on crops.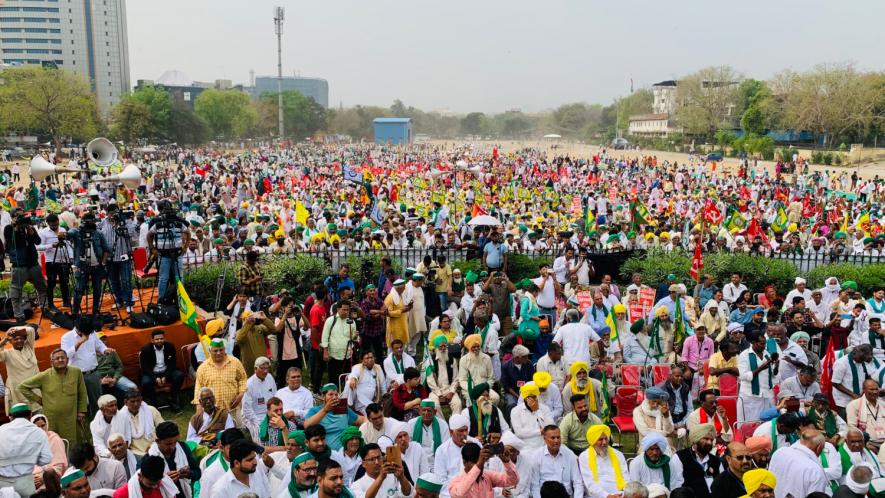 New Delhi: Clad in blue, green, yellow and red turbans and holding flags of their unions, farmers descended on the Capital's Ramlila Maidan for the Kisan Mahapanchayat, urging the Centre to act on its promises or face a "bigger fight".
Affiliated to different unions under the leadership of Samyukta Kisan Morcha (SKM), the farmers reminded the government of the promises made to its leadership over legal guarantee for Minimum Support Price (MSP), scrapping the Electricity Amendment Act and withdrawal of criminal cases on farmers for participation in protests on highways and railway tracks.
The farmer leaders maintained that the Centre had evaded the questions of farmers' organisations over legislation guaranteeing MSP and it should act now after postponing it 14 months after suspension of their historic struggle on the borders of Delhi. They also demanded that farmers be given a complete a loan waiver to get some relief from debt.
Talking to NewsClick on the sidelines of protest rally, Darshan Pal, president, Krantikari Kisan Union and a core team member of SKM, said the demand of one-time loan waiver has been added to compensate the small and marginalised farmers who have been facing losses for years. He maintained that the farmers are indebted because they did not get MSP for years and conditions of debt lending remain uneven, including compound interest and heavy penalties.
"We are demanding that government should pass a legislation enabling farm loans on affordable rates. We gave a draft to the government during our agitation on Delhi borders and it is still lying in Parliament. The farmers may have used loans for other purposes, too, but, say, a farmer who bought a harvester and is still under loss, his loans should be waived. If you want to pull the agriculture sector out of crisis, then this is a necessary step," he  said.
Pal said while it is correct that the loans by moneylenders is forcing farmers to die by suicide, but the institutional lenders still have a bigger share. "We are demanding that the government should form small cooperatives by bringing small and marginalised farmers together to cut costs in agriculture," he added.
Pal said farmers need a bigger movement on the basis of the experience of the year-long movement at Delhi borders if government needs to be pushed to accept their demands.
"Despite bad weather, farmers from all parts of country have joined today's rally, be it from South India or North India. SKM is a countrywide body and farmers are participating in its calls. I can assure you, if we give a call to jam all highways of India, it will be done after preparation of three to four months," he said.
Hannan Mollah, former general secretary, All India Kisan Sabha (AIKS), told NewsClick that it was farmers' struggle of 380 days that forced the Narendra Modi government to withdraw the three contentious farm laws, but that should not be seen as the culmination of the struggle.
"After November 19, it took another 20 days for the government to commit to the formation of a committee to devise methods to implement guaranteed MSP and other demands. When the Centre did not take any preventive measure, we called farmers in Jind (for the mahapanchayat) on January 26 and asked them to reach Delhi on March 20," he said.
"We are here to warn the government that if it does not abide by its promises, it should be ready for a bigger movement." When asked,a if he is hopeful of a second win against the government in Delhi after forcing the Maharashtra government to accept farmers' demands, Mollah said was confident farmers "have their votes too and they know how to cut leaders to size".
"Modi should not forget the 2024 elections. We are not a party but we are putting forth the grief and pain of farmers," Mollah said.
The pain that the AIKS leader spoke about was reflected in the eyes of young farmers from Kaimur district in Bihar who came to rally to demand work along with guaranteed MSP.
Ravinder Kumar Maurya, who came from Bhagwanpur Khiri in Kaimur, said small farmers like him often sell produce in distress. "I come from a region which is considered the rice bowl of Bihar as it produces paddy in abundance. Yet, farmers do not get fair price for crops. We sold paddy on an unexpected price of Rs 1,300 per quintal because there were no takers and prices had crashed. We were expecting some good returns this time from wheat, but unseasonal rains have decimated the crops. Now, we are only looking to the government for relief. Getting small things is a big battle now. The Nitish (Bihar) government has fixed a minimum ownership of four acres to get tubewell connection. Nobody in my village own four acres of farmland. So, I have to club my application with other applicants to get the connection. I am still struggling for it," he told NewsClick.
B V Naidu, who came from Kadappa district in Andhra Pradesh, told NewsClick that his region was famous for cultivation of chillies and yet much of the profit was pocketed by middlemen who export it to rest of the world, including Europe and West Asia.
"It takes a family of four -- husband, wife and two children -- to work for six to eight months to get the full crop. If I tell you the calculation, such a family gets Rs 1,50,000 for four quintals of chillies grown in one hectare if they get the best prices. Now, if a  couple works for Rs 500 each per day anywhere else, they would have earned more than 2 lakh. So, by working on one hectare of land, the family is incurring losses on inputs, earnings as well as their physical health," he added.
Meanwhile, a 15-member SKM delegation met the Union Minister for Agriculture & Farmers Welfare at Krishi Bhawan and submitted 2 memoranda to him. Discussions were held and the government agreed to engage in dialogue with SKM on an ongoing basis to resolve the pending and burning issues of farmers. SKM leaders also told the minister that if the demands were not met in a time-bound manner, they would announce further protests and agitations.
The memorandum submitted by SKM read: "Mahapanchayat has demanded that the Union Government fulfil the commitments it had given in writing to Samyukt Kisan Morcha on 9th December, 2021 vide Letter of Mr. Sanjay Aggarwal, Secretary, Ministry of Agriculture and Farmers Welfare, bearing No. Secretary/AFW/2021/Miss/1 and also take effective steps to mitigate the ever increasing and spiralling crisis being faced by farmers. It may be recalled that relying on this letter of the Government, Samyukt Kisan Morcha had lifted the Morchas on the borders of Delhi and all protest demonstrations on 11th December 2021."
It added,"Samyukt Kisan Morcha has pointed out several times that the committee constituted by the Union Government on MSP and its stated agenda is contrary to the demands of the farmers. This committee should be dismissed, and a new committee on MSP only should be re-constituted, with due representation of farmers, by including representatives of Samyukt Kisan Morcha, as promised by the Union Govt."
Reflecting on the inadequate insurance under Pradhan mantri Fasal Bima Yojana, it said," Government should replace the ineffective and virtually abandoned PMFBY by implementing universal, comprehensive and effective crop insurance and compensation package for all crops, to compensate for losses being constantly faced by farmers due to drought, flood, hailstorm, untimely and/or excessive rain, crop related diseases, wild animals, stray cattle etc. The loss should be assessed on the basis of individual plots."
Get the latest reports & analysis with people's perspective on Protests, movements & deep analytical videos, discussions of the current affairs in your Telegram app. Subscribe to NewsClick's Telegram channel & get Real-Time updates on stories, as they get published on our website.
Subscribe Newsclick On Telegram