'Reclaiming Our Stake in Movement and Society,' Say Women Protesters Celebrating Mahila Kisan Diwas
Women farmers protesting at Tikri border say they are equal participants in farming and in struggle anyone who belittles that is living in a 'fool's paradise'.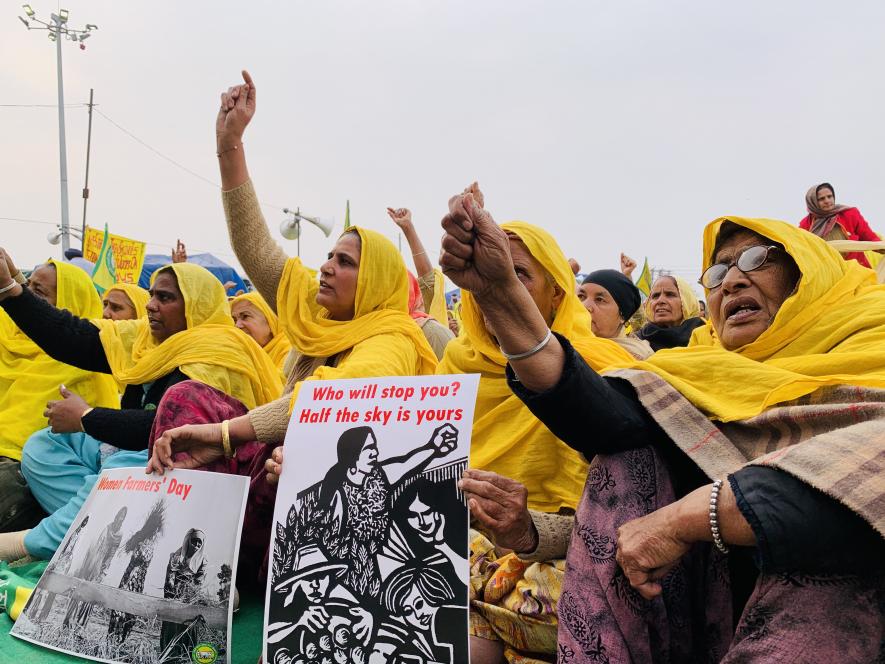 Madhuri Gupta held her placard firmly to convey a three-word message written on it--'Repeal Black Laws'. Hailing from Bihar, Gupta has come along with her friends to celebrate Mahila Kisan Diwas as part of the nationwide campaign to protest against recently enacted farm laws and proposed Electricity (Amendment) Act, at the Tikri border in the national capital.
Enraged Gupta maintains that women's participation in the farmers' struggle is voluntary and any contemptuous comment even from the Supreme Court diminishes their role.
Speaking to NewsClick, she said, "nobody dragged us forcefully here. We came here by choice to tell that we possess equal share in the struggle. When men move out to cities, it is us who look after the crops, remove the weeds and harvest it. What you are witnessing is not even a fraction of the struggle unfolding on the roads of the country. Just like the Railway and Steel Authority of India (SAIL) were privatised, the government led by Narendra Modi wish to handover our lands to corporations. We cannot accept it."
When asked about the impact the farm laws will have on female farmers, Gupta said a huge population of women work as agricultural labourers to run their households. "Which Adani and his companies will employ them? It will wreck the economy. Modi has been consistently talking about transforming tragedies into opportunities. He used it nicely by handing over our lands in the midst of a pandemic."
Not much far from Gupta, Jasbeer Kaur was seated with her daughter. Talking about her participation, Kaur said that she is visiting the protest site second time in a month. "We had some expectations from the Supreme Court but it disappointed us completely. For many families, it is distressing that our family members are camping here at borders for the last 54 days. We have been estranged from our families. But we know it's a long fight for just cause. As far as today's call is concerned, women are equal participants in farming and in struggle. Anybody who belittles the fact is living in fool's paradise."
After the Supreme Court put on hold the three farm laws and set up a committee of experts to handle negotiations to end the deadlock between farmers and the Centre, protesting farmers rejected the committee saying that it included members who had favoured the said laws. The farmers, especially protesting women farmers, were irked by the Chief Justice of India's remark asking why women and elderly people were 'kept' in the protests.
The farmers protest at the Tikri Border appears to be a serpentine trail of endless trolleys, tractors and trucks. A protester, Rupinder Kaur, who came from Bathinda in Punjab, raised slogans to express her angst. When asked about the reason for her participation, she said, "The Constitution of India identified us (women) as equal citizens in the republic. How dare any court undermines our status? We have equal rights to protest in a democracy. I think it is very much essential to reclaim this democracy and the protest gave us this avenue."
The women protesters also seem to be contesting the claim about the increased income of farmers in the new regime. A woman farmer who is heading towards her vehicle said, "If the laws will really increase the income of farmers, why is the entire country opposing them? Have we all turned lunatics? They know it very well that we will not only lose our incomes but also our lands."
She maintained that the extent of protests could be gauged from the fact the Mahila Kisan Diwas is celebrated in every nook and corner of Haryana and Punjab. "It is the women who defended the Constitution when it was attacked last year after they tried to throttle our voices through CAA-NRC (Citizenship Amendment Act and National Register of Citizens). We have come to reassert our voices. When we fought for our freedom, the slogan was that wealth and land will be redistributed and the miserable night too will pass. It was the women who fought and endured hardships," she said, adding, "Modi is keen of repeating quotes from history. Let him be reminded that history is full of examples of how tyrants fared in course of time. Their regimes were decimated. It is up to him if he wants the same fate."
About seven kilometres from the main stage, hundreds of women assembled at another stage built by the Bharatiya Kisan Union (Ugrahan). Women sported their yellow aprons and scarves to show their support. Usha Kumari, a retired school principal, said, "It's not a one-day event. Much of our rights as farmers are still to be reclaimed. Only 12% women own farm lands. Thus, they have been denied almost all major benefits be it compensation for damages or any other benefits. It is the women who will bear the brunt of a dilapidated public distribution system (PDS) if the new laws come into force. So, diminishing our stake is a deliberate attempt to undermine the struggle."
Get the latest reports & analysis with people's perspective on Protests, movements & deep analytical videos, discussions of the current affairs in your Telegram app. Subscribe to NewsClick's Telegram channel & get Real-Time updates on stories, as they get published on our website.
Subscribe Newsclick On Telegram