The Relevance of Bhagat Singh and his Martyrdom Today
Many use Bhagat Singh's name to get legitimacy for themselves without following his ideological understanding. What would he have thought about that?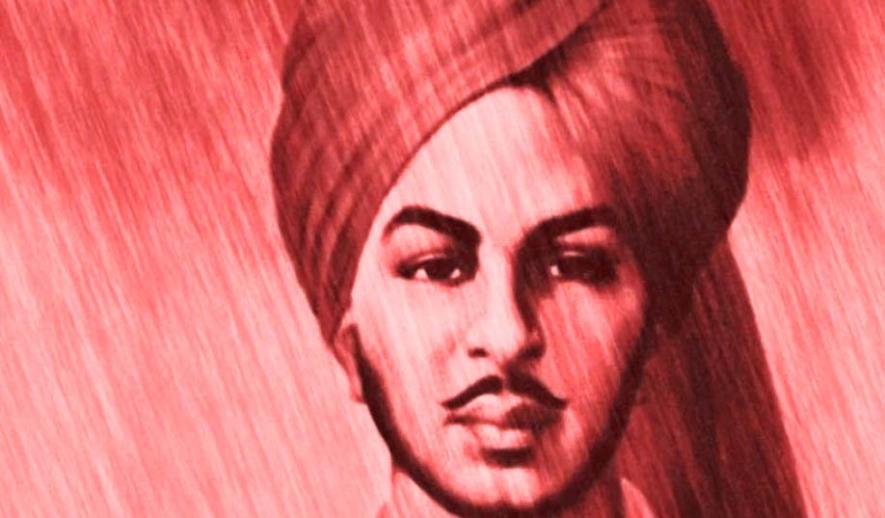 Over nine decades ago, one of the greatest revolutionaries committed to the anti-colonial struggle against the British and to socialism was hanged by the colonisers. Bhagat Singh's life is an inspiration to those committed to a society with peace and justice. 
A lot has already been written about how a young man of 23 years dedicated himself to the cause of the country, and at such a young age, wrote very profound ideological tracts. Many controversies are being built around him by those totally opposed to his life's mission and ideology. There are still many others who use his name to get legitimacy for themselves without following his ideological understanding.
Briefly, Singh joined the Hindustan Republican Association, and struggled to insert 'Socialism' into the name of the organisation. His role in the murder of John Saunders, an Assistant Superintendent of Police, was planned as their group felt that the death of Lala Lajpat Rai during the protest against the Simon Commission was an insult to the nation. So, they planned to take revenge for this. 
The second major incident was the throwing of the bomb into the Assembly. It was not meant to kill anyone but was strategically planned to make the 'deaf hear'. As their voice was not reaching the masses, the idea was to make detailed statements in the court, which would be picked up by the media and reach people at large!
The impression that he was for violent means to overthrow British rule has no truth. During the course of the evolution of his ideas, he did come to the conclusion that non-violent mass movement is the core for changing the system and overthrowing British rule. This was first reflected in the advice of Ram Prasad Bismil, who advocated for giving up the "desire to keep revolvers and pistols" and instead join "the open movement". 
Bhagat Singh, by 1929, came to the conclusion that Marxism and broad-based mass movements were the right road to revolution, not individual heroic action. In 1931, addressing his comrades from jail, he presented his nuanced understanding of this strategy for action. 
This is also confirmed by the advice Bhagat Singh gave to his father. His father, Kishan Singh, had pleaded that he should apologise to the British as he had a long life ahead. Reprimanding his father, he said that he was a revolutionary and rather than apologising, he would plead for getting killed by a firing squad. 
Notably, the contrast between Bhagat Singh and Vinayak Damodar Savarkar cannot be starker. Savarkar, after an initial anti-British stance, wrote several mercy petitions and then went on to assist the British in their efforts while getting a hefty pension of Rs 60 per month (then gold was roughly around Rs 10 for 10 grams). Revolutionaries like Subhash Chandra Bose, Bhagat Sing and others were inspired by socialism, while Savarkar was inspired by Italy's Mazzini, who became the patron saint of Fascist ideology.
There was criticism of the book 'India's Struggle for Independence' (Bipan Chandra et al, Penguin) for using the phrase "revolutionary terrorism" even though Singh's group's documents referred to their path as that of revolutionary terrorism. This path was definitely abandoned by them over a period of time. The likes of Anurag Thakur and Smriti Irani criticised the book based on this. The word terrorism had a different connotation prior to 9/11 in 2001. The primary goal of the rightwing worthies in criticising the book was to undermine this book as it highlights the role of the Muslim League, Hindu Mahasabha and RSS in promoting communal politics in India and keeping away from the freedom movement. 
By word of mouth, a rumour has been made the part of 'social common sense', that Gandhi did not save Bhagat Singh's life. This is far from the truth. Gandhi had written two letters to Lord Irwin to postpone or dilute the death penalty. Gandhi drafted the resolution criticising the British for hanging a nationalist in Karachi Congress in 1931. At the occasion, Bhagat Singh's father Kishan Singh also spoke, saying, "Bhagat Singh told me not to worry. Let me be hanged… He warned me against going to the Privy Council because he said slaves had no right to complain…You must support your general (Gandhi). You must support all Congress leaders. Only then will you be able to win independence for the country."
Gandhi wrote in Navjivan, "I had interested myself in the movement for the commutation of the death sentence of Bhagat Singh and his comrades. I have put my whole being into the task." The other fake news relates to Congress leaders not having met Bhagat Singh and his comrades when they were in jail. This is a blatant lie.
There are reports in the Tribune about Jawaharlal Nehru visiting the jail to meet Bhagat Sing and his comrades. The reports in Tribune on August 9 and 10 of 1929 tell us about Nehru's meeting the jailed revolutionaries and inquiring about them. Motilal Nehru had even formed a committee to demand humane treatment for the revolutionaries on fast unto death. 
In his autobiography, 'Towards Freedom', Nehru gives a touching account of his meeting Bhagat Singh, Jatin Das and other young men: "I happened to be in Lahore when the hunger strike was already a month old. I was given permission to visit some of the prisoners in the prison, and I availed myself of this."
How atheist would Bhagat Singh have seen today's scenario? The very ideas of workers' and farmer's rights have been given a go-bye. He criticised the misuse of religion as some people exploited it to promote blind faith, and now a plethora of corrupt godmen like Asaram Bapu and Gurmeet Ram Rahman have mushroomed. Faith-based knowledge is also being promoted by the ruling government. How would Bhagat Singh have responded to some political tendencies which eulogise him and also spend fortunes building temples and promoting sectarianism in the garb of religion? It is something to think about.
Get the latest reports & analysis with people's perspective on Protests, movements & deep analytical videos, discussions of the current affairs in your Telegram app. Subscribe to NewsClick's Telegram channel & get Real-Time updates on stories, as they get published on our website.
Subscribe Newsclick On Telegram