Relook at a Book: Andreyev's 'Seven That Were Hanged' Questions the Rationale of Death Penalty
The author underlines the futility of capital punishment in a world that is getting bloodier by the day.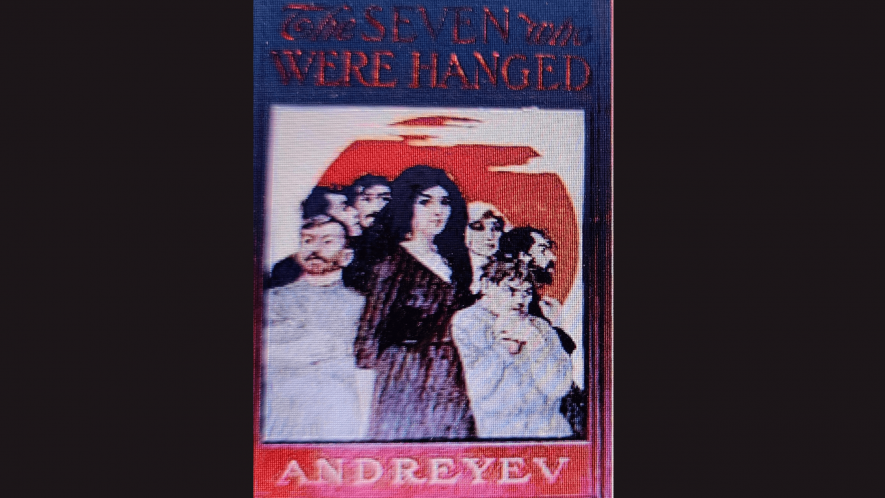 Andreyev, Leonid, Seven that were Hanged, (Novella) first publication in Russian in 1891, many English translations, pages 80+
This is one of the favourite books of Bhagat Singh and his fellow revolutionaries. In many memoirs regarding the revolutionaries, there is reference to this book among the few favourites they read and discussed. The writer of this novella was Russian writer Leonid Andreyev, a friend of author Maxim Gorki, who encouraged him to concentrate on writing after he noticed his story published in 1898.
Andreyev was born in 1871 and worked as a police court reporter. Later, he turned out to be a celebrity playwright. Out of the 25 plays he wrote, his most famous one was He Who Gets Slapped. During the 1905 Russian Revolution, he defended democratic values. He also welcomed the February 1917 Russian democratic revolution, but was not comfortable with the Bolshevik October revolution later that year. He shifted to Finland, where he died in 1919.
Apart from plays, Andreyev also wrote fiction and his 1908 novella, Seven that were Hanged, is considered among his major works. This novella has many translations in English -- the first was in 1909 by Herman Bernstein, another by Thomas Seltzer in 1925, the latest one was in 2016 by Anthony Briggs. It was adapted into a play as well as a film.
Andreyev wrote a brief introduction to the novella's first English translation –"Literature, which I have the honor to serve, is dear to me just because the noblest task it sets before itself is that of wiping out boundaries and distances." He mentions the Russian state's attitude to literature in those days:
'I have treated ruling and slaughtering Russia with restraint and mildness may best be gathered from the fact that the Russian censor has permitted my book to circulate. This is sufficient evidence when we recall how many books, brochures and newspapers have found eternal rest in the peaceful shade of the police stations, where they have risen to the patient sky in the smoke and flame of bonfires.'
But the purpose of this novella is to question death penalty or capital punishment, which is relevant even today. The novelist says: 'My task was to point out the horror and the iniquity of capital punishment under any circumstances. The horror of capital punishment is great when it falls to the lot of courageous and honest people whose only guilt is their excess of love and the sense of righteousness-in such instances, conscience revolts. But the rope is still more horrible when it forms the noose around the necks of weak and ignorant people.'
The novella is the story of the execution of five revolutionaries and two ordinary criminals, but the author's sympathy lies more with the ordinary murderers, because he feels that the revolutionaries, with their strong will and ideas, can face death boldly, but same can turn ordinary criminals to insanity!
The 73-page novella is divided into 11 small chapters and begins with first chapter under the title- 'At One O' clock, Your Excellency!' The Czarist minister is reported by the chief of his guards that exactly at one o' clock next afternoon, the revolutionaries will attack him. The minister is surprised at this information, as he himself had come to know of this just hours ago. The description of the whole night spent awake by the minister, the imagination of his fears and anxieties, have been depicted psychologically.
The story moves to the second chapter, 'Condemned to be Hanged' with the arrest of the four revolutionaries at the gate of minister's house. While the three men and a woman are arrested with bombs and weapons at the gate, another woman is also arrested from the place where the conspiracy to kill the minister was hatched. They all were very young, the eldest was a 28-year-old man and the youngest was a 19-year-old woman. The trial was held swiftly in the fortress, they were imprisoned and condemned to death. They were calm, very serious and thoughtful. Their contempt for the judges was so intense during the trial that they did not even feign cheerfulness or smile. Bhagat Singh and the other revolutionaries' conduct during their trials was perhaps impacted by their readings of such novels.
Sergey Golovin, son of an ex-officer was the main character among the revolutionaries. The young pale girl, known by the name Musya, was among two women. Tanya Kovalchuk was the other woman, a motherly figure, who was ready to sacrifice her life for others. Werner was the bitterest of all and Vasily Kashirin most terrified of death.
The two other prisoners condemned to death were Ivan Yansen, a farm hand, who had killed his master and tried to rape his daughter and Tsiganok Golubets, a Russian bandit, a Tatarian, proud of his act of murder of three persons and jovial about the sentence.
One chapter each is dedicated to describing the mental state all the seven persons are going through. Golovin and Tanya are not afraid of death and try to help others to come to terms with the sentence. Musya also tries to provide succor to other criminals who are sentenced to death. The most pitiable condition is of Yansen who, while being led to the gallows, is begging to be allowed to live. Golovin's father prepares his wife not to show any sorrow or fear before his son and keeps his and his own and his son's pride intact, while meeting him in prison. Women even kiss ordinary non-political criminals to give them a sense of human warmth. Sergey keeps exercising to keep fit all through. There is lot of philosophising and psychoanlaysis of the characters.
In the final 11th chapter, all the seven are -'On the way to Scaffold'. They are taken in vehicles to a far off location where the gallows are in a snow-filled region. They are asked to walk in twos, holding hands and everyone's state of mind is depicted by the author in a somewhat dramatic manner.
The novella ends with this last paragraph:
"The sun was rising over the sea.
The bodies were placed in a box. Then they were taken away. With stretched necks, with bulging eyes, with blue, swollen tongues, looking like some unknown, terrible flowers between the lips, which were covered with bloody foam-the bodies were hurried back along the same road by which they had come-alive. And the spring snow was just as soft and fresh; the spring air was just as strong and fragrant. And on the snow lay Sergey's black rubber-shoe, wet, trampled underfoot.
Thus, did men greet the rising sun.'
Bhagat Singh and his revolutionary comrades had read such literature to strengthen their resolve to face death bravely, but author had written to underline the futility of capital punishment, which colonial and oppressive rulers like the Russian Czar could never understand. Nor is it understood today after more than hundred years of publication of such humanist literature.
Mahatma Gandhi and all other pacifist activists and philosophers have been against capital punishment. Mutual killings by human beings are not a new phenomenon. From the onset of human civilisation, which has grown out of Darwinian theory of evolution, no living being other than humans kills other beings, even the most feared ones, such as snakes, lions etc. It is to satisfy their hunger that stronger animals kill weaker ones.
In the earlier phase of human civilisation, the human race was doing the same, though mostly killing animals to eat. This is also true during wars, when many a times human beings had to eat human flesh to survive. Some cruel colonial masters also forced prisoners to eat human flesh. It is with the development of civilisation and culture, that human societies have organised themselves on certain 'social contract' created out of concepts like democracy etc. Even today, in many Arabian countries 'blood money' is an accepted form of justice for murder!
There are more than a hundred countries in the world that have done away with capital punishment. India is not one among these, yet some form of demand and urgency exists in India, too. Ironically, the ideas of Mahatma Gandhi are publicised in India and abroad, but his principled opposition to capital punishment is not given much importance. Defending Bhagat Singh and other revolutionaries from execution, Mahatma Gandhi did whatever he could, but ironically, he did not emphasise upon his own basic principle of being against capital punishment. Had he done so, he would not have been subjected to such scrutiny as he is now in context of the revolutionaries' execution.
There are two extremes in the world today. On the one side, there are blood seekers of the religious fundamentalist variety, who want to lynch anyone who speaks against their professed religion. India has lately among such nations. Another perspective was seen in the case of even the worst criminals, like Andres Breivik in Norway who killed more than 70 children playing in a park. The Norwegian people, despite this most brutal Nazi kind of crime, did not make cat calls for his lynching or fansi do, fansi do (hang him).
Stable societies treat such crimes as aberrations. Even as Sweden Prime Minister Olof Palme was killed inside a theatre while watching film with his wife like any other citizen without security, the Swedish society did not resort to the kind of madness that Indian society has resorted to, providing any petty politician police security in such a visible and annoying form.
In jurisprudence, there are theories of retribution and deterrence as opposed to reformative and rehabilitative theories. Bhagat Singh in his jail notebook had taken detailed notes of these theories. He was like other humanist philosophers of the world, who were in favour of reformative and rehabilitative justice system and considered the British colonial system to be retributive jurisprudence.
Seven that were Hanged once again reminds the human society of the relevance of building a society where there is no capital punishment, as in the roots of any crime, lie a social set-up that is exploitative and oppressive. To counter it, the task of society is to build a system based on equality, fraternity and justice -- a far looking dream today despite many social revolutions!
The writer is a retired professor of JNU and an honorary adviser to the Bhagat Singh Archives and Resource Centre, Delhi.
Get the latest reports & analysis with people's perspective on Protests, movements & deep analytical videos, discussions of the current affairs in your Telegram app. Subscribe to NewsClick's Telegram channel & get Real-Time updates on stories, as they get published on our website.
Subscribe Newsclick On Telegram