Remembering the 'Ethnic Cleansing' of Bhutan's Lhotshampas
Jai Subedi, 38, meticulously counts the inventory in his small store ensconced in the north of Syracuse, New York.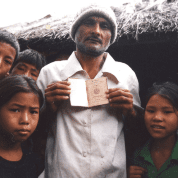 Jai Subedi, 38, meticulously counts the inventory in his small store ensconced in the north of Syracuse, New York.
He pauses, then rubs the palms of his hands and securing his muffler, enthusiastically steps out to help two men unload the towering crates of water bottles along with sacks of onions, and apple cartons, from a truck stationed outside.  
It's February 2014. 
Before Subedi moved to Syracuse in upstate New York nearly nine years ago through the United Nations High Commissioner for Refugees, or Unhcr, program, he spent nearly 18 years at the Sanischare refugee camp located in Nepal with some of his family. 
Subedi is one of the many tens of thousands who endured a fierce political strife, living in shambles for nearly two decades. His face turns grim as he recalls his life in exile. 
When I first met him, four years ago, he admitted to having no regrets but having lived a very hard life. 
Subedi is a "Southerner" who belongs to the Lhotshampa community of Nepali ancestry. At least 80,000 Lhotshampa living in the south of the country were forced to leave in the early 1990s by the ruling monarchy at the time as it enacted the single identity policy, "one nation, one people." 
"It is a rural country between two giant countries (India and China), so no one really knows where Bhutan is," Subedi explained to me in a recent conversation.  
"Hundred of years ago, our people, our forefathers, were taken away from Nepal to build Bhutan, to develop its infrastructure such as roads, bridges, etc, so as southern Bhutanese, we are ethnically Nepalese," Subedi pointed out.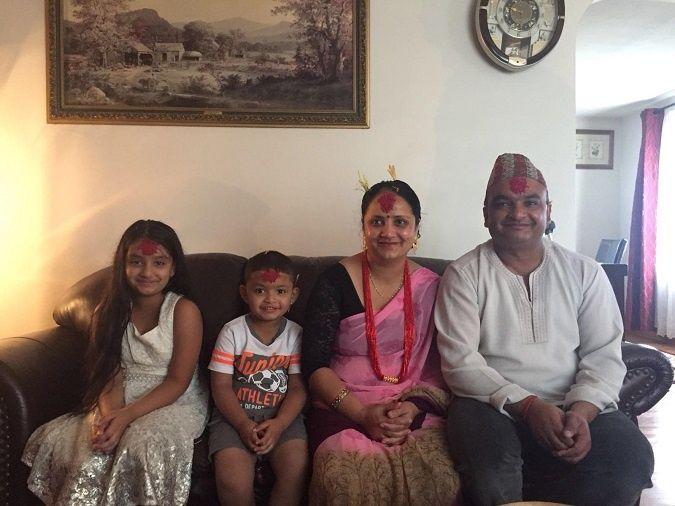 Jai Subedi with his family at his Syracuse, New York, home. | Courtesy: Jai Subedi
"And we are very hardworking people, our people started owning farms and other lands, reaching high governmental positions, the ruler, the monarchy didn't feel comfortable with our progress, and since we are a minority, when the government brought one nation, one people policy, my father, my uncle and other members of the family suffered human rights violations, the government started putting (Southern) people in jail, they were tortured, started forcing people to leave the country," he said. 
Subedi was 12 years old at the time. 
"They put out a notice for us to leave the country in 13 days. My father was called to a government building to sign a document which said that we were leaving our lands voluntarily to the government, we just fled with nothing," he described.
"That's how we landed at the Nepal border, later living in camps in Nepal." 
"In the late 1980s, Bhutanese elites regarded a growing ethnic Nepali population as a demographic and cultural threat. The government enacted discriminatory citizenship laws directed against ethnic Nepalis that stripped about one-sixth of the population of their citizenship and paved the way for their expulsion," Bill Frelick, Refugee Program Director at Human Rights Watch, said in a statement.
Bhutan's Shangri-La-like Disposition is a Facade
Bhutan, a Buddhist kingdom nestled in the mystic Himalayas, is also the birthplace of the Gross National Happiness, GNH, index.
In 1972, the fourth king of Bhutan, Jigme Singye Wangchuck, coined the term, for a more "holistic" approach to measure the country's prosperity, primarily based on the wellbeing of its citizens. 
But it was Wangchuck who was responsible for the mass exodus of the Lhotshampas, who roughly constituted one-sixth of the population of the country. 
"Bhutan ousted its own citizens but claims to follow the Gross National Happiness!" Subedi exclaimed. "I hate it when Bhutan talks about the Gross National Happiness, its a facade." 
The country measures its progress and achievements based on categories like psychological well-being, health, time use, education, culture, good governance, community vitality, ecology and living standards.
But some people find the parameter redundant. 
Namgay Zam, 32, who hosts a radio show on the mental health challenges of the Bhutanese, believes the idea of GNH has been hijacked by the West and has been turned into something it wasn't really set to be, NPR reported. 
The concept of GNH is based on the principles of Buddhism and tenets of compassion, contentment and calmness. Zam told NPR, "You don't quantify Buddhism."
Bhutan is far from growth and prosperity.
Needrup Zangpo, executive director of the Journalists' Association of Bhutan, told NPR, "The outside world glamorizes Bhutan but overlooks a list of problems besetting the country." For starters, youth unemployment stood at 13.2 percent in 2016, up from 10.7 percent the previous year, according to government data reported by leading national newspaper Kuensel.
"We have an increasing income gap, we have increasing youth unemployment, environmental degradation," Zangpo told NPR. 
In 2016, Bhutan's Gross Domestic Product, GDP, was nearly US$2.2 billion, according to the World Bank, and it is on the U.N. list of "least developed countries." 
With melting glaciers, climate change and failing hydropower plants, a major source of country's energy and also revenue, "We have a lot of things to worry about," Zangpo told NPR.
Critics have pointed out the issue started when the ruling king, Wangchuck, introduced the Bhutanese Citizenship Acts of 1958 and 1985 to remove Lhotshampas from the country. 
Bhutan's Citizenship Act of 1958, which required proof of 15-year legal residence from all of its citizens to obtain a certificate of nationality, had several other restrictions. Failure to provide documents meant they would be deemed "illegal residents." 
According to human rights groups, even those who could supply the required proof were often evicted, according to The Diplomat. 
On June 10, 1985, using Bhutan's Citizenship Act of 1958 as a premise, Wangchuck enforced a Nationality Law, or popularly known as "One Nation, One People," ONOP, policy, through which he effectively pushed one-sixth of Nepalese-origin people out of the country.  
Hari Bengaley Adhikari, another Lhotshampa who settled in Syracuse, is the founding member of Bhutanese community, which over the years has swelled to nearly 3,000 people. 
Adhikari used to own a footwear store in the Tsirang district in the Southern part of Bhutan. Things went awry when the government started implementing the ONOP policy in 1988, he said. 
Adhikari said he was arrested seven times by Bhutanese police for leading peaceful protests against the atrocities carried out by Bhutanese government against the Lhotshampas. 
"Once, I was locked in the district office toilet for almost 36 hours," Adhikari recollected. 
Upon his final release, he was told by a police guard, "The King has been kind enough to offer amnesty to you. You have been in the custody several times, if you continue this way and involve yourself in activities against the King, we won't spare you."  
"It was not a pleasant place to live (Bhutan) but we believed that this kind of a situation will not last for long and we will return back to our homes. We wanted to lobby with the Indian government and human rights groups and other sources who could have influenced the government to change their stance," Adhikari informed. 
After being evicted from Bhutan, Adhikari lived in Beldangi Camp II in Nepal, where he volunteered as a camp secretary. 
"It was hard, there was no light, no electricity and water supply was also short. We used to burn charcoal that has a serious effect on health. The money provided was not enough to support the family. So, we had to work outside the camps and borrow money from relatives outside of the camp. The refugees provided the cheapest labor in the area, as they were restricted to work outside the camp but had to make ends meet," Adhikari said.  
Adhikari came to Syracuse with his family in March 2008. They were put in an apartment in the north of Syracuse.  
"It was so cold. There was so much of snow. We couldn't go out. There was no one to interact with. Initial days were hard, as we couldn't survive on the vegetables that were sold at the grocery stores nearby. We couldn't even find appropriate tealeaves. Green tea was too mild for our taste," Adhikari reminisced. 
After a couple of weeks, he started visiting the resettlement office almost on a daily basis. "They gave me computer access and I could check my emails." 
The U.S. Department of State's Bureau of Population, Refugees and Migration, PRM, manages the U.S. Refugee Admissions Program, RAP. 
In 2012 alone, 58,238 refugees were admitted under RAP representing 56 countries. Bhutan and Myanmar constituted more than half of the refugee population. 
From Bhutan, 15,070 refugees (25.88 percent) came to resettle in the United States, Burmese refugees came a close second with 14,160 refugees (24.31 percent) and 12,163 Iraqi refugees (20.88 percent) constituted the third-largest refugee population entering U.S. soil. 
New York State has the fourth-largest population of resettled refugees in the United States. 
Refugees who are often twice displaced, first from their own country and then the years they spend in limbo at resettlement camps, often find it hard to recoup and readjust themselves to new surroundings. 
According to a 2012 report by the Center for Disease Control and Prevention, CDCP, a federal U.S. government agency, between February 2009 and 2012,  the rate of suicides among Bhutanese refugees resettled in America was 20.3 per 100,000 people, which is double the number when compared to the general population in the U.S. and exceeds the global suicide rate of 16.0 per 100,000, per figures from the World Health Organization.
"Different psychological stressors occur at each stage of the resettlement process," the study noted. Psychological trauma undergone in the refugee camps, post migration difficulties and lack of familial ties are some of the leading factors. 
According to Adhikari, there are many hurdles that leave refugees alienated and removed from their new surroundings. 
He said that third-country resettlement is not always a favorable "long-term" solution.
"Educated families can begin to stand on their feet. While families having uneducated members suffer as they are unable to integrate themselves with the changes in their environment. There are not many training opportunities to help land a job, generate income and become self-sufficient according to their skillset. People who are well educated, like doctors and engineers, go for cleaning jobs and other types of manual work here," he explained. 
According to the Office of Refugee Resettlement, ORR, the Voluntary Agencies Matching Grant Program is an alternative to public cash assistance, providing services to help eligible refugees become economically self-sufficient within 120 to 180 days of program eligibility. 
But Adhikari says "the time frame for which the refugees are supported is not sufficient." 
Living in a new community has its own challenges. 
"There are children from the local community that pelt stones on us (Bhutanese community). Police are helpless and cannot take action against them as they are juvenile."  
There have been several incidents of physical assault. The vulnerable strata of the community are often targeted.  At times, the assault is to attain money or possessions but it also happens without any purpose of loot.  
"The local police are very cooperative. They act swiftly upon such incidents but sometimes it is hard to find the culprits," said a mellow looking, bespectacled Adhikari with a lump in his throat.
"This is what we call home now."
When I met Subedi again in March of 2014, he sat with a small coterie of members from the Bhutanese community, just before the celebration of Bhutanese Community Day, an annual celebration marking the first Bhutanese family's settlement in Syracuse, were about to begin. 
Subedi became a naturalized U.S. citizen in 2013, when he used to work as a caseworker with the Interfaith Works, a faith-based resettlement agency in Syracuse, but was recently laid off.
"When the refugees' flow was totally reduced in 2017, I was laid off for two months, I was working part-time jobs, but was hired back full time and worked until December, and then got laid off again." 
Subedi said since U.S. President Donald Trump's administration came to power, the number of refugees coming to the region has dwindled and also cost jobs for many caseworkers, like Subedi. 
"There are not many people coming in. I was at Interfaith works recently and the director showed me the numbers, 14 people came in December, six in January, in February, three people are in the pipeline, which in turn has also led to staff cuts," he said.
"Earlier, sometimes we used to have 80-90 people come in a month's time, sometimes 107. On an average, there would be at least 40-60 people." 
He now works for a regional for-profit home healthcare company, True Care Connections.  
"At least I still get to serve my community, since part of the job is we visit people at home," he said. 
This year, on March 24, the community will mark its tenth anniversary.
"The event will have some of the same elements as you saw four years ago," Subedi told me during a recent interview. 
In 2014, at a local school hall packed with colors and nationalistic vigor, Subedi addressed to more than 300 hundred people, including local luminaries like government officials, the chief of police and representatives from the Mayor's Office. 
"It's important to show the local community the trajectory of events that lead to our exodus," Subedi said, referring to a presentation he has been working on which depicts a brief history of their lives in Bhutan, their refugee life at the outskirts of Bhutan and the transition to life in the United States.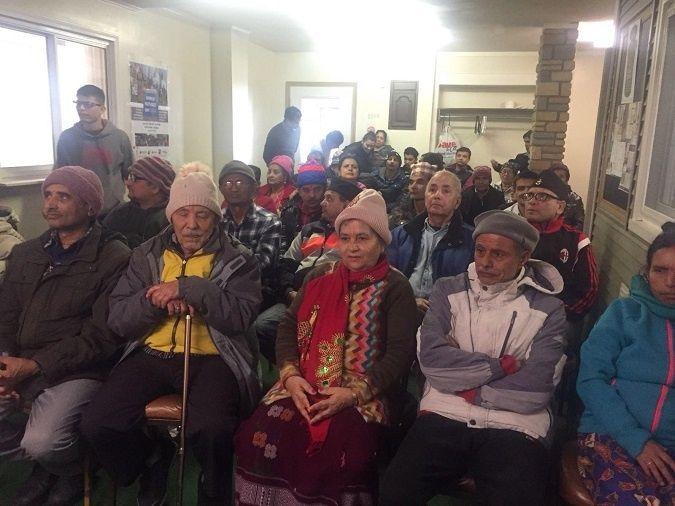 Members of the Bhutanese community attending a gathering in Syracuse, New York. | Courtesy: Jai Subedi
I recollect Subedi's proud and hopeful voice on the stage during the 2014 speech, as he addressed a convergence of communities (including the old and the young) as he said, "This journey from statelessness to uncertain future to "hope" and "aspirations" became a driving force for us to seek economic prosperity and neighborhood stabilization." A wave of loud applause filled the hall. 
"Nearly 300 families have become U.S. citizens and homeowners," he told me during our recent conversation. Subedi recounted and emphasized how his community is prospering. "More and more of us are becoming homeowners, we are owning cars, properties, we are working hard."
For Subedi and many others, who have spent a significant portion of their lives in refugee camps, owning homes is an important symbol, a landmark achievement. 
The way he stressed that his community is hardworking almost seemed to stem from his need to prove that he and his community are worthy of living the "American dream." 
In the end, Subedi extolled, "God bless us, God bless America." 
Disclaimer: The views expressed here are the author's personal views, and do not necessarily represent the views of Newsclick.
Get the latest reports & analysis with people's perspective on Protests, movements & deep analytical videos, discussions of the current affairs in your Telegram app. Subscribe to NewsClick's Telegram channel & get Real-Time updates on stories, as they get published on our website.
Subscribe Newsclick On Telegram