Remembering Gauri Lankesh
Once a syncretic state, Karnataka is now a hotbed of communal politics. How did this happen? This is precisely what Gauri Lankesh asked and pointed at RSS-BJP. She was killed two years ago.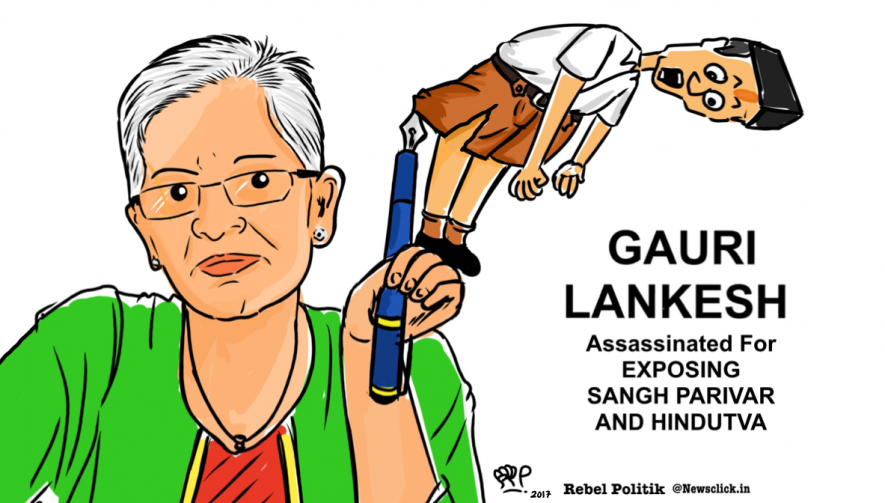 In her last speech at a national convention of human rights defenders, organised in Delhi, the late activist-journalist Gauri Lankesh had said, "Karnataka's trajectory from a progressive and secular state to a communal state has been a very interesting and a crippling one. In12th century we had Basavanna, who spoke much before Marx about the dignity of labour; about equality; about rationality and specifically against Brahmin hegemony. But today, all those who claim to be Basavanna's followers, are BJP followers which is totally against whatever Basavanna stood for." 
In the very same speech which she delivered just six months before she was shot dead in Bangalore on September 5, 2017, Gauri recollected Shishu Nala Sharif, a 19th century singer known as a secular symbol of the state and Kabir of Karnataka, Kuvempu a celebrated writer who proposed a concept of  a Vishwa Manava (a universal human), who is free of caste, religion and class boundaries, U R Ananthamurthy who was a nightmare for Right wingers and M M Kalburgi who was shot dead for his rational views. 
Recollecting the syncretic past of the state, Gauri wondered the reason behind the rise of the Hindutva Right. Reflecting on what is it that made Karnataka a communal lab for the Hindutva organisations, will be an apt way to remember the fierce activist-journalist. 
Also Read: What Is It That Gauri Did That Got Her Killed?
Gauri Lankesh was shot dead at her residence in Bangalore. The investigation into the murder by the Special Investigation Team (SIT) set up by Karnataka has made it clear that it was a political murder. Her hard-hitting critique of Hindutva had earned her enemies in the Hindutva organisations. The investigation not only helped in reaching out to the conspiracy behind her killing but also the planned murders of Narendra Dabholkar, M M Kalburgi and Govind Pansare before her. The SIT brought to light the existence of a gang of hardline Hindutva recruits functioning in five states -- Madhya Pradesh, Gujarat, Maharashtra, Goa and Karnataka. It is now known that an unnamed organisation/gang comprising at least 60 people recruited from hardline Hindutva organisations like Maharashtra-based Hindu Jagruti Samiti and Sanatan Sanstha, is behind the murders of these rationalists so far. 
How Karnataka Became a Communal Lab 
According to a report carried by the Times Of India, August 30, 2016, Karnataka is the country's third-most communally sensitive-state, with 291 recorded cases of communal violence in three-and-a-half years; Another report in The New Indian Express, on August 31, 2016, claimed that Karnataka stands second in communal violence. 
R S Deshpande, former director of the Institute of Social and Economic Change, Bangalore, speaking to The New Indian Express, said, "As a political observer, I don't see why there should be a reason for the spurt in communal riots in the state.… It may be because of the state's strong reporting system. I can say that in the recent past we have seen a few more riots than before."
Also Read: Elegy For a Lost Friend: Gauri Lankesh (1962-2017)
The BJP government that came to power in 2008 in the state has caused much of the damage to the secular fabric of the state.
As writer Musab Iqbal has argued, "The agenda of their advancement has taken different forms through different means in the state. Direct violence on minorities, cultural invasion, saffronisation of education, discrimination, anti-cow slaughter Bill, Bill on terrorism, attacks on religious places or framing of Muslim youth. The BJP in Karnataka, thus, left behind a script of deep violence that has led to division and hate among communities in daily living. In spite of [not having a] communal history, Karnataka has remained [a] strong [RSS] base." 
Through the instances that follow, it will become clear that the incidents of communal violence in the state were choreographed by BJP and the Sangh Parivar.
Also Read: "They Killed Gauri, Because She Was Alive"
A report put together by Alternative Law Forum explained that people's religious sentiments are especially sensitive during festivals and can be easily roused. The BJP and Sangh Parivar have been quick to use this to their advantage, instigating communal tension during festivals and public celebrations as "...it becomes easy for people to make use of this to move these passions into communal areas."
For example, in Kolar on October 1, 1990, the organisers of Id-Milad had decided to overdo the decorations in the streets. This was noticed by Rashtriya Swayamsevak Sangh (RSS) activists and a quarrel broke out. Someone stole a serial light set. The first skirmish started by 10 p.m. The police intervened and dispersed the mob. But Muslim youth pelted stones on buses and a Maruti car with a pregnant woman inside was badly hit. Soon the propaganda work began by the Sangh Parivar.
They campaigned door to door, organised a meeting where they tried to foment trouble by deciding to resist any efforts by the Muslims to take out the Id procession. The police entered the meeting and tried to pacify the people, convincing them to not prevent the Id procession.
Also Read: Baba Budan Giri: From Syncretic Culture to Communal Hotbed
When this was agreed to, and it was clear that RSS/Vishwa Hindu Parishad had failed in their plan, later in the day, an innocent boy was stabbed by RSS activists near Venugopal Swamy temple. This led to the police imposing curfew. Meanwhile, rumours kept spreading and Right wing activists instigated rural folk against Muslims resulting in the riots of 1990 and curfew for 78 days.
The BJP and Sangh Parivar have used similar strategies across the country. This kind of violence was replicated again in the communal violence in Uttara Kannada district in 2016.
From 1989 to 2017, the BJP and Sangh Parivar have made sustained efforts to rouse communal sentiments in Karnataka to bolster their larger agenda of a Hindu Rashtra. Even small disputes were blown out of proportion and given a communal hue. For example the incidents in Vokkaleri village (near Kolar) in 1987, Dharwad in 1992, Bidar in 1992, Alland town, a taluk near Gulbarga in 1993, Mulbagal near Kolar in 1996, Chikamagalur and other surrounding areas in 2000, Bangalore in 2000, and Kambripet in Hubli in 2001, got a communal flavour mainly due to the involvement of the party and its think-tank, the RSS.
This transformation of Karnataka from being a syncretic state into a communal lab of the Hindutva, was criticised by Gauri Lankesh, just like M M Kalburgi --  both these voices were stubbed. 
Also Read: Karnataka's Syncretic Culture is being Appropriated by the Hindutva Forces
Get the latest reports & analysis with people's perspective on Protests, movements & deep analytical videos, discussions of the current affairs in your Telegram app. Subscribe to NewsClick's Telegram channel & get Real-Time updates on stories, as they get published on our website.
Subscribe Newsclick On Telegram