Remembering Jawaharlal Nehru, Secularist and True Nationalist
The first prime minister's 59th death anniversary is a moment to recall his role in Indian politics and nation-building.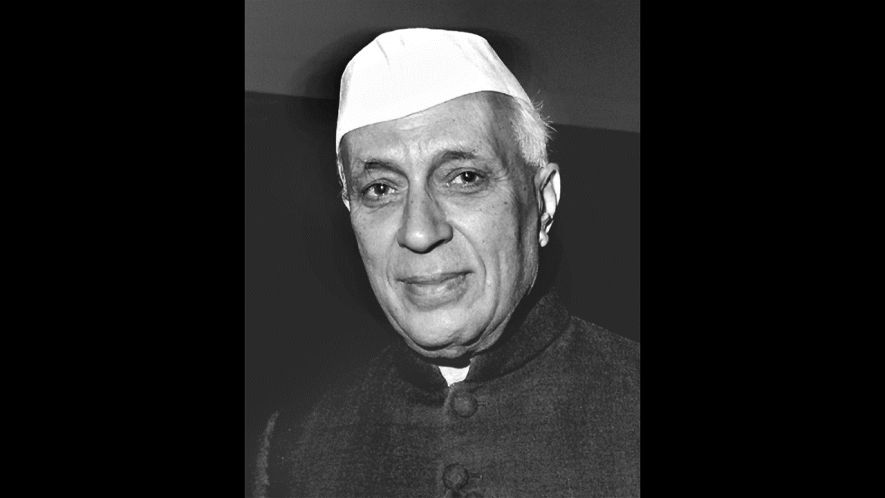 Image Courtesy: Wikimedia Commons
The true heir of Mahatma Gandhi, an ideal patriot, exceptional orator, excellent writer, historian, dreamer and creator of modern India; if all this credit can go to any one person, it is undoubtedly the first prime minister of India, Jawaharlal Nehru. Apart from a leading role in the freedom struggle, India will always be indebted to Nehru for rebuilding India, establishing democracy and strengthening communal harmony. He inherited politics from his father, Motilal Nehru, but his political guru was Gandhi, who later declared Jawaharlal his political successor.
After the Jallianwala Bagh massacre of 1919, Nehru played an essential role in giving a clear direction to Indian politics. At the time, he was appointed assistant to Motilal Nehru, Deshbandhu Chittaranjan Das and Mahatma Gandhi, members of a Congress committee formed to investigate the causes of the Jallianwala incident. In the history of the Congress party, the rare incident of the transfer of presidency directly from father to son is also seen in the context of Jawaharlal Nehru when in 1929, during the Congress session on the banks of the Ravi in Lahore, Gandhi nominated Jawaharlal in place of Motilal Nehru. It was decided to make him party president. In the presidential speech of this session, Nehru resolved to liberate India and fixed 26 January as the date.
But what impressed me more than Nehru's political career was his vision of history.
His outstanding books, The Discovery of India and Glimpses of World History should be included in the curriculum for school students. The letters he wrote to his daughter Indira Gandhi from jail, without reference material and training in history writing, which later took the form of a large book, is another wonderful work. There is no other example of how Nehru wrote five thousand years of world history. Historians have given this work status equivalent to HG Wells's Outline of World History. In this book, Nehru writes that Mahmud Ghaznavi did not attack the Somnath temple motivated by Islamic ideology but purely as a raider. He noted that the commander of his army was a Hindu named Tilak. Innumerable Hindus were in the Ghaznavid army when Mahmud Ghaznavi looted Islamic countries in Central Asia.
Nehru is called the 'maker of modern India'; perhaps this is no exaggeration. It was challenging to renovate economically dilapidated and divided India after the Second World War, but his five-year plans, vision and discernment yielded results years later. I remember the 1980s when the Ayodhya issue was hot and the Ramjanbhoomi movement was on. At the time, Kewal Verma, a journalist in Delhi who was my senior, jokingly remarked, "When we came into journalism in the fifties, India was being renewed and building new temples like the Bhakra Nangal Dam, Rihand Dam, and the Bhilai, Rourkela, and Bokaro steel plants. We would report on their construction and laying of their foundation stones. And you guys have to report issues like Ayodhya—how unlucky you are." Some people may disagree with Verma's remark, but who can disagree with the work Nehru did to give India a spot among developing countries?
Nehru's second primary task was to establish democracy in India, which has taken root here and whose strength the world has accepted. That is why India is called the largest democracy in the world. The foundation of a healthy democracy, laid in the country's first general election in 1952, was under the leadership of Nehru. In the two other general elections held in his lifetime in 1957 and 1962 he not only strengthened democracy with all his might but gave the Opposition full respect. Despite resentment within his party, Nehru accepted and participated in the debate on the first no-confidence motion brought by the Opposition against his government in 1963. No other prime minister has been able to break the record of the time Nehru spent in debates in Parliament and hearing out the opposition members.
Today, there is a continuous decline in the tradition of the prime minister participating in debates in Parliament. Nehru was also a great supporter of the freedom of the press and would say that no matter how irresponsible the press becomes, in a democracy, he cannot support curbing it. Perhaps one reason was he was a journalist, too, and understood the importance of press freedom.
No other Indian leader has achieved his understanding of India or hold over international affairs. As prime minister, he always held the foreign affairs department and that is when he allied with Yugoslavia's Marshal Josip Broz Tito, Egypt's Colonel Gamal Abdel Nasser and Indonesia's Sukarno. Together, these leaders laid the foundation of the Non-Aligned Movement, which was quite effective until the end of the Cold War.
Nehru started strengthening India's relations with Arab countries soon after Independence. In 1956, during the Suez Canal crisis, the world saw him stand firmly with Arab countries. He travelled to Saudi Arabia at the time and during that visit, Shah Saud bin Abdulaziz Al Saud, the ruler of Saudi Arabia, addressed Nehru as Rasul-as-Salaam, which means messenger of peace in Arabic, an honorific used for the Prophet Mohammad. For this, the Shah was severely criticised in Pakistan. But at the same time, Rais Amrohvi, a famous Pakistani poet, wrote an ode to Nehru's glory, which Jang newspaper, published from Karachi, also printed. "The rosary of a Hindu is chanting; the heart of a Brahmin should be like this!"
Secularism and communal harmony were part of Nehru's religion and beliefs, which he never compromised. He restarted the "Phool Walon ki Sair", a festival to mark Hindu-Muslim harmony in Delhi, which the British had stopped. The famous poet Ali Sardar Jafri wrote two poems on Nehru's death, "Rahbar ki Maut" and "Sandal-o-Gulab ki Rakh" (Death of the Leader and Ashes of Sandal and Rose). "He was the honour of the nation and glory of its citizens/ He was the king of humanity among humans," Jafri writes. "It has been heard that this ash is from the pyre/ Of the messenger of spring and prophet of a new social order." But it is also true that Nehru faced failures. He gave the slogan 'Hindi-Chini Bhai-Bhai', but the 1962 war with China caused him great anguish in his last days, and some say it was a crushing blow that contributed to his demise.
The author is a senior journalist writing in Hindi, Urdu and English and has worked with the BBC World Service for 14 years. The views are personal.
Get the latest reports & analysis with people's perspective on Protests, movements & deep analytical videos, discussions of the current affairs in your Telegram app. Subscribe to NewsClick's Telegram channel & get Real-Time updates on stories, as they get published on our website.
Subscribe Newsclick On Telegram