From Remote Villages to Metro Cities, Scheme Workers Strike Work for Regularisation of Services
Led by the Joint Platform of Scheme Workers Federations, ASHAs, along with workers engaged in anganwadis, mid-day meal scheme and National Health Mission also demanded a legislation on 'right to universal healthcare'.
Scheme Workers Protest in Assam
New Delhi: Pushed to the brink after their jobs remained non-regularised since many years now, nearly one crore government-sponsored scheme workers staged a one-day strike on Friday, in what was termed as a "warning" action by the federations in case their demands are not met immediately.
ASHAs, also known as Accredited Social Health Activists, along with workers engaged in the anganwadis, mid-day meal scheme and the National Health Mission (NHM), were among those who took to the streets across the country.
While demonstrations, dharnas, and rallies were conducted at district and block centres on Friday, followed by which memoranda were submitted to government officials, the striking scheme workers were also joined by trade unionists, farmers and various women's organisations in their protest actions in some states.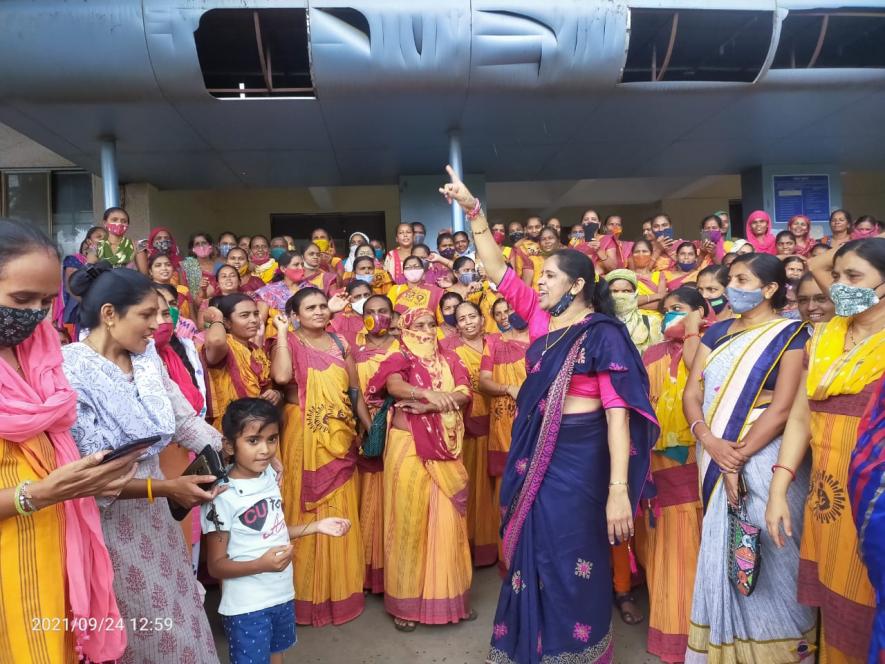 In a statement, the Joint Platform of Scheme Workers Federations termed Friday's protest action as a "massive show of strength" throughout the country, adding that it was a "successful" strike action that saw participation from "remote villages to metro cities".
The national umbrella body is a coming together of scheme federations affiliated to central trade unions – INTUC, AITUC, HMS, CITU, AIUTUC, TUCC, AICCTU, LPF and UTUC.
The statement warned the government of "much more intensified struggles including mass mobilizations and multiple days strike," in the coming days in case the latter refused to budge.
The strike action was observed by "nearly one crore" scheme workers, A R Sindhu of the Joint Platform told Newsclick over phone on Friday, adding that joint conventions were observed at district levels in parts of Bihar, Uttar Pradesh, Odisha, Kerala, Telangana and Andhra Pradesh.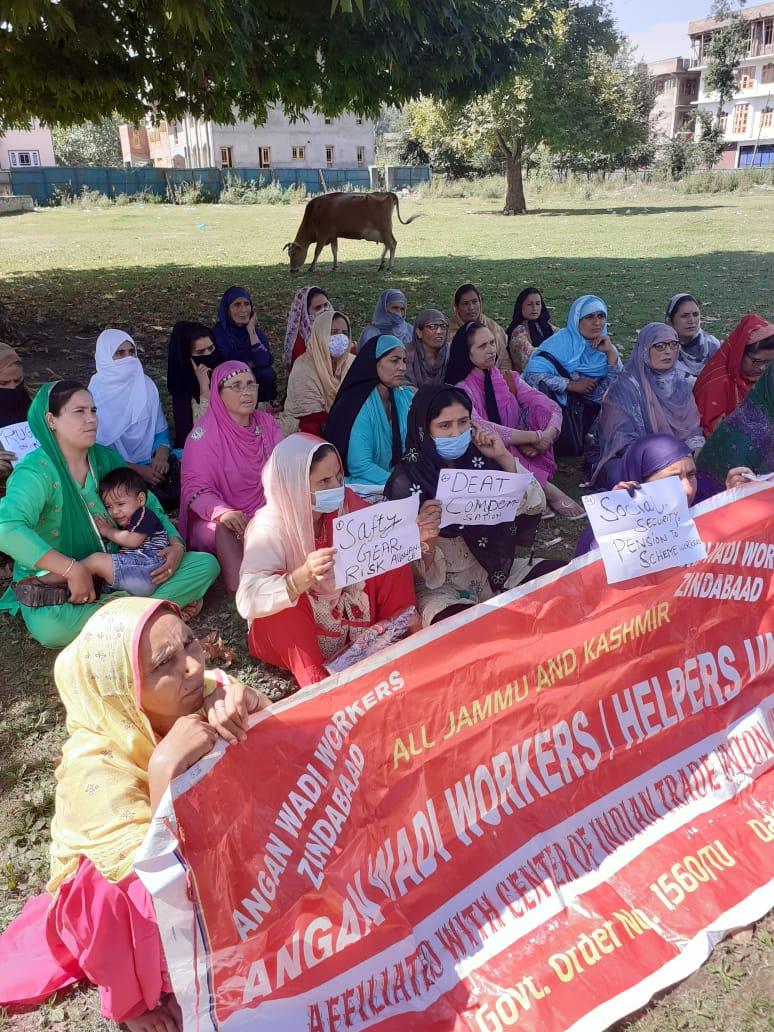 "The strike was more unified this year," Sindhu said, adding, "it was participated by wider sections of scheme workers – cutting across different affiliated unions – compared with earlier struggles and despite the restrictive COVID-19 situation in many parts of the country."
 Sindhu said this year there was greater coordination between various scheme workers and trade unions. "The coming together of all these groups in an organised way allowed us to send the message in a loud and clear manner," she said, terming this as a "good sign" for the various ongoing struggles by  the country's working population.
The Joint Platform of Scheme Workers also submitted a memorandum to Prime Minister Narendra Modi, enlisting their 17-point demand charter that included above all regularisation of their appointments, as per the recommendations of 45th and 46th Indian Labour Conference. They further demanded notifying all those "deputed for COVID duty" as frontline workers.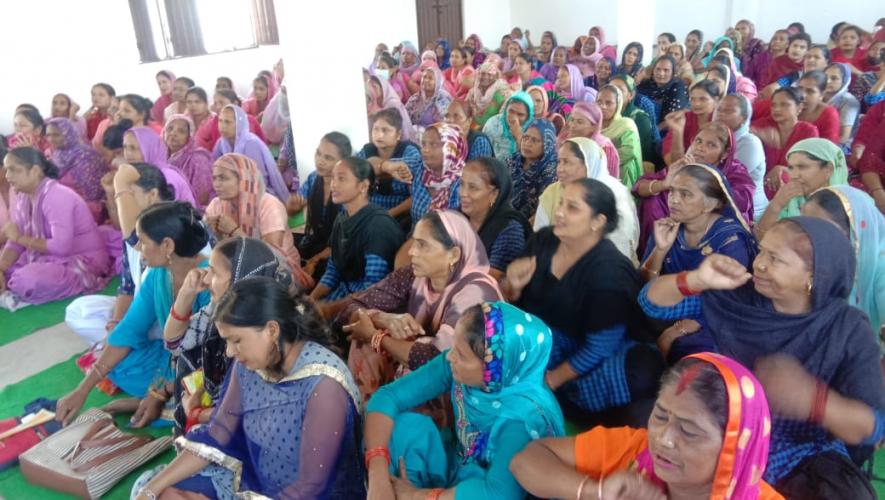 "The government's efforts to address the health crisis and malnutrition are totally depended on the dedicated public sector health workers and frontline workers. A major section of these frontline workers who are the link between the government and the people are the scheme workers," the memorandum read, adding that "it is very unfortunate" that the National Democratic Alliance (NDA) government remains "totally insensitive" to the plight of these workers as well as to beneficiaries of schemes.
The protest action by scheme workers was widespread. For example, in Karnataka, Rama, national president of Scheme Workers Federation of India (SWFI), told NewsClick that nearly 42,000 ASHAs staged a protest across the state. "They were joined by anganwadi workers and mid-day meal workers," she said.
 Rama, who spoke over the phone from Bengaluru where a protest meeting was being held, said their All India United Trade Union Centre (AIUTUC)-affiliated body submitted a memorandum to the Karnataka Chief Minister. "Scheme workers here are performing round the clock duty, without any leave since the outbreak of COVID-19. They have been asked to go door-to-door to conduct surveys, report the cases, get tests done, and are now also engaged in vaccination duties," she said.
Sharing a similar story, Shiva Dubey, speaking from Uttarakhand's capital, Dehradun, said scheme workers were not even paid minimum wages and were bereft of any social security. Dubey, state president of Uttarakhand ASHA Workers' Association, said a massive protest of ASHAs and mid-day meal workers was staged in Dehradun on Friday.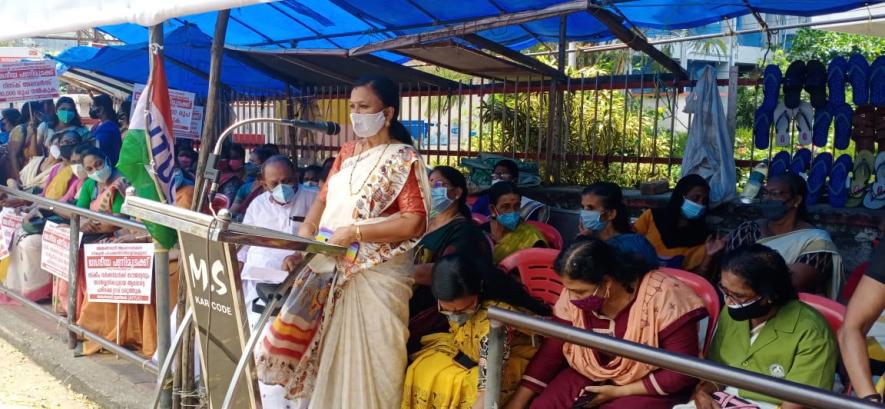 Scheme Workers Protest in Kerala
Likewise, in Punjab, Pratibha Sharma, working president of the All Punjab Aanganwadi Workers' Union, said protests were held in all the districts, followed by submission of memoranda to the district authorities.
Notably, the Centre of Indian Trade Unions (CITU) – led aanganwadi union in Punjab has already been up in arms against the Congress-led state government for many years against the latter's decision to begin enrolment of pre-primary students in government schools.
Pre-school non formal education to the children between aged 3-6 years comes under the objectives of the Aanganwadi services, since it was launched in 1975. Since over six months now, the anganwadi workers have been staging a sit-in outside the Sangrur residence of state's education minister Vijay Inder Singla.
"On Friday, the anganwadi workers were joined by other scheme workers. There was also massive mobilisation outside [Vijay Inder] Singla's residence in Sangrur today," Sharma said over the phone from Bhatinda. She said another reason for the anganwadi workers to demonstrate was the fact that despite assisting the local health departments to arrest the spread of COVID-19, these workers, unlike ASHAs, were not yet considered as 'frontline workers'.
In Assam, over a quarter of the total strength of mid-day meal workers – around 35,000 – staged protests, according to Bibekananda Adhikari of the All Assam Mid-day Meal Workers Union. "These cook-cum-helpers have been received a meagre Rs. 1,500 as monthly remuneration. What's more, even this amount is not regularly disbursed by the state government, for which the union has been protesting every now and then," he said.
Shweta Voda of the Delhi ASHA Kamgar Union told NewsClick that a protest demonstration was held at Mandi House in the national capital as part of the countrywide strike action by scheme workers. "We had earlier planned to take out a rally from Mandi House to Jantar Mantar but were denied permission by the Delhi Police at the last moment," she said.
Voda, who is part of AICCTU, said a delegation led by their union also met Union Labour and Employment Minister Bhupendra Yadav on Friday. "We submitted the memorandum to him. He gave us an assurance that the Centre would look into the matter," she said.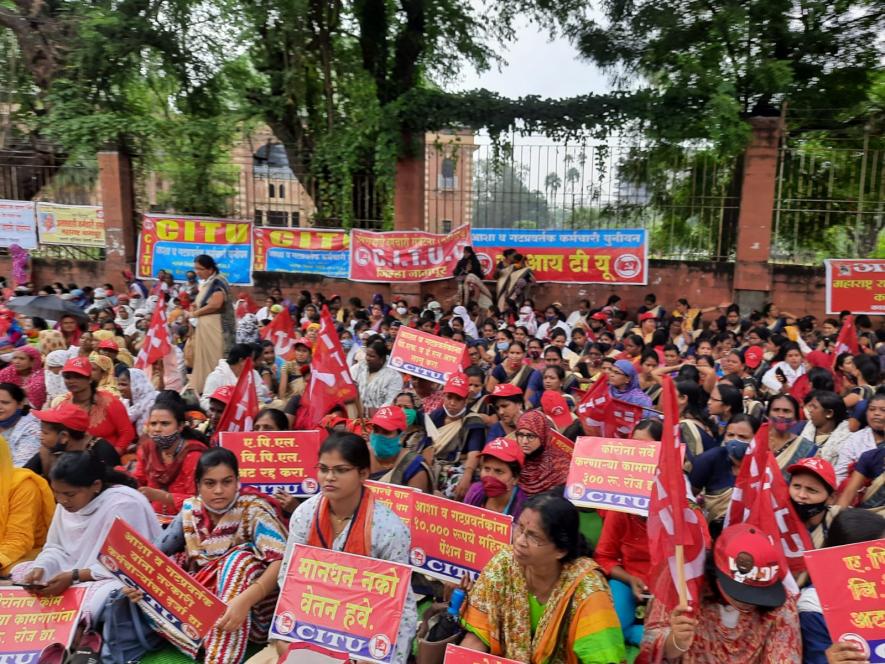 Scheme Workers Protest in Maharashtra
ASHAs, engaged under the National Health Rural Mission (NHRM), and anganwadi workers, who are attached with the Centre's flagship Integrated Child Development Services (ICDS), are all-women workforce. There are currently over 10 lakh ASHAs and nearly 14 lakh anganwadi workers in the country, along with over 12 lakh anganwadi helpers, as per government estimates.
Moreover, nine out of 10 workers engaged with the mid-day meal scheme, run by the Ministry of Education as a school meal programme, are women.
For years, these workers have been deprived of the status of a 'worker' by the government despite the fact that these women play a crucial role in ensuring the health and nutritional well-being of local communities.
Similarly, engaged under NHRM, that was launched in 2005, ASHAs are envisaged as community health "volunteers", not workers, and are entitled to task/activity-based incentives over and above a monthly fixed minimum "honorarium", not wages.
Sindhu told Newsclick that the federations are also demanding that the government immediately announce a minimum wage amounting to Rs. 21,000/month, along with provisions for extending Employees State Insurance and provident fund to all scheme workers in the country.
"However, better service conditions is not the only issue we are raising, we are also pressuring the government to increase funding to these schemes to ensure that the health and the nutritional needs of the country's population are adequately addressed," she said.
The federations on Friday also demanded enactment of a legislation to realise the 'right to universal healthcare'. They said public health infrastructure must be strengthened for which the government must ensure that 6% of the country's GDP is spent on the health sector.
Friday's strike by scheme workers was also supported by the Central Trade Unions (CTUs) and the Samyukt Kisan Morcha (SKM). Amarjeet Kaur, general secretary, All India Trade Union Congress, told NewsClick that even as solidarity was extended by trade unions and farmers throughout the country, they were seen as coming out in support mainly in parts of Western region of Uttar Pradesh, Maharashtra, Madhya Pradesh, among others.
"Now, the next important date for us is the September 27 when a 'Bharat Bandh' call by SKM will be observed across the country. The scheme workers have been with farmers since the start of their agitation last year. They will join the upcoming 'bandh' call as well," she added
Get the latest reports & analysis with people's perspective on Protests, movements & deep analytical videos, discussions of the current affairs in your Telegram app. Subscribe to NewsClick's Telegram channel & get Real-Time updates on stories, as they get published on our website.
Subscribe Newsclick On Telegram