Justice Lokur, A People's Judge: Indira Jaising
The former Supreme Court judge answers questions on the controversy around the elevation of SC judges, the collegium system, corruption and nepotism within judiciary.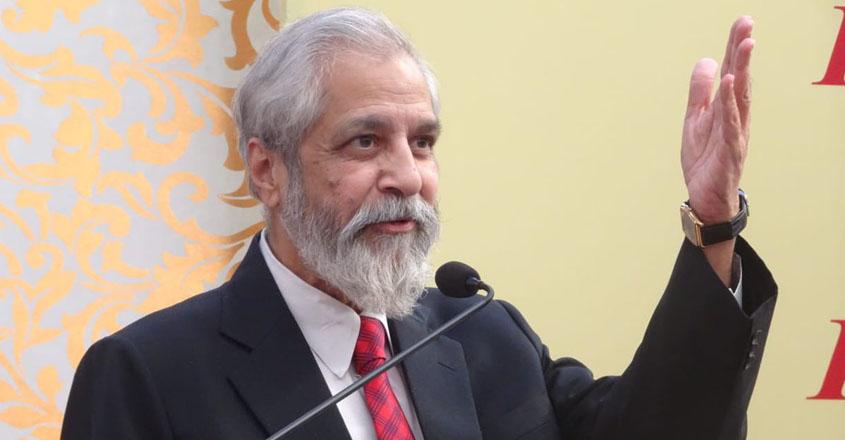 Retired Supreme Court Judge, Madan Lokur.
On January 23, 2019, Justice Madan B Lokur (retd), former Supreme Court judge, spoke at an event organised by The Leaflet, with senior journalist of India Today, Rajdeep Sardesai. Former Solicitor General of India and senior advocate Indira Jaising opened the discussion by introducing Justice Lokur as a "People's Judge" who has closely worked with civil society on a number of cases, while being on and off the bench, and gave rightful legitimacy to civil society in the decision making of the court. Jaising added that he has often invited NGOs with expertise to submit reports to the court to analyse and pass orders based on them, which, according to her, made justice "truly participatory" and led to the delivery of justice "to the last mile."
Last month, the Supreme Court had recommended the elevation of Justice Pradeep Nandrajog, Chief Justice of Rajasthan High Court, and Justice Rajendra Menon, Chief Justice of Delhi High Court. However, the decision could not be implemented due to the court closing for the winter break. When the court reconvened, Justice Lokur retired and Justice Arun Mishra was inducted into the collegium. On January 10, the new collegium decided to elevate Justice Maheshwari, Chief Justice of the Karnataka High Court and Justice Khanna of the Delhi High Court. The new collegium now comprises of the Chief Justice of India (CJI) and four other senior most judges – Justice AK Sikri, Justice SA Bobde, Justice NV Ramana and Justice Arun Mishra.
Sardesai began by asking Justice Lokur's opinion on what he feels about the "judiciary being under constant scrutiny, no longer confined to the gates of the court" and "making its way to the headlines" and controversial news. Justice Lokur responded by saying that, "Every institution must be under the same microscope." With that response, Sardesai jumped straight to the change in the collegium's decision on the non-elevation of the two judges. He asked if Justice Lokur was disappointed that the decision taken by the collegium was not only not made public (as per practice of putting out the resolution on SC's website) but was also reversed with some additional material of which Justice Lokur had no information about. He responded by confirming he had no information about what the additional information entailed and also said that he was disappointed that the decision taken in December was not made public. He further said, "But why it wasn't put up, I don't know", and added, "I did not question any motive nor did I seek any explanation. It is not my business."
Questioning the Appointment and Transfer of Judges
Sardesai questioned the opaqueness of the collegium system, to which Justice Lokur responded by saying "What happens in the collegium is done in confidence and I cannot betray anyone's trust and discuss the details of what was discussed. It's a matter of trust and confidence. So, we take certain decisions and then upload it."
Sardesai also questioned "the lack of transparency in the way judges are appointed," which "runs the risk of sparking of similar controversy in the future." Drawing from the National Judicial Appointments Commission (NJAC) judgment, Lokur suggested that there should be an eligibility criteria in the selection of judges. He said that suggestions for implementing the NJAC judgement were invited from all corners. He clarified that a huge number of suggestions were collected from the public domain and handed over for analysis to the Additional Solicitor General and other senior advocates. He said, "We were told by the Additional Solicitor General that the government and the Ministry of Law and Justice should come out with a Memorandum of Procedure (MOP)".
Questions on the Collegium System
Sardesai asked, "Has the collegium system failed and we need a new system to look into the way judges are transferred and appointed?" To this, Justice Lokur responded, "I wouldn't say the collegium system has failed because 'fail' is a very strong word. Within the existing system the current system was the best, but like every system it requires tweaking."
ALSO READ: Supreme Court Collegium: What Happened Between December and January?
On questions pertaining to the allegation of nepotism in the judiciary, Justice Lokur clarified, "I don't think there is nepotism or 'shifarish' (recommendation) or influence peddling. For instance, if there is a suggestion given by the Chief Justice, there is a discussion and even if the CJI has views that one may agree or disagree with, it is all followed by a healthy discussion."
Questions on the Powers of CJI
With respect to the question on whether the CJI has too much primacy over other members in the collegiums, Justice Lokur said, "The Chief Justice is first amongst equals so the discussion is initiated by the chief justice and as one of the equals I may or may not agree with the Chief Justice."
Sardesai asked about why the judges whose names had been rejected by the collegium were not good enough to be promoted to the Supreme Court but were okay to continue as High Court Chief Justices. Justice Lokur explained that, "A person may be good as a Chief Justice but might not necessarily be good enough to serve as a Supreme Court judge". Speaking of the "additional material", he clarified that he was not privy to any "additional material". On the discussion of making the additional material public that changed the decision of the collegium, he explained that, "We don't know what kind of additional material was before the collegium on January 10, 2019. So, if the material is defamatory or incorrect, should we expect them to put it out despite it being defamatory or incorrect?"
Questions on the Corruption in Judiciary
On being asked his opinion on the corruption in judiciary, Justice Lokur jokingly asked Sardesai to give him the names of the corrupt judges. He responded saying that he does not want to risk a contempt of court and would leave that job to the likes of Advocate Prashant Bhushan. Senior Advocate Indira Jaising raised the question of the then CJI Dipak Misra's recommendation of impeachment proceeding against Justice Shree Narayan Shukla of Allahabad High Court and also recommended the Chief Justice of Allahabad High Court to withdraw from judicial work. At this juncture, Senior Advocate Prashant Bhushan added that in his knowledge a High Court judge, facing corruption allegations by a sitting Supreme Court judge, had in fact been considered for elevation.
ALSO READ: Few Questions for the Supreme Court of India
Justice Lokur cited a personal example on being part of an investigating committee against a judge. He said that they did find that the accused judge was corrupt. However, he was not aware of the then CJI's final decision. He also mentioned that he believes every judge including the CJI should be subjected to investigations and enquiries when required. He added that the system needs to be speedier so that justice can be ensured in cases of allegation and review of corruption charges against a judge.
Sardesai questioned Justice Lokur on the proximity of the judges to the executive, to which he argued that judges cannot be "hermits" and finds it "ironic that on the one hand, judges are supposed to be human and approachable, but on the other hand, they are placed in ivory towers."
ALSO READ: The Government has Acted in an Arbitrary, Illegal and Unconstitutional Manner
Misunderstanding of Power or Overstepping
Sardesai asked whether courts should be involved with certain core issues rather than those which don't require judicial scrutiny. Without discussing any case in particular, Justice Lokur said, "Yes, there are cases where the charges have gone beyond what was initially required and there is a need for courts to take a few steps back in some cases."
However, he clarified that the same is true for every branch of democracy – including the executive and the legislature – and hence, disagrees with the usage of the word "overreach." He said, "Misunderstanding one's power is not equivalent to over stepping." According to him, "We are unfortunately not discussing some of the most important issues with respect to speedy judgments and how we should exercise justice delivery and make it more accessible." For him, "There are larger issues to be discussed and we should get on to this job."
Questions on Post Retirement Assignment of Newly Retired Judges of SC
Lastly, Justice Lokur was careful in supporting the idea of post-retirement assignments for retired judges and pointed out that a number of laws categorically require some tribunals and statutory bodies to be chaired and headed by retired judges. He argued that if needed, the laws should be changed, but "a decision by all judges to refuse post-retirement appointments would bring things to a standstill." However, he emphasised that a line has to be drawn on accepting post-retirement jobs for judges.
He ended on a lighter note by responding to Sardesai's question on whether "a government bungalow awaits him." Justice Lokur responded by saying, "I won't accept any governorship or nomination to Rajya Sabha."
Get the latest reports & analysis with people's perspective on Protests, movements & deep analytical videos, discussions of the current affairs in your Telegram app. Subscribe to NewsClick's Telegram channel & get Real-Time updates on stories, as they get published on our website.
Subscribe Newsclick On Telegram