Rich Percussion of Craftsmanship, Heritage Echoes in Telangana
MD. Ebrahim and Sons is a living testament to the artistry and craftsmanship of artists dedicated to producing membranophones since 1843.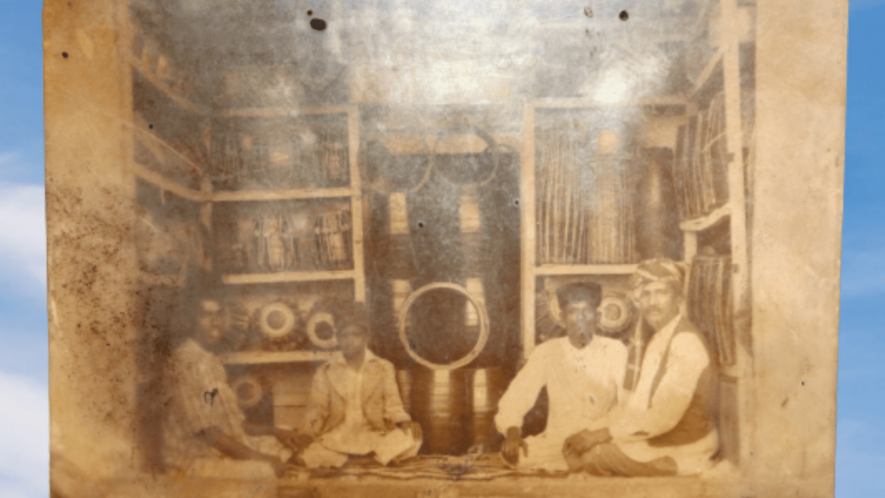 Mohammad Osman and his sons.
The subaltern artists in Secunderabad feel a sense of foreboding despite being located within the largest military cantonment. Secunderabad's Mahankali Temple is the venue for the annual Bonala festival and fair. Adjacent to the temple's northern entrance is a lane adorned with many musical stores, which earned the moniker "Music Maker's Lane".
Among these establishments, MD. Ebrahim and Sons stands out as the most ancient. It is likely that this shop is among the oldest in Hyderabad dedicated to the craft of creating membranophones.
The lane is adorned with saffron flags held by plastic threads fastened to electric poles. There is an array of shops specialising in selling wedding essentials and garments. Amid the bustling scene, two weathered shops topped with cement roof sheets seem to stand as witness to the evolving landscape of the lane. Their presence serves as a poignant reminder that they too might eventually fade into the history of the lane with the passage of time.
Three brothers travel from their home in the old city to their shop across Hussain Sagar Lake daily. This tradition was established over a century ago by their father Ebrahim.
Ebrahim and Sons, a veritable treasure trove of both meticulously crafted and raw, unadorned musical instruments, greets visitors with a symphony of sights and sounds. The finished musical creations, each a testament to the artisan's skill, dangle gracefully from the semi-wooden ceiling. These instruments, each a work of art in its own right, also extend their presence outside the shop adorning its antique entrance door and even on the ground.
From its inception in 1843 until now, Ebrahim and Sons has consistently been a hub of musical instrument craftsmanship. Their repertoire spans an impressive array of instruments, encompassing the tabla, pakhawaj, khanjira, pambai, urumi, kundalam, kirikatti, dappu, mridangam, uddukai, nagara, dhol, dumki, dolak, chenda, suddha maddalam, idakka, dundhubi, tavil, damaru, congo and bango. This extensive collection reflects their unwavering commitment to preserving and enriching India's musical heritage.
The very essence of animals finds a second life here—the supple skins of buffaloes, cows, and goats wait to be transformed into resonating membranes that will bring forth melodies.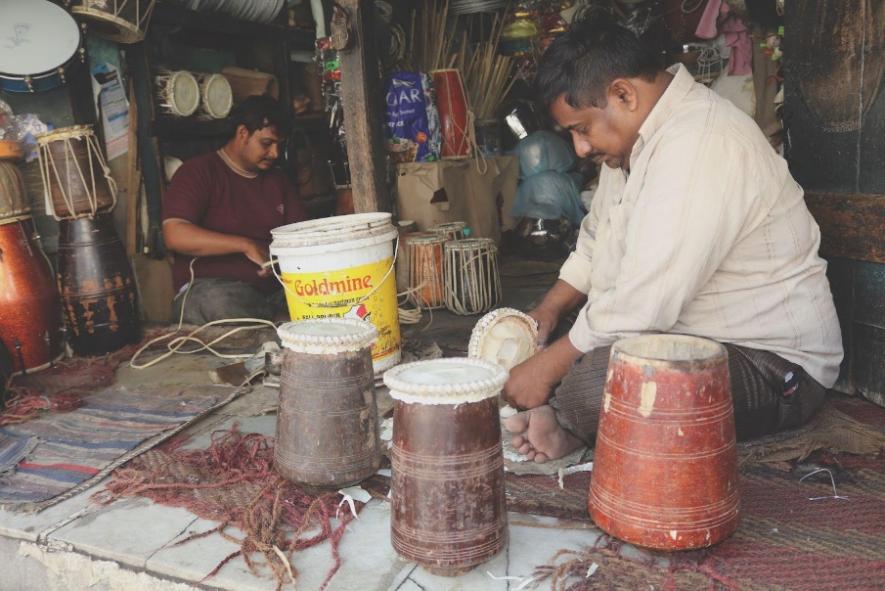 Mohammad Jaffer and Mohammad Bari are absorbed in their daily leather routines.
Within the confines of the shop, brothers Mohammad Bari and Mohammad Jaffer sit facing each other and engrossed in their meticulous craftsmanship of leather instruments. However, their ensemble is incomplete as the third sibling, Mohammad Ibrahim, who also crafts instruments in the shop, is conspicuously absent.
"Our esteemed establishment, MD. Ebrahim and Sons, has its origin in 1843 when my great-grandfather Mohammad Osman laid its foundation. The shop stands as an unparalleled legacy, being the oldest of its kind not just in the vicinity but across the entire state of Telangana," a proud Jaffer says.
"As the torchbearer of our family's legacy, I proudly represent the fourth successive generation to embrace the intricate art of crafting leather instruments. My initiation into this esteemed tradition occurred under the watchful guidance of my father, Ebrahim, who himself was a skilled craftsman," he adds.
Over 35 years, Jaffer has "devoted" himself to this craft "transitioning from an eager learner to a seasoned professional in the field".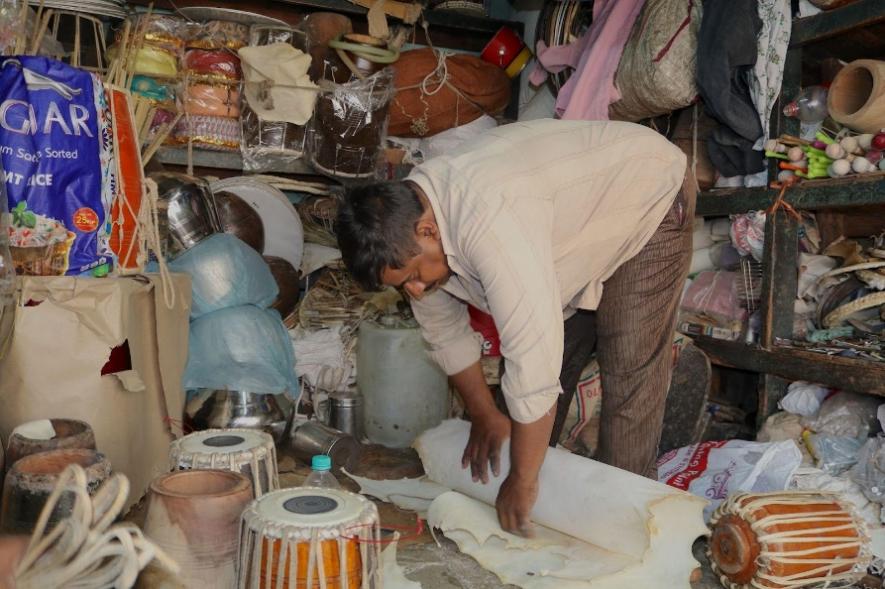 Mohammad Jaffer rolls the raw leather mats.
 Their instruments have not only enriched the local musical landscape but also touched the hearts of Telugu, Tamil, and Karnataka diasporas. The instruments have also found their way to places of worship, churches, esteemed music colleges and even into the hands of accomplished music directors in Hyderabad city. The resonance of their craftsmanship echoes across diverse cultures and institutions weaving a musical tapestry that transcends boundaries.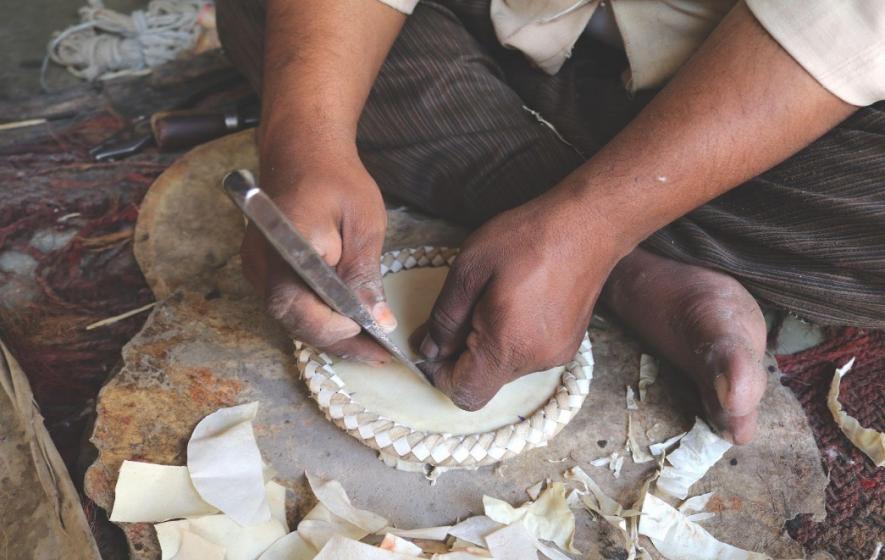 Mohammad Jaffer makes the tabla plate.
Jaffer fondly recalls that Ebrahim was a frequent creator of musical instruments for Telugu film industry music director Saluri Koteshwara Rao, popularly known as Koti, whose musical compositions graced films starring legendary actors like Chiranjeevi, Nagarjuna and Venkatesh.
Why Jaffer never tried his luck in the music industry despite the close ties? As Jaffer hesitates, Bari interjects to explain that they always wanted to produce music but it wasn't "feasible". First, it would be difficult to find a place to learn music. Second, it would mean giving up their livelihood, which involves working with leather.
"One cannot work with leather and perform at concerts or ceremonies. Leaving the business would also mean jeopardising our only source of income," he says.
The skill of crafting tabla instruments was passed down through generations in Ebrahim's family. He learned this intricate art from his father, who, in turn, learned it from his forefathers. Ebrahim's mastery of the art of tabla making was widely recognised. As a testament to the family's craftsmanship, people from various states, including Karnataka, Tamil Nadu and Andhra Pradesh, purchase tablas and get them repaired at the shop.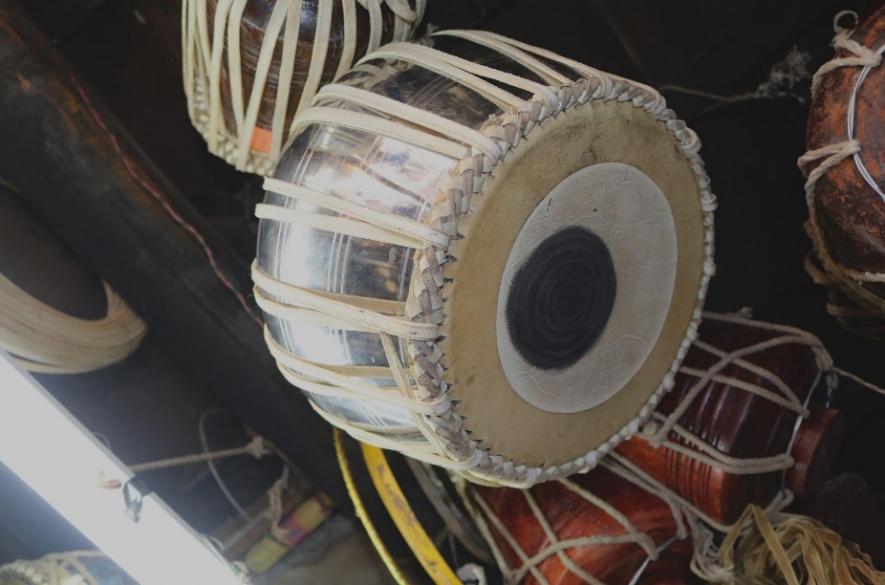 Crafting a percussion instrument requires using three distinct types of animal skins: cows, buffaloes and goats. The tablas that produce higher-pitched tones are fashioned using a meticulous process involving four layers of skin. Specifically, two layers are sourced from cows and one layer each from buffalo and goat skins.
However, Jaffer asserts, "We no longer utilise cow skin for crafting tablas." This can be attributed to concerns regarding cow vigilantism by right-wing outfits. The use of cow skin is pivotal in crafting top-notch tablas due to its thin texture, resulting in exceptional beats.
Skinners primarily belong to lower-caste communities irrespective of their faith. The paradox is that all cow-made leather instruments, from the revered mridangam to the irreverent Damaru, are widely utilised in Hindu culture.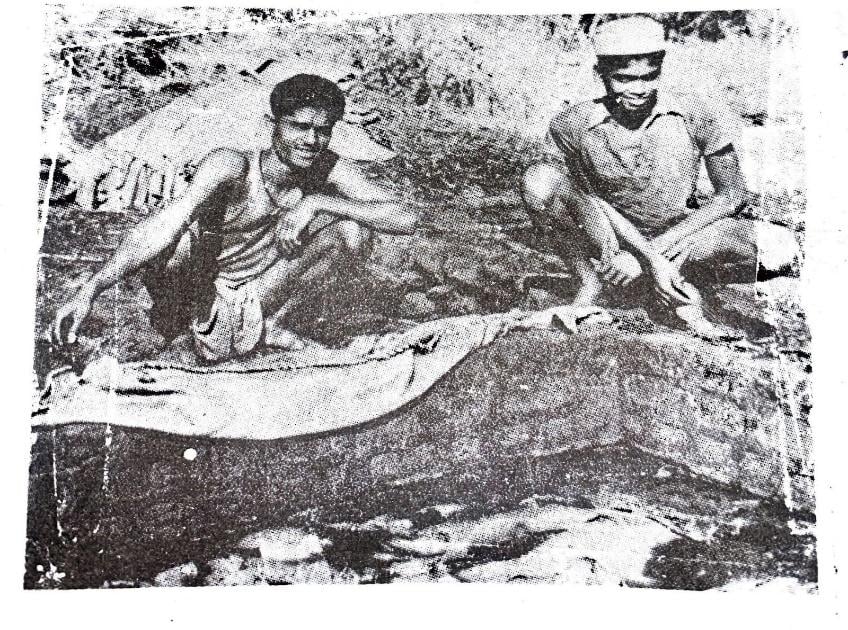 Tanners soak buffalo hides in lime pits for tanning. Source: The culture and civilisation of ancient India in historical outline.
Membranophones are one of the four main categories of musical instruments in the Sachs–Hornbostel system of musical instrument classification. This category consists of musical drums, which produce sound primarily by the vibration of a stretched membrane. The journey of making these musical instruments starts with the skinning of a dead animal. Social scientist Kancha Ilayya named them "Subaltern Scientists" because of their scientific method of dealing with leather. 
For instance, the dappu is made from the skin of cows, buffaloes or goats. The skin is soaked in a solution of lime and salt to prevent it from decaying. After two to three days, it is stretched on the ground by hammering nails around its edges and left to dry to the desired thickness and hardness, which gives it a good sound. The next step is to remove the hair from the surface, a delicate process as it can damage the hide.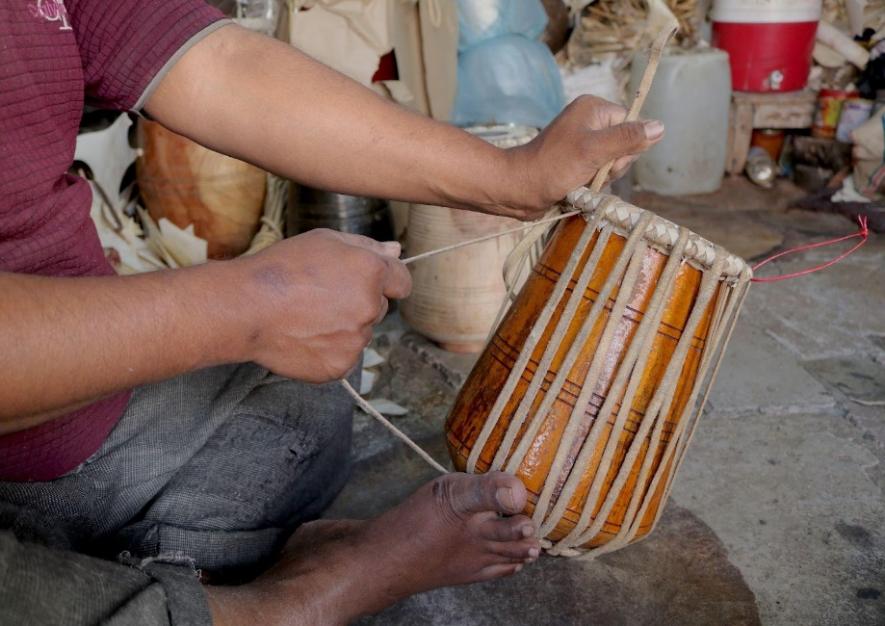 Barri stretches the membrane strips around a tabla.
Jaffer mentions that his family previously relied on self-sourced animal skins for crafting leather products, but they have shifted to importing skins from Maharashtra.
He also shares his concern about the shop's "uncertain future" as his children aren't inclined to carry on the family legacy. It is understandable considering the profession's highly labour-intensive nature.
Regardless of whether Ebrahim and Sons survive, it is more than just a repository of musical instruments. It is a living testament to the artistry, craftsmanship and indomitable spirit of those who have dedicated their lives to creating and preserving the soulful strains of music. The shop's existence is a journey spanning time and generations, encapsulating the very essence of India's rich musical heritage.
The writer is a Hyderabad-based documentary filmmaker, photographer and researcher.
Get the latest reports & analysis with people's perspective on Protests, movements & deep analytical videos, discussions of the current affairs in your Telegram app. Subscribe to NewsClick's Telegram channel & get Real-Time updates on stories, as they get published on our website.
Subscribe Newsclick On Telegram