Riddles of Mr. Market: Prices Crashing for Farmers, Rising for Consumers!
Onion and potato prices have crashed for farmers and wheat too is sold below cost – yet retail prices are on fire.
Prices of many essential commodities continue to remain on fire as far as common consumers are concerned. According to the latest price information released by the government, prices of cereals and products have zoomed up by nearly 17% in the past one year, milk and its products have gone through a near 10% price jump, and spices by a whopping 20%. (see chart below)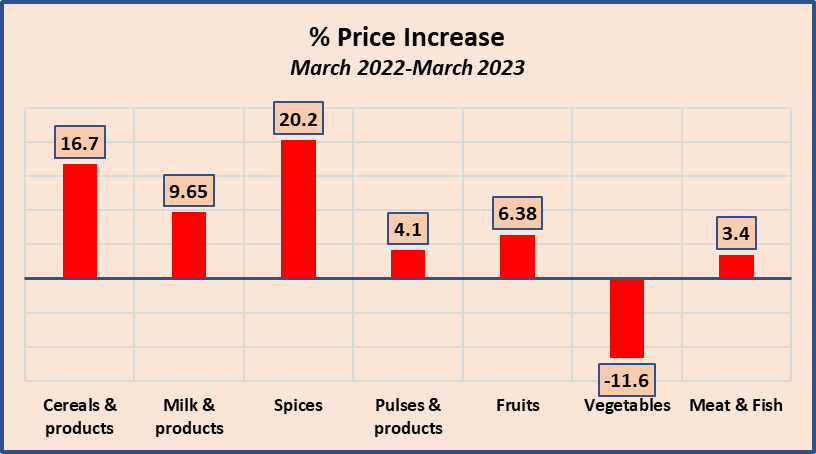 Prices of some commodity groups have not risen much compared with a year ago, like vegetables or meat and eggs, or oils and fats or pulses. But this is slightly deceptive: some commodities within this group have risen much more than others. For example, tur or arhar dal prices have increased by over 9% but those of masoor and gram have registered a slight fall while urad and moong have increased marginally.
This uneven and seemingly irrational price rise in some commodities has the same effect on family budgets, irrespective of stable prices of other commodities. That's because some of the key commodities are on fire. The most flagrant case in point is wheat and flour (atta), a staple cereal for a vast number of Indians. In fact, the other equally important staple, rice, too has been witnessing increasing prices, though not as much as wheat.
Wheat Prices Rise Relentlessly
Wheat prices have increased by nearly 12% and atta prices by over 15% over the past one year, according to the latest data provided by the food and consumer affairs ministry. Rice prices in the retail market have increased by nearly 7% in this period.
Wheat price inflation is particularly galling because it started with a mess-up of monumental proportions last year when the government first decided to export wheat, then had to back off due to damage to the crop after an early summer. Procurement plummeted and there was chaos in the Public Distribution System, with the government forcing people to accept rice or bajra in place of wheat in their precious rations.
Despite another good wheat crop being expected (provided the high temperatures do not recur), one would have thought that wheat prices would fall back. But Mr. Market, with the invisible hand of the government helping it along, has pushed them up.
Part of the reason is the government's decision to scrap the 5 kg foodgrain that was being given free to all persons under the PM Garib Kalyan Anna Yojana, started at the beginning of the pandemic. For a family of four, that means 20 kg wheat gone. The family has to go to the open market to buy that much every month. This is a boon for those traders who have stocked up on the wheat and are straining at the leash to make a quick buck. Although the government released some 2.8 million tonnes of wheat in the open market finally, there are others – like the big companies manufacturing biscuits and other wheat products – who are also in the hunt for buying up wheat or atta. This spiking demand has pushed up prices, again helped along by hoarders and profiteers. It's a free for all, and small wonder that the hapless common Indian is struggling to buy wheat at these elevated prices.
But Farmers Are Protesting at Crashing Prices of Onion, Potato, Milk….
Meanwhile, a bizarre situation prevails as far as prices of two of India's most important vegetables are concerned: onions and potatoes. Farmers are up in arms as the selling prices of both these produce have crashed. Potato farmers have taken to the streets in Uttar Pradesh and West Bengal, both top producers of this staple. Even the promise of buying potatoes at a support price of Rs.650 per quintal in UP or of buying up a certain share of produce in West Bengal has not assuaged the farmers, who allege that governments are offering prices way below their input costs.
In Maharashtra, onion farmers are up in arms and had taken out a massive march from Nashik to Mumbai demanding government intervention to save them from crashing prices. The march included farmers of potatoes, cotton and even milk producers. There have been protests from milk producers in Tamil Nadu too.
According to data available at Agmarknet, an online portal of agricultural marketing information run by the agriculture ministry, average wholesale prices for potatoes and onions offered to farmers in markets across the country, suffered a whopping 28% fall between 2022 and 2023. (See chart below)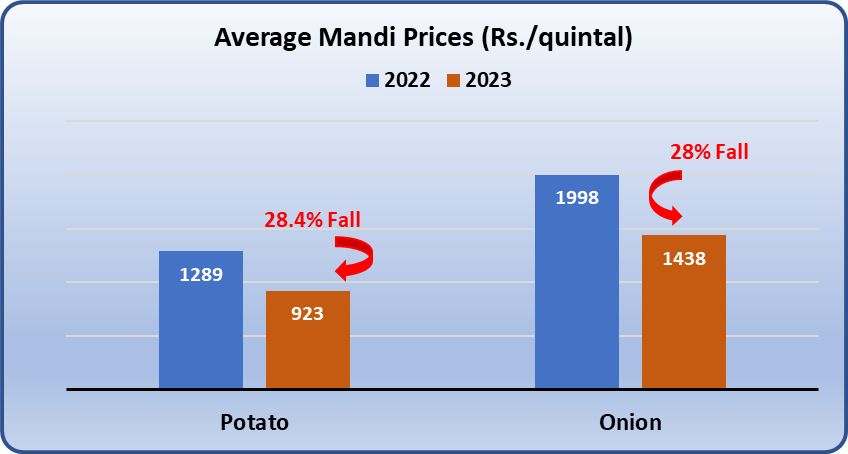 Potato was sold by farmers on an average at Rs.1,289 per quintal in March 2022 but this year, average prices are down to Rs.923 per quintal. Similarly, onion prices were Rs.1,998 per quintal on an average last year but have fallen to Rs.1,438/quintal this year, as of date.
Strangely – or perhaps not so strangely – consumer prices have not fallen as much, as shown in the graphic below. Farmers' selling prices are drawn from Agmarknet, while wholesale and consumer prices are from ministry of food and consumer affairs' database.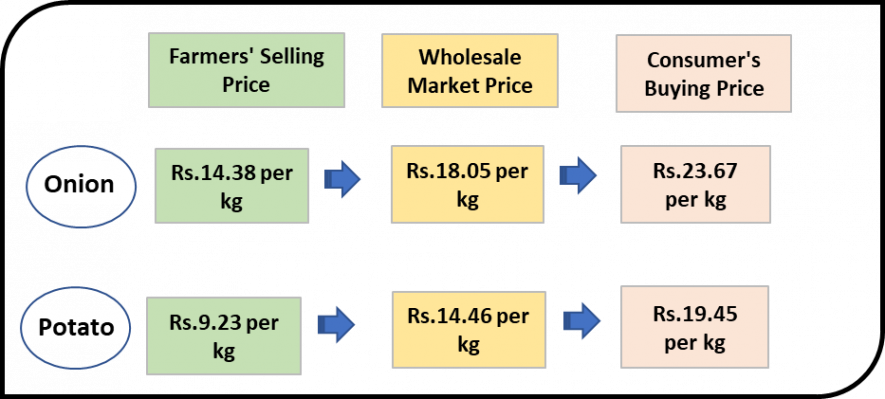 While the onion farmer gets an average price of Rs.14.38 per kg., the average wholesale price in urban markets was recorded at Rs.18.05 per kg., and then the consumer or retail price was averaging Rs.23.67 per kg. Similarly for potato: farmers sold their produce for just Rs.9.23 per kg., wholesalers sold at Rs.14.46 per kg., and retails were finally getting it at Rs.19.45 per kg.
In short, while farmers were getting destroyed due to very low prices, the price mark-up was so high along the chain of middlemen that ultimately the consumer bought onions for nearly 65% higher cost than what the farmers got, and potatoes for a jaw dropping 111% more. The middlemen were making a killing at the cost of both farmers and consumers.
This is what happens when the government allows unbridled and unregulated license to private traders to manipulate and hold prices to ransom. Mr. Market is not an unbiased force, it is a tool in the hands of the powerful and the rich.
Get the latest reports & analysis with people's perspective on Protests, movements & deep analytical videos, discussions of the current affairs in your Telegram app. Subscribe to NewsClick's Telegram channel & get Real-Time updates on stories, as they get published on our website.
Subscribe Newsclick On Telegram