'Rigging, Frauds, Stalled Positions': Victims of Govt Recruitment Scams in MP
As election day approaches, protests against the state government are gaining momentum due to recent scams.
The third year MBBS students protesting as they did not get their scholarship.
In the past year alone, Madhya Pradesh has witnessed discrepancies and protests related to at least four government job vacancies and scholarship programs. 
Incidents of paper leaks and recruitment scams have become a harsh reality in various states as elections draw near. While some job vacancies have been put on hold, others face an uncertain future.
In Madhya Pradesh, a state gearing up for Assembly elections, candidates for government exams, including doctors, engineers, and teachers, both aspirants and those already employed, have voiced their discontent against the ruling BJP regime. Their common complaint: "The government has left us in the lurch with no response, offering us nothing more than verbal assurances."
'Padhai Satyagraha' by Qualified Sub-engineers
Most recently, on August 19, 2023, approximately one kilometre from the chief minister's residence in Bhopal, sub-engineers staged a protest over the delay in their recruitments.
The allegation here is that candidates with lower scores have been employed for over three months, while those with higher scores not only had their appointments postponed but also forced contract workers (samvida karmi) in various state government departments to quit their previous jobs, leaving them unemployed. Notable, document verification has already been completed for these candidates.
The sub-engineer vacancies were announced in 2022 across 31 different departments after a four-year wait. However, the 2018 vacancy was exclusively for existing contract workers. By May 2023, candidates had been allocated to departments based on their scores and preferences. Interestingly, during this process, the government advertised that 27% of the seats would be reserved for OBC students. But, during the same period as document verification, an ongoing case in Madhya Pradesh's High Court resulted in a court order, reducing the reservation to 14%.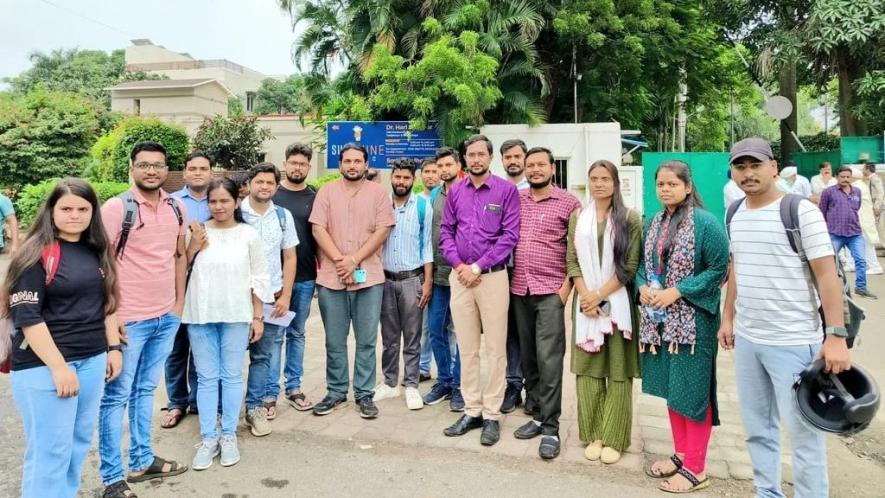 The duly qualified sub-engineers whose posts are on hold after a High Court judgement.
Divya Patel, a candidate whose job is now on hold, expressed her frustration, saying, "If the government intended to make this change, they should have done it with the next recruitment. We've already been through the allocation of departments and document verification. Contract workers had already quit their previous jobs. At this stage, we feel completely betrayed."
Divya, 28, had prepared for this job for three years, completing her engineering degree in her district thanks to a scholarship. She pointed out that although her marks made her eligible for positions in many districts, the High Court's decision now limited her options.
Arunoday Parmar, the State President of Yuva Halla Bol, a youth movement, led the three-day protest by the sub-engineers in Bhopal's Roshanpura Chauraha. He argued, "The state government should have maintained a consistent stance. How could they allocate 27% of the seats in 20 departments and leave the rest on hold? Ultimately, it's the students who suffer." Parmar also alleged that during the protest, he received constant threats from local police, who threatened to file an FIR against him if he did not halt the demonstration.
'Dropped in Remote Areas to Prevent Disruption of Home Minister's Speech'
A group of qualified teachers launched a hunger strike in Bhopal, demanding an increase in the number of available teaching positions, as government data indicated there were available posts.
Since June 2023, these teachers have conducted a relay hunger strike, with four of them abstaining from food each day. They slept in tents, and female protestors were even denied access to nearby washroom facilities in the State Education Department's building.
Rehnuma Sheikh had been at the protest site for about a month with her husband, commuting from a location over 200 kilometres away. On July 26th, while she had briefly returned home to attend to her children, she received shocking news about her fellow protesting teachers.
Around 6:30 pm, Rehnuma called a NewsClick reporter, describing the events of the day. She said, "Our colleagues have been protesting peacefully for a year across Madhya Pradesh and for over a month in Bhopal. Our intention was never to cause harm. However, during an event involving Home Minister Amit Shah, our colleagues were forcibly removed from the protest site at 11 am. We have been unable to contact them or determine their whereabouts." The teachers allege that this was done to prevent them from disrupting the Home Minister's event.
In 2020, after a nine-year wait, vacancies were announced in the Primary Education Department, fulfilling a long-standing demand. Unfortunately, the advertisement did not specify the total number of available positions. Deepak, one of the protesting candidates, explained, "According to government data, there were around 125,000 vacant positions, so we were hopeful that a significant number of positions would be filled."
However, the pandemic caused delays in the hiring process, which only resumed in 2022. Around 600,000 students took the exam after years of preparation, and by July 2022, the results were declared, with 194,000 students qualifying for the posts. Subsequently, a roster was released, leading to a year-long protest. The roster indicated that the government would only fill around 18,000 positions out of the total vacancy.
7 out of 10 Toppers From BJP MLA's College
The Patwari exam created a major controversy when results revealed that 7 out of the top 10 scorers came from the NRI College in Gwalior, owned by BJP MLA Sanjeev Kushwaha.
State Congress members alleged widespread rigging, but State Home Minister Narottam Mishra countered, "There were 115 candidates at the centre; why are questions raised only about the top 7?" He further accused the Congress party of fueling unnecessary propaganda.
One of the top scorers, interviewed by The Lallantop, was unable to answer basic questions about the Patwari post. Out of 9.8 lakh candidates who took the exam, only 9,000 made it onto the merit list. The candidate interviewed by Lallantop ranked third among the top scorers.
The Chief Minister initially suspended all the positions and later announced a thorough investigation. Retired High Court Justice Rajendra Kumar Varma was appointed to probe the allegations and is expected to submit his report to the MP government by August 31st.
MBBS Students Denied Promised Scholarships
When the 2020 batch of MBBS students was admitted, Chief Minister Shivraj Singh Chouhan had assured them of a 100% scholarship for private colleges.
Hansraj Parmar, a third-year MBBS student from a small village in Shajapur district, explained, "Under various state government schemes, students scoring 20-30 marks less than the cut-off in government colleges, and belonging to SC, ST, or OBC categories, were promised a 100% scholarship in the private colleges where they gained admission. The condition was that after completing our degrees, we would serve in rural areas of Madhya Pradesh for a certain period."
However, after applying for the scholarship, they were informed, once classes had already begun in 2020, that they would receive only 85% of the scholarship. The remaining 15%, equivalent to approximately two lakh rupees, was designated as a developmental fee for the college, which students had to cover themselves.
Hansraj recounted, "I've been living on a loan from a local money lender in a hostel. I've approached banks seeking an education loan, but they've refused, citing the 85% scholarship already provided." He further explained that their group had submitted letters to several government officials, including the Chief Minister, Education Minister, and Health Minister. Although the Chief Minister offered verbal assurances, no concrete action was taken.
Even when students protested, they claimed that they were consistently detained by the police. Hansraj Parmar recounted an incident from three months ago when, while protesting in Bhopal, the police picked them up and dropped them 25 kilometres away.
Moreover, the pending three years' worth of developmental fees are adding to their financial stress, and their colleges are pressuring them for payment. With elections looming, they have little hope of receiving the scholarship they were promised.
As election day approaches, protests against the state government are gaining momentum due to recent scams. The youth are mobilising and planning collective demonstrations in the near future.
Get the latest reports & analysis with people's perspective on Protests, movements & deep analytical videos, discussions of the current affairs in your Telegram app. Subscribe to NewsClick's Telegram channel & get Real-Time updates on stories, as they get published on our website.
Subscribe Newsclick On Telegram