Right to Love Campaign Protecting Interfaith and Intercaste Couples in Rural Maharashtra
The Right to Love campaign run by Sushant Asha and Abhijit K, both journalists cum social activists, helps couples facing opposition to avail protection by police, legal help to get marriage registered, counselling to deal with stress and also in finding job opportunities.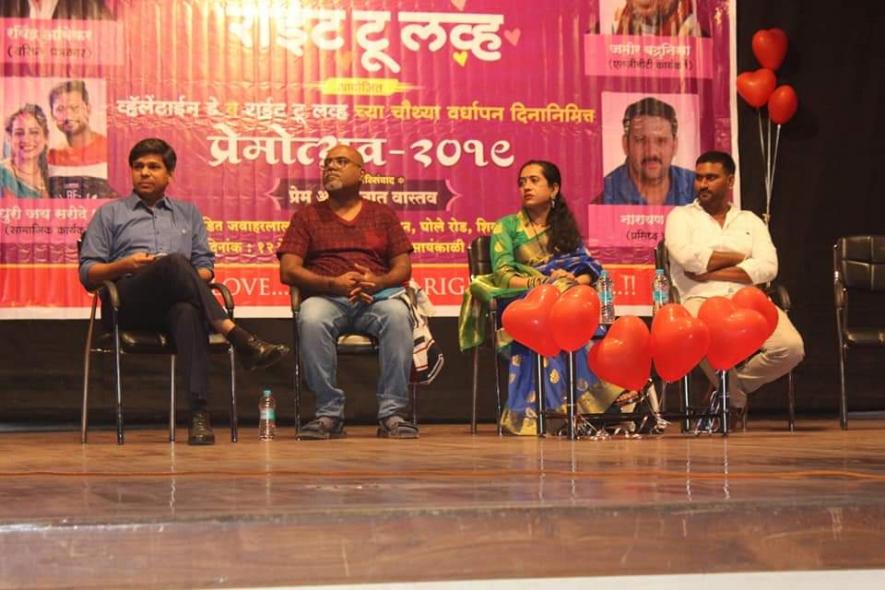 Pune: Hussain, a 35-year-old man and his wife Shradha, a 33-year-old upper caste Hindu woman, believe interfaith or intercaste couples should not pay attention to threats or emotional blackmails and should date or marry. They married against the wishes of both their families in 2015 and were successful in changing their parents' hatred, even though it took quite a few years after their marriage. 
Hussain (name changed), a resident of Agra, and Shraddha (name changed), a resident of Jhansi, Uttar Pradesh, are working in Pune and started dating in 2012. Shradha said, "My parents started to pressure me for marriage when they had a doubt that I was dating somebody. They had no idea that I was dating a Muslim guy. We decided to marry for safety as they would not do anything if I am legally married. We also found about the Right to Love campaign." 
Right to Love Campaign
The Right to Love campaign run by Sushant Asha and Abhijit K, both journalists cum social activists, helps couples facing opposition to avail protection by police, legal help to get marriage registered, counselling to deal with stress and also in finding job opportunities. 
As three states- Haryana, Uttar Pradesh, and Karnataka—are mulling over a ban on interfaith marriage, the significance of the work done by RTL becomes even more stark. Right to Love has so far helped in over 50 marriages that included three interfaith, while the remaining were inter-caste marriages across Maharashtra. 
Detailing the help they received from the RTL campaing, Hussain told NewsClick, "We had no idea that interfaith couples had to register marriage under Special Marriage Act, 1954. We married in April 2015 with the help of Sushant and Abhijit. We ran away to Dubai due to fear mostly from Shraddha's family and returned after a year to Pune. Luckily both my and her family have accepted us now."
Sushant said, "To go against parents takes a toll on their mental health. We have to counsel couples and offer them support. Parents in the rural areas can even react violently, going to the extent of killing the couple. In such extreme cases, we give complaints to police and seek protection. Police have been helpful in this process."
Also read: The Interfaith Marriage of Nusrat Jahan, and Deoband's Fatwa
He added, "We also have to explain the legal processes (to the couple). For example, if the couple is Hindu it can go for Hindu Marriage Act, 1955. We also try to get jobs for them though its not always possible. We don't have any funding and our counsellors, lawyers and friends help us." 
Inter-caste and inter-faith marriages in India 
Only 2% of marriages in 2019 were registered under the Special Marriage Act for interfaith couples in Delhi as per one survey. While, only 5.8% of marriages are intercaste as per the 2011 Census despite many schemes for its promotion. 
Ravindra Sathe (name changed), a driver for a local corporate in Pune, shivers even after five years as he recalls how he, along with his girlfriend, had to be on the run from one city to another due the fear of getting killed by her family. Ravindra, belonging to a scheduled caste, was a resident of Sangli in Maharashtra when he started dating Shruti, who belonged to upper caste, eight years ago. 
"When her family realised we were dating, they decided to get her married forcefully in 2015. Shruti's family is rich and her uncle was an MLA, so they decided to marry her off in order to save the reputation of her family. We then ran away," Ravindra said. 
"Her family could have killed us so we went to Tryambkeshwar, then Hyderabad and went to Varanasi. People would understand we were not locals and had run away from our homes. We were fed up as we felt Maharashtra is a much safer place to live. Luckily for us, one ticket checker in the railways who was from Maharashtra, realised our situation and gave us Rs 1,000, telling us to go back. I was also tired after running for four consecutive months," said.
He continued, "Meanwhile, a friend shared the contact of Right to Love activists. Sushant and the team assured me that they have lawyers, doctors in the team and I should not worry. Their counsellors explained to us well why we should not worry about the fear of getting killed. They helped me to get a job as a driver for a school bus. Now I am doing good. Her mother and brother talk to us but father is still angry." 
Commenting on the futility of any act to stop conversion after marriage—which is being demanded by pro-Hindutva groups--Shansuddin Tamboli of the Muslim Satyasodhak Mandal told NewsClick, "Love Jihad like Cow Slaughter Prevention Act are fabricated concepts. Pro-Hindutva organisations use them to polarise the society which is against the Constitution. After Cow Slaughter Prevention Act, mob lynching incidents have gone up. We already have anti-conversion act to stop forceful conversion then what is the use of this? In the same way lynching or attacking on Muslims would go up after this act comes into existence." MSM has also helped many interfaith couples to marry.
He added, "Instead, there should be schemes to promote interfaith marriages in order to integrate the society. Right to Love is one of the organisations working towards creating society envisioned by Mahatma Jyotiba Phule, Dr Babasaheb Amebedkar. Many such organisations should arise to support the interfaith and inter-caste couples who are in need of help."
Get the latest reports & analysis with people's perspective on Protests, movements & deep analytical videos, discussions of the current affairs in your Telegram app. Subscribe to NewsClick's Telegram channel & get Real-Time updates on stories, as they get published on our website.
Subscribe Newsclick On Telegram