Rising Attacks on Christians
Under the Modi regime, an under reported trend is that of increasing attacks on Christians.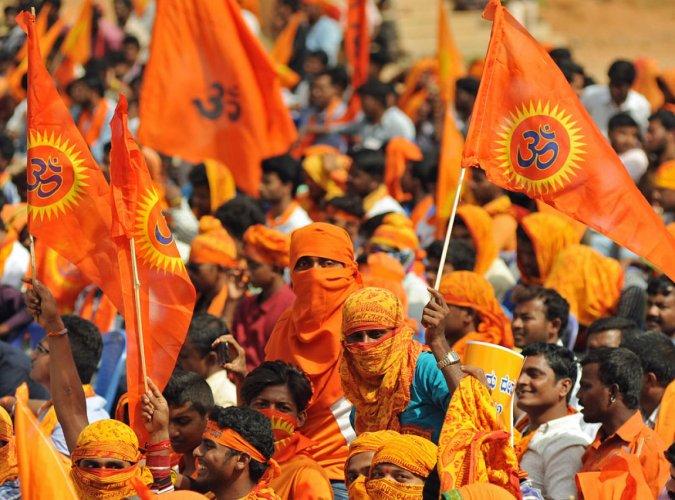 Image Courtesy: Deccan Herald
Raju Prasad, a pastor in Kanpur, Uttar Pradesh was allegedly beaten up by a group of Bajrang Dal workers, on Sunday, July 28. The workers of the extremists Hindutva organisation attacked Prasad on suspicion of conversion in Kanshiram colony of the city. The Indian Express reported that, according to police, the matter was resolved without filing a first information report (FIR). They also claimed Prasad to have said that he was neither thrashed nor was he converting anyone. However, what remains unanswered is the reason behind the presence of Bajrang Dal workers in the place of incidence.
Hindutva extremist organisations like Bajrang Dal, Vishwa Hindu Parishad and the splinters of the Sangh Parivar have assumed a great deal of impunity in the country ever since the Narendra Modi-led Bharatiya Janata Party (BJP) government came to power in 2014.
Speaking to NewsClick about these attacks on Christians, Vijayesh Lal of Evangelical Fellowship of India (EFI) notes, "Every time it has been said that there was a conversion going on." He further asks, "How does the meeting of a few Christians in their homes or churches or in public places become conversion? Isn't it our constitutional right to follow our own religion?" According to the data put together by the religious liberty commission of EFI, the number of incidents of violence on Christians have significantly increased ever since 2014. Lal observes, before 2014 they would come across attacks in some hundreds. In 2014, there were 147 attacks (mostly physical violence) and in the following year, the number of reported cases went up to 177. The half yearly data of 2016 had 218 cases and in 2017 and 2018, these numbers shot up significantly to 351 and 325, respectively.
Also read: History of Attacks on Christians by the Right Wing in India
As far as the Kanpur incident is concerned, there are two different narratives emerging. The Station House Officer of Chakeri police station, Ranjeet Rai, told The Indian Express, "The preliminary investigation suggested that a woman had called the pastor and two women to offer prayer for her ailing mother at her house. She told us that her mother was recovering due to the prayer. She and the pastor denied any information of conversion." However, the Bajrang Dal has a story of it's own.
Kanpur's Bajrang Dal Mahanagar Sahyojak, Piyush Singh told The Indian Express, "For the past few days, we have been getting complaints of conversion in that area. On Sunday, we were told that some people had come to a house in Kanshiram Colony and were converting people. We reached the spot and saw two women distributing religious books to a family. We took the pastor to police station. There was a minor scuffle when he objected to being taken to the police station."
Narrative of 'Forced Conversions' Behind Attacks
While Muslims are attacked in the country in the name of cow slaughter, Christians often become prey to the widely circulated narrative and a conditioned hysteria around forced conversions. Various Christian leaders, pastors and nuns are often attacked after being accused of forcibly converting Hindus to Christianity. Churches as well as Christian charitable trusts are also often vandalised and their property destroyed, thus generating a fear in the community. 
Also Read: Right Wing Attacks on Christians Rise Sharply in 2017
As Michel Safi wrote in the Guardian, "In 2014, Indians elected a Hindu nationalist government in a landslide. Its leader, Narendra Modi, is a lifelong adherent of "Hindutva", the conviction that India's culture and institutions ought to reflect an inherent Hindu nature. Religious minorities – regarded as Hindus led astray by foreign influence – are tolerated, provided they acknowledge Hindu hegemony." The Christians in the country have been the victims of such a sentiment of "provided they acknowledge Hindu hegemony." For e.g., The Hindu in December 2018 had reported that a group of Christians were arrested by the police after they were found to be praying inside their house in Mathura. This was again a case of hysteria around conversions. This group was attacked by the Hindu members of the extended family with the help of local Hindutva groups and the police.
Also Read: Attack Intensifies on Minorities' Right to Practice their Religion in Uttar Pradesh
The Sangh Parivar, using as what Dhirendra K. Jha calls, "Shadow armies" in his book, Shadow Armies: Fringe Organizations and Foot Soldiers of Hindutva, has been carrying out such attacks on Christians in the country. The brutality of these attacks and the fact that these small attacks are under reported, show that these attacks are carried out to generate fear among religious minorities. This is believed to be a measure to safeguard the Hindu hegemony which is a basic requirement for the Sangh Parivar/BJP's agenda of realising a "Hindu Rashtra." The incident in Satna of Madhya Pradesh in December 2017 is a testimony to this.
As per a report in the Outlook, "A group of Catholic carol singers were detained by police on Thursday evening in Madhya Pardesh's Satna after extreme right wing Hindu groups alleged religious conversions. A priest's car was set on fire allegedly by the groups (Bajrang Dal) ." The report explains that the priest's car was lit because he had decided to approach the police to know what led to the detaining of the carol singers.
Also Read: 10 Years Post Kandhamal Riots: Let Us Not Forget How It Tore the Secular Fabric
One also has to note that as in the above mentioned case in Kanpur, FIR is a rare phenomenon in these cases. Lal says, "In 2019 itself, till now there are 200 cases but FIRs have been filed in less than 25 cases." Narrating an incident in Noida in 2014, just after the first Modi government was formed, Lal says a few pastors were meeting in one of their houses, when they were arrested. When the police were questioned, they had apparently said, 'Ye sab nahi chalega. Ye Hindu Rashtra hai. (This will not work here, this is a Hindu Rashtra.)'. "So it was already a Hindu Rashtra apparently," Lal laughs.
Also Read: Elections 2019: Amid Conversion Allegations, Christians Lead Fearful Lives in Jaunpur
The same government led by same Narendra Modi has been re-elected in 2019 and has five more years. Even though the PM has, in several instances, promised to take severe actions against the perpetrators of such attacks, his silence in many instances have acted as a signal to both extremists and  state machineries – a green signal for the former and a direction for the later not to take any action. The fact that no FIR was launched in the case of Prasad and he is actually denying any such attack demonstrates the nature of impunity that the Hindutva extremist organisations like Bajrang Dal have assumed.
Get the latest reports & analysis with people's perspective on Protests, movements & deep analytical videos, discussions of the current affairs in your Telegram app. Subscribe to NewsClick's Telegram channel & get Real-Time updates on stories, as they get published on our website.
Subscribe Newsclick On Telegram