The Roaring Voices from the Margins
Drenched to the bone, shouting slogans, wearing red and carrying red flags, women and men marched forming a sea of red, spilling like blood onto the streets in the heart of Delhi on September 5.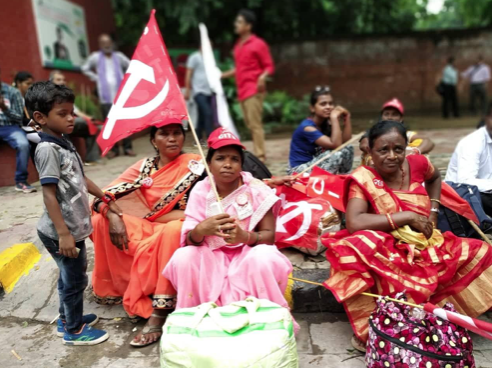 Three lakh workers and farmers stormed the Parliament street on September 5, marching from Ramlila Maidan. They had come from all parts of India with dissent filled hearts and indignation at the way the government is treating them. It had been raining since morning. Drenched to the bone, shouting slogans, wearing red and carrying red flags, women and men marched forming a sea of red, spilling like blood onto the streets in the heart of Delhi. The anger was palpable, and so was their pride, they were demanding their rights with heads held high, they were not begging for charity or handouts- "Hum apne adhikaar maang rahe hain, khairat nahi!" said Indradev Chauhan from a Koyla Khadaan in Chhattisgarh.
Indradev Chauhan, Tilaro Bai, Shanti, Phool Kumari, Vipul Singh are among those of many coal workers who have come from the "Koyla Khadaan" of Chhattisgarh. They have come all the way from Baikunthpur Tehsil in Koriya district of Chhattisgarh. They are workers of South Eastern Coal Fields Limited (SECL) and Coal India limited (CIL). They foresee very difficult times ahead.
The Modi government is pushing for disinvestment in these public sector units. The fear of privatisation is gripping their hearts. Already, a coal mine has been closed and people have been transferred out to other coal locations. Jobs are precariously close to being lost and wage cuts have already begun. Since disinvestment began, 21 per cent of coal shares have been sold to capitalists, and 117 coal mines have been sold so far. With the shares being given to private players, there is a constant pressure on the units to generate profits, so that a share of the profits can be given to the shareholders, the private entities.
To make more profits, there is a huge pressure on the coal workers. As larger profit means cost cutting, the workers are now facing wage cuts with increased work pressure. Earlier each worker was assigned a single role in the mine, but now workers have to do different jobs in the coal mines, handling different roles. To arrange profits for the capitalists, the government is squeezing the last drop of blood out of these worker- rolling back welfare schemes and 8 hour work days are turned to 12-15 hour days with no overtime being given.
Once a worker retires, they are now only hiring contractual labor, in order to cut costs on benefits, welfare, etc. These contractual jobs and the hiring processes are rife with corruption, with middle men taking cuts from workers to get them appointed as contractual workers. The money from the cuts, they feel goes all the way up to the management and even the top government offices. This is a nexus of the government with the private players, to exploit the workers, to siphon off resources which rightfully belong to the people, and to maximize private benefits at the cost of human life and dignity and human development.
A lot of these coal blocks are being auctioned off at throwaway prices to corporates like Ambani and Adani. Another dangerous policy change that the Modi Government is trying to enforce is to change the laws concerning the sale of coal in the open market. Earlier, by law, mines were captive meaning that businessmen could use only that much coal that was required for their own factory, for energy needs, etc. But now there is an attempt by the government at the beckoning of the corporates, to allow sale of coal by them in the open market. The very dangerous consequence of this would be that the private companies will hire cheap contractual labor and mine the coal at very little cost, while the public sector enterprises have to give higher wages to their permanent employees, thereby making their cost of mining higher resulting in uncompetitive prices in the open market. If the public sector produced coal is unable to compete with the privately produced coal, then the public sector will be unable to sell their coal, incurring huge losses. Loss making enterprises will either be shut down leading to massive job loss or this will be used as another excuse for further privatisation. This is a deliberate attempt by the Modi government to cripple the hard working coal miners of Chhattisgarh, to snatch away from them their livelihoods, and give away their resources to crony capitalists.
From Assam
Bhavananda Roy, Deepa Borah, Dheeran Bhumij have come all the way from Sonitpur district and Biswanath district of Assam. They gave us some shocking numbers. The daily wages of tea garden workers is Rs. 167 per day, they have to work for 15 hours a day, the scheme workers get Rs. 1000/month, and rural pension is Rs. 200/month. Employment is very low while the government is distracting attention by bringing out lists like the NRC list, and dividing the people on the basis of religion and language without addressing the real issues of unemployment, inflation, hunger and starvation.
Assam faces floods every year, while the central government gives very meagre flood relief. Their demands are very clear- a higher daily wage of Rs. 350/day for tea garden workers, and welfare and medical facilities for them; the farmers should be allotted  "patta" or land in their name. PM Modi had promised 2 crore jobs, these jobs have to be provided. They very categorically said that they don't want lists like the NRC list, instead they want rural pension to be increased to Rs. 5000/month, and a solution for the problems of starvation and hunger.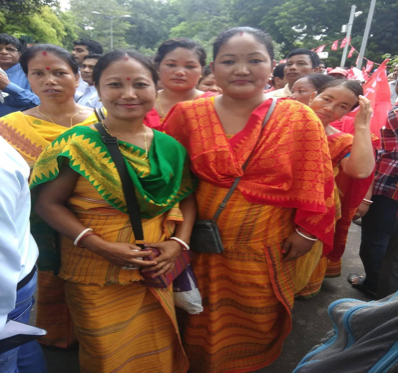 No, they will not be exploited anymore, they will not be divided anymore. The workers then broke into a song of dissent in Assamese, their local language, dancing in the festivity of dissent and camaraderie in their bright colours; smiling, laughing in the face of such grave exploitation, singing loudly the lore of their exploitation. Will the rain and the wind carry their sweet voices to the powers that be? Will these sweet voices shake the powers that be out of their apathetic cruel slumber and compel them to reckon with the undeniable force and power of the powerless?
Get the latest reports & analysis with people's perspective on Protests, movements & deep analytical videos, discussions of the current affairs in your Telegram app. Subscribe to NewsClick's Telegram channel & get Real-Time updates on stories, as they get published on our website.
Subscribe Newsclick On Telegram