Rose Petals for a Terror Convict!
The presence of BJP and VHP leaders in the 'grand welcome' for Ajmer dargah bomb blast convict Bhavesh Patel in Bharuch is not the first instance. Such gatherings for fanatics are becoming common in Hindutva supremacist circles.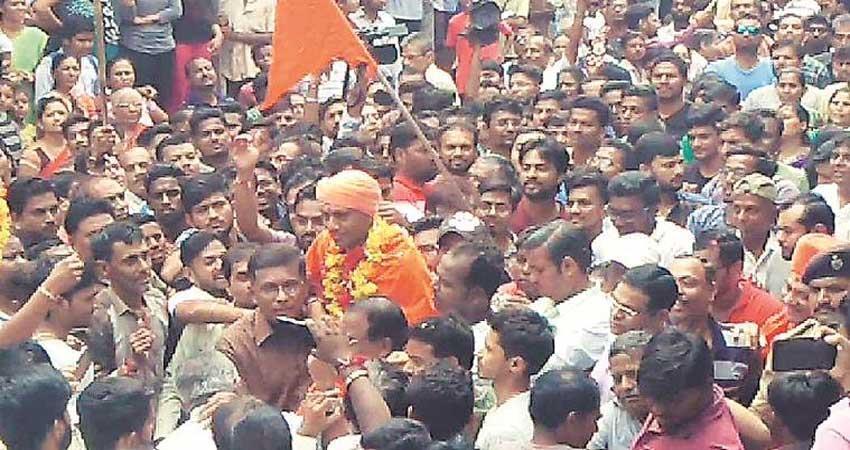 The scene unfolding on the streets of Bharuch in Gujarat was nothing out of the ordinary.
Hundreds of people had gathered on the streets and were sprinkling rose petals on a saffron-robed man. There was competition of sorts between the people gathered there to carry him on their shoulders. The local reporter perhaps failed to share it with the wider world but one must presume that such an ecstatic crowd must have raised slogans in the person's honour. One could easily spot elected leaders of the local municipality owing allegiance to the saffron worldview feeling elated for being present on the occasion.
Well, the person, Bhavesh Patel - who was the centre of attraction - was neither some Saint nor some sports star who had won some medal - he was a convict in a bomb blast case, which had claimed three lives and injured 17 others. In fact, the plan hatched by the terror module, of which Bhavesh was a part, was to kill as many people as possible when they gathered for prayers. But they had miscalculated, and the bomb - which was placed inside a tiffin carrier - went off before people had gathered there.
This was on October 11, 2007 when just before Iftar at the Ajmer Sharif Dargah - which is a Sufi shrine visited by Muslims and Hindus alike - this bomb blast had occurred.  The National Investigation Agency (NIA) had found two people - ex-pracharaks (whole-timers) of the Rashtriya Swayamsevak Sangh (RSS) Sunil Joshi and Lokesh Sharma- as the main conspirators and Bhavesh was found guilty of planting explosives at the blast site.
A cursory glance at news clippings of that period or excerpts of confessions by the persons involved in this terror attack reveal the name of a very senior leader of the same organisation as the mastermind of this terror operation targeting Muslims. It had also come to light how meetings were held in a Jaipur hotel, where the senior leader had discussed the modalities of the act, like who would manage finances, or who would purchase weapons etc.
The name mysteriously disappeared later.
The Recurrent Theme of Hindutva Supremacists
Coming back to the issue of the 'grand welcome', how does one comprehend this rejoicing over a convicted terrorist?  Undoubtedly, this means that the crowd has no qualms over the terror act, and for it killing innocents when they are engaged in prayers, is entirely justified.
A close observer of the violent activities of Hindutva terrorists would tell you that the killing of the others - namely, the religious minorities - when they would be fully immersed in praying to their god, is a recurring theme. Take the Malegaon bomb blast (September 2006), Mecca Masjid bomb blast (November 2007) caes,  or the investigations of their activities after the Nanded bomb blast (April 2006) at the house of a RSS activist Laxman Rajkondwar - which killed his son and another Hindutva fanatic Himanshu Panse while they were making bombs - when it was discovered how this terror module had earlier thrown bombs over people in Parbhani when they had gathered for namaz on Friday. (For details: See 'Godse's Children : Hindutva Terror in India' Subhash Gatade, Pharos Media, 2012, Second Edition).
The idea is to kill as many people as possible.
Look at the recent seizure of arms, explosives, detonators from people (Vaibhav Raut from Nalasapora etc.) who were allegedly associated with organisations like Sanatan Sanstha, Shiv Pratishthan etc. The little details available in media tell you that their idea was to use these explosives, detonators in crowded festivals like Eid or Ganeshotsava celebrations when people gather in large numbers.
All those people who have some numbing feeling reading these details or to watch people's enthusiasm in honouring a convicted terrorist, may feel further disheartened if they are told that such gatherings or grand welcome for fanatics are becoming common in Hindutva supremacist circles.
From honouring a key leader who conceptualised and led the demolition of a 500-year-old mosque as 'Hindu Hriday Samrat' , putting a tableau in a religious procession to honour a murderer - who hacked a Muslim worker on camera and even shared it, (See: https://www.newsclick.in/search-icon) or feeding sweets with own hands to convicts in a mob lynching by a cabinet minister we have come a long way.
Not very many people would be aware how all the big names of the Parivar hierarchy had felicitated one among them who had admitted a direct role in the Gujarat carnage of 2002.
The Keka Shastry Episode
The programme held in Ahmedabad was to felicitate Prof Keka Shastry, VHP leader and a well-known writer's approaching centenary year. (As an aside it needs mention that in his book 'Jyotipunj'' which discusses people who inspired him, Narendra Modi had written effusive praise for Keka Shastri). It was one of the first meetings after BJP's humiliating defeat at the hustings at the Centre (Year 2004). All the big names of the Sangh Parivar hierarchy  — right from the ex-deputy Prime Minister L K Advani, Narendra Modi and the likes of Pravin Togadias and Ashok Singhals, and a galaxy of saffron-robed sadhus - were present.
Whatever may be the pluses and minuses of Shastry's literary works, the rest of India learnt about this man only in the aftermath of the Gujarat carnage. It was through one of his interviews to rediff.com ('It had to be done, VHP leader says of riots', Sheela Bhatt, March 12, 2002) that people heard how things unfolded in an organised way after the Godhra incident. The interview was an admission for the first time by the Hindutva brigade of their direct role in the carnage which officially saw over 2,000 deaths, uprooting of lakhs of people from their homes and hearth and loss of hope and peace for millions of people. Rarely had one come across an interview so direct and so chilling.
The VHP leader told the correspondent that "[t]he list of shops owned by Muslims in Ahmedabad was prepared on the morning of 28 February itself." In the tape-recorded interview, he said, "In the morning we sat down and prepared the list. We were not prepared in advance."
When the correspondent asked him why they did it, he responded "It had to be done, it had to be done. We don't like it, but we were terribly angry…" When the correspondent asked him how he, a scholar and litterateur, could condone the burning of innocents, he responded: "The youngsters have done some things which we don't like. We don't support it. But we can't condemn it because they are our boys."
There is no doubt that had the Sangh Parivar people not been in power, then this man of letters would have been hauled up and put behind bars for "promoting enmity between different groups on grounds of religion, race, place of birth, residence, language" etc. and for "acts prejudicial to maintenance of harmony (Section 153-A, IPC)", or "deliberate and malicious acts intended to outrage religious feelings of any class, by insulting its religion or religious beliefs (Section 295-A, IPC) ", or " uttering words, etc with deliberate intent to wound religious feeling (Section 298, IPC)", or similar other provisions which have clearly laid down punishment for offences committed under such acts. But he was not even called to the police station to explain his utterances. He seemed putting it in black and white what others of his ilk were implementing through this 'successful experiment.'
The Keka Shastry episode reveals one more thing.
With power in their hands, the Hindutva forces are ready to go to any extent, which is in complete dissonance with the values and principles of the Constitution, which they claim to uphold. All such actions further embolden their supporters.
The Role of BJP leaders
The Kathua rape and murder case, where an 8-year-old nomad girl was abducted, kept sedated for days and repeatedly raped in a temple and later killed, basically to drive Muslim nomads out of Kathua, allegedly by people with saffron leanings and the way top BJP state ministers attended the rallies in support of accused, is a prime example.
Or, one can see the feverish attempt made by the BJP government led by Adityanath in Uttar Pradesh, to withdraw 131 criminal cases concerning the 2013 Muzaffarnagar communal violence in which over 60 persons were killed and over 40,000 displaced. Cases to be withdrawn included serious offences of over two dozen cases of murder and attempt to murder, and dozens of other cases of arson, rioting, promoting enmity between groups and dacoity.
Two of BJP's senior leaders, Sangeet Som and Suresh Rana, were even jailed then after the stringent National Security Act was imposed on them for their alleged role in the Muzaffarnagar riots. Som was accused of uploading a video on his Facebook wall which reportedly sparked communal tension in the area, whereas Rana was arrested for his alleged role in stoking the violence. (http://www.ndtv.com/article/india/bjp-to-honour-legislators-accused-of-inciting-muzaffarnagar-violence-at-narendra-modi-rally-447651).
Ahead of Narendra Modi's rally in Agra,the BJP had felicitated both of them describing them as 'heroes' who had ensured the safety of Hindus at the time. (https://indianexpress.com/article/news-archive/web/riot-accused-are-welcomed-on-modis-red-carpet/)
Thanks to the stand taken by the district administration of Uttar Pradesh's Muzaffarnagar and Shamli, who refused the proposal of the State government seeking withdrawal of 133 cases related to the 2013 riots. (https://www.financialexpress.com/india-news/2013-uttar-pradesh-riots-muzaffarnagar-shamli-district-administrations-say-no-to-withdrawal-of-133-cases/1278162/) The District Magistrates, Senior Superintendent of Polices (SSP) and the Prosecuting Officers (PO) of both the districts communicated to the government that they were not in favou of withdraw cases, citing "administrative concerns".
While the stand has acted as a dampener to the Adityanath government's efforts, it can prove to be a temporary one. The possibility always exists that after some 'routine' transfers, the state government can manage the situation  according to its own wishes.
Get the latest reports & analysis with people's perspective on Protests, movements & deep analytical videos, discussions of the current affairs in your Telegram app. Subscribe to NewsClick's Telegram channel & get Real-Time updates on stories, as they get published on our website.
Subscribe Newsclick On Telegram