Routed in Bypolls, What Lies Ahead for BJP in West Bengal?
Former state leader Tathagata Roy believes that the new state chief is educated and sober and this marks a welcome break from the immediate past. Yet, with RSS activity restrained, disarray among the BJP cadre continues.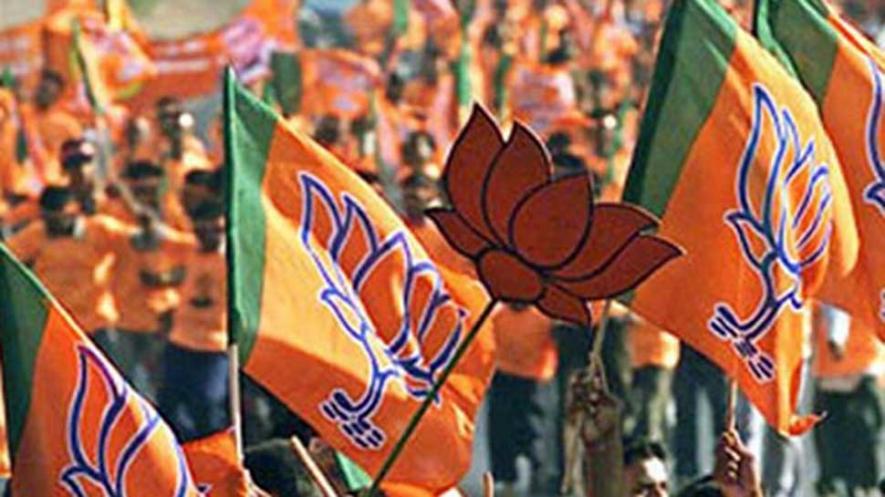 Representational Image. Image Courtesy: Zee News
Kolkata: The new West Bengal unit president of the Bharatiya Janata Party (BJP) Sukanta Majumdar has a challenging job at hand. Majumdar, a PhD holder in Botany and Lok Sabha member from Balurghat in Dakshin Dinajpur district, has assumed charge at a time when the state BJP outfit is in disarray, with defeats and defections keeping it in news.
It's a coincidence that the Rashtriya Swayamsevak Sangh (RSS), BJP's ideological guardian, whose 'shakha' expansion and step-up in everyday activities in West Bengal had attracted the attention of political and non-political quarters in recent years, too has seen a loss in tempo in the last six months. The priority has, therefore, shifted to regaining the lost tempo and normalising 'shakha' activity.
These conclusions derive from the observations made to NewsClick by persons currently holding responsible positions in BJP and RSS, as well as those who held top positions in the past.
Soft-spoken Majumdar told NewsClick that after he took over a few weeks back he had taken stock of the situation and decided that his priority had to be to visit the districts, meet unit office-bearers and induce them to resume political activity in right earnest. He was unsparing on the chief minister and Trinamool Congress (TMC) supremo Mamata Banerjee for "all kinds of weird theories and practising vendetta politics."
The violence let loose by TMC activists after the May 2 Assembly election results had affected all opposition parties, and BJP could not be an exception.
"Yes, we were definitely intent on forming our maiden ministry in West Bengal but we could not. Perhaps, our strategy had deficiencies. But, that is part of the game. Why should large-scale violence, in which many of our workers were victims, should follow the election results? She herself held the home portfolio; it's because of her failure and unwillingness to maintain law and order, Majumdar added.
Continuing, he said, "Yes, TMC registered a big victory. But, we too did much better; from three legislators in 2016, our tally had moved up to 77 and we dominate the opposition space. Instead of appreciating this, she was all the while harping on her pet 'bahiragata' (outsider) theory, referring to BJP leaders who visited the state for campaigning and using unparliamentary language against them."
"See, now she has now gone to Goa and there she claimed she was not an outsider in Goa; in fact, she was Goa's daughter. What can be weirder than this? This is going to boomerang on her and TMC," the state BJP chief observed.
Asked whether his party was found inadequate in its 'Bengaliisation' drive, Majumdar said that he belonged to a national party and saw no need for an overdose of 'Bengaliisation'. The BJP works in a system and makes mid-course corrections while retaining the fundamentals of the system, he added.
He was not inclined to open up on the humiliating defeats in the recent bypolls in seven Assembly seats held between September 30 and October 30, and how the tally of 77 recorded on May 2 dropped to 72 because of defections to TMC. They had defected from the to BJP and returned to TMC. "This is unfortunate; I will try to persuade the others to stay in BJP," was all that he would say.
However, former state BJP president Tathagata Roy has a different take on why the West Bengal unit has come to such a pass.
Asked what went wrong and what lies ahead, Roy told NewsClick, "The new state chief is educated and sober and this marks a welcome break from the immediate past. In my view, the drubbing in the recent bye-elections and failure to come up to expectations generated among the electorate in the last summer's elections can be traced to several factors; and I hold what I call the 'KDSA team' as responsible.
"By KDSA I mean West Bengal in-charge Kailash Vijayvargiya, former state chief Dilip Ghosh and national BJP leaders Shiv Prakash and Arvind Menon. I did not pass any remark before the last summer's election but decided to speak out when I found there was no exercise to identify what went wrong. On the contrary, subtle attempts have been made to take credit for the tally moving up to 77 from just three," he shared.
Roy, who was chief engineer in the Metro Railway before joining BJP and who was Governor of Tripura and Meghalaya not long ago, feels the 'KDSA team' counted too much on defectors from TMC to deliver at the hustings. Film personalities, who had never gone through the grind in politics, were fielded. The role of Mukul Roy, who came from TMC was dubious. There were rumours that the former key aide of Mamata Banerjee was TMC mole in BJP (he is now back in TMC).
The speeches of the former state BJP chief had little political content. With his frequent talk of how the party would deal with TMC ruffians when it formed the ministry, he was unpolitical to the hilt while addressing a politically conscious electorate. Also, much of what was drafted by the KDSA team and used during electioneering went over the voters' heads.
This is how the former West Bengal president assessed the situation. "I wrote to the central leadership pointing out the deficiencies and mistakes in the strategy adopted, but to no effect".
On the issue of 'Bengaliisation', Roy endorsed the leadership's decision to invoke Syama Prasad Mukherjee but felt they should also have invoked Swami Vivekananda because of his sentimental appeal to very large sections of the people.
In an editorial on the bye-election results, The Hindu in its November 4 edition observed that BJP's rout proved the party's 'continuing struggle' to understand West Bengal. It also argued for leadership at the state-level matters, even as BJP has increasingly centralised power over time.
With the possibility of the pending civic elections being ordered by Nabanna by January next year, and Mamata bent upon weakening BJP's base, particularly in the Jungle Mahal region and in North Bengal, the party's only option is to activate demoralised leaders, prevent the exodus to TMC and give up defection-based poll strategies, knowledgeable quarters told NewsClick.
Under normal circumstances, RSS shakhas prove useful to BJP during election time as these offer tactical support and 'intervene' if needed. It is generally a quiet exercise and one piece of advice that RSS top brass gave to the party early this year was to be careful when admitting TMC people to the party. "Chal, charitra and chehra of the Sangh parivar should not be dented," this was the message to BJP top brass, insider sources informed.
Against this backdrop and in the context of the party's well-below-target performance in the Assembly elections, NewsClick sought an assessment from Prant Karyavah Jishnu Basu, West Bengal state secretary of RSS.
Basu, however, chose to digress and instead answered that "It's for BJP leadership to think over where it went wrong. More than BJP's show at the hustings, we are concerned over the post-election violence in West Bengal in which 60 Hindus lost their lives. This was a total political and administrative failure. Only the judiciary's intervention was the saving grace; it ordered an inquiry into the post-poll violence by the Central Bureau of Investigation and constituted a Special Investigation Team. Our shakha activity has had a setback. As it is, because of COVID-19 we had to abide by laid down protocols. But the wanton violence forced a large number of shakha people indoors. The number of active shakhas has fallen to, maybe, 1,500 from 2,000 in the state".
The situation stemming from the post-election violence caused concern among the educated, rational sections of the people and forced them "to think afresh," Basu observed and added that their immediate task is cut out.
For the record, BJP's vote share in elections in the last 10 years (in %): 2011 Assembly – 4.1; 2014 Lok Sabha –17; 2016 Assembly –10.2; 2019 Lok Sabha –40.25 and 2021 Assembly – 38.14 per cent. In the recent seven bye-elections, its candidates lost deposits in some seats.
The writer is a Kolkata-based senior freelance journalist. The views are personal.
Get the latest reports & analysis with people's perspective on Protests, movements & deep analytical videos, discussions of the current affairs in your Telegram app. Subscribe to NewsClick's Telegram channel & get Real-Time updates on stories, as they get published on our website.
Subscribe Newsclick On Telegram