Rural Distress Makes India Inc. Call for Higher MGNREGA Allocation
By doing so, the corporate sector seems to have cautioned the government against expecting a fast rebound in industrial activity, as there is sizeable idle capacity in the absence of consumption demand.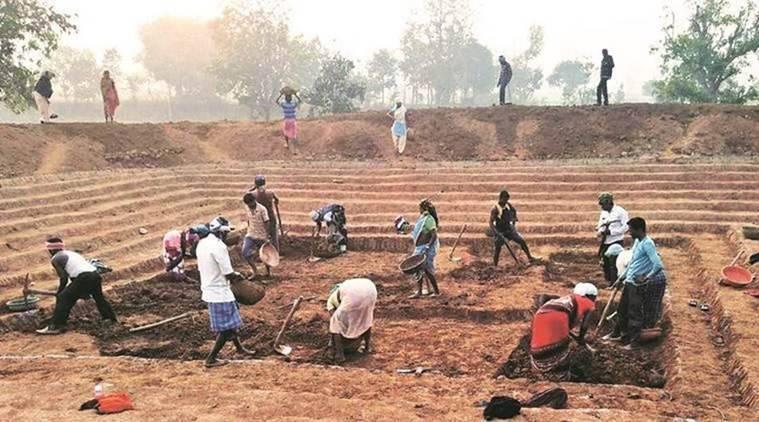 Image Courtesy: The Indian Express
Kolkata:  Rural stress and funds for the rural job guarantee scheme were surprise additions in the organised corporate sector's listed points for the post-Budget interaction with the Union government held on February 5 under the aegis of the Confederation of Indian Industry.
Surprising additions, because funds and jobs under the Mahatma Gandhi National Rural Employment Guarantee Act 2005, are invariably issues taken up by kisan outfits and social activists. Corporate India, knowing as it does the stance of the Prime Minister Narendra Modi toward MGNREGA (in 2015, he referred to it as a "living monument of failure), says little on this issue.
Be that as it may, the interaction this time round marked a departure from the past and it was Mallika Srinivasan, Chairman and Managing Director of Tractors and Farm Equipment (TAFE), who raised the issue. Srinivasan said despite government support, rural stress was still pronounced. In the fitness of things, therefore, the outlay under the MGNREGA should be kept at the 2021-22 RE (revised estimate) level. The BE or budget estimate for 2022-23 is Rs 73,000 crore, same as the BE for 2021-22. 
Subsequently, circumstances forced the Centre to step up allocation for MGNREGA in the current fiscal by Rs 25,000 crore to Rs 98,000 crore which, therefore, is the RE for this fiscal. Srinivasan thus sought restoration of the outlay for the next fiscal to Rs 98,000 crore. 
Finance minister Nirmala Sitharaman's reaction was usual – MGNREGA is a demand-driven scheme and "we will be any time ready to add on to that money". Revenue secretary Tarun Bajaj, in what looked like an attempt to supplement the finance minister's response, said the government expected demand for MGNREGA jobs to decline next fiscal as industries were likely to hire many hands. 
But, read between the lines, the TAFE CMD's observation lends itself to several interpretations. It cautioned the government against expecting a fast rebound in industrial activity as there is sizeable idle capacity in the absence of consumption demand. Therefore, industries will wait for demand to pick up, which, when materialising, will facilitate optimum capacity utilisation. Priority for capex (capital expenditure) and job creation will merit consideration thereafter. 
The message, therefore, also is that the government has to wait to see its capex package to "crowd in" private investments. Factory output growth, as measured by the index of industrial production, dropped for the fourth straight month in December 2021 to 0.4%, which was a 10-month low compared with December 2020. 
By suggesting a hike in MGNREGA allocation to Rs 98,000 crore, Srinivasan was, therefore, pleading for priority to de-stress the rural economy and revive rural consumption demand. For example, market research firms have established that the FMCG (fast moving consumer goods) segment depends on rural India for at least 35% of the demand for their products. Apart from MGNREGA jobs, FMCG companies are also counting on direct transfer of Rs 237 lakh crore on account of minimum support price or MSP into farmers' accounts.      
Asked to comment on the revenue secretary's expectation that MGNREGA job demand may decrease as industries will engage many people, Dipa Sinha, faculty at Dr B R Ambedkar University, Delhi, told NewsClick : "Either they are deliberately saying this to convey that things are getting better, or they are unable to gauge the magnitude of the distress, particularly in rural areas. Also, there is idle industrial capacity; how can job creation gather so much momentum as to result in less demand for MGNREGA jobs?"
Sinha said industry pleading for larger MGNREGA funds conveyed a lot. 
Debmalya Nandy, an activist with the NREGA Sangharsh Morcha, told NewsClick that it would take at least three years for the rural economy to return to the pre-COVID- level of activity.  Field surveys by activists reveal inadequate budgetary allocations were suppressing the demand for jobs and delays in transfer of funds were accentuating livelihood problems. 
As on February 1, MGNREGA payment arrears – under administrative, material and wage heads of account --  stood at an estimated Rs 18,350 crore. Which means the actual availability is Rs 54,650 crore for 2022-23. Every year, 80-90% of the budget gets exhausted in the first six months; thereafter matters slow down as states apply the brakes. 
Engagement by the Centre and states with gram sabhas will help make realistic estimates of MGNREGA job demand. Currently, the allocations are arbitrary, Nandy added.      
Hannan Mollah, general secretary of All India Kisan Sabha, said: "I do not share the optimism of the revenue secretary. Many industrial units are yet to resume production, distress in rural areas is acute and the Centre's allocation for MGNREGA is arbitrary."
Mollah told NewsClick that an estimated 25-30% of migrants had not gone back to their places of earning livelihood. "Then, there are pending payments.  Inflation accounting has no place in New Delhi's allocation for this scheme. Realistically, the minimum allocation should have been Rs 1 lakh crore, with assurance for more funds after mid-term review," the AIKS leader said. 
The revenue secretary's expectation of industrial job creation  in 2022-23 at a pace enough to bring down the overall demand for MGNREGA jobs is far removed from ground realities, according to Avik Saha, president, Jai Kisan Andolan. 
"Meaningful implementation of the scheme with adequate resource allocation for asset creation/renewal can go a long way in minimising migration. There is also a pressing need to check misuse of funds in several states; West Bengal and Tripura, in particular," he told NewsClick, adding that "New Delhi's intention is suspect. Instead of toning matters up with enhanced provision for funds for the rural economy, it prefers to count on the organised sector which, in turn, wants to be assured first about the demand situation." 
The Centre for Budget and Governance Accountability (CBGA), a think-tank that focuses on government policies, in its analysis of the Union budget, has observed that although the lockdown restrictions have been relaxed, the pandemic's impact on employment and livelihood of people remains.  The rural economy continues to bear the brunt of reverse migration. 
"Generating employment is the biggest task in the pandemic-stressed economy ......." More funds were provided to the department of rural development (DoRD) to meet the extra demand for work in the rural areas in  2020-21 and 2021-22. The biggest chunk of the increase was under the demand-based rural wage employment scheme. DoRD's allocation in the Centre's total budgeted expenditure was 3.84 per cent and 4.11 per cent respectively. But, in BE of 2022-23, it is down to 3.5 per cent, lowest since 2018-19. In proportion to GDP, BE for 2022-23 is 0.54 per cent, lowest since 2018-19."
CBGA sees a strong case for providing much larger than Rs 73,000 crore earmarked as, in addition to higher work demand, there are pending liabilities. Though the scheme guarantees 100 days' work, the national average of employment provided was 22 days in 2020-21. The government has, however, reported that the average was 51.52 days for 2020-21, 48.4 days for 2019-20 and 50.88 days for 2018-19.
"The variation is due to methodological differences," it said, adding that: "While the former calculation was made on the basis of registered households .... the latter ... is on the basis of only those families that obtained at least one day of employment, as a base". This reflects a demand-supply mismatch. 
It is widely acknowledged that government spending on agricultural schemes has a perceptible impact on the rural economy. In The Hindu newspaper's edition of February 9, Poornima Varma, faculty and chairperson at Centre for Management in Agriculture at IIM Ahmedabad, has observed that while the overall agriculture sector outlay had marginally increased by 4.4%, "the rate of increase is lower than the current inflation rate of 5.5 % - 6 %". 
Despite the overall increase, outlay for the Market Intervention Scheme and Price Support Scheme shows a decrease of 62% to Rs 1,500 crore. The provision under PM-Annadata Aay Sanrakshan Abhiyan is just Rs 1 crore, against Rs 400 crore in RE, Varma has pointed out. The appended notes do not explain the cuts.
For the record : While winding up the debate in Lok Sabha on February 27, 2015 on the motion of thanks for President's address, Prime Minister Modi had described MGNREGA as a "living monument of poverty even 60 years after Independence .... People were still being made to dig holes. With song and dance and drum beat, I will continue with the scheme.
(The works that can be undertaken under the Act relate to water conservation, land development, construction, agriculture, inter alia. The scheme was designed, among others by, economist Jean Dreze and social activists Aruna Roy and Nikhil Dey.) 
Interestingly, six years later, on February 12, 2021, the finance minister claimed in Parliament that the Modi government had implemented the MGNREGA programme the best and incurred the highest expenditure ever in its 15 year-history. Sitharaman was obviously referring to the expenditure of Rs 1.10 lakh crore plus.
The writer is a Kolkata-based senior freelance journalist.
Get the latest reports & analysis with people's perspective on Protests, movements & deep analytical videos, discussions of the current affairs in your Telegram app. Subscribe to NewsClick's Telegram channel & get Real-Time updates on stories, as they get published on our website.
Subscribe Newsclick On Telegram