'Saint Bill' Pumped $319 Million to Access Gates of Media: Report
The Bill and Melinda Gates Foundation's donations to media outlets raise "conflict-of-interest" questions.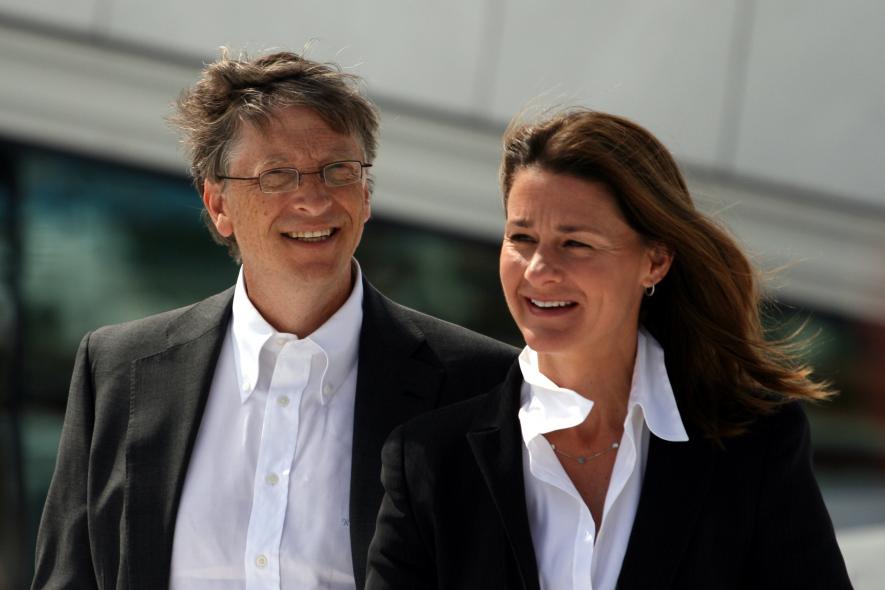 Image Courtesy: Wikimedia Commons
The Bill and Melinda Gates Foundation (BMGF) has bankrolled hundreds of media organisations to the tune of almost $319 million in several countries, according to more than 30,000 grants examined by American news website MintPress News. The recipients include CNN, NBC, NPR, PBS, The Atlantic, BBC, The Guardian, The Financial Times, The Daily Telegraph, Le Monde, Der Spiegel, El País and Al Jazeera.
Christened as 'Saint Bill' by The Guardian in 2003 after he gave £100 million to fight malaria in Africa, the Microsoft cofounder's top five media beneficiaries areNPR $24,663,066, The Guardian (including TheGuardian.org) $12,951,391, Cascade Public Media $10,895,016, Public Radio International (PRI.org/TheWorld.org) $7,719,113 and The Conversation $6,664,271.
The donations to the five media outlets and others total $166,216,526, MintPress reported. "The money is generally directed towards issues close to the Gateses' hearts. For example, the $3.6 million CNN grant went towards 'report[ing] on gender equality with a particular focus on least developed countries, producing journalism on the everyday inequalities endured by women and girls across the world' while the Texas Tribune received millions 'to increase public awareness and engagement of education reform issues in Texas'," Alan Macleod of MintPress reported.
"Given that Bill is one of the charter schools' most fervent supporters, a cynic might interpret this as planting pro-corporate charter school propaganda into the media, disguised as objective news reporting." Macleod wrote.
Besides, the Foundation also donated around $63 million to charities closely aligned with media giants, including nearly $53 million to BBC Media Action, more than $9 million to MTV's Staying Alive Foundation and $1 million to The New York Times Neediest Causes Fund.
The BMGF "continues to underwrite a wide network of investigative journalism centres as well totalling more than $38 million, more than half of which has gone to the D.C.-based International Center for Journalists to expand and develop African media". These centres include International Center for Journalists $20,436,938, Premium Times Centre for Investigative Journalism (Nigeria) $3,800,357 and The Pulitzer Center for Crisis Reporting $2,432,552.
The Foundation had also donated press and journalism associations with cash to the tune of, at least, $12 million—the National Newspaper Publishers Association, a group representing more than 200 outlets, has received $3.2 million. The list of these organisations includesEducation Writers Association $5,938,475, National Newspaper Publishers Association $3,249,176 and National Press Foundation $1,916,172, bringing the running total up to $216.4 million.
According to Macleod, the BMGF also provides grants to "directly train journalists all over the world in the form of scholarships, courses and workshops". The Foundation's grants pertaining to the instruction of journalists includeJohns Hopkins University $1,866,408, Teachers College, Columbia University $1,462,500 and University of California Berkeley $767,800.
"The BMGF also pays for a wide range of specific media campaigns around the world. For example, since 2014 it has donated $5.7 million to the Population Foundation of India in order to create dramas that promote sexual and reproductive health with the intent to increase family planning methods in South Asia," MintPress further reported, adding that the Foundation donated more than "$3.5 million to a Senegalese organisation to develop radio shows and online content that would feature health information".
The top three media projects supported by the Foundation areEuropean Journalism Centre $20,060,048,World University Service of Canada $12,127,622 and Well Told Story Limited $9,870,333.
ACTUAL AMOUNT 'MUCH HIGHER'
The total of Gates-sponsored media projects is $319.4 million though the figure is "undoubtedly much higher" because of the "clear shortcomings with this non-exhaustive list". According to Macleod, the list does not count subgrants. Besides, there is negligible information about "what happens to the money from each grant save for a short, one- or two-sentence description written by the Foundation itself on its website".
"Only donations to press organisations themselves or projects that could be identified from the information on the Gates Foundation's website as media campaigns were counted, meaning that thousands of grants having some media element do not appear in this list," Macleod wrote.
The Foundation paid more than $6 billion to ViacomCBS—which controls CBS News, MTV, VH1, Nickelodeon, and BET—to "insert information and PSAs into its programming and that Gates had intervened to change storylines in popular shows like ER and Law & Order: SVU". However, BMGF's grants database doesn't contain the name of ViacomCBS and described the project as a "public engagement campaign aimed at improving high school graduation rates and postsecondary completion rates specifically aimed at parents and students".
Tim Schwab, an investigative journalist who has scrutinised Gates, told MintPress: "For a tax-privileged charity that so very often trumpets the importance of transparency, it's remarkable how intensely secretive the Gates Foundation is about its financial flows."
Earlier this year, Schwab had refused to co-report on a story about COVAX for The Bureau of Investigative Journalism "suspecting that the money Gates had been donating to the outlet would make it impossible to accurately report on a subject so close to Gates's heart". As expected, the article, which was published last month, "repeated the assertion that Gates had little to do with COVAX's failure".
1/ Months ago, I was asked to be a co-reporter on this story. I declined b/c the #GatesFoundation was a funder, which I knew would make it impossible to rigorously examine Gates's role in Covax. This story is a case study in the perils of Gates-funded journalism. ?Read on & RT: https://t.co/hkFQOBEGff

— Tim Schwab (@TimothyWSchwab) October 13, 2021
 "I don't believe Gates told The Bureau of Investigative Journalism what to write. I think the bureau implicitly, if subconsciously, knew they had to find a way to tell this story that didn't target their funder. The biasing effects of financial conflicts are complex but very real and reliable," Schwab said. He described it as "a case study in the perils of Gates-funded journalism".
According to Macleod, "despite flying more under the radar, Gates and his companies have amassed considerable influence in media". The Seattle Times wrote in 2011: "The Foundation's grants to media organisations… raise obvious conflict-of-interest questions: How can reporting be unbiased when a major player holds the purse strings?". Interestingly, the newspaper later accepted the Foundation's money to fund its "education lab" section.
Schwab discovered that two columnists of The New York Times columnists were effusive in their praises for the Foundation for years without revealing that they also work for Solutions Journalism Network, which received more than $7 million from his charity.
Critics have said that billionaire philanthropists often control society by setting the public agenda with their cash. "Philanthropy can and is being used deliberately to divert attention away from different forms of economic exploitation that underpin global inequality today," said Linsey McGoey, professor of sociology, University of Essex, UK, and author of No Such Thing as a Free Gift: The Gates Foundation and the Price of Philanthropy. 
Get the latest reports & analysis with people's perspective on Protests, movements & deep analytical videos, discussions of the current affairs in your Telegram app. Subscribe to NewsClick's Telegram channel & get Real-Time updates on stories, as they get published on our website.
Subscribe Newsclick On Telegram