Same-sex Marriage Supporters say it Won't Cause 'Havoc'
As the SC prepares to hear the petitions on legalising same-sex marriage, the LGBTQIA+ community says the lack of recognition permeates all aspects of their lives.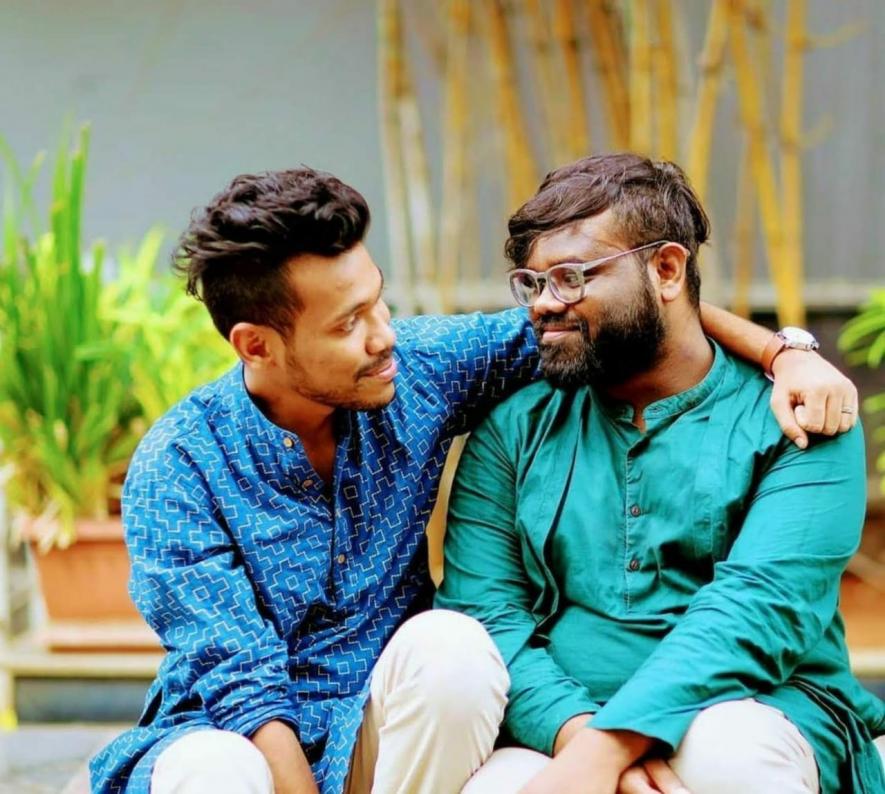 Sandi and Anil, a couple that has been together for 9 years, and run an NGO for the community. Image Courtesy: Special Arrangement
The central government in its recent affidavit before the Supreme Court said that same-sex marriage would cause 'havoc' in the country. However, advocates of same-sex marriage strongly disagree. They say the lack of right to marry, which is a civil right, has deeply affected the lives of LGBTQIA+ persons, including discrimination in workplaces and medical settings, among other things.
The Supreme Court has directed to list the petitions related to legalising same-sex marriage before a five-judge Constitution bench that will hear the matter from April 18, 2023. Against this backdrop, the LGBTQIA+ community is raising the issues and difficulties faced by them even after the decriminalisation of Article 377.
While growing up in the small town of Bokaro in Jharkhand, Sandi never realised his sexuality until he left the city to pursue further education. Only after his sensitisation happened during his studies in Hyderabad, he finally accepted his sexual identity. 
"I always knew I was different. I realised I was not into girls, while other boys in my class were. They would make fun of my walk, the way I talk, and everything else. I had only two friends," narrated Sandi. He said that even his relatives would ask him to carry himself in a certain way and play sports like other boys, but Sandi never wanted to do so. 
"What's happening today from the government's end with legalising same-sex marriage, the comments passed, and such things are because of a similar lack of education and insensitivity towards a person's sexual orientation," he added.
IMPACT OF NOT LEGALIZING SAME-SEX MARRIAGE
Sandi presently lives in Hyderabad and has been in a relationship with his partner Anil for nine years. The duo runs an organisation called MOBBERA Foundation for the LGBTQIA+ community. They provide legal, financial, and other assistance to couples and individuals in whatever way is needed. Two years back, they figured they were polyamorous (having multiple partners) and now are together with another partner named Gaurav. Out of the three, the only supportive parent is Gaurav's mother, while Sandi's mother stays in denial. Despite living in their hometown, Anil completely lost touch with their family. Anil's preferred pronoun is they/them.
While speaking to NewsClick, Sandi narrated how growing up watching movies by Dharma Productions and Yash Raj Films had an impact on him as a kid and instilled a wish to get married in the future. However, given his inclination towards boys, as he grew older, he realised that the government was not even ready to accept the community, same-sex marriage being a far-fetched dream. 
"It is not just about marriage as an institution; it deprives us as a community far beyond that. Not legalising marriage takes away the rights to adopt a kid together, to buy a property, medical rights for partners, and even today, in the so-called progressive MNCs, there is no acceptance for a partner of the same sex," said Anil as he dictated what was there to lose beyond a marriage. 
Over a period of time, both of them have realised at different instances what legalisation could bring. While speaking to NewsClick, Anil gave an example from his office; "It was family day at work. Since I am not in talking terms with my parents for really long now, I took my own family, and my partner Sandi with me to the office. However, as soon as the authorities saw us, they said that I could not bring a friend, it had to be family. I asked for an elaboration since my telling them that Sandi was my partner did not help. They said we could bring a spouse or parents," he recounted. The couple, alongside others from the community, feels that the MNCs are progressive only for namesake and that the mere acceptance of their sexual orientation has not even reached the corporate forms, let alone the general mentality in the corporate sector.
It is not just the corporate spaces; the problems are deep-rooted. From renting an apartment to sharing medical spaces, same-sex couples find themselves in despair. 
Last year, Anil met with an accident. While Sandi took them to the hospital, he was asked for a relation to Anil. When he said he was their partner, the hospital authorities insisted that their parents be called and that Sandi's presence would not be enough even for the medical forms. "Eventually, they referred to me as Anil's friend and not partner," he said.
Although this is the situation at workplaces and other public spaces in Hyderabad, conditions in Mumbai are a bit different and slightly better. Savio Gomez (23) works in the finance and marketing sector at an MNC. When asked about the prejudices at school, from peers, and at the workplace, Gomez said that from the very beginning, he found acceptance among his peers and even at the workplace. 
"In college, there were instances where people would pass comments, but I believe, unlike any other city, people are indirect about it in Mumbai. They would not dare to say anything to my face, but a complete acceptance is still a far-fetched dream," Gomez said. When asked about marriage, he, too, had a tale similar to others. He said he does want to get married, but with the current conditions prevailing, marriage seems difficult. 
MYTHS, CONTRADICTIONS, AND PROTESTS
There are various instances where same-sex couples have to face problems on the legal end. However, while they fight a legal battle, the couples are also facing protests against them outside the courts. 
Right before the petition could be heard in the apex court, a group named Hindu United Front (HUF) protested at the court gates saying that same-sex marriage would be against the Hindu culture. They even urged the Court not to hear the matter. This was not just any group, but as the video showed, most of the people who were a part of the protest were lawyers themselves. 
"It is quite hypocritical of them to do so," said Gomez. He added, "Whenever I see people like these who oppose us in the name of Hindu culture, I feel they do not know what the culture stands for and what the scriptures show. Many Hindu deities who are known to be male have been shown earlier dressing as women. Not just this, even the ones worshipped regularly have in the scriptures mentioned as transgender. In fact, this religion is one of the first to recognise the community."
The central government, which is a respondent in the case, very recently mentioned in its affidavit that same-sex marriage would create havoc. It mentioned that this would go against the marriage institution, and further urged the Court not to intervene in this, and that the matter be handled by the Parliament. 
Commenting on the same, Sandi said, "They have contradicted themselves in so many instances." As far as culture is concerned, it is known that people usually do not want their kids to have sex before getting married. In the case of the LGBTQUIA+ community, apparently, things have worked in a different way. "So, in the case of our community, it is okay if we have sex given the decriminalisation of Section 377, but it is not okay for us to be married?" questioned Sandipan.
LONG BATTLES: SOME HOPES, SOME LOSSES
Couples and individuals from the LGBTQIA+ community who NewsClick spoke to, presented a similar view. They agreed that nothing came easy to them, and the battle was protracted. The community does not even expect the government or society to be sensitised all at once, but legalising their marriage could have a huge impact on their lives. 
MOBBERA Foundation, an NGO that Anil and Sandi run, has seen cases that show how drastic the impact of not giving legitimacy to marriage could have on their people. 
"It was four years back when one of our really close friends went to his hometown. When he came back, things were different. His mother had fallen extremely sick, and since he had openly told everyone in the family about his sexual orientation, nobody except both his sisters accepted him for who he was," Sandi said. He further narrated how the mother, even in the worst health condition, made the man swear he would marry a woman; she threatened that she would take her life if her son did not do so. 
Eventually, left with no option and succumbing to the pressure from the family, and no legal help for his partner, Sandi's friend got married to a woman. Today, he even has a kid with her and is in a dilapidated mental state. 
This has been the case with multiple couples who eventually had to split up owing to family pressure and lack of legal recognition. Others are forced to choose a different way. A year back, a lesbian woman reached out to Sandi and Anil, saying she was looking for a gay man to marry her. She wanted that because then the family would make peace with the seemingly heterosexual marriage, and they could lead their lives the way they wanted. 
For some, it is a battle that must be won. "Section 377 was decriminalised and we got so many calls after that, and not just from people of our community who wanted help, but parents reached out to us saying they wanted to attend awareness programs and understand their kids," said Sandi. He added that this small win from almost four years back is the reason why the matter for legalising same-sex marriage is in the apex court.  
Get the latest reports & analysis with people's perspective on Protests, movements & deep analytical videos, discussions of the current affairs in your Telegram app. Subscribe to NewsClick's Telegram channel & get Real-Time updates on stories, as they get published on our website.
Subscribe Newsclick On Telegram