UP: Sanitation Workers Continue Protests, One Dies by Suicide in Noida
Scores of contractual sanitation workers in Noida and in several parts of western Uttar Pradesh have refused to budge and are protesting against the contract system and demanding pay at par with permanent employees.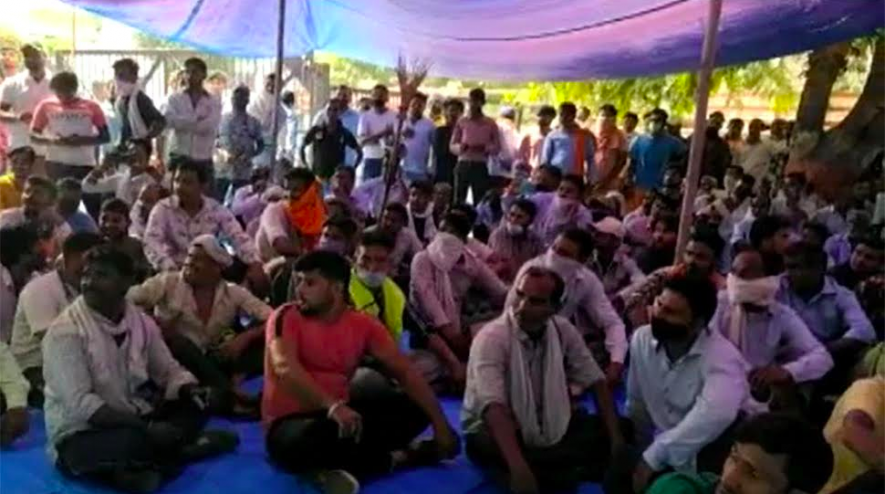 Lucknow: The indefinite state-wide stir by contractual sanitation workers seeking fulfilment of their demands entered its 18th day on Thursday. Over six hundred sanitation workers gathered in front of the Noida Authority office and raised slogans, urging the government to break its silence and meet their demands. 
Scores of contractual sanitation workers in Noida and in several parts of western Uttar Pradesh have refused to budge and are protesting against the contract system and demanding pay at par with permanent employees.
Sitting outside the Noida Authority's office in Sector 6, the protesters said they had two key demands – sanitation workers should not be employed on contract and that salaries of the workers should be equal.
One of the protesters told PTI that all of them do the same job, "it shouldn't be the case that someone gets Rs 18,000 and some get Rs 11,000 for the same." Another protester claimed that their representatives had spoken to the Noida Authority officials who, he said, have not budged.
Since September 1, sanitation workers have been protesting against the contract system put in place by the Noida Authority, alleging that contractors are nowhere to be seen. "If our demands are not met, we will continue to strike and convert from our religion on October 3," a protester threatened.
Many of the protesters who had threatened to convert to Islam if their demands were not met, have also been booked by the Sector 20 police.
However, Noida Authority CEO Ritu Maheshwari said officials have already spoken many times to the workers over the issue and made it clear that their services within the Authority will be as per prevalent norms only.
"To avoid attendance, a few leaders are misleading others and provoking them for issuing such religious threats. We have written to the police to lodge an FIR so that strict action is taken against them," said Maheshwari.
She said wages of the workers who are not working would be deducted and the "leaders" who are working in the Authority but provoking others are being removed. She said action would also be taken against "non-performing contractors".
"Around 1,500 of the 4,100 employees turned up for work on Tuesday. Those who are threatening others will be removed. They are misguiding sincere sanitation workers," she told PTI.
Maheshwari also confirmed that the Authority's new mobile app for logging attendance will stay in place to ensure attendance is marked by workers and officials.
"Of course (the new attendance system will stay) and it has been planned for all workers, including those in the water and horticulture department, from the next month," she added.
Officials said that the new mobile app-based system replaces the biometric system and that the new system has been a bone of contention for a section of workers. 
A protest in Shikohabad town in Firozabad district has been ongoing for the past few days with similar demands. Rajwati, the president of the Uttar Pradesh Safai Mazdoor Sangh who is also leading the protest, said they would not budge until their demands are met.
"Our demands are not only for equal pay but also that contractual sanitation employees should be made to work for one shift instead of two shifts. Good equipment should be provided to improve the sanitation system," Rajwati told NewsClick, adding that several workers were given a show-cause notice for participating in protest and that all of them are living in fear of losing their job. "This is how corona warriors are being treated in Uttar Pradesh," she said.   
Sanitation Worker Dies by Suicide 
Frustrated over his termination, a sanitation worker died by suicide on Wednesday night in his rented accommodation. 
Twenty-six year old Anil Kumar, who had been employed with the Noida Authority for the past 15 years, was handed a termination letter by the authority a few days ago. Anil's family said that his body was found at around 8pm, after which he was taken to ESIC Hospital in Sector 24 where doctors declared him dead on arrival.
Sanitation workers who have been protesting outside the Authority office in Sector 6, said Anil was one of the 400 to 500 people who had received a termination letter from the contractor.
"Anil was mentally disturbed about losing his job as he was sole bread winner of his family. He lost his job because of his participation in the protests with his co-workers,"  Ram Nath, Anil's uncle, told NewsClick. 
"On Monday, Anil received a letter from his contractor informing him that his services were being terminated with effect from September 15. My nephew was very upset. He called up his wife Sushma and said he didn't know how he would raise his six children," Ram Nath said. 
Anil's aunt Mithilesh Devi accused the Noida Authority of "harassment", saying he had "sacrificed his life" for the cause of the sanitation workers and that the "high-handedness" of the Authority officials led to his death.
On Thursday morning, Authority officials said Anil had died due to '"personal reasons". Later, S.C. Mishra, project engineer at Noida Authority, said Anil was employed by the contractor and not the Authority and that his services were "terminated since he was not turning up for work," he added.
Reacting to the ongoing protests and the death of sanitation workers, Bezwada Wilson, national convenor of Safai Karmachari Andolan told NewsClick: "The constitutional principle of 'equal pay for equal work' has been upheld by the Supreme Court of India but it is very unfortunate and unconstitutional that sanitation workers have been protesting for the past eighteen days for equal pay and workers are also committing suicide but Chief Minister Yogi Adityanath is not paying heed. He is behaving like a god," said Wilson, adding that title of 'corona warriors' means little and is only given to evoke "fake sympathy". 
With PTI inputs 
Get the latest reports & analysis with people's perspective on Protests, movements & deep analytical videos, discussions of the current affairs in your Telegram app. Subscribe to NewsClick's Telegram channel & get Real-Time updates on stories, as they get published on our website.
Subscribe Newsclick On Telegram