Savarkar Bowed Before the British, Rahul Gandhi is Merely Shedding Light on it
After years of soft-pedalling on issues that paved the avenues for BJP's electoral consolidation, Rahul Gandhi believes that a spade must be called a spade, or VD Savarkar must be called out for what he was: a pusillanimous apologist.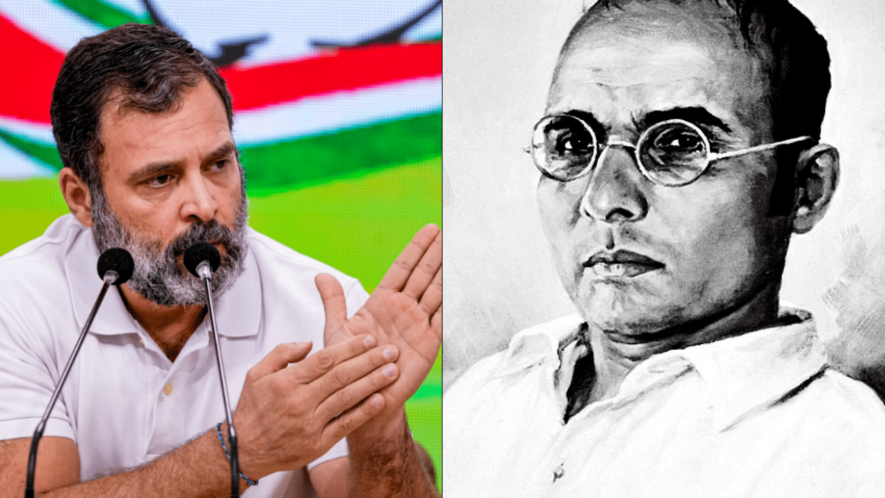 Rahul Gandhi and Vinayak Damodar (VD) Savarkar. File Image 
In his first press conference after disqualification from Parliament, Congress leader Rahul Gandhi was asked to respond to the Bharatiya Janata Party's demand for an apology for statements on the hollowing of democracy in India made during his visit to England.
His reply was unambiguously precise and pointed.
"My name is not Savarkar; it is Gandhi, and Gandhi does not apologise to anyone."
Attacking Vinayak Damodar (VD) Savarkar is a high-risk move. Barely four months ago, in November 2022, when the Bharat Jodo Yatra was beginning to get noticed across India, he launched an ambitious barrage of criticism directed at the Hindu Mahasabha leader.
His assertions were roundly criticised not only by the BJP but also by alliance partners in Maharashtra, especially the Shiv Sena. Hero-worshipping of VD Savarkar in Maharashtra is essentially on parochial or chauvinistic lines.
This is borne out by his following being greater in Maharashtra and among Maharashtrians in other parts of India than in other states or regional communities. This is not the case with iconic national leaders like Mahatma Gandhi, Jawaharlal Nehru, Sardar Patel and Netaji Subhash Chandra Bose.
In the wake of criticism of Rahul Gandhi for his statement in November 2022, many secularists also voiced that criticising VD Savarkar, that too in Maharashtra, was not politically prudent. It was contended that when BJP uses the ploy of polarisation, it not only "calculates on consolidating the majority behind it" but also "shows agility in supplementing it and filling the gaps."
In contrast, Rahul Gandhi's use of a similar issue that divides people into conflicting positions "risks alienating the majority of the voters, and its crucial ally". It was also claimed that there was no certainty that the Congress party stood to gain by "standing up for ideological principle."
After years of soft-pedalling on issues that paved the avenues for BJP's electoral consolidation, Rahul Gandhi believes that a spade must be called a spade, or VD Savarkar must be called out for what he was: a pusillanimous apologist.
We live in Goebbelsian times when leaders of the ruling regime, led by Prime Minister Narendra Modi, trapeze from one jumla (catchphrase) to another, from achhe din to amrit kaal.
The law of propaganda is often attributed to Joseph Goebbels, chief propagandist for the Nazi Party and later Reich Minister of Propaganda from 1933 to 1945. This Adolf Hitler acolyte created an illusion of truth with his law of propaganda: Repeat a lie often enough, and it becomes the truth.
Rahul Gandhi has chosen to repeat the truth about VD Savarkar in the hope of it being bolstered in the face of the innumerable falsities persistently harped by the lynchpins of the present regime and thereafter broadcast over numerous 'friendly' and social media channels.
Barely three years after VD Savarkar's not-very-widely-mourned death in 1966, the Justice Jeevan Lal Kapur Commission of Inquiry report on the conspiracy to assassinate Mahatma Gandhi was released. Most damningly, the judge noted, "These facts (unearthed or established by the Commission) taken together were destructive of any theory other than the conspiracy to murder by VD Savarkar and his group."
Despite this unambiguous assertion, the then Prime Minister, Indira Gandhi, not only chose not to initiate further action but also carved a niche for the Mahasabha leader in the pantheon of nationalists. A postage stamp was released to commemorate VD Savarkar, and in time a Films Division documentary was produced.
But more importantly, VD Savarkar was given the title of Veer or 'brave', and this is how he is now widely recalled, whereas the truth is that he was not brave at all.
This prefix to VD Savarkar's name can be justified only for his actions before his arrest and subsequent conviction in 1910-11. Gallantry and heroism were never part of his trait after being convicted.
VD Savarkar was charged with conspiracy in the Mahatma Gandhi assassination case. The trial in the case opened in May 1948 in the Red Fort, and VD Savarkar immediately used the pretext of ill health to secure a separate chair placed outside the dock. This ensured a physical barrier between him and the other accused, including his protégé, Nathuram Godse. So much for his commitment to Hindutva!
The tendency to evade responsibility and seek pardon started early in VD Savarkar's life, from his arrest in London in 1910. After the trial in India, he was sentenced to two separate life imprisonments and shipped off to the Cellular Jail, Andaman Islands. His elder brother, GD Savarkar, was already in prison since 1909.
In jail, VD Savarkar displayed the qualities of an ace apology letter writer: He wrote the first very soon after his imprisonment began in 1911 and followed this by other pardon-seeking petitions in 1913, 1914, 1916, 1918, and finally twice in 1920.
The story of VD Savarkar's many apology letters to the British, in which he commonly used phrases like emphasising that he was "ready to serve the Government in any capacity" and posed the rhetorical question, "can the prodigal son return but to the parental doors of the Government", started becoming public knowledge in 1975 when the Ministry of Education peculiarly published a book, entitled Penal Settlements in Andamans, written by RC Majumdar, a historian noted for his communal prejudice.
But he had to be true to the documents he brought to light. According to these documents, VD Savarkar wrote his first letter to the British authorities on July 4, 1911, barely a few months after his term began.
Savarkarites plead that this letter was written "as part of the Delhi Durbar goodwill gesture" by the government to coincide with the shifting of the Indian capital to Delhi from Calcutta. But there was no compulsion to seek amnesty of any kind.
No copy of this petition is available, and there remains only a reference to this in his 'Jail History Ticket' and in his next letter. There is a record of his meeting in prison with Sir Reginald Craddock, then Home Member in the Viceroy's Executive Council.
Getting an occasion, VD Savarkar personally submitted his petition to Craddock. In fact, in this petition, dated November 14, 1913, "Savarkar spoke of his earlier 'petition for clemency'."
It was in this letter that VD Savarkar pledged to serve the 'Government in any capacity' and asked with utmost seriousness, "where else can the prodigal son return but to the parental doors of the government?"
Craddock recorded in an official note that he had met VD Savarkar in October 1913, during which the 'swatantra veer' (sic) had submitted a mercy plea. The meeting may have taken place on the day stated by the official, but VD Savarkar's plea was formally admitted at a later date.
These petitions certainly question VD Savarkar's claim of being a resolute nationalist. He submitted two other pleas in 1914 and 1917, offering his "services to Government during the war in any capacity."
A Savarkarite member of the Imperial Legislative Council, GS Khorpade, had raised a question if it was not true that the jailed leader had pledged that once the proposed administrative reforms (later called Montagu–Chelmsford reforms or the Government of India Act, 1919) were enacted, he would "try to make the Act a success and would stand by law and order.
Indian nationalists opposed the same set of reforms, and this is when the freedom struggle first evolved into a mass movement that eventually triggered a wave of anti-colonial struggles across the globe.
In recent years, Hindu right-wingers fabricated the story that VD Savarkar wrote his letters of apology on Mahatma Gandhi's advice. Little could be more incredulous than this assertion because VD Savarkar wrote at least the first three letters seeking release from the colonial authorities before Mahatma Gandhi returned to India.
That disinformation is disseminated from the highest echelons of this regime can be gauged from Defence Minister Rajnath Singh's claim in October 2021. He alleged that "lies were spread about VD Savarkar repeatedly. It was spread that he had filed many mercy petitions for seeking his release from jail... It was Mahatma Gandhi who asked him to file the mercy petitions..."
Because Rajnath Singh's claim was a straight lift from the Hindutva book of distortions, it is important to 'situate' the so-called 'advice' Mahatma Gandhi gave to VD Savarkar.
Against the backdrop of Mahatma Gandhi's effort to convert the national movement in the years between 1919-22, VD Savarkar's younger brother Narayan Savarkar sent a cable to Mahatma Gandhi on January 8, 1920, seeking advice on the course to be adopted to secure the release of his two brothers, Ganesh and Vinayak.
He sought to touch Mahatma Gandhi's emotional chords by mentioning that "their health is utterly shattered" and that their weight had come down drastically.
Narayan Savarkar's final submission indicated what the brothers wanted – transfer to a less rigorous jail.
"At least a change to some Indian jail of better climate is the most essential for them."
Mahatma Gandhi's response was typical of an emerging statesman. He wrote, without rancour over VD Savarkar's intemperate behaviour at their first public meeting in London in 1909, that although it was "difficult to advise" Narayan, he could draft and send "a brief petition setting forth the facts of the case bringing out in clear relief the fact that the offence committed by your brother was purely political."
Mahatma Gandhi's next 'intervention' to 'assist' VD Savarkar's discharge from the Andamans was in May 1920 when he wrote an article in Young India. It recalled the Royal Proclamation of December 1919 that provided clemency for "political offenders" who had broken laws previously but now were willing to pledge that they would "respect it in the future." Mahatma Gandhi reminded the government that considerable time had elapsed, but VD Savarkar was still detained.
It is important to note that at no point Mahatma Gandhi suggested to either of the two Savarkars in jail to 'adhere' to the law and not be a part of the national movement. The two brothers had the option throughout their stay in Cellular Jail not to write letters pledging that they would not violate the laws and be British loyalists.
Rahul Gandhi is merely correcting this slice of distorted history. He is time after time pointing out that apologies were intrinsic to VD Savarkar, regardless of his so-labelled Veerta or bravery.
This is not the last time the Congress leader would remind the nation of VD Savarkar's meek surrender to the colonial administration, hoping he would be set free. Mahatma Gandhi never suggested at any point the path that VD Savarkar chose for himself.
The decision to bow before the British were his personal choice. Rahul Gandhi is merely shedding light on this truth!
The writer is an NCR-based author and journalist. His latest book is The Demolition and the Verdict: Ayodhya and the Project to Reconfigure India. He also wrote The RSS: Icons of the Indian Right and Narendra Modi: The Man, The Times. He tweets at @NilanjanUdwin)
Get the latest reports & analysis with people's perspective on Protests, movements & deep analytical videos, discussions of the current affairs in your Telegram app. Subscribe to NewsClick's Telegram channel & get Real-Time updates on stories, as they get published on our website.
Subscribe Newsclick On Telegram