Is This the Security You Promised Muslim Women, Mr Modi?
Hollering about Triple Talaq when women are made to take off a part of their traditional attire in public glare is not only an attack on gender but religious identity as well.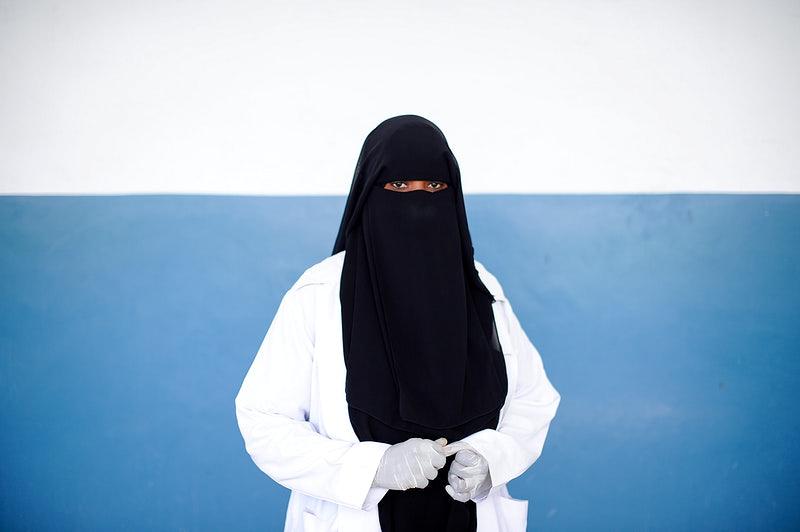 A few days ago, after missing in action till then and post-skipping his election rally in Bijnor, Uttar Pradesh, citing "inclement weather" on a bright and sunny day, Prime Minister Narendra Modi hollered before a gathering in Saharanpur that people were finding "new ways to block the rights and development of Muslim women" in India. It was evident that he had found sudden 'inspiration' in a campaign that has been rough for him and his party till then.
The Prime Minister is adroit in blowing the dog-whistle. His sudden advocacy of Muslim women rights was paradoxical given his regime's recent insistence on prioritising duties over rights. Furthermore, this instance of selective flagging of Muslim women's rights was Modi's signature way of bringing the hijab issue into the electoral discourse without using the word or directly referring to the recent incidents, now a full-blown conflict in Karnataka.
Modi followed his remark in Saharanpur with another assertion while addressing an election rally for 10 Assembly constituencies of Kanpur, Kanpur Dehat and Jalaun districts on February 14. He claimed in his speech that the Triple Talaq law saved thousands of Muslim women and that they feel safe under the Bharatiya Janata Party (BJP) government. "Our Muslim daughters used to face a lot of trouble while going for studies because of eve-teasing on streets. They now have a sense of security…" Modi added.
What feeling of safety would young girls and women have if they have to in public glare take off a part of their attire they have worn traditionally? The Prime Minister cannot take refuge in an assertion that he was referring only to the state in the middle of an election because Karnataka too is BJP-ruled.
The Prime Minister has consistently obfuscated issues and has perversely projected himself and his party as Lord Protector of Muslim women from conservative patriarchal forces within the community who are led by alleged 'sectarian' sections of the clergy and a political leadership driven by 'separatist' tendencies. But, can Muslim women, or women of any social group for that matter, be protected in the wake of vicious attacks and systemic vilification of the entire community, their security, identity and most importantly, their distinctiveness in a pluralistic democracy?
There is no doubt that not just Muslim society in India, but almost every religious community, requires a new wave of social reform. If the practice of triple talaq, despite the practitioners of the custom being a miniscule section, was indefensible, so are several other traditions in other religious communities, including among Hindus that require reform.
But a frontal attack on the community, especially a minority community, in the name of securing rights and equality for women is nothing but veiled majoritarian assault. So far, Modi is yet to draw the H-word into the UP campaign. But it is possibly just a matter of time that he does, if the present narrative fails in whipping up religious polarisation and consolidate Hindus in large numbers behind BJP to enable it to escape the wrath of a buoyant anti-incumbent sentiment.
However, the controversy generated by the hijab issue will not fade away even after the Assembly polls and also following a judicial verdict on the petition challenging the Karnataka government's order prohibiting it being worn in educational institutions. The way other BJP state governments are following in the footsteps of the Basavaraj Bommai administration, the BJP appears intent on fully nationalising the issue.
The way the narrative has evolved in recent weeks, the hijab has become the new central point of contention between Hindu communal forces and Muslims, who are backed by large sections of Hindus who see through the game of the Sangh Parivar and have not fallen for the righteous spin to see the issue from a gender perspective.
Modi is not an unaware political leader and knows that the hijab has historically not been an essential part of Muslim women's attire across India. Even among Muslims in any single region there are divergences over it being worn, where and on what occasions. But, by launching a frontal attack on the piece of attire and the tradition of wearing it, Modi has ensured that it no longer remains an optional piece of clothing that is not an essential practice in Islam, but has become symbolic of security, identity and distinctiveness of Muslims in India. Paradoxically, Modi has started tom-tomming that his governments have enhanced the first of these civic essentials in the country.
Almost three decades ago, after the demolition of the Babri Masjid, senior journalist Zafar Agha, then with India Today, wrote movingly how he was initially the ever hopeful Indian who "grew up watching Ram Lila with my friends and family" and one who dismissed the Babri Masjid issue "as a passing fuss over an old, abandoned mosque". But on the evening of December 6, 1992, as he "watched the rubble of the once-abandoned Babri Masjid on my television, tears began to roll down my cheeks. And I realised how a decrepit mosque in Ayodhya had become a symbol of identity for millions of Muslims."
On the morning after scores, and may be many more, of Muslim women had to forcibly and publically partially disrobe, poignantly under judicial direction, take off their Hijab in order to enter the portals of education to either study or teach, I realised that numerous Muslims I know, and don't know, would have felt just the way the veteran scribe did back in December 1992 when they watched the videos of these multiple tragedies on their handsets and computer monitors. The difference being that one more symbol has been added to this list that has grown since then.
Even teachers & other staff being asked to remove #Hijab before entering campus at a school in Mandya. Instructions have been given to most schools in the district to follow this norm. pic.twitter.com/B6FC84quBn

— Deepak Bopanna (@dpkBopanna) February 14, 2022
Bit by bit, even symbols that are not religious but merely cultural in nature that give the minorities of this nation their sense of identity and distinctiveness, are being targeted under an ongoing project. With every such symbol being erased from public glare, the community gets invisibalised one more notch and this adds to their ever increasing insecurity and alienation.
The writer is a NCR-based author and journalist. His latest book is The Demolition and the Verdict: Ayodhya and the Project to Reconfigure India. His other books include The RSS: Icons of the Indian Right and Narendra Modi: The Man, The Times. He tweets at @NilanjanUdwin
Get the latest reports & analysis with people's perspective on Protests, movements & deep analytical videos, discussions of the current affairs in your Telegram app. Subscribe to NewsClick's Telegram channel & get Real-Time updates on stories, as they get published on our website.
Subscribe Newsclick On Telegram