Separate Religion Code Necessary for Development of Adivasis, Say Leaders Before Census
Tribal groups maintain that they follow different rituals and practices than Hinduism, and must be given a different religion code so as to be recognised as a distinct group in the upcoming census.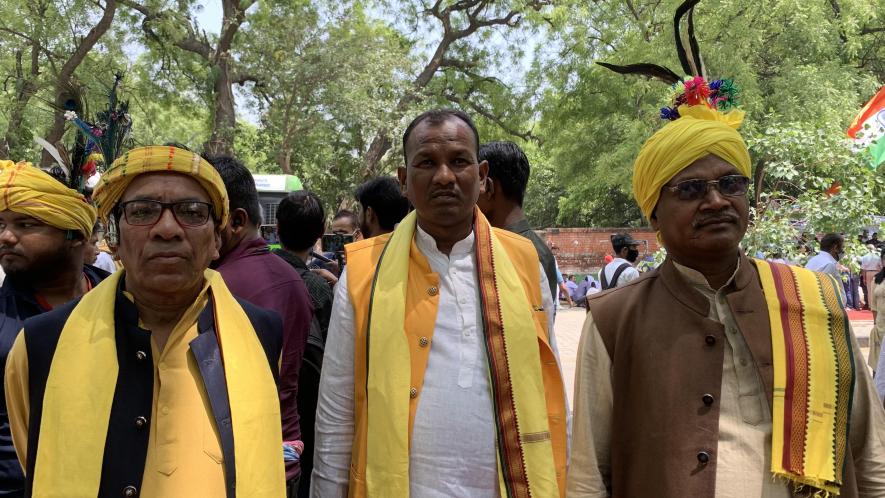 The Scheduled Tribe groups are up in arms to demand a separate religious code ahead of the census. The representatives are meeting  leaders of different political parties in the national capital to mobilise consensus over their demands. The groups are reflecting upon the country's constitutional history to assert that several tribes have been deprived of choosing and practicing their religion.
Why are they demanding a separate religion code in the census for themselves when the Indian Constitution recognises Hindu, Muslim, Sikh, Christianity, Buddhism and Jainism as religions followed by Indian citizens? The tribal groups maintain that they follow different rituals and practices than Hinduism. Hence, they must be given a different religion code that recognises them as a distinct group in the census.
NewsClick talked to some of the representatives to know how this critical demand is bound with the fate of tribes who already face existential threats like displacement from their ancestral land.
Surya Singh Bisra, former MLA from Jamshedpur, maintains that Article 45 of the Constitution allows citizens to follow and practice their religion. Talking to NewsClick, he said, "The Constitution-makers did provide us protection from atrocities and discrimination and ensured that government dedicate resources for our development, but they could not fix our religious identity. The British administrators recognised us as aboriginal or indigenous population, whereas we were left to choose among six major religions post-Independence. We argue that we have been living in this country prior to the advent of Sanatan Dharm."
Bisra said: "We are not Hindu as we have been worshipping nature, and we do not believe in Karmkand. We do not have caste hierarchy. However, the believers in majoritarian politics have been branding us as Hindus to increase their numbers. This demand is linked to our future because government dedicates resources as per numbers obtained in the census. Tribals may choose the 'others' option in the census form but cannot specify it to be different religion. If the Fifth Schedule of the Constitution recognises our land where our population lives, then why cannot our religion be recognised?"
Geetashree Oraon, former Education Minister of Jharkhand, said some states may have recognised the need to put pressure for separate religion status for the tribal population, but that largely revolves around dominating tribes. The Jharkhand Assembly had passed the resolution to ask for the Sarna religion code in the counting form of the census. She said the Sarna code had been demanded by people living in five states, namely, Jharkhand, Assam, West Bengal, Chhattisgarh, and Odisha. However, the tribes in other states follow their own rituals and their religions are known as Bheel, Kori, Birsait, Safahod and Sanamahi, among others. She said," it does not make any sense if you demand any particular religion code except Adivasi Dharm code because you will not be able to get an increased monetary allocation in the budget for education and health."
When asked about the possibility of realisation of their demand, given stiff resistance from Vanvasi Kalyan Ashram, an RSS-backed body which has been emphasising that Scheduled Tribes remain Hindu although, with different rituals, she said, "It may be difficult under the current regime, but we will continue our fight. Talks are already on with the Registrar General who will begin the process of the census in December this year or January next year. The current provision of providing 7.5% reservation in educational institutions and job opportunities and other policy decisions are entirely based on our estimated population of 10 crore, whereas the real number is about 15 crore. Even when tribal sub-plans dedicate money to the development of the communities, this money gets diverted and utilised for other purposes. So, the fight is long."
Oraon was referring to Karnataka, where the BJP government diverted Rs 7,885.32 crore to fund its projects for drinking water, irrigation and road construction during 2018-21.
Commenting on the politics of the adivasi religion code, Jitendra Meena, Assistant Professor of History at Delhi University, said the Scheduled tribes face a three-fold challenge in preserving their unique identity and traditions. He said the communities had witnessed hostile efforts by RSS and Christian missionaries to brand the communities as per their convenience. Second, the STs could not get their fair share of resources for the development of their communities. Still, the largest threat is to the transfer of their ancestral land to big corporates to extract minerals, ores and coal and face large-scale displacement. As per the Naresh Chandra Saxena Committee report, STs faced the highest displacement in post-Independent India.
He said "adivasis were given titles like aboriginals, animist or tribal religion in different censuses before Independence. After Independence, they were recognised as Scheduled Tribes, but their religious status remained ambiguous. Various religious groups flexed their muscles to lay their claims, whereas it is very clear that the rituals and traditions of the tribes are different, and they abhor practices like idol worship. Organisations like Vanvasi Kalyan Ashram wanted tribes in their fold but worked essentially on a 'Divide and Rule' policy to disempower them. When they describe tribes as Vanvasi, they are saying the inhabitants of the forest are only tribes, whereas they lived in mountains and plains too. I hail from Rajasthan, and we are equally discriminated against. RSS ideologues like Tuhin Sinha have argued how Birsa Munda, too, was a Hindu icon who led a popular struggle against colonisers. Second, there have been consistent trimming of resources to develop these communities."
Meena said the tribal communities face the biggest threat of displacement as the corporates eye their pricey lands for extraction of minerals, ores, coal and diamonds. The Union government is facing criticism for giving clearance to the Parsa coal block in the Hasdeo Aranya region in Chhattisgarh, where the Centre has proposed 23 coal blocks. Similar protests are happening in Jharkhand's Netarhat, where communities are opposing the creation of a firing range on 8,090 acre which is likely to displace 2.7 lakh people living in 245 villages.
He said,"the adivasis are asserting their identity because they are facing the worst onslaught by the corporate. When we are talking, the people in Jharkhand are travelling a distance of 200 km from Netarhat to Ranchi on foot just to demand that the proposed firing range should not be built because it will practically uproot 2.7 lakh people. "
There are studies which suggest that adivasis have been displaced twice in a period of 50 years, 45% adivasis in urban areas are below the poverty line. The latest analysis of reports by the government of India suggests that adivasi men's life span remains seven years short in comparison with upper castes. In women, the difference is about four years. "So, the government may thump its chest about its programmes, but these are not reaching people. I think adivasis are demanding a singular identity in the census to assert themselves," he added.
WHAT DOES DATA SUGGEST?
A study by Aashish Gupta and Nikhil Sudharshanan titled Large and Persistent Life Expectancy Disparities between India's social groups suggested an average ST man lived for 62.4 years during 2013-16, whereas upper caste man lived 69.4 years. In the case of women, the difference remains 4.2 years, whereas the life span of upper caste women and ST women was 72.2 years and 68 years, respectively. In case of malnutrition, too, STs fare poorly compared to other socially advanced groups. A UNICEF report suggests that about 40% of tribal children are stunted, whereas 16% are severely stunted. The tribes also saw less reduction in poverty.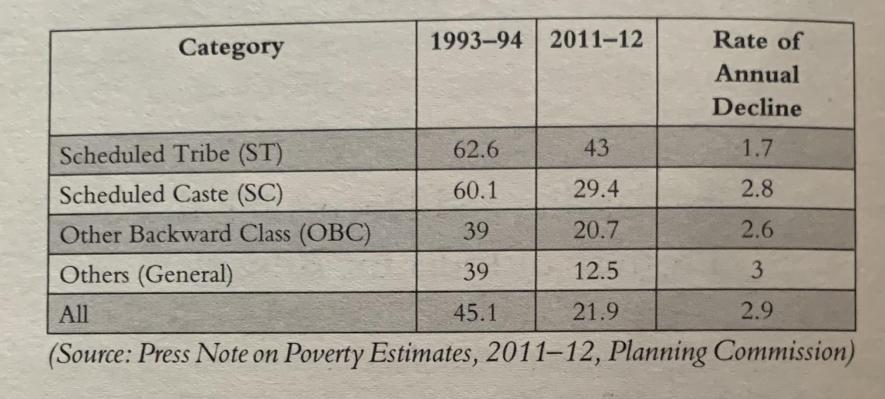 As per one estimate by the erstwhile Planning Commission, the STs remained a distinct group whose 43% population remained below poverty line in 2011-12 in comparison with 62.6% population in 1993-94 with an annual rate of decline in poverty revolving around 1.7% per annum. The rate of decline was 3%, 2.6% and 2.8% for upper castes, Other Backward Castes and Scheduled Castes, respectively, during the same period.
Get the latest reports & analysis with people's perspective on Protests, movements & deep analytical videos, discussions of the current affairs in your Telegram app. Subscribe to NewsClick's Telegram channel & get Real-Time updates on stories, as they get published on our website.
Subscribe Newsclick On Telegram