Sewer Deaths and Callousness of Power
Only the modernization of the sewer system won't stop sanitation workers from dying in sewers and septic tanks. Primarily, it requires the modernisation of the casteist mind and then only sanitation workers would be considered equal citizens and policies would be implemented impartially.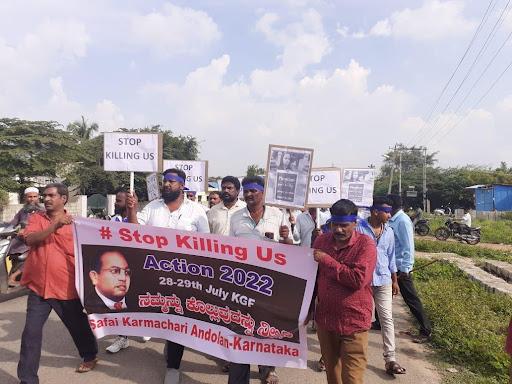 In the midst of the celebration of 75 years of independence of the country, the Safai Karmachari Andolan completed the 75th day of their nationwide awareness campaign 'Action 2022 – Stop Killing Us' in Bhopal, Madhya Pradesh on July 24. The campaign was launched in Delhi on May 11, 2022. After Delhi, it has covered different towns and cities in Uttarakhand, Rajasthan, Haryana, Punjab, Chandigarh, Andhra Pradesh, Telangana, Kerala, Odisha, Jharkhand, Maharashtra, Jammu and Kashmir, Uttar Pradesh, and Madhya Pradesh.
The objective of this campaign is to draw attention of Indian citizens and people sitting in power to the unabated deaths of "untouchable" sanitation workers due to sewer and septic tank cleaning and to build public opinion against this injustice. But it seems like all these 75 days were spent in some parallel imaginary world where people can't see sanitation workers marching on roads from one city to another, can't hear them shouting 'Stop Killing Us,' can't utter a word themselves to make their voices powerful, and can't even stand in solidarity with them on the streets. Their voices have remained almost unheard and unseen by both political and civil society, but the march continues to shout a bit louder. It has moved further to Anantpur, Andhra Pradesh and on its 79th day, the campaign reached KGF (Kolar Gold Fields) in Karnataka where the movement started four decades ago.
Pawan Valmiki, the state convener of Madhya Pradesh, leading the campaign in Bhopal, said that it is not that people are ignorant about these deaths, but they are inhuman and insensitive towards the whole sanitation workers' community. "And this insensitivity of theirs is as old as the 5,000 years old caste system. When the country is celebrating its 75 years of independence, our people are still dying while cleaning shit of the entire nation. It is a shame. The day the government and the people become sensitive towards sanitation workers, come out of their complete callousness, and consider these deaths a national shame, sanitation workers will stop dying in sewer and septic tanks," he said.
The insensitivity that Valmiki is talking about is not specific to a state or region. The Social Justice and Empowerment Minister Virendra Kumar, in response to a question in Lok Sabha on July 19, 2022, said that 347 sanitation workers have died while cleaning sewers and septic tanks in the last five years. In response to this, the Safai Karmachari Andolan has issued a press release on the information given by the minister, which notes: "[There was] Under-reporting of 35% of the numbers of lives lost in hazardous cleaning of sewers septic tanks by the Minister in Parliament on July 19, 2022". It further notes "[A]s per the verified data with SKA (which we have collected from different sources), this figure for the same period stands at 539". 
Not counting 35% of deaths – when the person responsible for these deaths could have gone to prison – cannot be called a mistake. The government and its whole machinery just want to save each other and have become so insensitive that not only they are failing in stopping these deaths, but also can't even count the deaths properly. 
It has become a naked truth and seems like a joke that the toilets can become a national issue in this biggest democracy, but not the community that cleans these toilets – that sanitation workers are counted as Indian citizens neither alive nor dead. 
The sanitation workers might wonder what kind of joke is going on with them, but this joke is actually on the elected and people's representatives and civil society who pretend to represent or stand in support of the sanitation workers, and on the people who call themselves educated, civilised and modern. They believe that modernisation of the sewer system can prevent these deaths, but fail to acknowledge that modernisation of the casteist mindset is actually the reason behind these deaths. 
The fact is that there are enough technologies or policies to prevent these deaths, but what lacks is the intention to implement those policies fully and to use available technologies/machines for the cleaning of sewers and septic tanks. And that is what Dr. Babasaheb Ambedkar had hinted to us when he said, "However good the Constitution may be, if those who are implementing it are not good, it will prove to be bad. However bad a Constitution may be, if those implementing it are good, it will prove to be good." The reason behind the lack of intention is the casteist mindset, which has prevented people from identifying sanitation workers as equal citizens, and as their fellow citizens. 
What happens generally in Indian society is that the authority just uses the language of rights and freedom, but in reality, only a few mean it. Meanwhile, those who enjoy authority consider themselves as superior, i.e. sa-varnas and others as inferior, i.e. a-varnas - sanitation workers. And till the time these kinds of relations perpetuate in a society, that society cannot be called modern society, irrespective of technological advancements they have made. A society can be called modern only when different groups of people participate in one another's good and bad times or as said by John Rawls – when people 'share in one another's fate'.  
Modernity is primarily a cultural phenomenon. This means that a society can be called modern when there are conscious relations and interactions among people; when there is a sense of 'we' feeling or belongingness among them; when they share a communityship among them; and when there is conscious solidarity among them. All these interactions must happen naturally, not by compulsion. A society cannot be called modern if people see others as low-born or inferior, and keep a distance from them or patronise them. In the later stages, modernity is also about material and technological advancement. But it is of no use if a society is devoid of the above values, if human values are not the primary foundation, and if material and technological advancement is used to further exploit the already marginalised and depressed communities. 
Therefore, only the modernization of the sewer system won't stop sanitation workers from dying in sewers and septic tanks. Primarily, it requires the modernisation of the casteist mind and then only sanitation workers would be considered equal citizens and policies would be implemented impartially. 
Get the latest reports & analysis with people's perspective on Protests, movements & deep analytical videos, discussions of the current affairs in your Telegram app. Subscribe to NewsClick's Telegram channel & get Real-Time updates on stories, as they get published on our website.
Subscribe Newsclick On Telegram