Shabbirpur: 6 Months After Attack, Dalits Fight Back With a School of Their Own
A school called Jai Bheem Pathshala has been set up in the Ravi Das temple where mostly dalit children are studying – and organizing.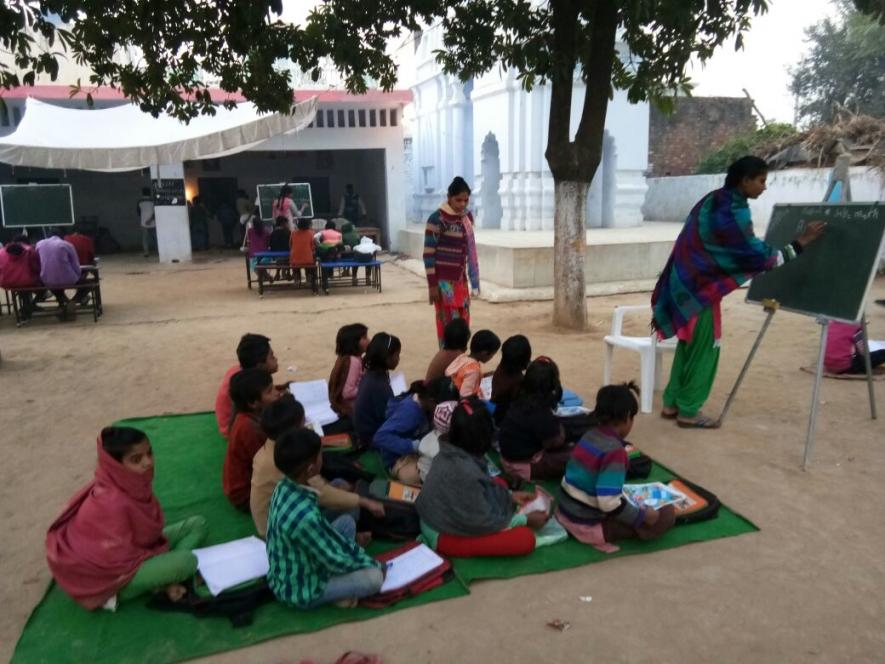 Shabbirpur (Western UP): The Ramnagar police chowki has now been rebuilt. It was subject to vandalism in May this year after a brutal police crackdown on Dalits of Western UP's Saharanpur. On May 5, 2017 a mob of Thakur community members attacked the village of Shabbirpur and burnt down 55 homes of dalits. Later, police cracked down on protesting dalits in the district. Bhim Army, an organization of dalit youth led by Chandrashekhar Azad 'Ravan' was at the forefront of protests. Azad has been in jail since then with the draconian NSA slapped on him recently.
Bhim Army's district unit president Kamal Walia, who hails from Ramnagar, while accompanying this reporter on the way to Shabbirpur, said, "As is known, the state has paid fully for the reconstruction of the police post, but not a penny for the Ravi Das temple in Shabbirpur."
The temple which was ransacked and torched by an upper caste mob has a new gate built from donations given by dalit families whose houses were torched and later received a meager Rs 25,000 as compensation from the Yogi Adityanath led BJP government of UP. The idol of Ravi Das, which was broken, has been replaced by a new one. Babasaheb Ambedkar's statue, which the Dalits wanted to install in the temple last year on April 14 (Ambedkar Diwas), now lies in the corner of a store room in the temple. It was this statue's proposed installation that sparked off upper caste rage against dalits and led to brutal attacks on dalit families and property.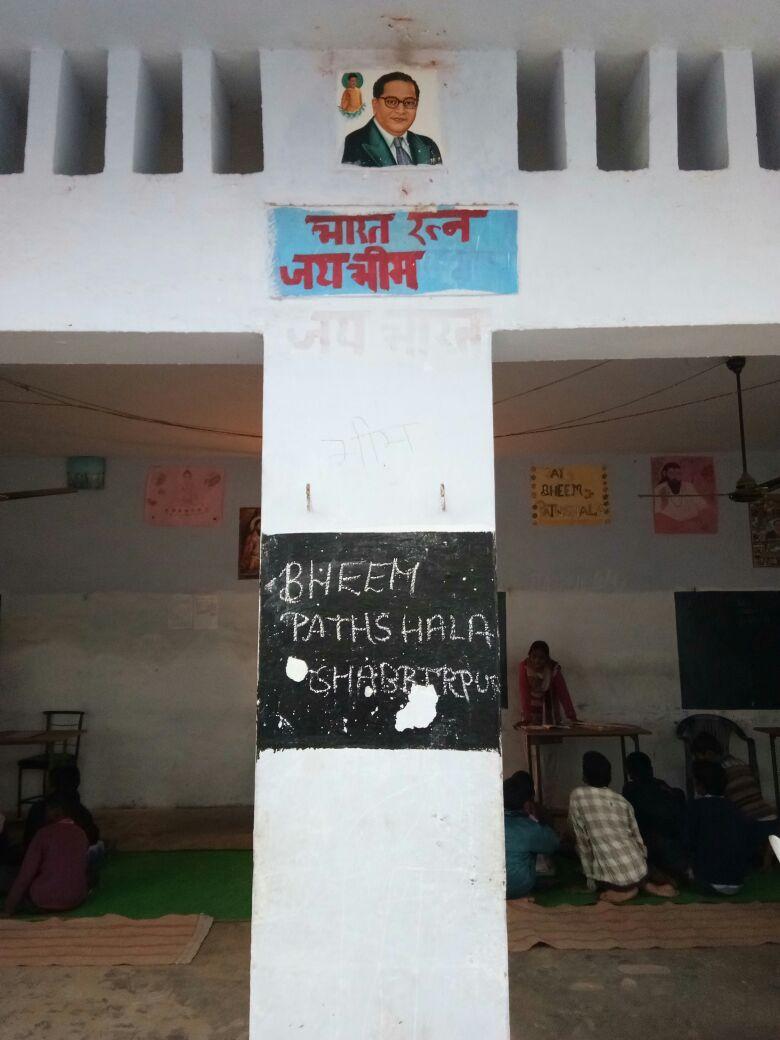 However, what is crucial is the way the Dalits of Shabbirpur have responded to this organized brutality. The Ravi Das temple is the new site of resistance, identical to the resistance that Babasaheb envisioned during the colonial era: education, as the key to fundamental changes in social attitudes. A few Dalit youth from the village sought the Bhim Army's assistance and have been successful in setting up an evening coaching class inside the premises of the temple. It is called Jai Bheem Pathshala. The Bhim Army has set up 350 such pathshalas in 1,500 villages in Saharanpur district. The most recent one is in Shabbirpur.
"It was set up on July 29, right after the clashes. Most of our Dalit children were scared of going to the primary school in the village. They were afraid of a spiral of backlash because antagonism still remains," said Neeraj Gautam, who teaches Maths and Physics to Class X students.
The Jai Bheem Pathshala operates in the evening, from 3pm-5pm, after the students get done with their school. There are 140 students, from classes I to X, who are taught in separate batches, free of cost. Bhim Army leaders have helped to finance all necessary supplies — blackboards, mats, stationery, so forth.
"In every 15 days, each subject teacher takes a class test. Besides curriculum subjects, we also educate our students on the leaders of our bahishkrit samaj (untouchable society). There is a separate paper on this," added Neeraj.
He handed over a question paper from the class test that he had taken a week earlier for Class III students. It had the following questions: "Where was Babasaheb born?" "When did his mother pass away?", "What are the newspapers that Babasaheb used to bring out?" among others.
"School textbooks provide no such knowledge. Hence, children of our community do not even know that there is a Samvidhan Diwas, or, Constitution Day. They do not know about Jyotiba Phule, BSP founder Kanshiram, or Sant Ravidas, the great reformer and rebel who stood for marginalized and oppressed castes," Neeraj added.
Most of the students are Chamars, a few of them are Valmikis. Of late, a girl from the Thakur community has also started attending the pathshala.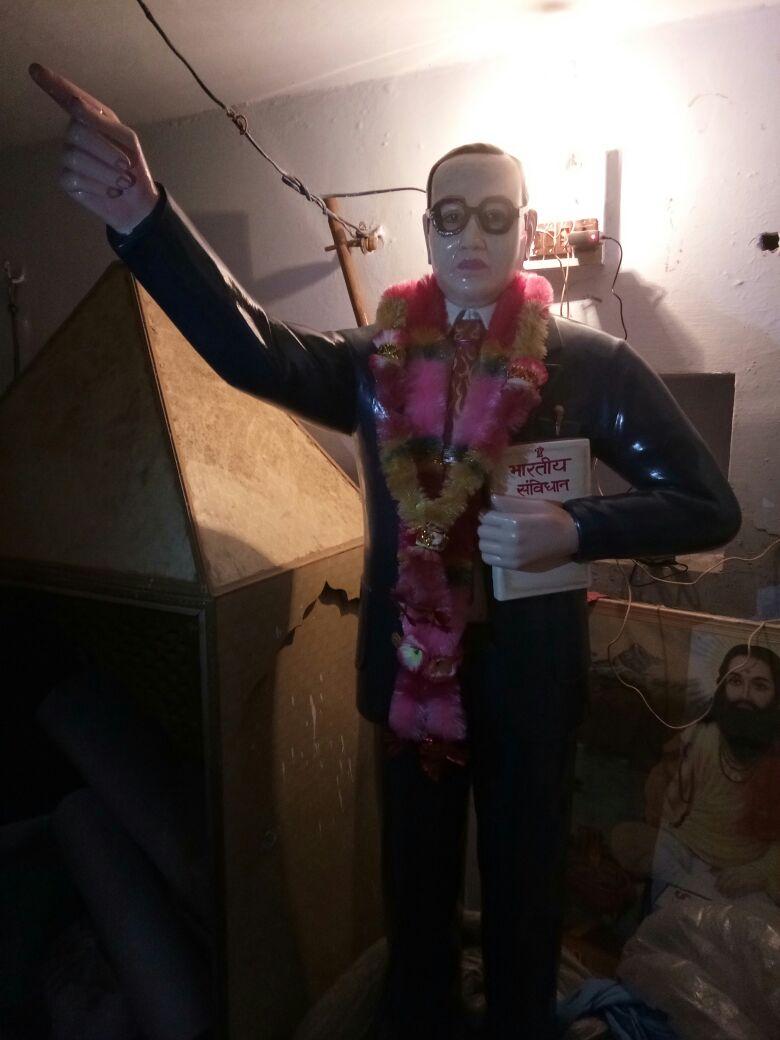 "The Bheem Pathshala is open for all," said Aruna, one of the earliest educators of the coaching centre. She holds a Master's in education and is looking for a job. "I will never stop from teaching in this centre. Babasaheb ne kahaa hai, shikshit bano, sangathit raho, sangharsh karo; bas usi rah pe chal rahein hai. (Babasaheb said, educate, agitate, organise; we are following the same path). We will relentlessly help our future generations so that they can stand on their own feet and fight their own battles," she said.
Srija Naskar works with National Confederation of Dalit-Adivasi Organisations (NACDAOR). She specialises in covering caste atrocity cases and has been reporting on Shabbirpur since May. She has earlier worked as a journalist for media organisations like Tehelka, The Sunday Guardian and Newslaundry.
Disclaimer: The views expressed here are the author's personal views, and do not necessarily represent the views of Newsclick.
Get the latest reports & analysis with people's perspective on Protests, movements & deep analytical videos, discussions of the current affairs in your Telegram app. Subscribe to NewsClick's Telegram channel & get Real-Time updates on stories, as they get published on our website.
Subscribe Newsclick On Telegram