Shadow of Gujarat Riots on IT Notice to Deve Gowda's Wife?
The Modi government is ostensibly settling political scores with the strident critic of Hindutva, with the hope to prevent him from mounting a challenge to the BJP.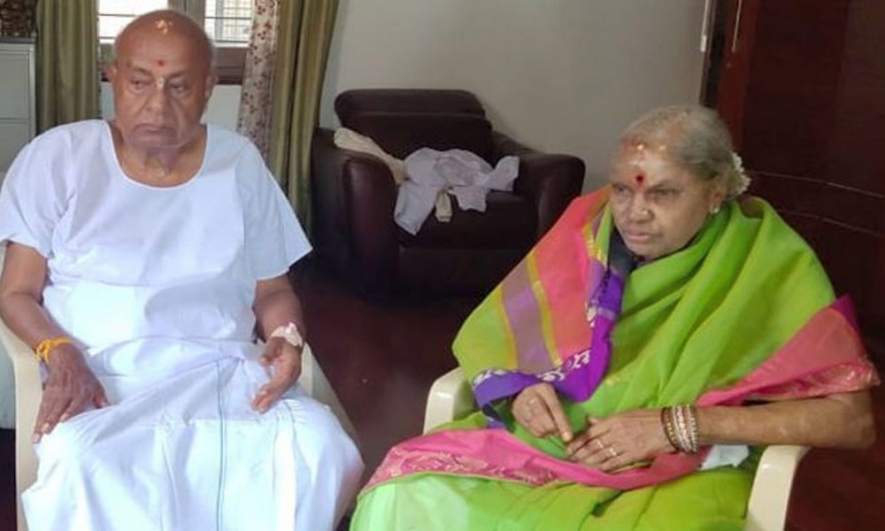 Image Courtesy: The Hans India
Intimidation of politicians opposed to the Bharatiya Janata Party hit a new low when the Income Tax department served a notice last week on Chennamma Deve Gowda, wife of India's 11th Prime Minister HD Deve Gowda. Chennamma is 85 years old; her husband financed most of the elections he fought by taking loans—and struggled to repay creditors.
Gowda was so deep in debt by 2001, four years after he lost the vote of confidence in the Lok Sabha, that the late Communist Party of India (Marxist) leader Harkishan Singh Surjeet offered to help him: "You are very dear to me… Can I arrange money from our party sources?" Gowda's eyes welled up. But he turned down the offer.
This exchange between Surjeet and Gowda is described in journalist Sugata Srinivasaraju's Furrows in a Field: The Unexplored Life of HD Deve Gowda. The book brings to light inspiring aspects of Gowda's political career, besides revealing the conspiracy hatched to dethrone him from the prime ministerial chair.
It was Janata Dal (Secular) leader HD Revanna, Gowda's son, who disclosed to the media the Income Tax (IT) Department's notice to his mother. He thundered, "Have my parents made crores of rupees? Have we purchased any new property?" The Gowdas inherited a few acres of land on which the family grows sugarcane. "Let the officers conduct a drone survey of the land. Let them send a notice to me as well. We will submit our response as per the law," Revanna said.
Theories about IT notice
It is easy to figure out why the IT notice has been served on Chennamma. Ever since the BJP decided to drive a dagger through Karnataka's society and bleed it on issues such as the hijab, halal meat, and an economic boycott of Muslim traders, former chief minister and JD(S) leader HD Kumaraswamy has been sharply critical of Hindutva and its divisiveness. Kumaraswamy is one of Gowda's four sons.
For instance, Kumaraswamy called Chief Minister Basavaraj Bommai a "puppet in the hands of rightwing groups". On another occasion, he said Karnataka belonged to all people and that it was not the property of the Vishwa Hindu Parishad and Bajrang Dal. "These organisations do not represent Hindus; they are stooges of a political party," he said.
The BJP has little tolerance for those who speak out against its policy of igniting and keeping the flames of hate burning. The IT notice is, therefore, a signal to the Gowdas to refrain from marshalling their formidable base in rural South Karnataka to counter the BJP. It is a foretaste of the misery the Modi government could inflict on the Gowdas for their refusal to play ball.
But there is also a backstory to the Modi government serving the IT notice to Chennamma. This backstory is primarily about Deve Gowda's criticism of Atal Bihari Vajpayee and Narendra Modi over their conduct during the 2002 Gujarat riots. And therefore, the question: Is the IT notice the first step toward Modi settling old political scores with Gowda?
Vajpayee's offer
Days before Gowda as Prime Minister was to face the vote of confidence in the Lok Sabha, the BJP offered to save his minority government from falling, inevitable because the Congress party had withdrawn support to it. According to Srinivasaraju's Furrows in a Field, it was Atal Bihari Vajpayee who had made the suggestion. Over the next few days, Gowda received calls from Balasaheb Thackeray, Sahib Singh Verma (a BJP Member of Parliament from Delhi), George Fernandes and Ram Jethmalani. They urged him to accept Vajpayee's offer.
On 11 April 1997, as soon as Gowda had moved the motion of confidence in the Lok Sabha, Vajpayee's confidant, Jaswant Singh, gestured to then Parliamentary Affairs Minister Srikant Jena to step out. Singh handed Jena a chit, which read, "Don't resign. Accept our support." Then Finance Minister P Chidambaram confirmed to Srinivasaraju that Vajpayee did indeed make an offer to Gowda. "He had flatly refused Vajpayee," Chidambaram told Srinivasaraju. Gowda's reason was that the BJP was a communal party.
In fact, during a debate on the Gujarat riots in April 2002 in the Lok Sabha, of which Gowda was a member, he alluded to Vajpayee's offer but did not name him. This show of courtesy did not matter, for the relationship between Gowda and Vajpayee had started to sour over Modi's controversial role in the 2002 Gujarat riots.
Shadow of Gujarat riots
Initially, Gowda wrote letters to Vajpayee, harping on his much-celebrated liberalism to prod him into organising an impartial inquiry into the riots. Thus, on 6 March 2002, he wrote to Vajpayee, saying, "The announcement made by the Gujarat chief minister [Modi] instituting an inquiry under the chairmanship of a retired high court judge is to cover his failure."
Still agonising over the riots, Gowda lit into Modi in a Lok Sabha debate on 10 March. "If the state government is biased about a particular religion, as has been reported in the press, I do not want to jump to the conclusion whether the chief minister is like that or not. But what has been reported in the press makes us believe so unless it is proved otherwise…," Gowda said.
With time, his attack on Modi became even sharper and direct. On 16 March 2002, he told Parliament, "…the chief minister asked his establishment not to go to the rescue of the minorities. It is state-sponsored terrorism, or is goondaism or by whatever name you may call it."
On 30 April 2002, Gowda told Parliament about the trip he had made to Gujarat all alone to verify the ghastly stories he had heard and read. He said there were serious doubts about Vajpayee's liberalism. "Nobody expected that… Vajpayee was going to allow such things to happen [in Gujarat]."
Gowda spoke of the Vishwa Hindu Parishad preparing the list of shops owned by Muslims in Ahmedabad on the morning of 28 February, the day Muslims came under attack in the state. The subtext: it was a riot diligently scripted.
More poignantly, Gowda narrated the story of an 85-year-old Muslim woman whom he had met in a relief camp. Her body bore sword cuts. Gowda said, "When I enquired from her what happened to the other members of her family… she said somebody came to her house and cut them into pieces. Her son was burnt alive. She is alone. She questioned, 'Why Allah has left me alone in this world?'"
Vajpayee retaliates
Gowda's incessant criticism seemed to have got Vajpayee's goat. On 23 December 2002, Central Bureau of Investigation (CBI) officers came to Karnataka and made photocopies of income tax returns filed by Gowda, his four sons and two daughters. This information was leaked to Gowda, who, on 20 January 2003, wrote to Vajpayee, "I do not know whether this has been done with your permission or not."
It seems Vajpayee replied to Gowda's letter, evident from the latter's letter dated 22 January. In that missive, the former prime minister first thanked Vajpayee for his assurance that the CBI director would meet him and dispel his suspicion that orders had been issued to collect the photocopy of the family's tax returns.
The "humble farmer", as Gowda still loves to call himself, then delivered the knockout punch: "After your good self (Vajpayee) informed me about the factual position today, I am surprised to know that a local CBI officer had addressed a letter on 21.01.2003 [that is, on the day Vajpayee wrote a letter to Gowda] to the chief commissioner of income tax, Karnataka, to furnish all the IT details [of Gowda and his children] filed already."
This letter prompted Vajpayee to have a telephonic chat with Gowda. The CBI director did meet Gowda. The matter was left to rest. A year later, Vajpayee was voted out of power.
Nineteen years later, the IT department has become Modi's instrument, ostensibly to settle political scores with his critic. Gowda and Modi had belatedly developed warm vibes, which dissipated because of Hindutva, as had also been true of Gowda's relationship with Vajpayee.
Modi's carrot and stick policy
After the BJP swept the 2019 Lok Sabha elections, Gowda made a courtesy call on Modi, who had led the National Democratic Alliance to pick up 26 out of Karnataka's 28 Lok Sabha seats. During the meeting with Modi, Gowda took out a paper from his pocket and said, "During the election campaign I had said that if you got a majority, I'll quit politics. You have now won a very handsome majority… I will resign. I will stand by my words."
In an interview with Srinivasaraju, Gowda said Modi dissuaded him from resigning. Modi was more interested in wanting to know from Gowda why he chose to become prime minister even though the Congress betrayed those whom it had propped up as prime minister—Charan Singh and Chandra Shekhar. Perhaps Modi wished to stoke Gowda's anti-Congress sentiments—and pull him to the BJP's side.
It would seem Gowda was an exception to Modi's propensity never to forgive those who were critical or embarrassed him in the past. TV anchor Karan Thapar learnt it the hard way. In 2007, Modi walked out of an interview after he was asked a series of questions about the Gujarat riots by Thapar. Thereafter, Modi feted Thapar for an hour, plying him with tea, mithai and dhoklas. Once Modi came to power in 2014, Thapar realised BJP leaders would just not come to his TV show. An unsaid boycott of Thapar had been launched at Modi's behest. So why had Modi been so gracious to Thapar in 2007?
The answer to Thapar was provided by former diplomat Pavan Varma, who revealed what Modi had told his then election consultant Prashant Kishor. "Modi said to Prashant that he will never forgive you [Thapar] and when he gets an opportunity he will take his revenge," Varma told Thapar.
Generosity as weapon
Was Modi's generosity to Gowda in 2019 similarly designed to lull the latter into complacency—and then surprise him at a later date? Or was Modi generous because he thought Gowda could be politically useful for the BJP?
In 2018, the BJP had emerged as the single largest party in the Assembly election. Yet, Congress and the JD(S) formed a coalition to keep the BJP out of power. Kumaraswamy became the Chief Minister. By 2019, members of the alliance had started to drift to the BJP.
To Srinivasaraju, Gowda said that at a NITI Aayog meeting in early 2019, Modi pulled Kumaraswamy aside and said, "Your father is still addicted to Congress politics. He will not compromise with our [Hindutva] politics. But the Congress wants to destroy you. You resign today…and I will put you on the job for full five years."
Gowda claimed that Kumaraswamy replied to Modi thus: "My son said I don't want to hurt my father at his age." In 2006, Kumaraswamy had chosen to go with the BJP, much to the shock of Gowda, who had to be admitted to hospital. Although most thought Gowda was staging a drama to justify Kumaraswamy's decision to take the BJP's support to become the chief minister, his blood pressure had shot up to 240/140, which Srinivasaraju confirmed by accessing hospital documents.
It would seem Gowda's criticism of the Gujarat riots has been condoned until now by Modi only because he hoped the JD(S) could be steered or scared into rallying behind the BJP. Modi is forgiving of those political rivals who are tamed—and accept his suzerainty. Of this, Bihar Chief Minister Nitish Kumar is the most famous example.
As the BJP presses ahead with polarising Karnataka, this is a situation tailormade for Gowda. All of 88 years now, he can bring to fruition what he had said during the debate on the confidence vote of 1997—that he would rise from the ashes, come what may. Today it is not about Gowda grabbing power. It is about him fighting to save India's soul, for which his family might have to pay the price.
The author is an independent journalist. The views are personal.
Get the latest reports & analysis with people's perspective on Protests, movements & deep analytical videos, discussions of the current affairs in your Telegram app. Subscribe to NewsClick's Telegram channel & get Real-Time updates on stories, as they get published on our website.
Subscribe Newsclick On Telegram