Shahbad Dairy Murder: A Case Study of Normalised Silent Violence
Fear, especially among women, is palpable in the area where the gruesome murder of a 16-year-old girl took place in public, with no one coming forward to save her.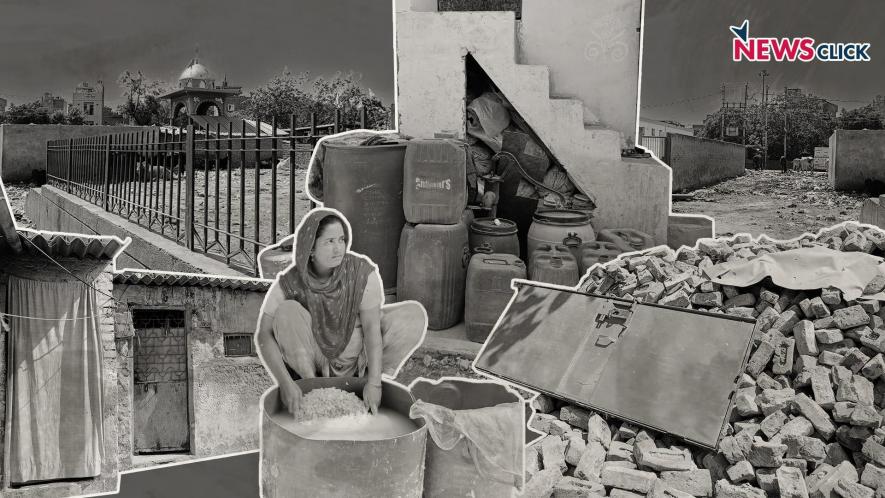 New Delhi: As one travels along the lanes of the well-developed upper-middle-class neighbourhood of Rohini West in Delhi to get to Shahbad Dairy, one can't help but notice the transitioning of comparatively straight roads to dusty ones as they move further northwest. Shahbad Dairy has become a familiar term since 16-year-old Sakshi was killed brutally on the eve of May 28 in an active gully of this working-class locality, and nobody allegedly tried to help her.
Alka lives in the same lane with her husband and five-year-old son where this gruesome incident occurred. "I was too scared to go out and check what had happened. My first reaction was to take my son inside the house until everything settled down," she told NewsClick.
Alka's grandparents migrated from Nepal. This 25-year old, expecting her second child, lives in a rented shanty with her husband, an e-rickshaw driver. She is a portrait of a life full of uncertainties and tussle owing to low income, poor infrastructure, open sewages, water supply stinking of sewage and unfit for consumption in urban ghettos.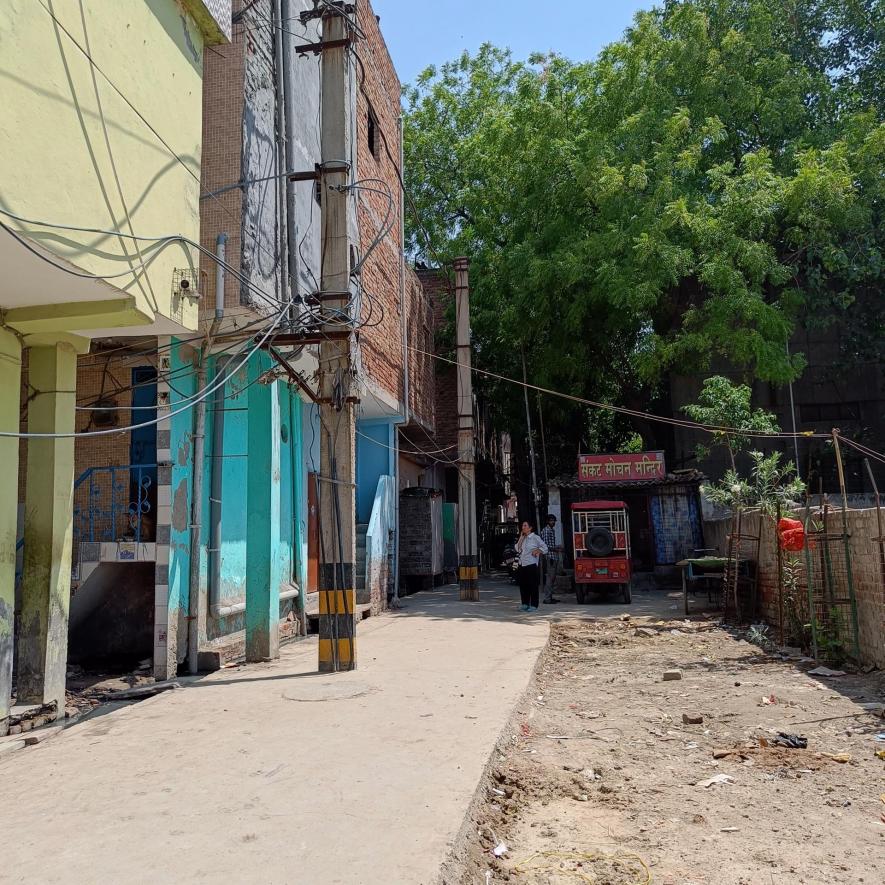 The working class locality in Shahbad Dairy, where a 16 year-old girl was brutally stabbed to death.
Multiple complaints to the local MLA, whose office is only a few metres away from the crime spot, yielded no results. Her son recently had kidney stone surgery from the lack of clean drinking water. "We did not vote in the last elections because we were disappointed over the non-resolution of our issues. Every time we raise a new complaint with the MLA, we are taunted over how we did not vote for him," she said.
NewsClick contacted the local Aam Aadmi Party (AAP) MLA Jai Bhagwan's office for a comment, but he was unavailable. This story will be updated after a response from him.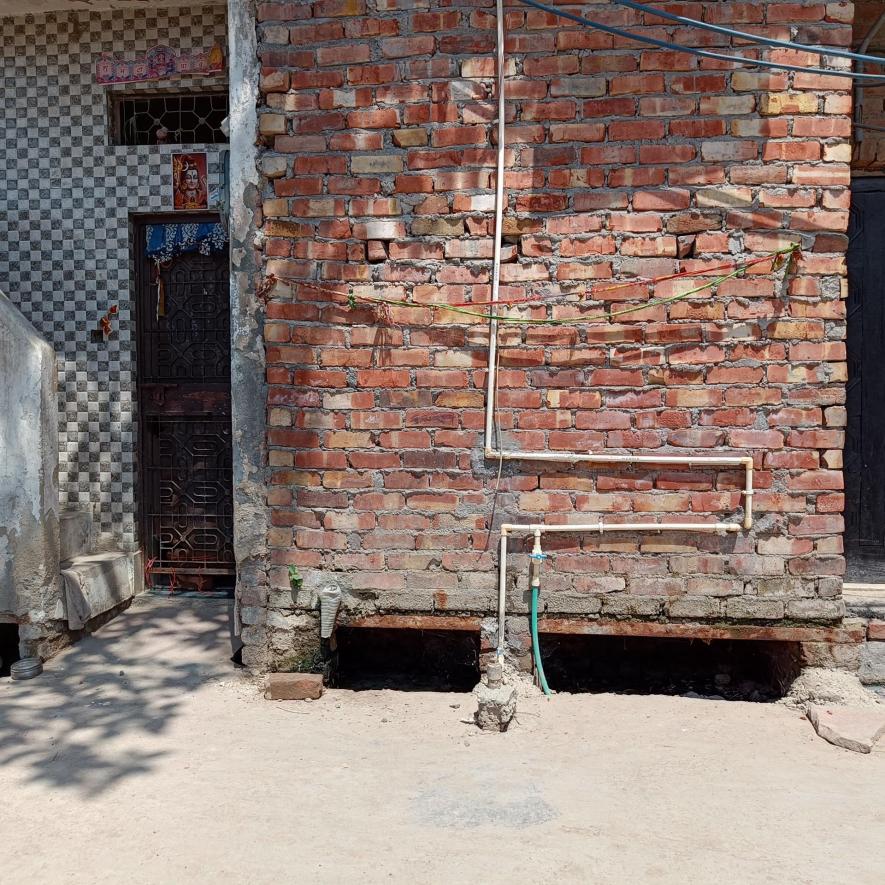 Locals, mainly SCs, complain of lack of clean drinking water in the area.
To make things worse, the safety of young girls, women and children is highly compromised, along with the lack of infrastructure and basic facilities. "We live in a constant state of fear," claims Alka.
Fear and Normalisation of Violence
Women across age groups living in Shahbad Dairy share a sense of deep fear. This locality is predominantly Scheduled Caste (SC). In a gully near Sakshi's house, Begum Parveen and Lakshmi sit outside their homes with plastic cans and tumblers filled with water and garlic cloves. This is employment for these women, who earn a meagre Rs. 140 a day for cleaning 20 kg of garlic.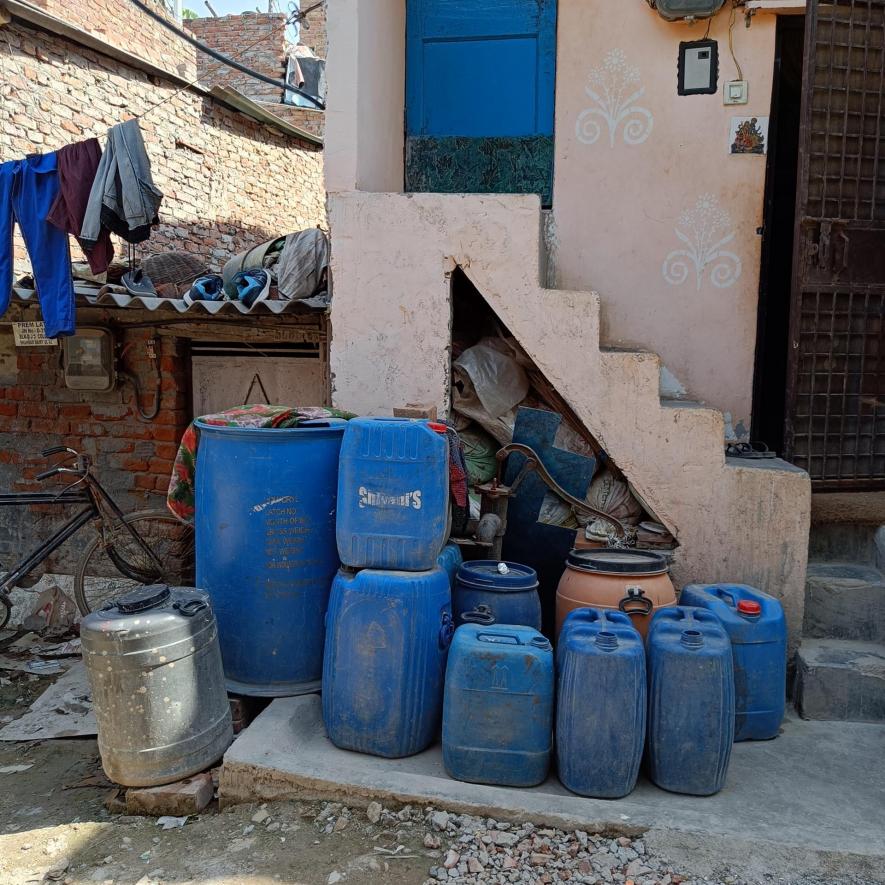 Cans lined up in the hope of filling up clean water.
"We have hard lives here. Every day is a constant struggle for the smallest of activities because this locality is full of loitering men, where verbal abuse is a norm, especially when we have to use public toilets. We find men sitting outside eve-teasing," complained both women.
Violence in these areas is normalised to such an extent that any kind of intervention invites threats and repercussions. Therefore, the phrase, "hume apne aap se matlab hai" (just care about your own lives, don't interfere in someone else's affairs) is the silent oath that people have taken. Notably, which community to which women belong doesn't matter when it comes to facing harassment.
According to the Prahladpur Station House Officer (SHO), Rajeev Ranjan, cases of two to three women eloping are reported every day, which raises the question of whether they are running away because they don't have values -- which is generally an accepted notion – or are they escaping the silent violence that they are forced to endure? "Ab kyun elopement hota hai? Why do women of Greater Kailash not elope? he said.
Unemployment, Rampant Drug and Alcohol Abuse
After the gruesome murder, Central Reserve Police Force (CRPF) was deployed in the vicinity to maintain law and order, and the media has been frequenting the crime location. The streets are decently clean, and there are hardly any remnants of the incident. Some women have candid insights to offer. "At the exact location of the murder, had you visited a week ago, you would have found alcohol bottles and syringes from drug abuse. Those have been cleared now to put up a show. How long all this lasts is a matter of time," they tell NewsClick.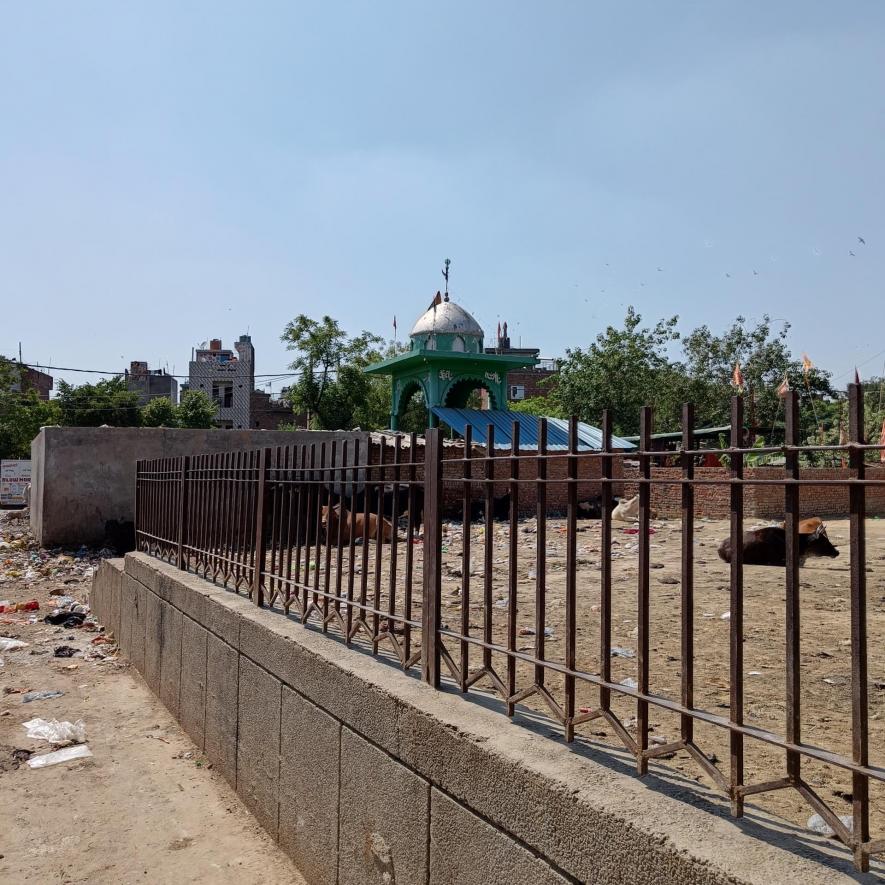 Alcohol and drug abuse is rampant in the area, said some local women.
Digitisation has reached every household - rich or poor. However, its consumption and how it benefits a population depend on literacy and socioeconomic factors. Lack of access to education among teenage boys and unemployment among youth has manifested in substance abuse and subsequent violence.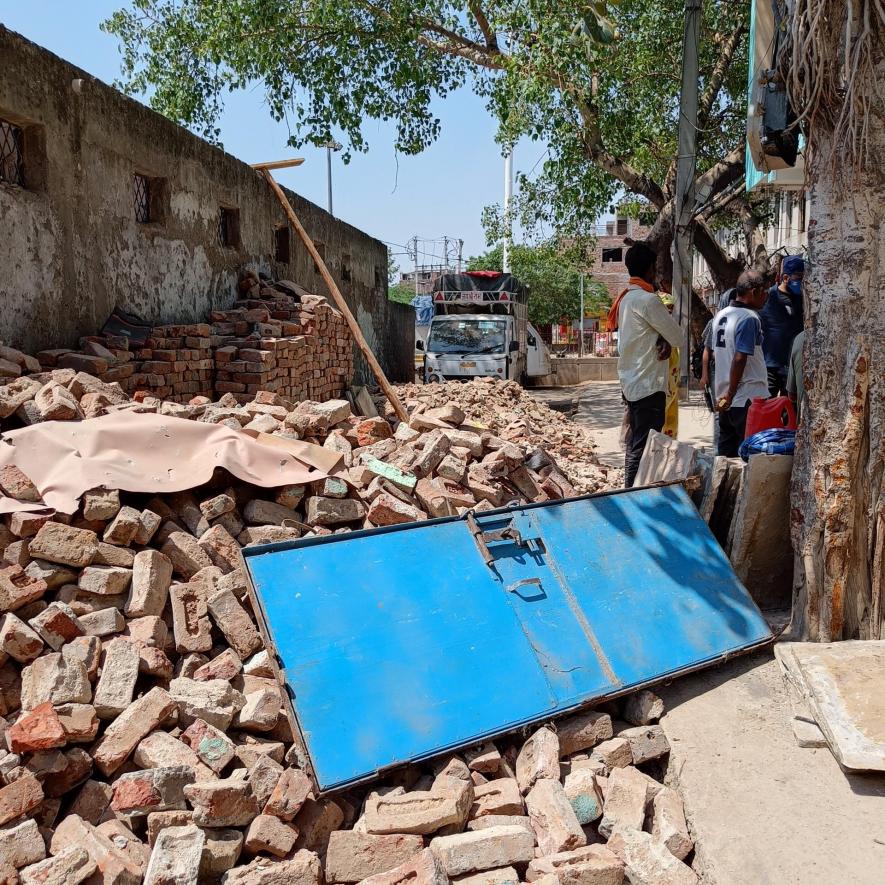 Most middle-aged people in the area are construction/factory workers, while youth are jobless.
For men with families, the situation gets mundane. Most middle-aged men and some women in the area are factory/construction workers with no stable income and long bouts of joblessness. A day in the life of these families is a story of hunger, ailment and inactivity.
A Scene from Sakshi's Home
When the news of a gruesome murder of a young girl reaches television or phone screens, it is usually in the form of CCTV footage. Social media timelines get flooded with high-intensity emotions and quick judgements of character, values, choices and hatred for the caste or religion of the perpetrator, especially when the accused is a dalit, Muslim or someone belonging to the lower strata of the society. The narrative that forms, as a result, is far from ground reality.
Sakshi's home is approximately a kilometre from where the crime occurred. Her father refuses to meet anyone, as her mother lies exhausted on a charpoy (cot) in the corner of a dark room with nothing more than a chulha (stove), few utensils, a pot of water and a storage trunk. Both have been unwell since their daughter was killed. When the news of her daughter's murder reached the mother, she did not believe it initially, thinking nobody could do this to her daughter, who was intelligent, aspirational and liked by everyone.
"My daughter was staying with her friend for the past 15 days because her friend required help in taking care of her children. She was happy because she had successfully cleared her class 10th exams and was looking forward to pursuing further education. We did not know anything about Sahil, and now we hear various versions of her life in the media," the mother told NewsClick. "Kisi ki sayani bitiya aise chali jaye uska toh sab kuch khatam ho jata hai" (If someone's wise daughter dies like this, then everything is over for them), she added.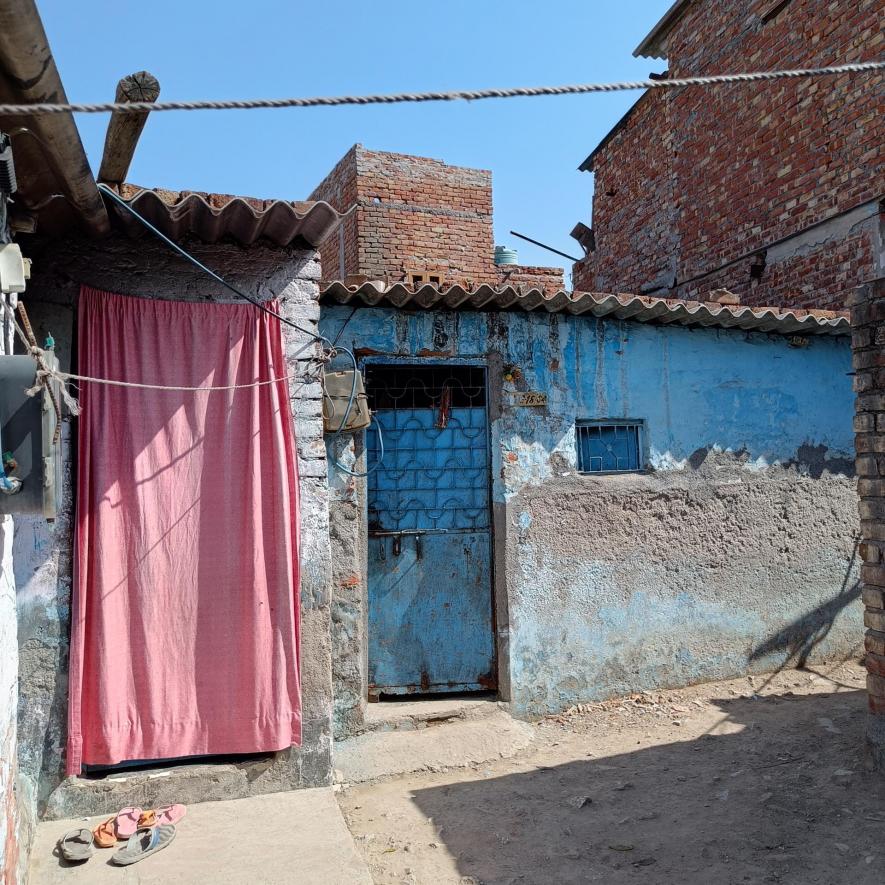 Eerie silence in Sakshi's house in Shahbad Dairy.
Sakshi's family migrated from Ambedkar Nagar, Uttar Pradesh, in 2003. Her father is a construction worker, and her mother works in a factory nearby. Her mother procured a loan recently to build a house in their village for which she pays a monthly EMI (equated monthly instalment) of Rs. 3,000. She speaks of her admiration for her intelligent young daughter and that she was their hope for a better future.
The police FIR states that Sakshi had a disagreement with her parents regarding Sahil, so she left the house to live with her friend. "People take advantage of the situation and mould things according to their interests. Because the matter is sub judice, I will not comment on this. Hamara kaam tha pakadne ka, humne pakad liya. Agar wo hamare saath hai toh usko saza milegi, agar wo hamare saath nahi hain, the case will be shut" (Our job was to catch the accused, we caught him. If the girl's family is with us, we will make sure he is punished, if they are not with us, the case will be shut), said the SHO when NewsClick sought his comments on Sakshi's mother's version.
Migrant Vulnerability
Shahbad Dairy represents one of the capital's biggest JJ (Jhuggi Jhopdi) clusters. The residents here are predominantly migrants from different parts of the country, mainly from Uttar Pradesh and Bihar, according to the local sources.
Approximately 675 JJ clusters with a projected population of 21.6 lakhs exist in Delhi alone, according to the Delhi Urban Shelter Improvement Board (DUSIB). The infrastructure of these JJ clusters raises severe concerns about the government's development priorities, mainly because these areas are a part of the capital city and provide labour to the factories and businesses in the vicinity.
A simple examination of the infrastructure shows a stark difference between the upbeat suburbs of Delhi and these clusters where open sewers are a common sight. Most houses here have an open sewer stream flowing right outside their doors, with people living with the stench. Several local residents said that things worsen during the rainy season when everything overflows, and the water enters their homes.
"The road work you are seeing now was done just a few weeks ago. Until last year, this road was filled with sewer filth, making it almost impossible for children to go to school or even go outside to run errands or play," said Alka.
Adjacent to the location where Sakshi was murdered, a public toilet is located a few metres away. The road to the toilet is covered in filth, with a vast garbage dump outside. The necessity of using toilets means vulnerability, shame and harassment for women living in these clusters.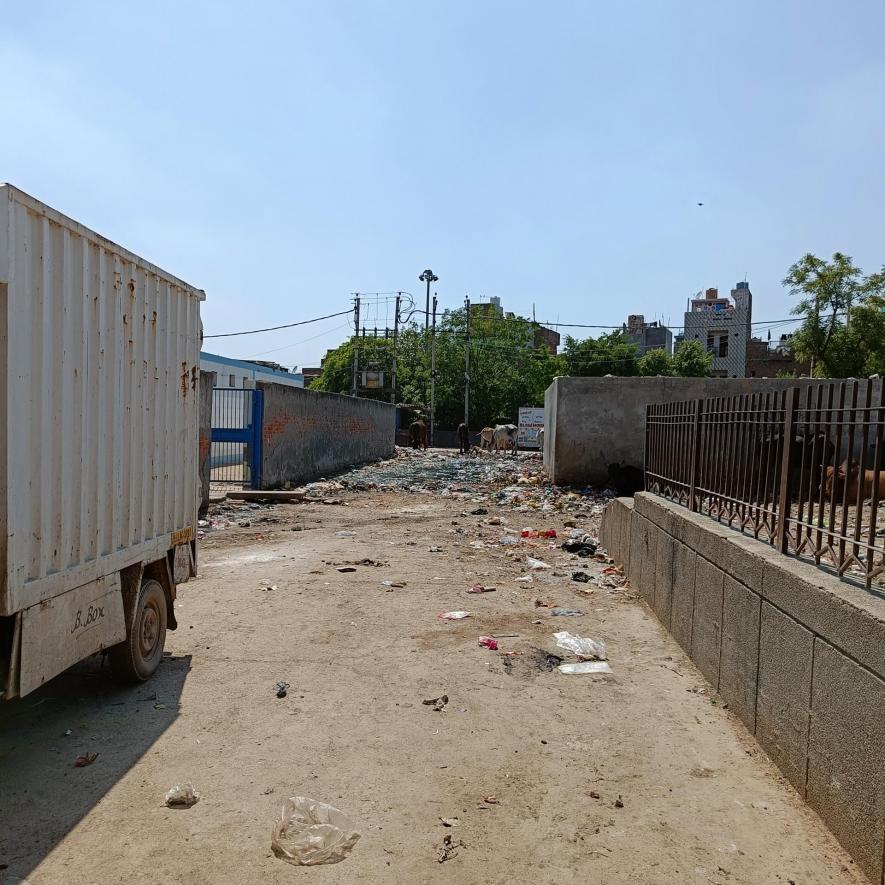 The road to the toilet is covered in filth, with a vast garbage dump outside.
On the vulnerability of migrant workers, Begum Parveen said, "We have come here for employment. If we do not live here, there is no other place for people like us in the city."
A married couple from Haryana who wished to stay anonymous told NewsClick how people in the area usually don't interfere in someone else's affairs because they don't know them or stay confined to their community. Had an incident like this murder occurred in their own village, people would have reached out because of a sense of community living.
The Prahladpur SHO also raised concerns about the area's infrastructure, explaining how dense, cramped, bumpy and filthy roads make it difficult for police vehicles to pursue criminals. He also highlighted that adequate social reforms had not reached the area, which was the main reason for rampant crimes and violence in these areas.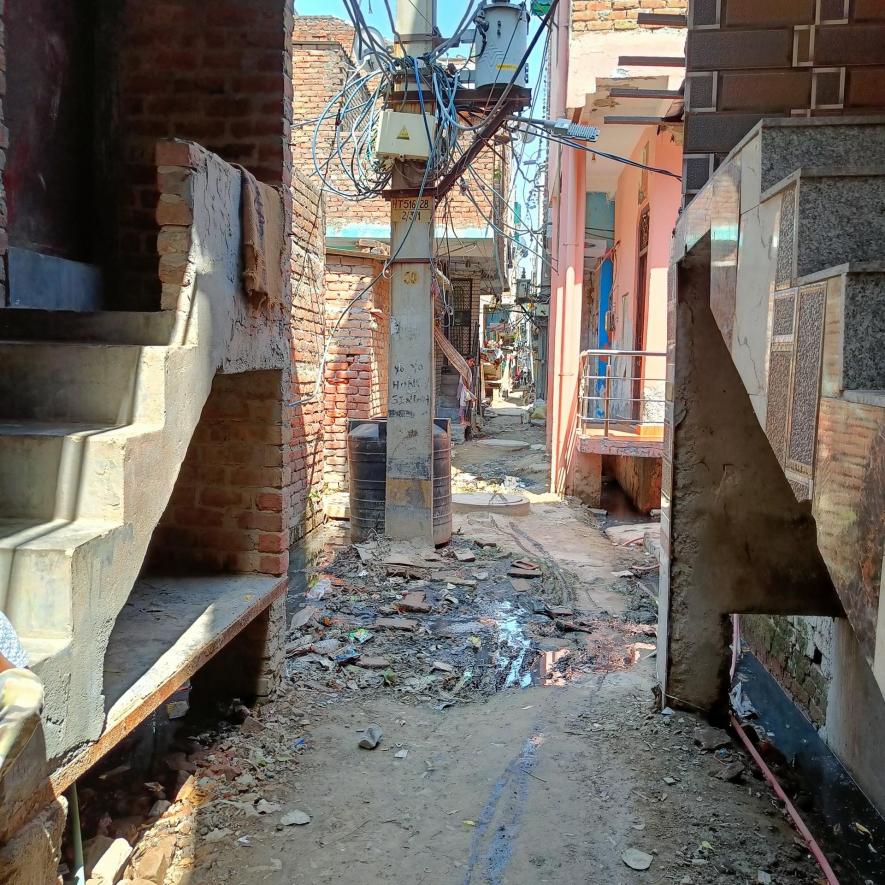 Open drains full of sewer filth flow outside homes.
"Police cannot work in isolation; crime-prone areas like these need systemic efforts and solutions. Implementing skill development programmes could potentially reduce the crime rate, as individuals often revert to a life of crime once released from jail due to unemployment and lack of viable alternatives in their surroundings," he added.
Media Coverage and Communal Perception
The corporate media coverage of this case has either been given a communal angle or seen from the lens of patriarchy, about how families should control young girls to protect them from disasters, instead of looking at it from a perspective of wider social, economic and systemic failure. A meaningful discourse has been missing in the corporate media and has become more stark since the Bharatiya Janata Party (BJP) came to power in 2014. It is, therefore, clear why crimes in the lowest strata of society are not seen from the perspective of class-caste vulnerability and socioeconomic dynamics, when it comes to the narrative.
NewsClick also met a woman e-rickshaw driver, which is rare. , as it is predominantly male-dominated. Requesting anonymity, she criticised the divisive statements of Hindu outfits and the media. She said giving communal angles to crimes like these contributed to creating an unsafe environment for the Muslim community. "This is a women's safety issue, not a Hindu-Muslim one. I want the accused to get the harshest punishment, as such events also affect my safety as a woman. This can happen to any woman in the future," she added.
The patriarchal nature of the media coverage has also affected public sympathy with the case. A middle-aged man, Vijay (name changed), said, "Having four boyfriends is not a good character trait for a woman." When asked about the source of this information, he referred to a private TV channel's coverage that said Sakshi was involved with four men, which led to her alleged murder.
Sakshi's mother summed up this insensitive media coverage, stating, "Now, all they are doing is fabricating stories about her."
Senior journalist Urmilesh also pointed out the insensitive and twisted manner in which the corporate and even some independent media houses have been covering the case. According to him, the 'communal' angle to cases like these is propagated because it serves the larger politics of the ruling party, BJP, which wants to divert attention from the government's systematic failure, which is usually the root cause of any community's deviation."
Get the latest reports & analysis with people's perspective on Protests, movements & deep analytical videos, discussions of the current affairs in your Telegram app. Subscribe to NewsClick's Telegram channel & get Real-Time updates on stories, as they get published on our website.
Subscribe Newsclick On Telegram