Shashi Tharoor Shows Elites do Take Ethical Positions
India's most powerful elites are its elected executive and big business owners. Like anybody else, the elites are more than just their class-caste-institutional identities.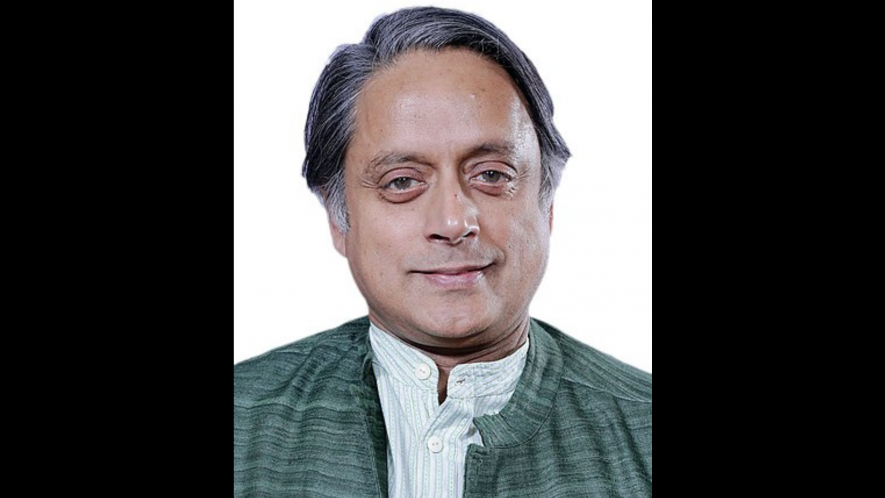 Shashi Tharoor. Image Courtesy:  Wikimedia Commons
National media has foregrounded Shashi Tharoor's identity as that of an elite, ever since he decided to contest for the post of Congress president. Regardless of the media's fuzzy ideas about elitism, Tharoor has shown that elites are capable of taking ethical positions and that they do indeed have a stomach to take on those superior to them in the power structure.
The concept of elite became a subject of sociological studies in the late19th century. Italian sociologist Vilfredo Pareto used the word aristocracy as a synonym for the elite, implying only the best rule the masses. No, said another Italian, Gaetano Mosca, who argued that the apt nomenclature for the elite is the ruling class, a group which has the power to impose its decisions on people, even resorting to violence to do so.
In more recent times, American political scientist Robert A Dahl said that elite as a group is not homogeneous. Every society has multiple elites dominating multiple centres of power. There are economic, political, military, cultural and intellectual elites. The most common feature defining them is the power they possess.
Tharoor's elitism vs Kharge's
In India, the most powerful elites are those who constitute the elected executive and owners of big businesses. But elites are also spread over a large number of institutions. There are processes through which some gain entry into the exclusive elite club. Class, caste and family background—whether a person belongs to an existing political or business dynasty, for instance—are some factors determining who becomes an elite and who does not.
For sure, Tharoor has not become an elite because he belonged to a political dynasty.
His father was an advertising head of The Statesman in its more sunshine days. Tharoor is an upper caste Nair. He studied at St. Stephen's College, did his Masters in International Relations at The Fletcher School of Law and Diplomacy, and completed his Ph. D at the age of 22, a testament to his brilliance. He wrote books and articles, worked in the United Nations and was already a name before he joined the Congress.
But the media has swept aside most of these aspects of Tharoor's profile, choosing to primarily focus on his three years of stay at St Stephen's College to brand him as an elite. This aspect of Tharoor pops up in just about every interview. According to the 2011 Census, only 8.15% of India's population are graduates. In other words, regardless of their caste or class background, all graduates are elites to higher or lower degrees. Let us face it: Tharoor went to St. Stephen's presumably because he had excellent grades in school, unlike many others sharing his caste-class attributes.
Tharoor's opponent in the presidential election, Mallikarjun Kharge, universally regarded as the nominee of the Gandhis, is a Dalit who studied in a village school and did his BA from a government college before going on to do law. He won Assembly elections nine times in a row and has been close to becoming Karnataka's chief minister a few times. He was elected to the Lok Sabha in 2014. Defeated in 2019, he was sent to the Rajya Sabha.
Kharge's caste-class background is certainly less privileged than Tharoor's. His enviable successes apart, he is a political elite. His party does consider his Dalit identity an asset, evident from senior Congress leaders, such as Rajasthan Chief Minister Ashok Gehlot, referring to it to justify his nomination. In his 2019 affidavit submitted to the Election Commission, Kharge reported assets worth Rs 15 crore, around Rs 8 crore less than Tharoor's. Not a yawning gap, is it? Kharge's son is already an MLA in Karnataka, suggesting that there is yet another dynasty in the making.
It does seem misplaced to portray the Congress presidential election as a contest between an elite and, impliedly, a plebeian. Kharge and Tharoor are, in their own ways, elites. Kharge is counted among the loyalists, a term applied to those whose fealty to the Gandhis is considered beyond doubt. There exists a thin line dividing loyalty from servility. Tharoor is self-avowedly loyal to the Gandhis, but he has, by jumping into the presidential election, shown that principles matter to him.
Willing to stand up
To iterate, Tharoor was a member of Group-23, or G-23, which wrote letters to Sonia Gandhi saying it was time for the Congress to revamp the organisation, in view of its terrible performances in a series of elections, provide for an inclusive leadership, and hold intra-party elections to important posts in the party. The G-23's ranks dwindled with time. Ghulam Nabi Azad, Kapil Sibal, Jitin Prasada, and Yoganand Shastri left the Congress.
When the Congress decided it would hold its presidential elections, it was time for G-23 members to stand up and be counted. Only Tharoor cared to ensure that the principle of election was upheld. He announced his candidature, risking the ire of the high command whose courtiers crowed for choosing the president by consensus. The Manish Tiwaris and the Anand Sharmas, who only months ago were eloquent supporters of intraparty elections, fell silent. Forget Bhupinder Singh Hooda, who exited the group on being assured he would be king in his state of Haryana.
In fact, none of the G-23 members stepped forward to sign even Tharoor's nomination papers for his candidature. The only exception was Sandeep Dikshit, yet another Stephanian. In an interview with Karan Thapar, Tharoor said he could not now step down as it would amount to betraying those who staked their future to rally behind him.
Stephanians have principles
Tharoor's elitism has been ascribed to his Stephanian persona. Indeed, education in reputed institutions does not imply that their alumni are necessarily bereft of ethical principles and convictions. Here are a few examples.
Think Har Dayal, whom historian Sumit Sarkar described as the "brilliant though somewhat mercurial intellectual from St Stephen's College." Har Dayal was among the founders of the Ghadar movement, which surfaced in San Francisco in 1913, with the purpose of scripting an uprising in India. The movement took its name from the weekly, Ghadar, which he edited. Its inaugural issue of November 2013 had a stirring passage, "What is our name? The Ghadar (Revolution). In what does our work consist? In bringing about a rising… Where will this rising break out? In India."
Or think Sir Chhotu Ram, son of an illiterate Jat peasant proprietor, who went to study at St Stephen's College. Political scientist Christophe Jaffrelot credits Ram for articulating in "analytical terms the opposition between urban and rural India." He and Mian Fazil-i-Husain formed the National Unionist Party to organise peasants. Their electoral successes in pre-Partition Punjab saw Hussain become Chief Minister and Ram Minister of Agriculture, in which capacity he brought reforms that provided benefits to peasants. Ram remains an icon for the Jat community.
Fast-forward time to Indrajit Gupta, the late general secretary of the Communist Party of India, who was a Stephanian. His grandfather was in the Indian Civil Service, and his father was the Accountant General in pre-Independence India. After studying at Cambridge, he returned to India, worked as an underground worker of the party, and engaged in trade unionism. He was a member of the Lok Sabha from 1960 until he died in 2001, but for the 1977-1980 period. On his demise, then President KR Narayanan said Gupta symbolised "Gandhian simplicity, democratic outlook and deep commitment to values."
Sitaram Yechury, the current general secretary of the Communist Party of India—Marxist, is a Stephanian. His interventions in public discourses have been erudite. He brought a certain gravitas to the debates in the Rajya Sabha. Unlike many Congress leaders, he has been a forthright supporter of secularism.
St Stephen's has produced a slew of activists, such as Harsh Mander, who demonstrated courage in taking his Karwan-e-Mohabbat, or Caravan of Love, to visit families whose members were lynched by Hindutva mobs. He is among the five shortlisted for this year's Nobel Peace Prize. Or take Sanjit "Bunker" Roy, who founded what is popularly called the Barefoot College, which focussed on irrigation and water scarcity in drought-prone areas. Lawyer Vrinda Grover has waged many a legal battle for causes considered lost. Madhuri Krishnaswami, popularly known as Madhuri ben, works in the tribal district of Barwani, Madhya Pradesh.
St Stephen's College, like many other elite institutions, has also produced men of straw. Late President Fakhruddin Ali Ahmed was a Stephanian—and he signed the Emergency Proclamation. In recent times, we have had Ranjan Gogoi, whom history will count among the Chief Justices of India who lowered the Supreme Court's majesty.
Indeed, elites, like anybody else, are more than just their class-class-institutional identities. The touchstone for judging them must be their actions. Regardless of the complexities involved in judging who is an elite in electoral politics, Tharoor has demonstrated he is willing to live up to his convictions. In doing so, he has already exposed the Congress presidential election of being a charade. This impression will persist unless he springs an unlikely surprise.
The author is an independent journalist. The views are personal.
Get the latest reports & analysis with people's perspective on Protests, movements & deep analytical videos, discussions of the current affairs in your Telegram app. Subscribe to NewsClick's Telegram channel & get Real-Time updates on stories, as they get published on our website.
Subscribe Newsclick On Telegram