Soni Sori and Bela Bhatia: Human Rights Crusaders for Tribals and Women in Conflict-ridden Bastar 
India's collective indifference led to the rise of groups and individuals resisting attempts to stifle the basic rights of tribals, and the most notable among them are two women - Soni Sori and Bela Bhatia.

Central India's Chhattisgarh is a piece of geography scratched and torn by Maoist extremists and security forces. The tale of tyranny against tribals, who are at the receiving end of the conflict, has an unending tryst with those defending them. The "Women's Day" celebrations were witnessed across the world, but it is incomplete without factually reiterating the untiring journey of two women activists working for tribal rights in the dense forests of Dandakaranya. 
Soni Sori and Bela Bhatia, the two human rights crusaders, are considered pillars of strength and crisis management for tribal communities whose lives hang before the barrel of guns, be it of the state police, Central Reserve Police Force (CRPF), or insurgent Maoists. 
India's collective indifference led to the rise of groups or individuals who resisted attempts to stifle the basic rights of tribals. Soni Sori, a Koya tribal from Dantewada, a violence laden hotbed of Maoist extremism, had to leave the job of a school teacher when she refused to be an informant of the police and was hand-picked by the forces on allegations of having Maoist links. Her family members were subjected to arbitrary harassment. In 2011, Sori was arrested on allegations of extorting money from a reputed industrial group on behalf of Maoists with several other charges, including sedition.  
The extent of prosecution, custodial torture, and sexual harassment she witnessed remains one of the bone-chilling episodes of human rights violation and probably the instigating point of her becoming a human rights defender in one of India's deadliest conflict zone. The Supreme Court-directed inquiry concluded that the physical torture of Sori while being in police custody was a transparent reflection of state-sponsored brutality. From being the worst victim of the system to shielding tribal women, Sori has unwaveringly stood in support of tribal communities across Bastar.  
Sori's family was spared neither by the police nor the Maoists. In 2012, it was found that Maoists had issued a diktat forbidding her relatives from cultivating land for three years.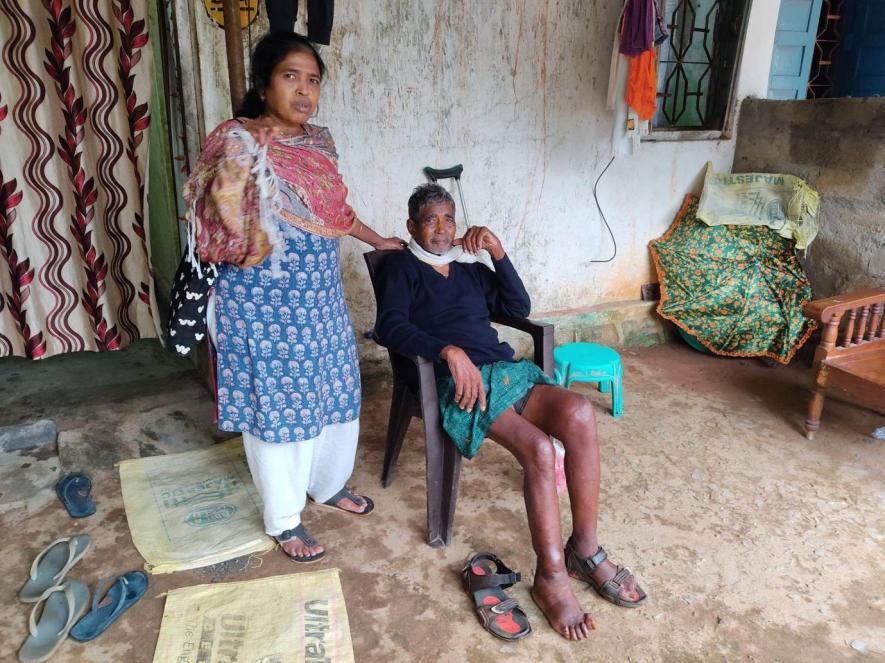 Image: Soni Sori with her Father Mundra Ram in Dantewada.
While explaining her tryst with Bastar, she recalled the horrific attack by Maoists on her family in which her father Mundra Ram was shot in his leg. "The person who attacked my family and disabled my father by shooting his leg has now surrendered and is part of the District Reserve Group (DRG). My bludgeoning victimisation and vilification are credited to both sides, i.e. the government and Maoists, and I vow not to cow down due to such attempts," said Sori.
Besides three children and a father, she lives with two young boys (Hinga and Brisha) who lost their parents in an alleged attack by the CRPF in Burkapal village of Sukma district in 2017. The pain of losing people in the face of violence made her adopt two young orphan lives. Sori lost her husband due to illness in 2013; he was also accused of being a Naxal sympathiser.
Bastar lives on a cliff of neglect, ignorance, violence, and betrayal. Neglect, ignorance, and betrayal are seen on part of the Executive, Legislature, and Judiciary while violence is unleashed by the state police and central security forces.
Amid the above mentioned brutalities, the human rights crusade means taking head on challenge with the government of the day. Like Soni Sori, activist Bela Bhatia too had to undergo hurdles for her relentless struggle to safeguard women's rights in particular.
Bela Bhatia is a researcher turned human rights lawyer based in Jagdalpur town of Bastar. Since January 2018, while practising law, she has traversed between courtrooms in Jagdalpur, Dantewada, and Kondgaon, fighting cases of tribals. The cases qualitatively comprise gross violation of human rights. "I identify myself differently from other lawyers in terms of professionalism as my sole concern is human rights perspective besides criminal law and labour laws," said Bhatia.
Being a lawyer, she has unequivocally remained critical of the slow pace of justice delivery in Bastar, which is the den of cases pertaining to tribals -- mostly undertrials and not convicts. In times of law practice being a major business, her humane approach to handle cases keeps the hope alive.
Bela Bhatia's association with Bastar started in 2006 when she was an associate fellow at the Centre for the Study of Developing Societies (CSDS) and as part of the "Committee Against Violence on Women" she visited Bastar. This was the year after the anti-Maoist operation 'Salwa Judum' came in full swing. Prior to Bastar, she finished studying law in 1989, completed her Ph.D in early 2000's on 'Naxalism in Bihar' from Cambridge University, and also had a brief stint as a honorary professor at the Tata Institute of Social Sciences, Mumbai.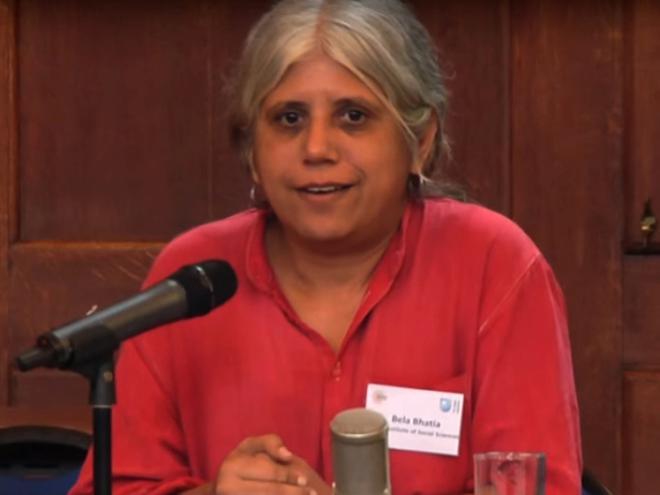 Picture Credit : The Hindu
The nefarious 'Salwa Judum' displaced more than lakhs of tribals, and it is considered to be the largest internal displacement in the country with hundreds of villages ransacked, women sexually tortured, thousands in captivity in security camps. The torturous and treacherous outcomes probably triggered Bela Bhatia to stay back in Bastar and fight for the cause of tribal rights. But the decision to accept the conflict zone as a permanent home was met with challenges. She came under the radar of Chhattisgarh administration for helping tribal women register FIRs against security personnel for gang rape and grievous sexual assault between October 2015 to March 2016; she helped the National Human Rights Commission (NHRC) team to record the statements of the survivors. The consistent effort to help tribal women on successive occasions against repeated assaults made her stay at loggerheads with BJP's Raman Singh-led state government.
While doing this, she was also forced to leave her rented room at the outskirts of Jagdalpur town and was castigated as a Maoist supporter by a vigilante group named Samajik Ekta Manch. This group was the state government's initiative to take on Naxal rebels but it turned out to be an intimidating force against journalists and activists critical of the state administration as the group branded them as Naxals. Members of the group were former members of the now-banned Salwa Judum.
Get the latest reports & analysis with people's perspective on Protests, movements & deep analytical videos, discussions of the current affairs in your Telegram app. Subscribe to NewsClick's Telegram channel & get Real-Time updates on stories, as they get published on our website.
Subscribe Newsclick On Telegram