Soumitra Chatterjee: An Ideologue and an Artist
The magnanimous persona of the actor, who passed away recently, existed alongside his craft.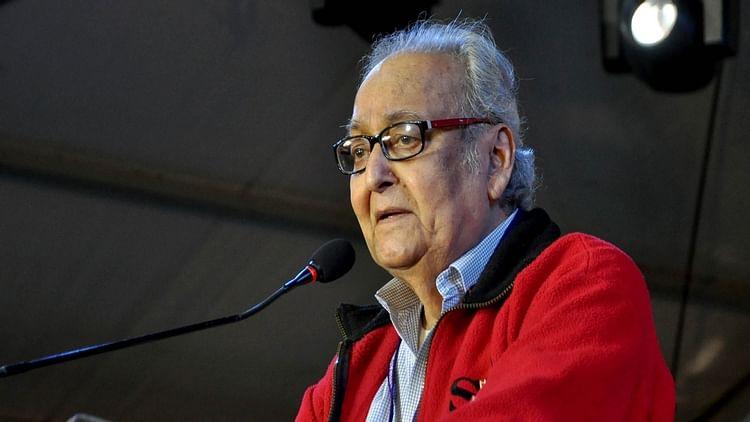 Soumitra Chatterjee. Image Courtesy: National Herald
In 1980, Soumitra Chatterjee played the rebellious teacher, Udayan Pandit, in Satyajit Ray's Hirak Rajar Deshe—In the Land of the Diamond King. The role is viewed as a scathing anti-Emergency commentary, in which Pandit calls for "pulling the strings so hard that the king may fall". Yet, whether he played an ebullient rebel or a character artist's role, Chatterjee's expressions remained anti-establishment. His characters were in keeping with his commitment to the Left and also true to his artistic faculties. Reflecting on the ideologue who persisted in him, along with a craftsman and artist, reveals something of his magnanimous persona.
Chatterjee was introduced to politics as a student of Bengali literature at City College in Kolkata, a time when he also became an avid reader of Marxist literature. The more he learnt, the more fond he grew of its ideas of emancipation. "A few years after India's independence, when our hopes were crushed and dreams of liberation dwindled as we observed the state of affairs all around, leftist ideology seemed to be the most fitting path to follow," Chatterjee said. This thought echoed throughout in his craft, not as overt partisan proclamations but often as subtle critiques of structural injustices. The depth of his socio-political commentary is partially encapsulated in one of his poems, Sayantan, from Shabdora Amar Bagane—Words in My Garden, in which he depicts the all-round failures of the world:
"The masters of the world are unaware of the dusky sky,
The sheer redness of it.
So many slaves burned their skins here all day,
I have witnessed those injustices...
So have I witnessed the fatigue of the enslaved women,
In their corporal toil..."
In Ray's Abhijan (The Expedition), 1962, Chatterjee played Narasingh, who became a representative of those who live on the peripheries of society. In Devi, (The Goddess), 1960, he played Umaprasad, who provided the humane counterpoint to the lead character, Doyamoyee, whose life story was taken over by superstition. In Ghare Baire (Home and the World), 1984, Sandip became a perfect foil, the anti-hero who showcased the viciousness of nationalism. In Kony, 1984, he trained a talented underdog to become a swimming champion and in Ganashatru (Enemy of the People), 1990, he fought superstition and political corruption as Dr. Ashok Gupta.
A prodigy of Ray, Chatterjee inherited the underlining themes of his politics as much as a vision for his craft. He once invited Ray's reproach too, when he had laughed out while taking a run-of-the-mill shot in a typical romantic scene. In a world divided between the high and low art binary, Chatterjee's disdain for poor artistic choices was evident. Admittedly, Chatterjee was once known for being "snooty" in his choices of roles and films, yet, with time, especially in the post-Ray era, a mature Chatterjee made some "poor" artistic choices. Even in these roles, he helped salvage the declining Bengali-language film industry as it faced the creeping onslaught of multiplexes. For this he deserves credit, for the Bengali film industry was able to ride on his presence, popularity and talent to breathe for a while longer. "All films are commercial…the artist only elevates the film to an artistic standard," he said in an interview in 2016.
Perhaps Ray's words of caution ensured that Chatterjee's intellectual depth did not come in the way of his being "ordinary" either; and allowed him to stay close to his self, shed the aura of a distant star. "Soumitra may have found his freedom in being ordinary," as co-actor Sharmila Tagore said. Chatterjee made his art and his self accessible as he evolved into a people's actor.
In Sthabar Jangam, Chatterjee celebrates the dishevelled avatar of an ordinary flag-bearer who remains true to his (or her) path:
"I observe all while trudging
down the road on my feet….
Some, whose ragged shirts and unkempt hair
remained resolute with the passage of time,
Their perplexed eyes never faded,
Heralding the glory of the vanguard and others,
In processions that followed one after another—
Shining even brighter in the autumn sun."
Even in his last literary contribution to Ganashakti's festive volume, Chatterjee's belief in the Left remained unaltered. Not only did he express his loathing for Hindutva in this essay, he also expressed his sharp concerns about the Opposition. He advised the Congress party to "revisit history", and from the Left he sought self-reflection.
When the 34 years of Left party rule ended in Bengal in 2011, Chatterjee had the opportunity to pick the winning side, but certainly did not do so. In 2019, he unapologetically criticised the state government when it unreasonably proscribed director Anik Dutta's Bhobishyoter Bhoot—Ghost of the Future. "Can we not keep anything in our films that the powers-that-be don't approve of? I oppose this kind of fascist policy—no matter how hidden. I hope people understand who is responsible for this, how undemocratic it is and will thereafter protest against this act," he said in defence of the right to free speech and expression.
He was suspicious of those who used history to justify communal rhetoric and division. In speaking of the descendants of the refugees from East Bengal, he was forthright, "The current generation, who have not experienced any of this [violence], only heard of the violence, seem to be more aggressive. Or perhaps this aggression is being manufactured," he wrote presciently in his last essay.
Though he humbly maintained he was indifferent to matters political, his full support for the non-violent anti-Citizenship Amendment Act protests last year need special mention. The carnage of 2002 in Gujarat, the contemporary cow vigilantism and the futility of Ram mandir politics—Chatterjee was unabashed in mounting solid condemnations of each of these depravities. He summed up the Hindutva agenda with these words: "Because Rama holds a position of sentiment and love for everyone, the Hindutva forces use him to fulfil their communal agenda." He never shied away from bringing attention to the toxic complicity of the government in power in Gujarat in 2002 with the Hindutva forces. As he one wrote, later, "I am surprised that the man who was in power in Gujarat during the horrific riots of 2002 is now the man on the throne of India."
Soumitra Chatterjee was a non-partisan ideologue who adhered to the Left and yet ideology alone did not define him, and this is a significant part of his enigma. His beliefs, and the roles he played, are the reason why his final procession saw all break barriers of class, caste, religion, gender and political affiliation to walk together to bid their last goodbye. This is proof enough that he stood true to his politics, philosophy, craft and vision of life.
The author is a PhD candidate at the Centre for International Politics, Organization and Disarmament, JNU. The views are personal.
Get the latest reports & analysis with people's perspective on Protests, movements & deep analytical videos, discussions of the current affairs in your Telegram app. Subscribe to NewsClick's Telegram channel & get Real-Time updates on stories, as they get published on our website.
Subscribe Newsclick On Telegram