Spirit of Freedom Movement Calls for Return to its Ideals
The freedom movement supported press freedom and inclusivity, ideals inherited from the Quit India movement. These are relevant as India slides down the democratic scale.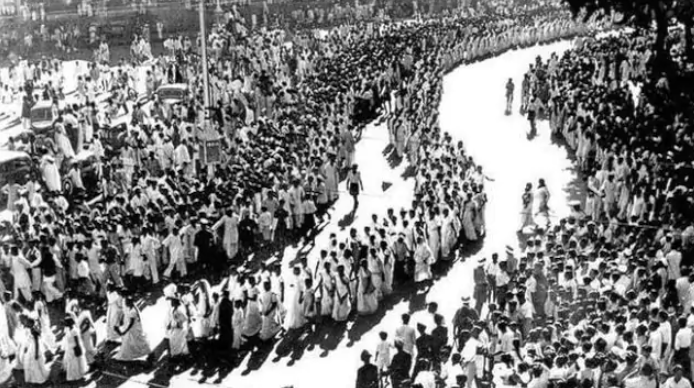 Image Courtesy: Firstpost
India celebrated the 75th anniversary of its Independence on Sunday, days after the 79th anniversary of the Quit India movement. Apart from liberation from British rule, these movements embraced a democratic vision of India, upheld freedom of speech and affirmed diversity, pluralism and an open outlook towards the world. Now, these core ideas that underpin the Constitution and freedom are getting trampled upon by those in power..
India had the status of a free country but is now downgraded as partially free on several indices. Some even call it an elected autocracy because the present regime is progressively stifling freedoms.
The launchpad for independence, Quit India movement, unfolded against the backdrop of press censorship and curbs on freedom of expression, after the British rulers unilaterally dragged India into the Second World War. Much against the wishes of freedom fighters, press censorship was thrust upon the country to stifle the protests of the top leadership of the independence struggle.
For example, Gandhi's writings on non-violence were subjected to censorship. The British prevented him from expressing his views because India had participated in the Second World War and was engaged in war activities. Whatever little freedom of speech was there was severely restricted. He protested censorship by launching "Individual Satyagraha" in 1941. It was his only satyagraha in defence of press freedom. He chose Vinoba Bhave as the first individual satyagrahi. After his arrest, Jawaharlal Nehru and other leaders offered satyagraha. Gandhi wrote, "Freedom of speech and pen is the foundation of Swaraj. If the foundation-stone is in danger, you have to exert the whole of your might in order to defend that single stone."
Now, 75 and 79 years after independence and the Quit India movement respectively, the press, the foundation of Swaraj, is under severe assault and journalists are getting slapped with sedition charges for doing their work. The incarceration of journalists for being critical of the government and the alleged use of military-grade spyware to target their mobile phones and monitor all their activities has posed an unprecedented danger to members of the press.
In the 2021 World Press Freedom Index produced by Reporters without Borders, India is placed at 142nd rank out of 180 countries and is "one of the world's most dangerous countries" for journalists. Such a frightening atmosphere for the press constitutes an attack on India's independence itself.
Some of Gandhi's words resonate in the so-called New India taking shape under the leadership of Prime Minister Narendra Modi. He warned, "I am quite clear in my mind that there is little real freedom of speech in British India, there is still less in 'Indian India' and there is no independent judiciary." The question mark on the independence of the judiciary and freedom of speech and the relentless attacks on institutions remind us of the critiques of British rule.
On 15 September 1940, during the Second World War, Gandhi had said, "It hurts me to find St. Paul's Cathedral damaged (in the UK). It hurts me as much as I would be hurt if I heard that the Kashi Vishvanath Temple or the Jama Masjid was damaged...". These inclusive ideals were shattered in India in 1992 when the Babri Masjid was destroyed and none of those responsible got punished. Since then, things are only getting worse.
When a mosque was razed in Barbanki in Uttar Pradesh more recently, there was no remorse from those in positions of power. Those who protested or sought legal recourse against the demolition faced the wrath of people who are basking in reflected state power. The inclusive spirit integral to the Quit India and freedom movement have been negated wilfully with the aggressive majoritarian stance that contravenes India's constitutional vision.
Echoing Gandhi's words from those days, people are asking again today, "Is India a democracy"? There is growing anguish due to the wilful assaults on democratic institutions that define and must defend democracy. In May 1944 when a friend asked Gandhi if Quit India was a non-violent rebellion to seize power, he answered, "A non-violent rebellion…is a programme of transformation of relationship ending in a peaceful transfer of power... It will never use coercion. Even those who hold contrary views will receive full protection under it".
Tragically, the state targets those with contrary views and criminalises dissent or critiques of the government with a vengeance. The Prime Minister said recently that the spirit of the Quit India should inspire people to start a "Bharat Jodo—Knit India" movement, but it sounds hollow in the context of the divisiveness that those wielding power are spreading.
We Indians need to invoke the true spirit of the Quit India movement and the freedom movement—in defence of democracy, inclusivity, press freedom and acceptance of contrarian perspectives—to uphold the Idea of India that itself is in danger.
SN Sahu was an officer on special duty to late KR Narayanan when he was the President of India. The views are personal.
Get the latest reports & analysis with people's perspective on Protests, movements & deep analytical videos, discussions of the current affairs in your Telegram app. Subscribe to NewsClick's Telegram channel & get Real-Time updates on stories, as they get published on our website.
Subscribe Newsclick On Telegram