Springs Rejuvenation Programs Moving Steadily in Three Himalayan States
It is estimated that half of the springs in the Indian Himalayas have dried up. An estimated 80–90% of the population in the Himalayas depends on springs for their daily use.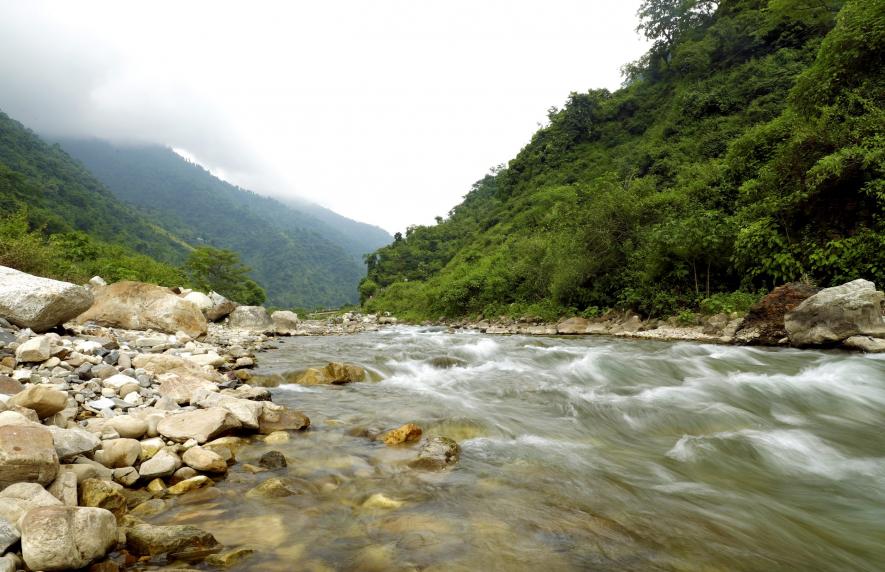 Mountain river flowing in Uttarakhand. Image Courtesy: PixaHive.com
According to NITI Aayog, an Indian government think tank, there are 5 million springs across India, of which nearly 3 million are in the Indian Himalayan Region (IHR) alone.
Over 200 million people in India depend on springs, of which 50 million are in the 12 IHR states. It is estimated that half of the springs in the Indian Himalayas have dried up. An estimated 80–90% of the population in the Himalayas depends on springs for their daily use.
In a recently published paper in Nature Scientific Reports, researchers claimed the good quality of most of the springs in the region while also adding that the threat to their existence is growing day by day.
Three scientists, Sami Ullah Bhat, Shahid Ahmad Dar, and Aadil Hamid, conducted the research and pointed out human-induced anthropogenic activities such as large-scale land use changes, massive deforestation in catchment areas, and infrastructural development besides climate change and glacier retreat for posing a threat to the springs in the North Western Himalayan region.
Ecological factors such as climate change and human-induced changes were found to have disrupted the hill slope hydrology in the Kashmir valley, leading to flow reduction and spring drying.
There is indeed an acute lack of information on springs in Kashmir. Despite being so significant to human survival, little attention has been paid to their management and conservation.
"It is a huge relief that springs in Kashmir have retained their good quality, so we have availability of safe drinking water, but factors such as rapid urbanisation, industrialisation, human interventions, population growth and climate change continue to pose threats. Thus protection and sustainable management of springs are crucial," Bhatt said.
The study gave out some concrete data.
The water quality evaluation of 258 springs from the Kashmir valley showed that 39.5% of the springs have excellent water quality, 47.7% have good water, 5% have poor water, 1.6% have very-poor water, and 6.2% of the springs have water that is totally unfit for drinking purposes. The majority (87%) of the springs range from excellent to good quality and can be used for drinking without any treatment. Thus the springs have a large potential to meet the rising demands of the growing population in the region.
Concerns for the springs along the central and south Kashmir being alkaline were expressed due to the limestone-rich lithology of the valley. The springs in Kupwara and Baramulla districts were found acidic mainly due to the mixing of inorganic fertilisers and domestic sewage from adjoining catchment areas.
The report mentions that high levels of sulfates and nitrates in the spring waters indicated leaching and surface runoff from soils and agricultural fields, leakages from septic tanks, surface drains, and domestic sewage that pollutes the water.
The increasing concentration of sodium and potassium along the Kupwara area indicates increasing human activities. Changes in soil due to horticultural and agricultural practices are the possible secondary sources of increased potassium concentration compared to normal levels along central and south Kashmir.
The presence of coliform bacteria in some springs of the Ganderbal and Budgam districts indicated the contamination of aquifers by septic tanks. The Budgam and Ganderbal districts do not have sewage treatment plants, and all of the faecal matter is buried underground, resulting in bacterial contamination.
Groundwater in some areas like Karewas and upper areas decreased by one-third. The impact of climate change on snowmelt is said to be one of the reasons behind it.
Ravi Chopra, an environmentalist and water expert, said, "Glacier contribution to the river water flow is less than 13%. Most of them are fed by springs. But more than 50% of springs have dried up for various reasons, including landslides triggered by dam construction, etc. This has affected our groundwater recharge. India is the largest groundwater consuming country in the world with 340 BCM where 80% water extracted is used for irrigation."
Kashmir valley and two other hilly states, Himachal Pradesh and Uttarakhand, are also facing a bigger crisis concerning the status of springs.
According to the directory of water resources, there are nearly 10,512 traditional water sources in Himachal villages. Himachal Pradesh Council for Science, Technology, and Environment found that only 30.41% of these natural water sources are recharging properly, while 69.59% of sources are "nearly going to dry soon.
Springs are the primary water source for rural households in the Hindu Kush Himalayas (HKH). HIMAP report of the International Centre for Integrated Mountain Development (ICIMOD) says that in the Indian Himalayas, 64% of irrigated areas are fed by springs. Due to factors related to anthropogenic impacts such as deforestation, grazing, exploitative land use resulting in soil erosion, and climate change, springs fed during the monsoon by groundwater or underground aquifers are reported to be drying up and threatening whole ways of life for local communities in most parts of the mid-hills of the HKH.
Nearly 90% of people in Himachal Pradesh are villagers who depend on agriculture. Indian Institute of Technology in Mandi district of Himachal Pradesh found in its survey that 95% of farmers in Kullu district reported not having enough water to irrigate their crops which indicate to dip in groundwater and water reduction in the springs. The farmers are being trained to opt for crop varieties and techniques which conserve less water.
Sarita Kumar, conservator of Forest in Himachal Pradesh, told NewsClick, "The state government has launched Parvat Dhara project worth Rs 3,000 crore to provide water for irrigation to farmers. The project is aimed at rejuvenation of depleting water sources including springs."
NGOs such as the People's Science Institute are working with local communities in pursuit of the revival of springs.
Debashish Sen, director of PSI, told NewsClick, "We carried out spring revival program based on the principles of Participatory Groundwater Management (PGWM) with the help of technical inputs from Advanced Centre for Water Resources Development and Management (ACWADAM) and financial support from Arghyam in Himachal Pradesh. Many springs covered under this program have been revived successfully and handed over to the local communities, especially local women groups known as Mahila Mangal Dal."
Formulation of protocols for protecting the recharge area, maintenance of springs, and equitable use of water were prepared and shared with local people. These initiatives enhanced the spring discharge and controlled the water contamination.
The Centre for Ecology Development and Research (CEDAR, a research-based NGO in Uttarakhand) has studied the condition of springs in Nainital. CHIRAG worked on technicalities designed by the Pune-based Advanced Centre for Water Resources Development and Management (ACWADAM). People's Science Institute (PSI) has also been reviving springs and ensuring their long-term survival by training local communities.
The selection of villages was based on the gravity of the situation they were facing, such as inadequate drinking /domestic water availability, poorly maintained springs, and prevalence of open defecation in the recharge area of springs, leading to contamination of water.
According to Debashish Sen, director, PSI, the project was based on Participatory Groundwater Management (PGWM) principles with technical inputs from the Advanced Centre for Water Resources Development and Management (ACWADAM), and financial support from Arghyam has now been handed over to the local community.
The interventions were based on local hydro-geological studies, groundwater monitoring, and strong community mobilisation. It resulted in the formulation of protocols for protecting the recharge area, maintenance of springs, and equitable use of water. These initiatives enhanced the spring discharge and controlled the water contamination.
Santosh Kumari, president of Mahila Mangal Dal in Thanakasoga village of Nahan Block of Sirmaur district of Himachal Pradesh, is now taking care of one such spring in her village with other members of the group. PSI rejuvenated this spring.
"Our spring was lying neglected and dirty. Whatever reduced water discharge we were getting had turned contaminated due to filth in the surrounding area. The villagers were suffering from acute water scarcity as the water supply comes only one hour in three to four days from the water department of the state government, which barely meets our requirements," she said, adding that now the women group maintains the cleanliness in and around spring. Now the entire village of 35 families is dependent on it for their daily consumption of drinking water and other domestic needs.
The villagers have started cleaning all the 150 trenches built in the spring's catchment area and removing weeds, grass etc., grown in them before the augmentation of the Monsoon season to recharge the groundwater and flow into the spring. Several trees of fruit and fodder species too have been planted in the catchment area for the same reason.
NGOs like PSI, CEDAR, CHIRAG, and Himmotthan are working in different regions of Uttarakhand to improve the condition of springs in the state.
The Centre for Ecology Development and Research (CEDAR), a research-based NGO in Uttarakhand, is working on springs in the Nainital district of Uttarakhand. The CEDAR collaborated with another NGO, CHIRAG, to launch this project three years ago.
"Local people need not be scientists to understand the science behind the rejuvenation of these springs. Methods like pruning invasive or small pine trees from the water recharge zone to allow rainwater to seep into the aquifer or creating a network of interconnected trenches to feed a number of deep recharge pits wonderfully after initial trails to recharge springs," said a villager of Nathukhan village.
Get the latest reports & analysis with people's perspective on Protests, movements & deep analytical videos, discussions of the current affairs in your Telegram app. Subscribe to NewsClick's Telegram channel & get Real-Time updates on stories, as they get published on our website.
Subscribe Newsclick On Telegram