'Stop Killing Us': Safai Karamchari Andolan's 'Halla Bol' at Delhi's Jantar Mantar
Hundreds of women sanitation workers from across the country gathered at Delhi's Jantar Mantar to expose the government's 'lies' on sewer-septic tank death data.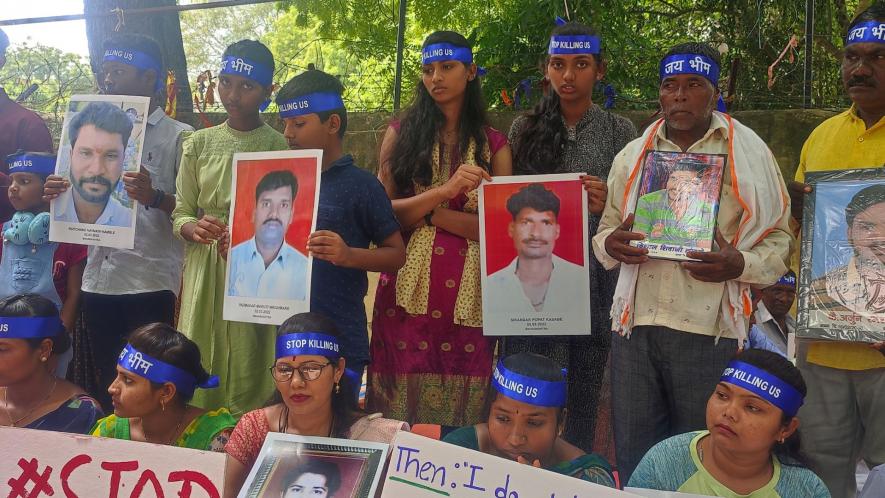 New Delhi: Women sanitation workers from across states gathered at Delhi's Jantar Mantaron Monday to challenge the government's lies in Parliament about data on deaths in sewer-septic tanks. They had only one slogan, only one demand, #STOP_KILLING_US!
 It is with this slogan that the Safai Karamchari Andolan (SKA) has launched a country-wide movement for more than a year. In this series, a protest-demonstration was organised in Delhi's Jantar Mantar on Monday.
 The hundreds of women who joined the protest-demonstration were outraged over how both dalit lives and dalit deaths remain invisible for the country. The deaths in sewers and septic tanks are, in fact, caste oppression, they said, but this does not matter for "governments with casteist ideologies."
 The participants included women victims and other sanitation workers from over 10 states, including Delhi, Madhya Pradesh, Haryana, Bihar, Jharakhand, Uttar Pradesh, Uttarakhand, Punjab. Rajasthan, and others.
 Speakers in the protest demonstration said 59 Indian citizens had lost their lives in sewer-septic tanks so far this year but the government has told "white lies" in Parliament that only nine people had lost their lives. Many women victims, whose husbands lost their lives by inhaling poisonous gases in sewer-septic tanks, brought their innocent children along with them. They were angry with the government's "false statement" in Parliament.
 Outraged at the government's continual denial of the actual number of deaths, SKA had given a call for this campaign. The 'Stop Killing Us' campaign was launched on May 11,  2022 against the government's apathy toward sewer-septic tank deaths. Since then, youth, women, men and children associated with sanitation workers' groups have been demonstrating on the streets in different parts of the country every day. August 28 marked this campaign's 475th day.
 SKA leader Bezwada Wilson said the government's denial of sanitation workers' deaths clearly showed their casteist mentality. "It is our 475th day running the 'Stop Killing Us' campaign but the government has not taken us seriously. These are not deaths, these are murders and we hold the government responsible for it. And till the time the government doesn't take concrete measures to stop sanitation workers' deaths, our 'Stop Killing Us' campaign will go on," he said.
 The women who had lost family members in sewers or septic ranks had come with proof of their kin's deaths and their photographs, to expose the "blatant lies" of government data. They said the government's lies and apathy had further added to their suffering.
 Many young men aged 18-25 have died in sewer-septic tanks. Many children who had lost their fathers were also present at Jantar Mantar with their mothers. A matter of grave concern is that the government has not even tried to provide justice in the form of employment, pension, housing, or children's education in a single case.
 Sanitation workers, both men and women, from different states spoke about their issues. It was widely felt that if the government possessed high technology to send Chandrayaan to the Moon, why doesn't it have the technology to build machines to clean sewers and septic tanks?
 The protesters said the government fulfils its formal obligation in some rare cases by giving a compensation of Rs 10 lakh.  However, everyone doesn't receive compensation, and the even bigger consideration is that no compensation is equal to the value of a life. "We want that sewer and septic tank cleaning should be mechanised so that no person has to lose their life while cleaning them," said the protesters in unison.
 A demand was also raised by  those who lost their husbands/fathers or other family members in sewer-septic tanks, that they should be given a compensation of Rs 10 lakh along with a permanent job so that the family of the deceased can survive, and their children can complete their education.
 Infuriated with the government's "casteist mentality", the sanitation workers said that in the government's eyes, "the lives and deaths of us dalits do not matter. If our soldiers lose their lives at the borders, then the government expresses its concern about them. Their issues are taken seriously. But when a dalit dies while cleaning a sewer-septic tank or inhaling poisonous gases, then the government is not bothered. Why? Are these sanitation workers not citizens of the country? Don't they deserve to live a life with dignity?"
 The protesters said the government presents a very progressive picture of India in other countries. It is spending money like water for cleanliness and beautification of the country for the G-20 meet. Why doesn't it rehabilitate sanitation workers and provide them dignified forms of employment?
 The government has made two laws on abolishing manual scavenging, in 1993 and in 2013. If these laws are properly implemented, manual scavenging can be completely eradicated. But, these laws remain largely on paper. Sanitation workers also have the constitutional right to live their lives with dignity, said SKA workers.
 As per law, manual scavenging, and manual cleaning of sewer-septic tanks cleaning have been banned, and are punishable offences. There are provisions of imprisonment and fines for this offence. It is a criminal offence to coerce a sanitation worker to do manual scavenging or clean sewer-septic tanks, and warrants a fine up to Rs 2 lakh and imprisonment up to two years. However, not a single offender has ever been punished in such a matter. Why?
 It is worth noting that SKA has been raising the issue of the government's "wilful underreporting" of sewage cleaner workers' deaths for a long time now. This data, says SKA, is often manipulated and the government continues to release "false and misleading" statements about these deaths. "If the government, which is responsible for protecting our lives, keeps protecting criminals responsible for these deaths, then how will the casteist oppression of sewer-septic tank deaths stop?".
 The key demands that sanitation workers raised are:
 1. Ensure Right to Life with Dignity (Section 21).
2. Allocate a budget to end caste-based discrimination in sanitation work.
3. Ensure social and economic equality.
4. Rehabilitate sanitation workers with dignity.
5. No tolerance for sewer-septic tank deaths, among others.
 A pledge to continue the 'Stop Killing Us' campaign every day till the government takes correct, concrete and satisfactory steps in this matter, was also taken in the protest-demonstration.
Get the latest reports & analysis with people's perspective on Protests, movements & deep analytical videos, discussions of the current affairs in your Telegram app. Subscribe to NewsClick's Telegram channel & get Real-Time updates on stories, as they get published on our website.
Subscribe Newsclick On Telegram