Study Shows Double Discrimination Faced by Muslims and SCs in Cities
The study found both Muslims and SCs were not only more likely to reside in localities inhabited by their own community but also faced severe lack of access to schools and hospitals.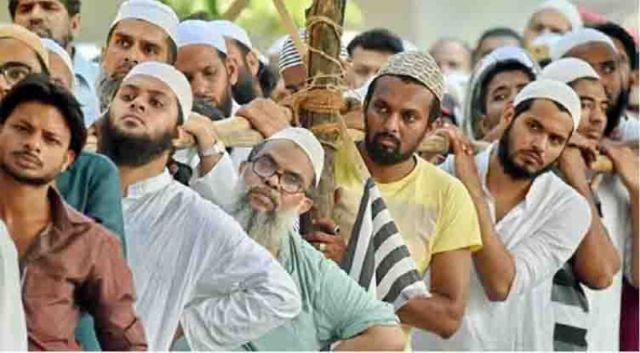 Representational Image. Image Courtesy: Sabrang India
New Delhi: In the fast-expanding Indian cities, milling with migrants, the living patterns of Scheduled Caste (SC) and Muslim communities are getting increasingly segregated, with both communities also having very poor access to basic amenities, such as clean water, toilets, drainage, schools and hospitals. The segregation is similar to that in rural areas, but for Muslims it is worse in the cities, says a five-year-long study of residence patterns in urban areas by Development Data Lab at Dartmouth College, US.
"Urban areas were as segregated as rural places for those belonging to Scheduled Castes (SCs) and more segregated for Muslims" said the study, which looked at patterns of residence of Muslims and SCs across cities and villages.
The study additionally discovered, after studying the location of these Muslim and SC neighbourhoods, that public services such as piped water, closed drainage, schools, and health clinics within the city were systematically allocated away from these neighbourhoods.
According to the study, about 26% of urban Muslims live in neighbourhoods that are more than 80% Muslim, while roughly 17% of urban SCs live in neighbourhoods where more than 80% of residents are SCs. This is strikingly similar to the distribution of SCs in rural areas.
"Cities replicate the social environments of their hinterlands." noted the study, "Districts with segregated villages have segregated cities". The study added that people living in highly segregated cities were on average poorer than those in less segregated cities.
For the study, the Development Data Lab at Dartmouth College tracked the availability of services at a neighbourhood level, one neighbourhood consisting of roughly 700 people. This was done by combining data from the Socio-economic and Caste Census SECC (2012), which has data on social groups, infrastructure, wealth, and education, and the Economic Census (2013), which recorded public facilities. The data covers 1.5 million urban and rural neighbourhoods across India and includes 300 million individuals.
According to the study, for schools and clinics – facilities provided entirely by the government – the disadvantage in Muslim neighbourhoods was double the disadvantage in SC neighbourhoods. Whereas for electricity, water, and drainage – goods which have both private and public components – SCs (who are somewhat poorer on average) face worse neighbourhood-level disadvantages.
On the availability of schools, the study found that Muslim neighbourhoods were "much less likely" to have public secondary schools.
On average, when a neighbourhood is 10% Muslim, there are about 5.6 secondary schools per lakh people, In neighbourhoods that are 75% Muslim, there are only about 4.2 secondary schools per lakh people. A 100% Muslim neighbourhood was only half as likely to have a secondary school as a neighbourhood with no Muslims.
In the average urban neighbourhood with a low Muslim and SC share, young people on average got 9.2 years of schooling. In the same city, in a neighbourhood with a 100% SC share, the average person got 1.6 fewer years of education. Lastly, children in Muslim neighbourhoods got 2.2 fewer years of schooling than children in non-marginalised neighbourhoods.
Interestingly, the study found that while districts and sub-districts with more SCs have more public facilities on average. Within districts, the allocation of services to high-status neighbourhoods eliminated nearly all the advantages of such higher allocation at the district or sub-district level. Marginalised groups were most disadvantaged at most local and informal levels of the government within towns and villages which operated with the least scrutiny.
The study also found that in neighbourhoods that were majority SC or majority Muslim, students from all social groups were worse off in terms of education, not just SCs and Muslims. 
"In predicting one's education, where they live is just as important as their social group," said the study.
"Private facilities," said the study, "are also disproportionately allocated away from marginalised group neighbourhoods, presumably because people in those neighbourhoods have limited ability to pay for services," They do not make up for the gaping absence of public sector facilities in those neighbourhoods. They added that the exception was private primary schools and health facilities being more common in rural (not urban) Muslim neighbourhoods.
The study also reported that there was no particular regional pattern to segregation as segregated and integrated cities appeared throughout the country.
Scheduled Tribes haven't been included in the study since it was focused on cities, in which only 4% of STs currently live.
Get the latest reports & analysis with people's perspective on Protests, movements & deep analytical videos, discussions of the current affairs in your Telegram app. Subscribe to NewsClick's Telegram channel & get Real-Time updates on stories, as they get published on our website.
Subscribe Newsclick On Telegram