Sugarcane Harvesters In South Gujarat Are Trapped In Bondage, One Generation After Another
The conditions of migrant adivasi workers in the sugarcane farms of southern Gujarat have worsened since Jan Breman conducted his pioneering study among sugarcane harvesters in 1978.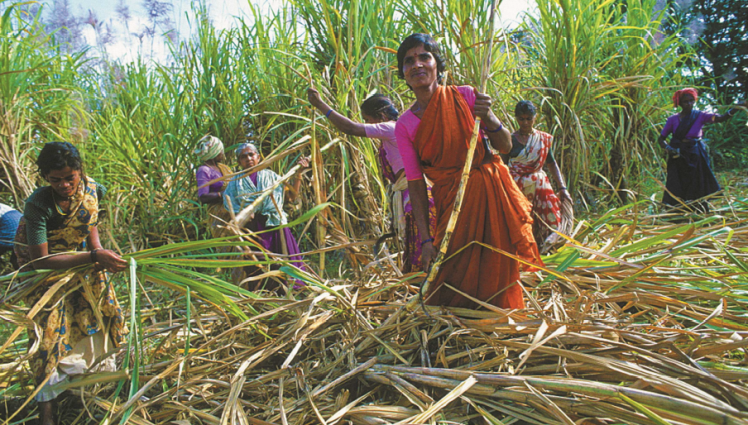 Image Courtesy: COUNTER VIEW
Every year, 30-year-old Raghu Thakre and his family — hailing from Nandurbar district in Maharashtra — migrate to southern Gujarat, where they work as agricultural labourers in sugarcane farms for six to eight months.
He has been doing this for the past 15 years, ever since he had to drop out of school and join his parents and siblings to work on sugarcane fields. Raghu says he inherited this work (and the fate of a sugarcane harvester) from his father, and that his father had inherited this occupation from his grandfather. Raghu knows that his children too will be condemned to the life of a sugarcane harvester, he adds, and thus the vicious cycle shall continue.
There are about 1.5 to 2 lakh people who have a story similar to that of Raghu Bhai. Thousands upon thousands of people from the adivasi belts of Gujarat and Maharashtra migrate to parts of southern Gujarat to work in the sugarcane fields.
For months, they live with their children on the outskirts of the villages of sugarcane field-owners (most of whom are Patidars), in conditions devoid of basic amenities like clean water, sanitation and medical facilities. As parents and adults toil for  12 to 14 hours a day, the children engage in unpaid care labour — cooking, cleaning and caring for their siblings. For the months that they stay with their parents, these children remain out of school and out of coverage of welfare schemes.
The sugar industry centred around the town of Bardoli (Surat) hosts the factory with Asia's largest sugarcane-crushing capacity, and is also home to the largest cooperative society of farmers. The cooperative has been working for decades to ensure welfare and interests of the sugarcane farm owners. However, there have been no efforts to ensure the rights and well-being of the sugarcane harvesters who fuel the progress of these sugar factories and have helped make India the second largest producer of sugar in the world after Brazil.
Recent empirical studies (2014, 2017) conducted by Prayas through its designated unit Center for Labor Research and Action (PCLRA, Surat), say that while the expansion of sugarcane fields and sugar mills on a cooperative basis has become a replica for agro-industrial development in and around Gujarat, the conditions of the harvesters continue to remain highly oppressive and exploitative.
When one compares the findings of the current report with Jan Breman's seminal work on the workers in sugarcane fields in 1978, one finds that the condition of the worker has only worsened over the years.
When Breman conducted his study, the wages were being settled fortnightly and the sources of advance paid to workers were both the contractors and the factory management. As the years have passed, however, the financial burden seems to have shifted. The wages are now settled at the end of the harvesting season, and mukaddams or labour contractors are now solely responsible for arranging the advance money.
Further, no separate payments are made for the extra labour performed, such as loading of harvested canes into trucks, unlike during Breman's study, when separate wages were being paid for additional labour.
For decades, the sugar mills have been sending lorries to bring in a vast army of seasonal, adivasi migrant workers to harvest the sugarcane fields — a process that can last up to seven to eight months. Mukaddams become essential interlocutors by mobilising the workforce and also managing the everyday issues that the workers face. The factory supervisors contact mukaddams (former harvesters themselves) with their demand for workers. Mukaddams then recruit workers from their own or neighbouring villages and talukas to form a team of 15-20 koytas (a pair of workers).
An advance amount is paid by the mukaddam to the workers (Rs 14,415 — as per estimates of the study by PCLRA 2016-17). Mukaddams are responsible for arranging the advance money — sourced either through his/her own pool of savings or borrowings made from sahukars and factory supervisors. The advance amount is to be repaid by workers at the end of the season, at 1.5 times the principal amount.
Agricultural minimum wages in Gujarat are the among lowest in the country; only Madhya Pradesh pays lower wages to its farm workers. The wages are paid to sugarcane harvesters at Rs 238 per metric tonne (MT) — this piece-rate minimum wage declared specifically for sugarcane harvesters following an earlier civil society movement for higher wages and legislation in court. Since a koyta unit comprises two workers who harvest on an average one MT sugarcane per day, the average daily wage turns out to be Rs 119 per day per worker. This is significantly less than the statutory daily minimum wage for agriculture in Gujarat which is Rs 178. It needs to be noted that workers have to toil for 12 to 14 hours per day to earn this wage.
With abysmally low wages and exorbitant interest rates on advance, the report elaborates on how the workers are often left with negative balances by the end of the season. Wages are received after deductions have been made for the provisions (of food and plastic sheets) by the factory, the credit at the local kirana store (often owned by the mukaddams themselves) and the advance amount repaid at one and a half times. In fact, the worker ends up taking credit for the months he would be spending in his village of origin upon return.
It is assumed that the biggest cause of migration is lack of cultivable land amongst agrarian communities. Empirical evidences reflect that, indeed, landlessness or lack of sufficient cultivable land contributes to the need to migrate. Seventy five per cent of the total workforce is landless while twenty per cent of them are marginal land-holders. More than eighty per cent of workers are within the age group of 21-45 years. This section of the population, mostly adivasis, remains outside the purview of state welfare schemes and continue to live in deplorable economic conditions due to the very nature of migration and the industry itself. The children migrate with their parents, thus dropping out of school, and become destined to the same life as their parents'.
Yet, one is provoked to think, what makes this army of migrant workers return to the fields year after year? Why have they not opted for other kinds of work that require unskilled or semi-skilled labour? What drives their choice to remain in a sector that inherently works to keep them in a state of never-ending deprivation? Even after years of documentation by researchers and scholars of the deplorable condition of the sugarcane harvesters, why have there been no efforts to work towards improving their state — economically as well as socially?
These are a few among the many questions raised when one travels through parts of Surat and other districts of southern Gujarat — where sugarcane fields stretch across the horizon. 
Since the time Jan Breman conducted and published his pioneering work among the sugarcane harvesters in 1978, the situation and conditions of the workers have not changed. He rightly compares the condition of the workers to that of bonded labour or neo-slavery that continues to thrive even today. Is there life for these workers beyond this bondage, or are they forever condemned to the deprived and bitter life of a sugarcane harvester?
Anushka Rose is Coordinator for Research and Documentation at Prayas Center for Labor Research and Action.
The piece draws upon the study report, 'A Bitter Harvest: A Study of sugarcane harvesting workers of South Gujarat', published by Prayas in partnership with Rosa Luxemburg Stiftung, released on 27 April, 2018.
Get the latest reports & analysis with people's perspective on Protests, movements & deep analytical videos, discussions of the current affairs in your Telegram app. Subscribe to NewsClick's Telegram channel & get Real-Time updates on stories, as they get published on our website.
Subscribe Newsclick On Telegram