Syed Ali Shah Geelani: India's 'Most Formidable Opponent' in Kashmir Dies in Detention at 92
Geelani was buried close to his residence amidst strict restrictions, with some family members and close relatives claiming they were not allowed to perform the leader's last rites.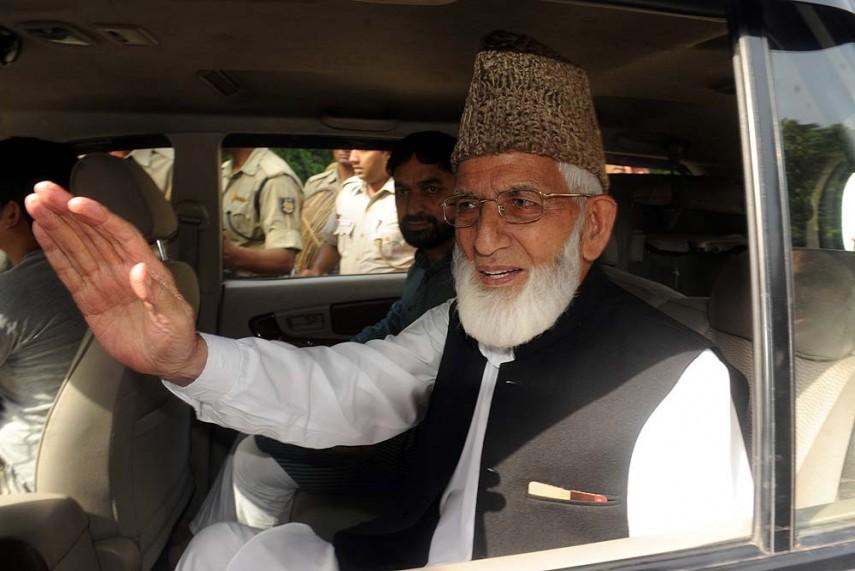 Image Courtesy: TRIBHUVAN TIWARI/OUTLOOK
Srinagar: Syed Ali Shah Geelani, the strongest critic of India's rule in Jammu and Kashmir, passed away at his Hyderpora residence in Srinagar on Wednesday night. He was 92.
A three time Member of Legislative Assembly from North Kashmir's Sopore, Geelani, who served as a lawmaker for 15 years, spent the last decade in detention, only being allowed to visit New Delhi once for a medical check-up in 2016. To many, Geelani was an unparalleled leader who led the anti-India resistance in Kashmir and was, at times, favoured by people more than regime, rules or reason.
Geelani was buried close to his residence amidst strict restrictions, with some family members and close relatives claiming they were not allowed to perform the leader's last rites. The authorities have blocked communication services, including mobile networks and internet services, and set in place unprecedented restrictions on people's movement, not just in the capital city of Srinagar but even in far-flung areas of the Valley.  
He continued to remain until his death, the most formidable opponent of the Indian state, as he commanded an extraordinary appeal amongst his followers. The Hurriyat stalwart was a staunch supporter of Kashmir's merger with Pakistan throughout his life.
Geelani had become frail with age and spent his time writing. He wrote several books during his lifetime, including a jail diary – 'Rudad I Kafs, Sada e dard' – a collection of his speeches on the Kashmir issue, Iqbal Ruh i din ka Shinasa – on the works of philosopher poet Allama Iqbal and Wular Kinare – an autobiography, among others.
In 2020, the government of Pakistan awarded Geelani the Nishan-e-Pakistan – its highest civilian award – one, which has conferred on many global heads of state. He outlived his closest aide and successor Mohammad Ashraf Sehrai, who died a controversial death in Udhampur jail on May 5, 2021.
The separatist leader held massive sway in the Muslim majority region even as he suffered from multiple ailments during his lifetime. He was operated upon many times for his heart and kidney ailments, also having a pacemaker installed. Geelani also had his gall-bladder removed and had survived on just one-third of a kidney.
Due to his ailments reports of his death surfaced several times since December 2019 – the government was forced to issue a bulletin to inform people about his well-being. That was, however, not the first time. On September 7, 1986, a radio broadcast announced Geelani was alive to counter rumours about his death after he had suffered a cardiac arrest.
Before his death, the former Tehreek-E-Hurriyat (TeH) chairman issued a "will", expressing his desire for being buried at Mazar-e-Baqi in Medina or at Srinagar's Mazar-e-Shohada (Martyr's graveyard) in Iddgah locality. A funeral plan was also issued by his party in February, directing people to use particular routes to reach the graveyard. The statement was followed by a video by the frail nonagenarian leader where he expressed his wish to be buried alongside Kashmiri civilians who died in three-decade violence, militant leaders and separatist leaders.
"If any moulvi or political party creates a hurdle in my wish to be buried in the martyr's graveyard, dont listen to them...I reject them," he said in the video, which was widely circulated online. His death has always been anticipated as one which would have a huge significance on Kashmir's politics. Geelani's demise has always been considered by the authorities as something that could push Jammu and Kashmir into a chaos that could end the calm, however unsettling, in the region.
Following the video the J&K police questioned nearly a dozen persons, and detained Geelani's domestic help in the case. The video, security agencies believed, was aimed to "provoke" mourners in the aftermath of his demise. The government in the Union territory carried out a series of meetings to discuss the aftermath of the leader's demise. It therefore planned to blackout J&K by snapping all means of people's movement and communication.
Beginnings
Geelani was born in a small hamlet in north Kashmir's Bandipora district on September 29, 1929 to Syed Peer Shah Geelani and Bakht Begum in a workers' family with four siblings – two brothers and two sisters. The family shifted to Dooru village in Sopore in 1950 where he received part of his education. He was also educated at Oriental Collge in Lahore and also studied at the University of Kashmir.
After completing his studies, Geelani came to Srinagar, where he met Maulana Masoodi, the then General Secretary of pro-India political party National Conference, who managed a job for him as a reporter in the local daily Khidmat. The two were close and Masoodi is believed to have mentored the young reporter.
Geelani was first married in the year 1953. Following his wife's death, he remarried in 1970 and had seven children from both marriages – five daughters and two sons. One of his daughters died in the year 2001. Except for his one son-in-law Altaf Shah, who is currently lodged in Tihar jail in an alleged money laundering case related to "terror funding", all his children and grandchildren are detached from Hurriyat politics.
In 1949, Geelani was appointed a teacher in Pather Masjid primary school, close to where he stayed at the Pather Masjid quarters of NC. He was later shifted to a high school in Srinagar's Rainawari locality where he met Qari Saifuddin, a senior Jamaat-e-Islami (JeI) activist who introduced him to the newly established organisation. Geelani was impressed by the Jamaat and became a member in the year 1952. By 1959, he had left the government job to join the party full-time. The Jamaat was established by Syed Abul Ala Mawdudi as a pan-islamic movement on August 26, 1941. The organisation was launched in Kashmir by Syed Saaduddin and Maulvi Ghulam Ahmed in 1946.
In 1964, Geelani became the Jamaat's general secretary in the region. The socio-political oraganisation has been banned in Kashmir since February 2019 for carrying out "unlawful" activities in Kashmir. It is often described as the party which is among the foremost groups to lead the anti-India politics in the region. This is the third ban on the outfit since 1990, when militancy was at its peak.
Geelani was nominated by JeI to to contest the parliamentary elections for the first time from Baramullah constituency, and lost. The following year, he won from the Sopore seat in the assembly elections against a Congress candidate in 1972. He, however, staged a walkout on the very first day of the Assembly in protest. He continued as a Member of the Legislative Assembly from Sopore in 1977 and 1987 as well. In his third term, Geelani resigned from the assembly on August 30, 1989, when the armed rebellion broke out in the region.
Since the beginning of his political career, Geelani vociferously advocated political activism against Indian rule in the region, and demanded the implementation of the United Nations resolution in Kashmir. He was arrested for the first time on August 28, 1962, on charges of raking up the Kashmir issue and remained behind bars for 13 months. Since then, he was arrested over a dozen times till 2002, the period of his detentions ranging between three months and two years.
He was arrested in 1990 at a time when region's indigenous militant outfit, Hizb-ul-Mujahideen, was taking root. He was jailed for two years and later arrested again in 1993 for another year. But, before his arrest, Geelani and other key separatist figures including Abdul Ghani Lone, Maulvi Abbas Ansari formed the All Parties Hurriyat Conference (APHC) and nominated 17-year-old Mirwaiz Umar Farooq as its chairman.
A year after Geelani was released, he became one of the most influential separatists in the region and subsequently, although unofficially, was declared Amir-e-jihad or 'leader of the holy-war' by the Hizb. He continued his association with the Jamaat in the 1990s, but also had several disagreements with the senior leadership of the Jamaat. For Geelani, who also served as acting chairman of the Jamaat once, Masla-e-Kashmir – the Kashmir issue – took precedence over Iqamat-e-din or the 'establishment of Islamic order' but, many others led by the then Jamaat chairman Ghulam Mohammad Bhat believed in the opposite.
After a series of unsuccessful negotiations, Geelani led his faction to launch political outfit Tehreek-e-Hurriyat (TeH) in 2004 and remained its chairman until he was succeeded by his deputy Mohammad Ashraf Sehrai. The outfit joined the APHC conglomerate but, following its fall-out with other separatist groups led by Mirwaiz Umar, formed another conglomerate, Hurriyat (G), which nominated Geelani as its lifelong chairman.
He was critical of pro-India parties, and of pro-freedom nationalist parties at times. He disapproved actions that went against the tenets of Islam. During the early 90s he the disapproved Jammu and Kashmir Liberation Front's (JKLF) actions, including the mass abductions carried by the nationalist outfit which also included the abduction of daughter of then Home Minister of India and former J&K Chief Minister Mufti Saeed's daughter Rubaiya Sayeed. Geelani condemned the hostage situation and termed it 'un-Islamic'.
He gained more prominence during the peace talks between India and Pakistan when Prime Minster Atal Bihari Vajpayee and General Pervez Musharraf initiated a dialogue after the end of the Kargil War with the Agra summit of 2001. With Musharraf's four-point formula on the table the situation appeared promising, but not to Geelani. He became critical of General Musharraf and his pro-US policies during his tenure as Pakistan president. While most separatist politicians participated actively in the dialogue process, Geelani was apprehensive, claiming neither the Indian state nor the Pakistani state could take arbitrary decisions on behalf of Kashmiris. 
After he met with General Musharraf in 2004 at New Delhi, the separatist leader developed deep antagonism towards him. According to a biography on the separatist leader titled 'Paradise on Fire': "Geelani's assessment of Musharraf was that he was fearful of India's military and economic power and had no faith in himself or his people."
What turned against Geelani against the General was an incident during the Delhi meet, when Musharraf avoided shaking the hand of an 'unimportant' Hurriyat activist accompanying the delegation. Musharraf, in his time as Pakistan's head of state, later sidelined Geelani and his associates, calling them obsolete.
In his book, 'Kashmir: The Vajpayee Years', former Indian R&AW chief Amarjeet Singh Dulat, who served in the PMO during Vajpayee's tenure, pointed out how Musharraf's relations with Geelani had soured. "We have heard you enough, old man," he reportedly told Geelani, "now get out of the way, we have to move on," Dulat wrote about the relationship post the 2002 assembly elections in Kashmir.
Geelani was being sidelined by everyone for being too "extremist". But, it was this hardening stance that increased his popularity among the people in Kashmir. For all his snobbery, Geelani closely witnessed Kashmir's changing political landscape from the beginning, when his mentor, friends, and other close aides, were assassinated one after another. He was an eye-witness of the entire conflict, armed rebellion, frontier wars; the ever-shifting political landscape of Kashmir.
In 2008, a massive agitation against a land transfer order to the Shri Amarnath Shrine Board (SASB) erupted across Kashmir, lasting the entire summer in which over 50 youth were killed. Geelani was detained under house arrest. A huge procession of protesters marched towards Geelani's residence in Hyderpora and demonstrated outside his house. Geelani opened a window of his home on the first floor and waved at the sea of people, chanting: "Kaun karega tarjumani, Syed Ali Shah Geelani (Who shall speak on your behalf? Only Syed Ali Shah Geelani)". His ascension as most popular and strongest voice of secession of the Jammu and Kashmir spiked since.
To many, Geelani was "hawkish", others knew him as a bridge between the extremes. He was seen as a "saboteur" by many because he did not relent. Another separatist from Sopore, the  "moderate" Abdul Ghani Bhat, knew Geelani from his teaching days.
"Mr. Geelani's silence was more eloquent than speech and the traditionalist's outburst more euphoric than a victory scored in a battle-field," Bhat reminisced in his memoir 'Beyond Me'. It outlined Geelani's disengagements with his ideological opponents.
While Bhat and other moderate Hurriyat leaders continued and increased their engagement with New Delhi over years, Geelani tread a path of belligerence with little caution. He had met with a series of political delegations and interlocutors in 2010. But, in 2016, when he was approached by another delegation during the agitation following the killing of Hizb commander Burhan Wani, he refused to accept Indian emissaries – a show of defiance that sealed his seditious fate as India's toughest 'villain' in Kashmir.
Get the latest reports & analysis with people's perspective on Protests, movements & deep analytical videos, discussions of the current affairs in your Telegram app. Subscribe to NewsClick's Telegram channel & get Real-Time updates on stories, as they get published on our website.
Subscribe Newsclick On Telegram