Tamil Nadu: After Murder of Two Young Dalit Men, Villagers Say 'Enough is Enough'
Residents of the Dalit villages held protests after the murders of the two men and ensured filing of an FIR and compensation to the deceased persons' families.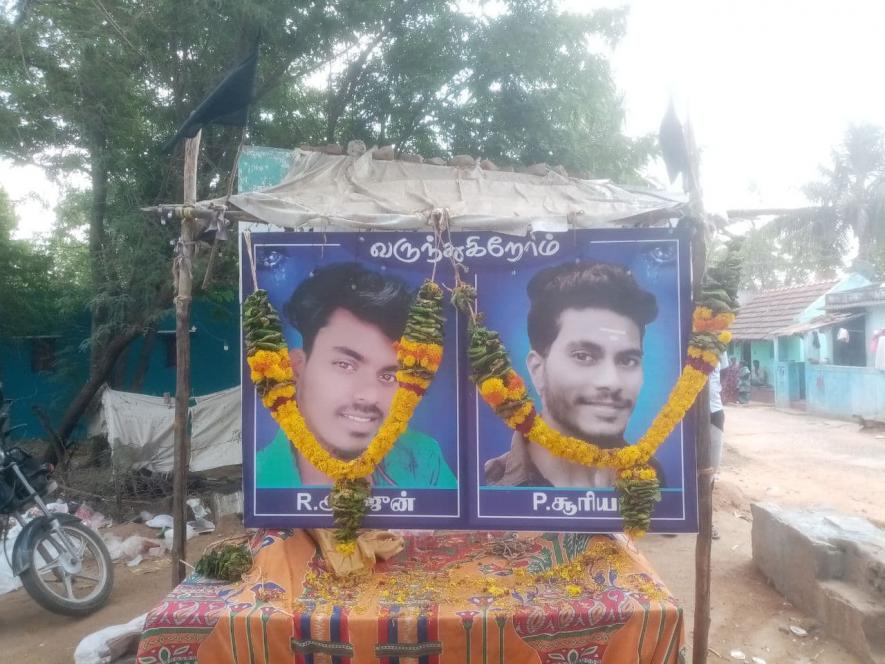 The brutal murders of two young Dalit men - Arjunan (26) from Soghanur village and Suriya (26) from Sembedu village - in Ranipet district of Tamil Nadu on April 7 have shaken both the Dalit villages.
The villagers say that they have to cross Perumalrajpet, a Vanniyar dominated village, for work and education purposes and on their way, they face caste atrocities on an everyday basis. However, a planned murder was unexpected, they said.
At the funeral of Arjunan, a close family member of the deceased told Newsclick, "Lots of brutal incidents of caste atrocity take place around here on a daily basis, but we have not witnessed anything like these murders before. The upper caste men have even come by and beat some of us in the past, but this is the first murder."
Some people at the funerals claimed that the Dalit men opposed the illegal sand mafia and thereby, were targeted by the Vanniyars.
However, the First Information Report (FIR) filed by the police upon hearing out the survivors states that some young men from Perumalrajpet took offence at being referred to disrespectfully by the Dalit boys, which instigated the violence.
The report narrates that Soundararajan (brother of deceased Suriya) and his relative Iyappan were on a two-wheeler near Guruvarajapet market around 7:30 pm on April 7. Iyappan allegedly saw some friends of his and called out to them. Three youngsters from the Vanniyar community - Surender, Ajith and Madhan - assumed that Iyappan was calling out to them in an unacceptable manner and immediately attacked the two boys.
Five Dalit men, including the two murdered persons, went to question the incident whereupon they were attacked with weapons. The report states that certain blatant caste abuses were hurled by the perpetrators while stabbing them.
THEY PROTESTED EVERY STEP OF THEIR WAY
Members of both the Dalit villages held protests upon hearing about the murders and demanded an FIR be filed immediately.
After an FIR was filed under the SC/ST (Prevention of Atrocities) Act, 1989 by 4:30 am on April 8, angry villagers blocked the main road near Soghanur demanding the immediate arrest of the murderers.
The next day, on April 9, six persons involved in the murders were arrested.
Mary, a member of the women's rights group Tamil Nadu Pengal Inaipu Kuzhu and a resident of the neighbourhood, said, "For other communities, the police always take immediate action. But with Dalits, they take a holier than thou attitude."
Due to pressure from the community, a compensation of Rs. 4,12,500 for the families of the deceased was also ensured. The deceased Arjunan has a son aged only nine months while Suriya's wife is four months pregnant.
A person from Soghanur village, where Arjunan lived, said, "Nobody came on behalf of the government. Only after four days, the District Revenue Officer (DRO) got involved. For other communities, action is taken within 24 hours. Only because it is us Dalits, it took them four days, that too after so much protests and pressure."
Only after assurances from the DRO, the families of Arjunan and Suriya accepted the corpses on April 10.
Meanwhile, an elderly woman from Soghanur alleged, "I heard Rs 50 lakh was given to the cops by the murderers' families. Only because we kept putting pressure, it did not have an impact."
Diwakar, a leader of the Democratic Youth Federation of India (DYFI), Arakkonam, said, "Hundreds of policemen were deputed in these villages since the murders, but the villagers requested the police to leave because they were worried that the police would charge at them on some account. The villagers gave assurance that they would not create any trouble nor consider revenge."
'WE WANT PEACE'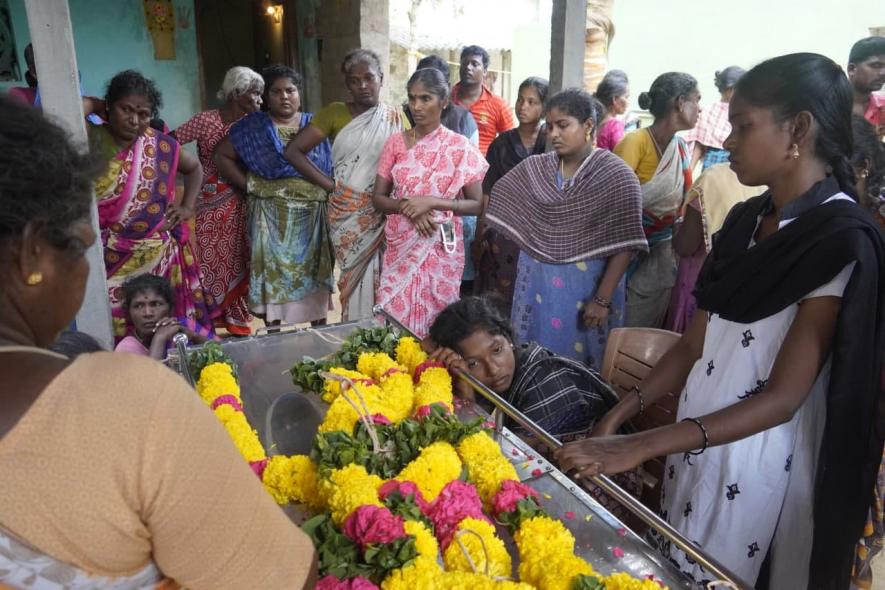 Commenting on the condition of Dalit women in her village, Mary said, "We women, in particular, have no safety when we cross Perumalrajpet. We have no other option but to come via the main road, which crosses that village. Some women work the second shift and return only by 1 am, and men from the Vanniyar community follow us in two-wheelers and misbehave with us."
She added, "We live in fear. This must change. In the coming days such violence should be eradicated."
Another woman, on condition of anonymity, said, "All of us have to go via Perumalrajpet for jobs. Men from our village are employed as drivers and they return by 12 or 1 am at night. We are scared for our lives. We have no money, power or political connections. There are no lawyers or government employees in our village."
"The murderers should be convicted. Nobody should discriminate against us stating we are downtrodden. This should be a lesson for everyone," she further said.
Many people in both the Dalit villages said that it would not have taken much time for them to take revenge and murder some Vanniyar men, but they have decided not to tread that path.
"It is not that we do not know how to retort. The women begged the men to not escalate the issue. We have lost two lives, that is bad enough. There is the younger generation we must care for," the sister-in-law of Arjunan told Newsclick.
THE POLITICAL FRONT
The murders also got a political twist. Immediately after the murders, the Viduthalai Chiruthaigal Katchi (VCK) chief Thol Thirumavalavam pointed fingers at the Vanniyar party Pattali Makkal Katchi for the murders. He accused the PMK of instigating violence as soon as polling ended and said, "Caste fanatics are unable to bear the massive win that awaits the DMK-led Secular Progressive Alliance, that includes VCK." VCK, a Tamil Nadu based party, aims to work against caste-based discrimination.
However, four days after the murder, PMK's youth wing president Anbumani Ramadoss released a video asserting that the murders were not a fallout of the election campaign. He also said, "Educated Dalit youth of today are no longer with Thirumavalavan. They have lost faith in him. "
Immediately after Ramadoss' remark, #MyLeaderThiruma began trending on Twitter. Amid this, Thirumavalavan responded with a tweet saying, "To use the word uneducated is an expression of arrogance. They are those denied the chance to be educated. That doesn't make them lowly."
Get the latest reports & analysis with people's perspective on Protests, movements & deep analytical videos, discussions of the current affairs in your Telegram app. Subscribe to NewsClick's Telegram channel & get Real-Time updates on stories, as they get published on our website.
Subscribe Newsclick On Telegram