Tamil Nadu Sanitation Workers Fight Twin Challenges of Casteism, Administrative Apathy
Several sanitation workers have not received wages for 15 months, which seems to be an extension of the poor treatment that tribals and Dalits have faced over time.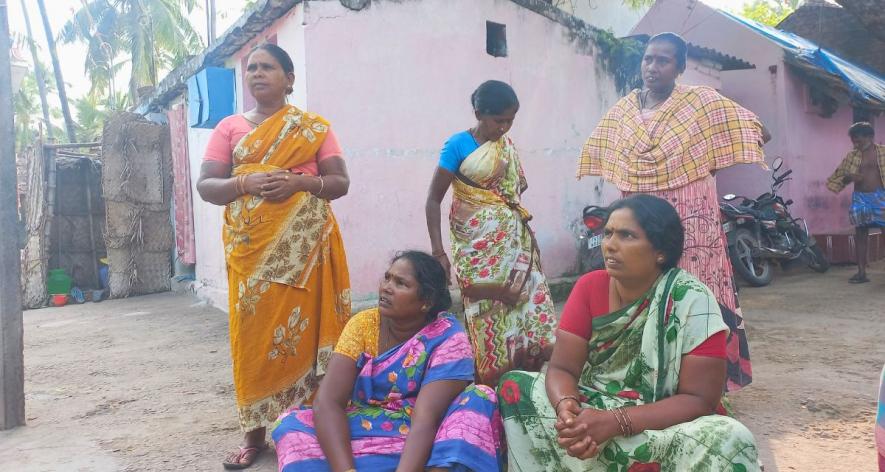 Vadipatti: "I have been cleaning human faeces for 35 years for extremely low wages. Already my life is terrible; they made it miserable by not paying me for almost 16 months," laments M Pitchaiyammal (50), a part-time sanitation worker at Mannadimangalam village panchayat in Madurai district of Tamil Nadu.
Similarly, her son M Parthiban (27) did not receive his wages for 15 months, citing a lack of proof of attendance. Both allege that they have not been given the opportunity to sign the attendance register despite repeated attempts. "Whenever we visit, the panchayat office is either locked or the panchayat secretary would tell us that the register was not present," they claim.
In this case, the panchayat office is about three km from their village Ayyappanayakanpatti and the travel time, including the bus wait time, is not less than an hour. So, they usually try to sign once a week or fortnight.
Pitchaiyammal came to Ayyappanayakanpatti as a child bride. She initially helped her mother-in-law, who was a sanitation worker. After her demise, Pitchaiyammal and her husband, P Murugan (55), took up the work.
The unlettered couple from Malai Kuravar community, a Scheduled Tribe, does not precisely recall how long they have been doing this job. "When I was married, I was just 15. Now I am 50. As soon as I came, they made me clean faeces," says Pitchaiyammal, looking at her husband with a satirical smile. 
"However, as per the records, I started working about 25 years back," she said.
The couple initially made a few hundred rupees, but now Murugan earns Rs 8,500 and Pitchaiyammal Rs 7,500 a month. 
Their son Parthiban, who had dropped out of school after class eight, has been in the job for three years. He earns Rs 7,200 per month. Besides Parthiban, the couple has three daughters.
In the villages of Tamil Nadu, the preference to employ sanitartion workers in other menial jobs has always been less due to the stigma associated with their work, such as cleaning public toilets, open defecation and sewage drains. Hence, the workers rely on whatever they make through sanitartion work.
"This is the only tribal family in the village. Their ancestors lived on a small hill nearby. They came down to work for the dominant castes and were treated like slaves in the olden days. Unable to bear the discrimination, many families returned to the hills decades ago," says K Mangaiyarkarasi, a native of Ayyappanayakanpatti affiliated to the Communist Party of India (Marxist–Leninist) (CPI-ML).
The Ordeal Begins
After not receiving wages for March last year, Pitchaiyammal and Parthiban received partial payments by April-end. But neither of them knew that it would take another 15 months for the next payment. Pitchaiyammal, who has no idea about the Gregorian calendar, says the Tamil calendar has entered into the 16th month since she last received wages.
"My wages were credited every two or three months. Whenever I inquired with panchayat clerk V Thirusenthil [now re-designated as panchayat secretary] about the pending wages of my wife and son, he kept on saying that the money will be credited once the Central fund comes," says Murugan.
However, Vadipatti Block Development Officer (BDO) S Kathiravan tells 101Reporters that the wages of sanitartion workers are paid from the state funds. "The Rural Development Department is not dependent on any Central fund for this expense," says Kathiravan, the top authority for 23 village panchayats in Vadipatti block.
All these months, Murugan's wages ran the household with six members, including one of his widowed daughters and her three school-going children. Parthiban, who lives with his spouse, earned money by selling vegetables and doing electrical work.
With no positive signals from the panchayat, Pitchaiyammal registered her grievance with BDO Kathiravan this June. "However, the deputy BDO's report suggested that there was no evidence of them working in the attendance register. We met the BDO and asked why no show-cause notice was sent to the workers if they did not report for duty. He had no answer," says C Mathivanan, a senior CPI-ML functionary.
Mathivanan brought the issue to the notice of National Commission for Safai Karamcharis (NCSK) Chairperson M Venkatesan in July. Though no formal complaint was filed, Venkatesan informed Mathivanan about the rights and entitlements of sanitartion workers. The CPI-ML activists listed those rights and pasted wall posters across the villages in Mannadimangalam panchayat.
"This time, the officials were ready to disburse the pending wages, on condition of providing proof. Pitchaiyammal took a paper and pen when she went to work, and requested the residents of Ayyappanayakanpatti to sign the statement that she had delivered her duty. After submitting the signed statement, the administration started releasing her pending wages in instalments, along with her full monthly wages," Mathivanan says.
"We remove faeces, blood-stained menstrual clothes and all the dirt that others will not even look at. After returning from work, we have to wait at least an hour to forget the odour and the nauseous visuals before having food. How can my heart allow me to go unpaid," asked Pitchaiyammal.
Mangaiyarkarasi, who was instrumental in escalating the non-payment with the panchayat union office, alleges that this is not administrative apathy but caste discrimination. Hailing from a dominant Other Backward Class, she has invited the wrath of many villagers for opposing discrimination.
Though the grievances of the sanitartion workers have been partially addressed, no action has been taken against Thirusenthil. 101Reporters did not approach him for comments as the workers feared repercussions. Panchayat secretaries are often more influential than the presidents as they are rarely transferred. Thirusenthil has been the panchayat secretary of Mannadimangalam for over 21 years.
The BDO, too, did not give a direct answer on why the other sanitartion workers of the panchayat began to receive partial wages every month after the issue came to the public eye. "Now the issue has been sorted out, and the workers are paid every month," he claims.
Though manual scavenging is prohibited by law in India, Pitchaiyammal and Pathiban claim that they manually remove the defecation around public toilets in the panchayat. Speaking to 101Reporters, all the sanitartion workers confirm that no machinery has been provided for their work other than brooms and dustpans.
Missing Benefits
The situation is no different for the other sanitartion workers in Mannadimangalam panchayat. 101Reporters spoke to seven of them, living next to each other and belonging to the Arunthathiyar community, a Scheduled Caste (SC).
One among them, M Ramuthai (34), stays about 300 metres from the panchayat office and gets to sign the register regularly. But she also gets her wages only every two or three months. "Sometimes, I get it only in the fourth month. After the posters were pasted, we started getting it every month," says Ramuthai, who has been in the job for six years.
Ramuthai did not get any financial assistance from the panchayat when she fell off the e-rickshaw collecting garbage a few months ago. "I suffered a leg fracture and had to be hospitalised. I was out of duty for two weeks. I was paid for these days, but I did not receive any other monetary support," she says.
The panchayat appoints sanitartion workers after fixing their payments, which are usually around Rs 5,000 at the time of appointment. All of them are entitled to full wages, but they get only partial wages every month; that too, sometimes as low as Rs 1,500.
Ramuthai and others are unaware of the financial assistance provided by the Tamil Nadu sanitartion Workers Welfare Board to the families of sanitartion workers in case of accidents, marriage and more. None of the seven female workers was aware of the emoluments or employee insurance.
All sanitartion workers (full-time and part-time) are eligible to join the welfare board. However, there is neither active enrolment by local bodies nor proper communication from the board. The membership application forms are usually distributed through the respective local bodies, and the primary requirement is their ID cards. The panchayat has not issued ID cards to Ramuthai and fellow workers.
Arunthathiyars are among the three most populous Dalit castes in the state, but they are the most subjugated ones too, sometimes even by fellow Dalits. Due to the community's backwardness, a 3% sub-reservation has been made for them within the 18% reservation for SCs.
Though their working hours are fixed (9 am to 12 pm daily), the women claim it takes about five hours to complete. "Let alone regular wages, we were buying even the shovel and broom with our own money. We spend Rs 200 to 300 every few months on them," says M Muthumari (45).
Rural Local Bodies Neglected
The state has 21 municipal corporations, 122 municipalities and 529 town panchayats, all categorised as urban local bodies. Last December, Chief Minister MK Stalin launched in Madurai the Sanitation Workers' Development Scheme, meant to benefit 53,301 sanitartion workers in urban local bodies, of which 18,859 are permanent employees.
This October, the state government announced the formation of a corpus fund of Rs 50 crore (Rs 10 crore from the government and rest mobilised by urban local bodies and state public sector undertakings). Again, there was no mention of rural local bodies, which accounted for about half the state population. By looking at the number of urban sanitartion workers, it can be assumed that the per capita allocation under the corpus fund would be a meagre Rs 938.
As for rural local bodies, Tamil Nadu has 37 district panchayats that are divided into 388 block panchayats, which in turn are further divided into 12,525 village panchayats. In recent months, the district administrations have been calling for enrolment of sanitartion workers with the welfare board to make them eligible for various financial assistance. However, Ramuthai and her fellow workers are yet to know about it.
(Vignesh A is a Tamil Nadu-based freelance journalist and a member of 101Reporters, a pan-India network of grassroots reporters.)
Get the latest reports & analysis with people's perspective on Protests, movements & deep analytical videos, discussions of the current affairs in your Telegram app. Subscribe to NewsClick's Telegram channel & get Real-Time updates on stories, as they get published on our website.
Subscribe Newsclick On Telegram