Teachers Slam DU's Request for HEFA Loan, Put the Onus on NEP
"How would universities pay back these loans? They have a sole revenue stream and it is the fees from students. It is a sheer push to turn public-funded universities towards privatisation," alleged Abha Dev Habib.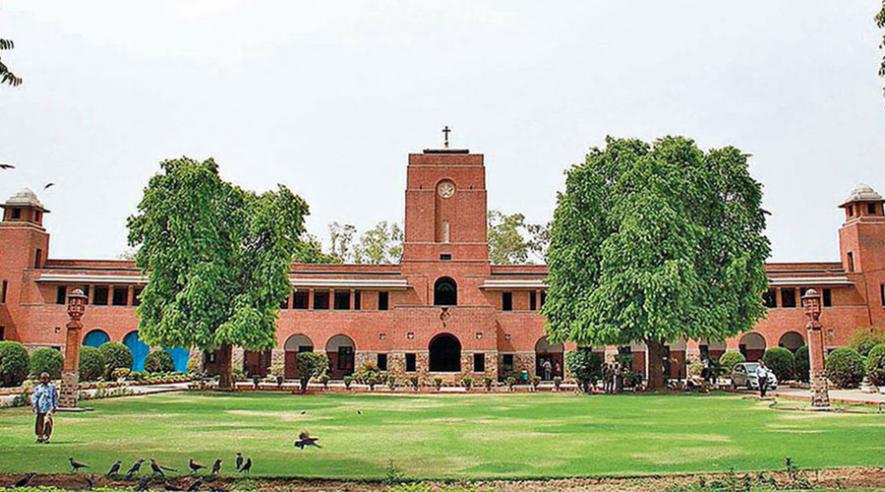 Image credit: The Telegraph
Delhi University has submitted a revised estimate of Rs 938.33 crore to the Ministry of Education to avail of a loan through Higher Education Financing Agency (HEFA) for the construction of important projects like the building of the Faculty of Technology, hostels at Dhaka Complex, and two academic blocks at the Delhi School of Economics.
The university had submitted a request for disbursal of loans worth Rs 1075 crore in March this year. However, the Ministry of Education had asked for more information about the projects and postponed the disbursal. Higher Education Financing Agency (HEFA) is a collaboration between the Canara Bank and the Ministry of Education to provide "financial assistance for creation of educational infrastructure and R&D in India's premier educational institutions."
The letter submitted to the Secretary, Ministry of Education, by Delhi University read, "In continuance of our earlier letter towards submission of proposal amounting to Rs 1075.40 crores vide letter no DU/HEFA/Finance/2022 dated 28th March and certain information desired by your good office. We are submitting a revised proposal for funding from HEFA amounting to Rs 938.33 crores in the prescribed format and as per the checklist provided to the university of Delhi."
It further read, "The project proposals have been prioritised keeping in view the desired need. The university is expecting to generate sufficient internal revenue in coming years so as to pay HEFA loan under the window-III scheme."
The letter seems to have enraged teachers' groups who allege that the new development will force parents and pay more in fees.
Abha Dev Habib, secretary, Democratic Teachers' Front, told NewsClick that there have been startling experiences with HEFA loans in universities and research institutes. She said, "I would say that these loans by HEFA clearly suggest that governments want students and their parents to shoulder the responsibility of infrastructure expansion and maintenance. JNU took a loan of Rs 455 crore from HEFA and it immediately increased fees in some programmes to arrange payment. It happened in IITs too where the fees are ever-increasing. How would universities pay back these loans? They have a sole revenue stream and it is the fees from students. It is a sheer push to turn public funded universities towards privatisation."
Rajesh Jha, national spokesperson of the Academics for Action and Development Teachers' Association told NewsClick that there were several anomalies with the loan application itself. He said, "It is quite clear now that UGC is not giving universities grants for infrastructure expansion. P C Joshi committee, in its recommendations, said that the university does not have sufficient funds to even buy laboratory equipment. Subsequently, the university development fee was increased from Rs 600 to Rs 900 per student. Now, middle-class families may not have any problem paying the increased fees but publicly funded universities like Delhi University host a diversity of students – particularly from marginalised communities, minorities, and women. How would they pay?"
Jha opined that the more problematic part remains the administration's commitment to generating internal revenues to repay the loans. "The only internal revenue comes from the fees. Once you increase one sub-head in fees, others too are bound to increase. We have been saying that public funded universities should only get grants to meet their expenses," he said.
"The second problematic thing about the loan application is the reduced amount. First, they assessed that it needed Rs 1,075 crore and later revised it to Rs 933.33 crore. It means either it compromised on projects or its assessment was wrong. In both cases, it reflects the sheer unprofessional attitude of the DU administration," added Jha.
Jha went on to link the development with the New Education Policy. "Of course, it is the NEP in the background be it HEFA or Institute of Eminence. In the case of the IOE status too, the condition remains the same – the university will have to match the contribution provided by MHRD. Again, you will have to increase the tuition fee. DU signed a memorandum of understanding with the MHRD that it will provide Rs 200 crore; whereas, it got Rs 62 crore in 2021. In this component, DU spent only Rs 6 crore. It means DU applied for the IOE status without any plans."
Sukhdeo Thorat, former UGC Chairman, said that the policymakers are clearly shifting from the traditional path for education laid out after independence. Talking to NewsClick, Thorat maintained that the new approach will deprive students from poorer backgrounds of higher education. He said, "In 1950s, 1960s and 1970s, we opened state universities, government colleges and private aided colleges. Education is something which should be accessible to all. Therefore, the government followed the model of public funded universities and it provided them with funds to run them. Now, this new trend of taking loans is aimed at reducing government responsibility and relying more on private funding."
"Now, private funding comes from tuition fees and to some extent, faculty projects; but that's minimal. It is being followed in IITs and IIMs. The policymakers are bringing quality as an excuse for this intervention. But it will push students away from higher education institutions. On the one hand, you are talking about taking gross enrolment ratio to 70% and then simultaneously taking measures not to achieve it," he said.
Thorat added that a similar strategy is visible in the New Education Policy. "It is exactly happening in NEP where you have a plethora of things for quality improvement but no clear schemes for access and inclusion. You brought four-year undergraduate programmes with entry and exit options, which was not needed. The poor students will go for an exit in the third year because they cannot afford extra expenses. In the market, there will be a preference for graduates with four-year degrees," he lamented.
"You [the government] have brought national level entrance test which is biased towards relatively well-off students because they can take coaching classes to crack them. Then, you are also expecting foreign universities which are already expensive. These measures will only reduce access," concluded Thorat.
Get the latest reports & analysis with people's perspective on Protests, movements & deep analytical videos, discussions of the current affairs in your Telegram app. Subscribe to NewsClick's Telegram channel & get Real-Time updates on stories, as they get published on our website.
Subscribe Newsclick On Telegram