UP: Testing Times for Jal Sakhis as Incentive Remains Pending for Years Together
They were to receive Rs 20 for every water sample tested under Jal Jeevan Mission but have not received a single penny from the very beginning.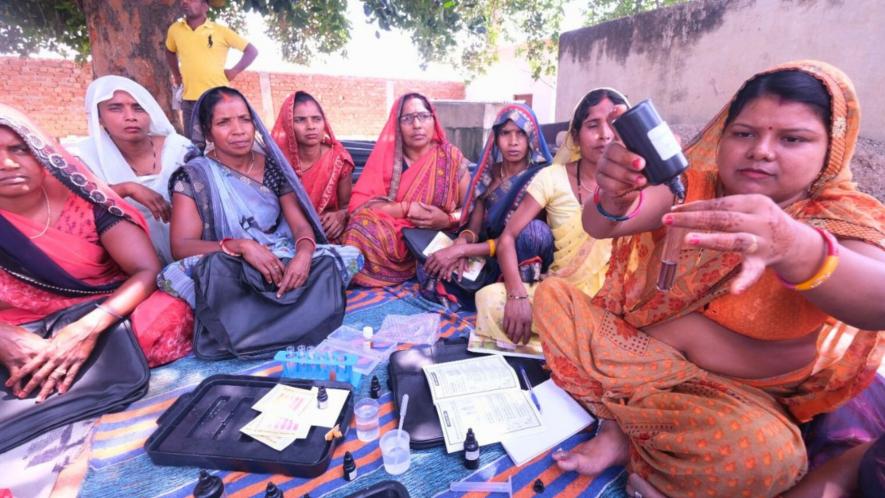 Jal sakhis demonstrating the water tests (Photo sourced by Indal Kashyap)
Jhansi: Working tirelessly to test water samples under the Jal Jeevan Mission (JJM) is nothing new to Pushpa Devi (35) of Bhandra village in Jhansi district of Uttar Pradesh. She leaves home at 10 am and tests water at five to six houses before returning home by 5 pm. As a jal sakhi, she works 20 to 25 days and tests water samples from 100 to 150 houses every month.
Pushpa is among the 5,50,000 women who have been trained in Uttar Pradesh on how to use Field Test Kits (FTKs) in a bid to monitor water quality at the community level. The kit includes 11 types of chemicals, a test tube and a measuring cylinder. The government provides jal sakhis with the kits, for which households do not have to pay. After the test, jal sakhis wrote down the water report in a register and later uploaded it to the JJM Water Quality Management Information System (WQMIS) portal.
Five jal sakhis were selected from each village panchayat to go from village to village and check the water coming to homes, taps, wells and hand pumps. In Jhansi district, over 3,000 women test samples by going door to door while also making people aware of the diseases caused by the consumption of contaminated water. 
Group of Jal Sakhis performing the tests (Photo sourced by Indal Kashyap, 101Reporters).
Zubair Khan from Sai Sahayog Sansthan provides training to jal sakhis in the district, tells 101Reporters that women were educated about 11 types of water testing using FTK and about uploading the report on the WQMIS portal during the two-day training given at the block level. Fifty to 100 women participated in one session of the training programme.
Pushpa was selected as jal sakhi in 2021, but she has not received any incentive for her work to date. So is the case of Suman Shrivas (28) of Deori Ghat village.
"When I came to know about jal sakhi recruitment by the gram panchayat samiti, I filled up the required form. A few days after my selection, I attended a four-day training and got a certificate in this regard. I got the field test kit four months after training. I was told I would get Rs 20 per test, and by that standard, I would earn around Rs 10,000 a month. I was very happy to hear that because by staying in my village itself, I could manage my expenses," Shrivas tells 101Reporters.
Shrivas works for about 15 days a month. On those days, she finishes her household chores early and leaves at 9 a.m. There are four women in her group, and they go out for field work together as all of them use the same kit. The team conducts approximately 50 tests a day and 600 to 700 tests a month. They return home by 4 p.m. However, when there is work in their agricultural fields, they can conduct only 400 to 500 tests in a month.
"We have been working for almost two years without getting payment. Bank account details and Aadhaar numbers were taken from us several times, but still, payment eluded us. I do not even have money to recharge my mobile phone. I have to fight with my husband for that. When I remind him that I have to upload test sample reports on the WQMIS portal, he gets angry and tells me to stay home if I am not getting money for my work," Shrivas says.
Shakuntala Devi (43) from Chakara Bambhauri joined work in 2019 but received training only next year. She and her four group members go to the field together. They go to 10 to 15 nearby villages to test water samples. Shakuntala visits about 30 to 40 houses a month in her role as a jal sakhi.
"Ever since the JJM launch, I have tested about 1,500 samples without getting any incentive. Initially, we did not go to the block office seeking payment. After working continuously for six months, we started asking for it, but without any result," she says.
Meanwhile, Mauranipur Block Development Officer Sunil Kumar Singh told 101Reporters that the block panchayats had no role in the work of jal sakhis. "Their selection was done at the village panchayat level, and no official of the block was involved in it," he claims.
There are 2,37,231 Functional Household Tap Connections in the Jhansi district. Uttar Pradesh Jal Nigam is the executing agency of the project, run under the State Water and Sanitation Mission. When asked about the non-payment of dues by Jal Nigam, Jal Nigam Executive Engineer Ranvijay Singh tells 101Reporters that about 3,000 jal sakhis work in Jhansi district, of which data of 1,140 women have been verified for payment.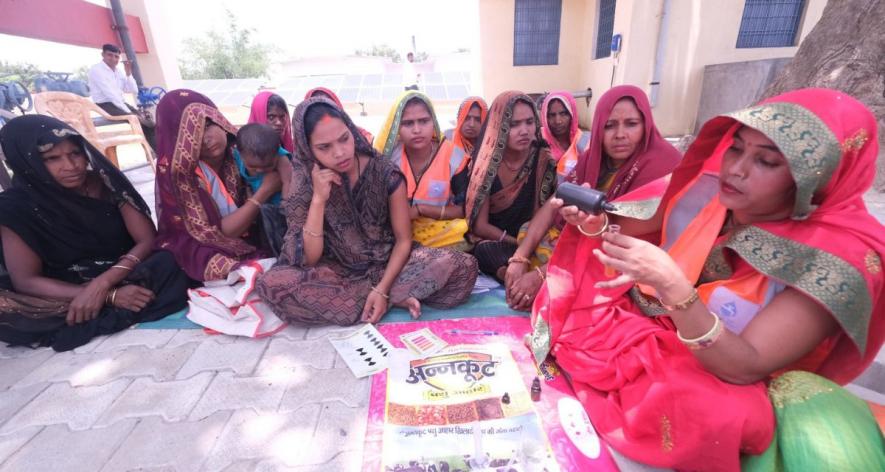 Group leader training Jal Sakhis with water testing kits (Photo sourced by Indal Kashyap, 101Reporters)
"As many as 652 women have been paid an initial amount of Rs 200 to 400. The rest will get their incentives soon. The data that earlier came to us from Sai Sahayog Sansthan had many flaws, due to which there was a delay in payment. Now, it has been corrected and verified. Problems have occurred in paying the women whose numbers were not linked to Aadhaar and whose Know Your Customer verification was not done," he said.
On behalf of Jal Nigam, 101Reporters were given the mobile numbers of five jal sakhis who got their payments. However, when one of these numbers was contacted, Meera* said, "I updated my passbook 10 days ago. The money has not been credited to my account."
Yet, Jal Jeevan Mission adviser Radha Krishna Tripathi told 101Reporters that a total of Rs 2,11,85,000 has been given as an incentive to 89,210 women in the state to date, while the payments of 22,384 are being processed.
Meanwhile, Pushpa says she spoke to the officials concerned at the block level several times for payment, but the requests went unheard. "We were told to do the work and get paid… When we are not paid, why should we work? I have not gone to work for the last one month," Pushpa concludes.
(Indal Kashyap is a Uttar Pradesh-based freelance journalist and a member of 101Reporters, a pan-India network of grassroots reporters.) 
Get the latest reports & analysis with people's perspective on Protests, movements & deep analytical videos, discussions of the current affairs in your Telegram app. Subscribe to NewsClick's Telegram channel & get Real-Time updates on stories, as they get published on our website.
Subscribe Newsclick On Telegram