The Importance of Self-Reliance, Scientific Temper and 'Idea of India'
The 17th All India Peoples Science Congress held in Bhopal recently called for launching grassroots movements highlighting the three themes.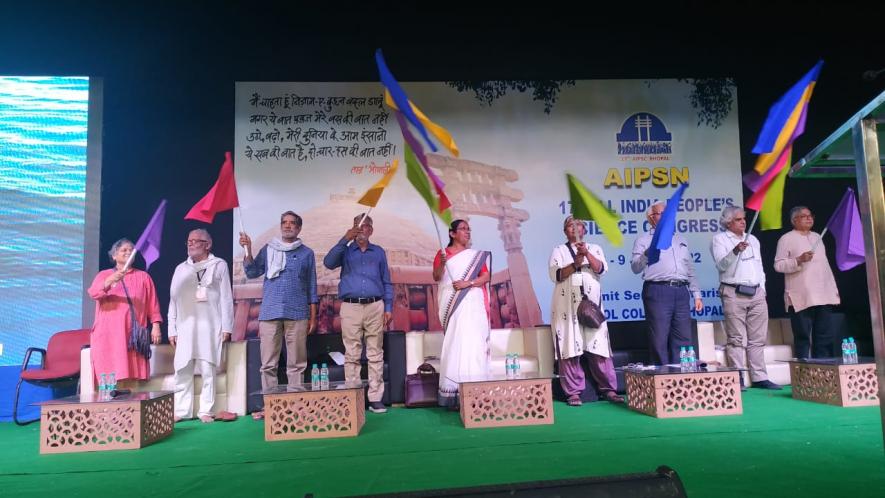 The normally bi-annual All India Peoples Science Congress (AIPSC) postponed by two years due to the COVID-19 pandemic, was held in Bhopal on June 6-9, 2022.  Readers may remember that the All India Peoples Science Network or AIPSN is a federation of 37 like-minded independent state-level member organisations, which came together in the late 1980s on a common agenda and understanding, with other organisations joining from time to time.
Given the current scenario in the country 75 Years after Independence, and the challenges faced by the scientific and academic community, civil society activists and social action practitioners, and the public at large, three overarching themes had been adopted for the Congress -- Self-Reliance, Scientific Temper and the Idea of India. These subjects were addressed in two pairs of parallel sub-plenaries each day. An inaugural session was held on June 6, and a special session was held on the Development of Madhya Pradesh & Chhattisgarh followed by the valedictory session of the Congress on June 9.
In the inaugural, P. Sainath, well-known journalist and activist, highlighted the importance of the constitutional 'Idea of India' in the present context, and in particular highlighted the dangers of undermining social justice, the phenomenon of mass unemployment, and the dangers of political control over the media. Indumathi of the Institute of Mathematical Sciences, Chennai, spoke of the importance of scientific approach, not just within science and classrooms, but also in society at large. Reputed litterateur Rajesh Joshi from MP spoke of the diversity of India and its composite culture. Shailaja Teacher, former Health Minister of Kerala, who gained worldwide appreciation for her scientific and caring approach in handling the pandemic, spoke of the importance of a democratic polity, participatory governance and public awareness for the decentralised public health system in Kerala which reaches every citizen of the state. 
In the valedictory session, Prof. Sonajharia Minz, Vice-Chancellor of the Sido Kanu Murmu University in Dumka, Jharkhand, emphasised the importance of a scientific approach to the understanding of social issues, and appealed to scientists and other specialists to recognise the rational approach of the common people, notably in tribal areas, toward tackling subsistence, livelihoods and sustainable lifestyles.
Faizan Mustafa, Vice-Chancellor, NALSAR University of Law, Hyderabad, made an impassioned presentation on the foundation of scientific temper in evidence-based reasoning and in pluralism of thought as well as the freedom to express divergent views. This was the very reason, he argued, that the scientific temper was under attack. He further argued that even before the incorporation of scientific temper under the 42nd Amendment, these foundational principles formed the cornerstones of the Constitution and the principles on which our Republic was founded.
Satyajit Rath of IISER, Pune, spoke on the importance of research and Development (R&D), especially in the public sector, for self-reliance. Ramanujam, also of Institute of Math Science, Chennai, emphasised the need to make higher education and research in India more relevant to the current context and for the needs of the people.
Finally, former Chief Minister of Madhya Pradesh, Digvijaya Singh, asserted the need for scientific temper in the society, especially at the present juncture when certain forces were misusing religion to attack critical thinking and freedom of opinion.
Scientific Temper
At the sub-plenary, Indumathi and Vivek Monteiro stressed the importance of inculcating a scientific attitude, not just scientific knowledge, through creative pedagogy in classrooms, while also encouraging a questioning and evidence-based approach in life, including admission of ignorance.
Speakers from the Homi Bhabha Centre for Science Education elaborated on scientific knowledge in ancient India of which people of the country could indeed be proud, while disputing the fantastic claims made by Hindutva advocates based on mythology and fallacious suppositions. 
Gauhar Raza, formerly of Council for Scinetific and Industrial Research, called for taking up promotion of scientific temper
as a political task in the present context. Kishore Chandra Wanghkhem, journalist from Manipur, who was wrongly jailed for publicly questioning that cow urine and dung could cure COVID, demanded more action in defence of freedom of expression.
Of the three workshops held, one explored the utilisation of communication programmes centred on the universe for promoting scientific temper. Another exposed various pseudo-sciences, while the third focused on different techniques of science communication.
Self-Reliance
In the sub-plenary and workshops,  several speakers emphasised the enormous damage being done to self-reliance in science and technology (S&T) under the neo-liberal paradigm in India, starting from the 1990s and being vigorously pursued by the current dispensation, in the overall context of imperialism.
Dinesh Abrol and Satyaki Roy highlighted the massive resource drain from India due to the import-dependent path, agricultural exports, and domestic S&T work in IT, genome research etc. for foreign corporations. This writer highlighted the danger of India losing out completely on the so-called 4th Industrial Revolution set to dominate the world economy over coming decades through technologies, like Artificial Intelligence, Internet of Things, autonomous vehicles on land and air, automation, renewable energies and related storage etc., due to lack of State support for R&D, especially in the public sector, and a lack of interest by the private sector content with foreign collaborations and subordinate status. With India having earlier missed opportunities in electronics, semi-conductors, and mass manufacture during the 1980s and '90s, India and its youth may well face a bleak future.
Elangovan of the Railways Federation discussed the creeping privatisation of the Railways and the government's failure to upgrade it in the interests of the people, industry and energy efficiency. Ashok Dhawale, president, All India Kisan Sabha, emphasised the critical importance of self-reliance for agriculture, with India being import-dependent in pulses and oilseeds, which should be part of the public distribution system. He also called for unity in supporting demands of Indian farmers with respect to unfair World Trade Organisation rules.
Agriculture
Soma Marla released an AIPSN booklet on '75 years of Agriculture' recounting the journey since Independence and revealing the acute crisis in the sector, exacerbated by dwindling State support for R&D and extension services, further amplifying risks posed by climate change and impacts on local ecosystems.
Other speakers focused on the challenges posed by WTO rules and the unwillingness of the Government to intervene effectively, revealing the growing influence of corporates in the agricultural sector. Dinesh Abrol called for winding down India's participation in the WTO in agriculture, especially with regard to domestic support, market access and export restrictions.
Environment
An overview presentation by this writer highlighted the determined dilution or dismantling of environmental regulation by the present government in order to promote "ease of doing business," pushing states into a "race to the bottom" in the competition for investment. He also discussed the huge impact being caused by climate change, such as urban flooding and landslides, coastal erosion and sea-level rise threatening inundation of major coastal cities in coming years, and drop in productivity and quality of major crops.
The Peoples Science Movement was urged to launch grassroots movements calling for action by government. The problem of de-regulation, the many visible and hidden ways it is being done, and the substantial impacts it is having on different spheres of the environment and on people, was elaborated by Kanchi Kohli of the Centre for Policy Research.
There was also a presentation on the choices available in the Indian context to shift away from coal-based electricity generation to renewable energy (RE) sources, while expanding per capita energy availability. Trade-offs and choices were discussed, such as grid stability given variability in RE power generation, and energy storage options eg pumped storage and green hydrogen. 
A "just transition" from coal to RE power, especially as regards the workforce, is another factor that needs to be addressed. 
O.P. Bhuraita's detailed presentation showed how some recent disasters in the Himalayan region, although triggered by seemingly natural events, such as heavy rainfall and landslides, were actually man-made due to bad planning, distorted models of development, harmful methods of construction of roads and other infrastructure including hydro-electric projects that are increasingly being opposed by people of the region, all exacerbated by human-induced climate change.
Education
The AIPSN has been deeply involved with education since its inception, and has actively studied and campaigned strongly against the National Education Policy (NEP) including through national and state-level conventions involving other stakeholders. It has also published a book giving a detailed point-by-point critique of the NEP.
At a sub-plenary, Surojit Majumdar of Jawaharlal Nehru Universit highlighted the politics behind NEP, notably its push towards commercialisation and privatisation, and its centralising and socio-culturally homogenising thrust. 
Anita Rampal of Delhi University underlined the total withdrawal of the State even from school education by closure of numerous schools, creating space for entry of private parties or 'NGOs' pushing a saffronization agenda, and by enlarging the role of virtual or remote learning.
Other speakers discussed how NEP had little space for the weaker sections or for social justice in general, with a built-in system for elimination of poor and under-privileged students.
Results of surveys conducted by AIPSN in several states and which have received wide press coverage were presented which showed, among other things, that an overwhelming majority of children had been totally deprived of education during th pandemic despite the much-vaunted on-line system pushed by the government. Case studies of the Community Learning Centres run by the movement showed that these CLCs were widely appreciated as providing a viable opportunity for offline education, peer learning and necessary socialization.
Health
The Health sessions at the Congress focused largely on the pandemic and issues arising therefrom. 
The AIPSN released a booklet compiling 140  Statements and Position Papers on different aspects of the COVID-19 pandemic, ranging from policies, government responses, use and misuse of science and technology, vaccination etc.
At the sub-plenary, Satyajit Rath spoke on the challenges faced by India as regards self-reliance in health-related knowledge, information and research. He noted the weakness in data gathering by public institutions and how the lack of evidence-based decision-making by government led to poor public health decisions to control the pandemic, and how government's resistance to scientific evidence and regulatory standards led to flawed decisions on vaccines with undesirable consequences for the reputation of Indian science and technology internationally.
Dr Rath called for major reforms in public health and research institutions, as well as decentralised capacity-building.
Dr Samir Garg examined the situation in Chhattisgarh during the pandemic and highlighted how, despite all the weaknesses in this largely tribal state, the value and reputation of public health institutions had increased in public perception, and compared this with how private medical institutions in other states had compromised on equity and service delivery.
Dr. Indira Chakravarty discussed the financing of the health sector in broad terms, and brought out how costs had been systematically passed on to the people. She emphasised the need peoples' movements to push for re-establishing health as a social good and an integral component of a welfare state.
The workshops saw presentations on initiatives for health of women, adolescents and children (by Richa Chintan, Delhi Science Forum), on the Digital Health Mission (by Indranil, DSF) showing how peoples information and data are non-transparently used by government and private especially insurance agencies, on the lack of support systems for the ASHA programme (Arti, MP and Dr. Dahiya, Haryana) and the need to build their capacities, and on drug policy and pricing (V.R.Raman, DSF). Several activities conducted in States such as village-level studies in Tamil Nadu and health awareness programmes in Telangana were also presented.
Livelihoods
Several AIPSN member-organisations have been involved over three decades in setting up and running alternative field models with innovative technology packages for pro-poor rural livelihoods. Efforts are continually underway to encourage and support more PSM organisations to take up similar efforts. At the 17th AIPSC, effort was to take these existing field projects to the next level in terms of scale, new technologies/products and marketing strategies.  It was also decided to initiate PSM activities addressing urban livelihoods, inter alia as an entry point for intervention in other urban issues.
The continued importance of rural non-farm employment was sharply underlined during the pandemic by the crisis affecting migrant workers, representing two sides of the same coin. First, the need for workers to migrate out of rural areas in the absence of job opportunities especially in the non-farm sector, and second the inability of rural areas to provide work to returning migrants.
A booklet analysing this scenario was also released.
Other speakers included Keshab Das of the Gujarat Institute of Development Research, who presented a detailed look at the scenario pertaining to Crafts Clusters, and Tikender Panwar who spoke on urban governance and issues relating to livelihoods in that context.
Gender and Social Justice
Different aspects impinging on the rights and opportunities of women, minorities, dalits, tribals and other oppressed sections were also highlighted. Minz underlined the low enrolment of all these sections in higher education, compounded by widespread poverty and stereotypical perceptions of their abilities. Maimoona Mollah of All India Democratic Women's Association spoke about religious obstacles to women's participation in struggles, emphasising that social practices and religious rituals were the real obstacles rather than religious precepts themselves, and called for more joint AIDWA-AIPSN campaigns .
Pramod Gauri from Haryana PSM spoke of how social justice is deeply embedded in various articles of the Constitution and is part of its core values. N. Prabha of Karnataka discussed the on-going violation of constitutional rights and called for AIPSN campaigns for greater gender equality and social justice. Prajval Shastri spoke in detail about the low participation of women in S&T research and higher education and called for more concerted action to rectify this imbalance.             
The writer is with the Delhi Science Forum and the All India Peoples Science Network.
Get the latest reports & analysis with people's perspective on Protests, movements & deep analytical videos, discussions of the current affairs in your Telegram app. Subscribe to NewsClick's Telegram channel & get Real-Time updates on stories, as they get published on our website.
Subscribe Newsclick On Telegram