'The Truth Shall Prevail. We Have Full Faith in Legal System'
Digipub, DUJ Condemn ED Raids on Newsclick Office, Homes of Directors.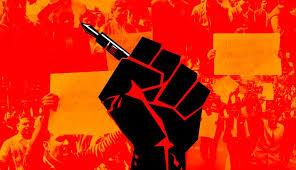 Image Courtesy: The Leaflet
New Delhi: The Enforcement Directorate (ED) began raids on Newsclick office and homes of its directors, including editor-in Chief Prabir Purkayastha and Editor, Pranjal, on Tuesday morning. The independent news website has, of late, gained considerable viewership following extensive coverage of the ongoing farmer protests in the country.
"Truth shall prevail. We have full faith in the legal system," said a brief statement by Newsclick, adding that the raids are still underway and a full statement will be released only after the process is over.
Earlier, speaking briefly on the issue to some reporters, Pranjal, accompanied by two ED officials, said: "There has been an ongoing raid since morning. We were shown a notice. Right now our documents are being checked. We are co-operating and will continue to co-operate."
Meanwhile, various organisations and individuals have condemned the raids on Newsclick, a website known for giving voice to vulnerable sections, protests and movements that do not find space in the mainstream media.
Digipub, an organisation representing 11 news websites issued a statement condemning the ED raids on Newsclick office in New Delhi and the homes of its directors. (Disclaimer: Newsclick is a member of Digipub).
"Newsclick has always upheld the highest standards of journalistic integrity and speaking truth to power. Its commendable journalist work, seeking to hold power accountable speaks for itself", said a Digipub statement, signed by Dhanya Rajendran of NewsMinute, Abhinandan Sekhri of Newslaundry and Ritu Kapur of Quint.
They said the ED raid was "a clear attempt to suppress journalism critical of the government and its allies. Such use of state agencies to intimidate journalists and supress adversarial journalism is detrimental to not only the freedom of the press, but also the very idea of democratic accountability."
The Digipub demanded that ED action be stopped and the agency should clear why Newsclick was raided.
The Delhi Union of Journalists (DUJ) also condemned the raids, saying "we view these raids as a serious attack on the online media and the freedom of the press."
"Newsclick has been providing a platform to leading investigative journalists like Paranjoy Guha Thakurta and bold video journalist Abhisar Sharma, P.Sainath -among others. It has also been reporting extensively on the farmers' agitation for the past two months. It has established itself as a different voice with news and analysis of national and international affairs" said a DUJ statement.
It noted that "coming in the wake of the filing of sedition charges against several senior journalists last week and government moves to curb free speech on Twitter and YouTube, the raids are ominous," adding that "aim is clearly to intimidate and browbeat independent and critical voices that disagree with the government on contemporary issues."
Various senior journalists and individuals, some of them associated with the news website, also expressed concern in tweets over the raids on Newsclick at a time when there were growing cases of FIRs and sedition charges against independent journalism and individual journalists.
Among these are well known news anchor Abhisar Sharma, whose popular programme 'Bol Ki Lab Azad Hain Tere' is aired on Newsclick, senior TV  journalist Aunindyo Chakravarty, who also does a programme on economy for the website, historian S Irfan Habib, Senior Supreme Court lawyer Prashant Bhushan, co-founding editor of The Wire, Siddharth Vardarajan among others.
ED raid at https://t.co/WK95HKtJzE 's office & Directors/Shareholders home since 10am this morning. @newsclickin . This is where I do my shows Bol ke lab aazaad hain tere and Newschakra

— Abhisar Sharma (@abhisar_sharma) February 9, 2021
I have been making videos for @newsclickin for more than a year now. Used to visit its office every week till COVID came. It is so small that as a visitor I felt I should wash the cup that I was given tea in. Obviously such an organisation must be of great interest to the ED.

— Aunindyo Chakravarty (@AunindyoC) February 9, 2021
"Sedition cases, UAPA, FIRs for 153, %)% etc, frivolous defamation suits and now ED raids, this is how the government handles India's independent media. @newsclickin is the latest target..." said a tweet by Vardarajan
Historian S Irfan Habib  tweeted: " Sad but not surprised that a platform like #Newsclick is under attack. It created space for many senior journalists who found working in TV channels impossible. It's founder Probir Purkayashta fought emergency as well so he knows the ways to fight." 
Sad but not surprised that a platform like #Newsclick is under attack. It created space for many senior journalists who found working in TV channels impossible. It's founder Probir Purkayastha fought emergency as well so he knows the ways to fight.

— S lrfan Habib (@irfhabib) February 9, 2021
Congress leader Randeep Singh Surjewala, CPI(M) leader Subhashini Ali and CPI(ML)- Liberation leaders Dipankar and Kavita Krishnan also condemned the ED raids, among  scores of Newsclick readers and viewers across the country.
The attack on #Newsclick is an application of the Modi doctrine of demonisation of dissent and assault on independent media, especially sections of media that focus on struggles for justice, people's rights and the constitutional vision of a secular democratic republic.

— Dipankar (@Dipankar_cpiml) February 9, 2021
The Committee for Journalists Protection in a tweet 'urged the authorities to respect press freedom'
We are concerned by news reports that the Indian government's Enforcement Directorate raided the office of @newsclickin today. We urge authorities to respect press freedom.https://t.co/EI5s87dpoo#PressFreedom #India

— CPJ Asia (@CPJAsia) February 9, 2021
Get the latest reports & analysis with people's perspective on Protests, movements & deep analytical videos, discussions of the current affairs in your Telegram app. Subscribe to NewsClick's Telegram channel & get Real-Time updates on stories, as they get published on our website.
Subscribe Newsclick On Telegram