Third Year of Delhi Riots: 3 Tragic Stories, Same Plot
The families of three accused languishing in jails are not only peeved at the government for 'ignoring laws' but also the media for 'propagating hateful narratives'.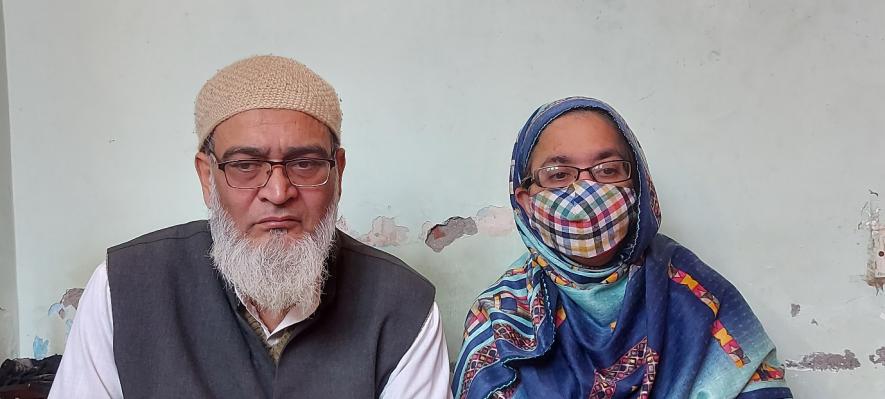 Afzal Khan and his wife Noor Jahan, the parents of Athar Khan.
 Editor's Note: On the third anniversary of the February 2020 riots in northeast Delhi, Newsclick is publishing a series of stories. This is the first of our five-part series.
New Delhi: For the families of undertrials languishing in jail for around three years on charges of "abetting" communal riots in northeast Delhi on February 23, 2020, during the protests against the controversial Citizenship (Amendment) Act, 2019, occasional media bytes have remained the only means of expressing their angst against an 'unjust' system.
On the third anniversary of the violence, Newsclick reached out to the victims of the violence and the families of prisoners charged under the draconian Unlawful Activities (Prevention) Act (UAPA). They are peeved not only against the government, which allegedly ignored laws and norms, but also against the media for 'propagating hateful narratives' in presenting the oppressed as 'oppressors' and victims as 'offenders'.
As many as 18 people were charged under the UAPA and other stringent sections of the Indian Penal Code (IPC) for "overarching conspiracy" in the most crucial FIR (59/2020). They include activists Umar Khalid, Sharjeel Imam, Meeran Haider, Asif Iqbal Tanha, Safoora Zargar, Gulfishan Fatima, Athar Khan, Shadab Ahmad, Natasha Narwal, Devangana Kalita, Shifa-ur-Rahman, politicians Ishrat Jahan and Tahir Hussain, businessman Saleem Khan and four others (who secured bail in the very beginning even before the UAPA was invoked). Five accused (Zargar, Jahan, Narwal, Kalita and Tanha) were also granted bail.
Family members of several accused alleged torture and harassment in prison and denial of medical attention. It was a "gross abuse" of law and "represents a mindset" that has emerged in the country's political landscape of late, they alleged.
The violence, in which 53 people were killed, more than 700 injured and property worth lakhs destroyed, continued till February 27. It allegedly began after BJP leader Kapil Mishra provoked people against CAA protesters. The incident coincided with then-US President Donald Trump's maiden trip to India.
We bring you stories of, at least, four such unknown faces who barely grabbed media attention.
'WINTER IS OVER, ATHAR YET TO GET HOT WATER'
Booked under the UAPA, Athar Khan (27), of Chand Bagh, has been in jail for two-and-a-half years and suffering from piles. His family had filed an application in the trial court last November requesting warm water for him to relax his anal sphincter, heal and reduce the pain, itching and irritation.
Even after hearing the petitioner at length, the court is yet to pronounce an order. 
"This is how an undertrial is subjected to physical and mental torture in a prison," says his father Afzal Khan (54) alleging that it took around three months to send a pair of shoes to him.     
When asked about this son's alleged role in the violence, he says, "People defending themselves were arrested. It's injustice. If someone attacks me, the least I will do is stop the attacker. They (a violent mob) attacked our areas to kill us. We only prevented them from inflicting physical harm. Is self-defence a crime?" 
Without naming Mishra, Ragini Tiwari and others caught on camera provoking the crowd to attack peaceful protesters, Afzal says, "Everyone knew the attackers, but nothing happened to them."
Claiming that all the accused are "innocent" and the charges against them are "baseless", he believes they will "come out clean". "Peaceful protest is everyone's constitutional right and my son and others were exercising the same," he adds.
A final-year BBA student at the time of his arrest, Athar was an Aam Aadmi Party (AAP) volunteer. He had worked for Mishra when he had successfully contested the Delhi Assembly election from Karawal Nagar on an AAP ticket. 
Mishra, who was sacked as water resource minister by chief minister Arvind Kejriwal over corruption in 2017, joined the BJP in 2019. He had shared an old photograph of Athar identifying him as one of the "masterminds" of the riots.
All these years have been very difficult for Athar's family, especially his mother Noor Jahan (50), who "spends every day hoping" that he will be released in a month or two. 
"But the hope is dwindling as he gets one court date after another," she says in a choked voice. "I have barely seen my son in last two-and-a-half years except during the abrupt meetings in the hallway of the court while the police are dragging him away. I manage to talk to him for a minute or two from a distance."
All the accused are in judicial custody and brought to court after every 14 days. Athar's glimpses "heal" her heart. "I wish he stays with me and does not return to prison. I feel extremely happy to see him but equally sad when he goes away," says the distraught mother struggling to maintain her composure.
"Earlier, we used to talk to him over the phone daily for five minutes, but the calling facility was discontinued last November. It was resumed from January 30 for three days a week following a court order," she says. Though Athar is allowed a video call twice a week, his family alleges it happens only once because of the weak network.
"It's difficult for a mother to spend even a day without his child. We miss him every moment. I take care of all his belongings and plan to cook food of his choice daily hoping for his return. I am desperately looking for his arrival," she says adding that he "doesn't deserve such a long incarceration as he has not committed any offence".
Even after spending around three years behind bars and rejection of bail by the sessions court, Athar is "very strong". "He always talks smilingly. It gives me courage when he asks me not to worry. He shares his daily routine, including playing volleyball to prevent stress," she narrates. He doesn't mention his "suffering". "Perhaps, he doesn't want me to get upset. He asks about his siblings and their studies."
Asked how she controls herself when she misses him the most, tears roll down her face. "What else can I do but be patient and wait for his ordeal to end?"
Contrary to the police claim that he was arrested from his home, his family says Athar was summoned for interrogation on July 2, 2020, and taken into custody. 
"He got a call from the police on July 1 evening. He went to the police station the next morning. After two to three hours, we were informed by the cops of his arrest," she alleges.
Athar's incarceration has caused financial problems to his family. While pursuing studies, the eldest of the four siblings was also contributing to the family's income by trading in spices. Following his arrest, his business collapsed and impacted his father's business.
"Most of my clients were Hindus who, barring one, stopped engaging with me. Forget about business relations, they even stopped talking with me," a smiling Afzal says attributing it to the "pervasive fear". "People are afraid of interacting with us—a family that has been targeted and branded by the police."
A Delhi court on October 13, 2022, dismissed Athar's bail plea with additional sessions judge Amitabh Rawat of Karkardooma Court saying that the allegations against him, based on the perusal of the chargesheet and accompanying documents, are "prima facie true".
Quoting protected witnesses, the prosecution alleged in the chargesheet that Athar was one of the key "conspirators" of the riots, "provoked" people to "burn" Delhi and was in contact with documentary filmmaker Rahul Roy, who apprised him of the "preparations" to orchestrate violence in the Trans Yamuna region.
Supporting its accusations that Athar was delivering inflammatory speeches, the prosecution relied upon alleged statements of a few witnesses such as head constable Sunil, constables Gyan and Sunil and two independent witnesses Gold and Venu. Athar was initially a witness but was later made accused.
However, there are videos showing the accused delivering provocative speeches. The prosecution has also not produced any video or CCTV footage where Athar can be seen attacking or carrying any weapon or doing any act which raises any suspicion towards any terrorist activity. 
It was also argued that Athar was present in northeast Delhi, and was part of the "conspiracy", according to the chargesheet. Countering the allegations against the chargesheet, investigators told the court, "It is not necessary that in a case of a conspiracy, every accused should play part in every aspect of the conspiracy."
Athar's bail application is pending in the Delhi High Court (HC) before a Special Bench of Justices Siddharth Mridul and Rajnish Bhatnagar.
'MY DAUGHTER IS LIKE STEEL'
Seeing his daughter Gulfishan Fatima (30), who led round-the-clock sit-in by women at Jaffrabad, behind the glass wall in jail was Syed Tasneef Hussain's worst nightmare. He has stopped meeting her.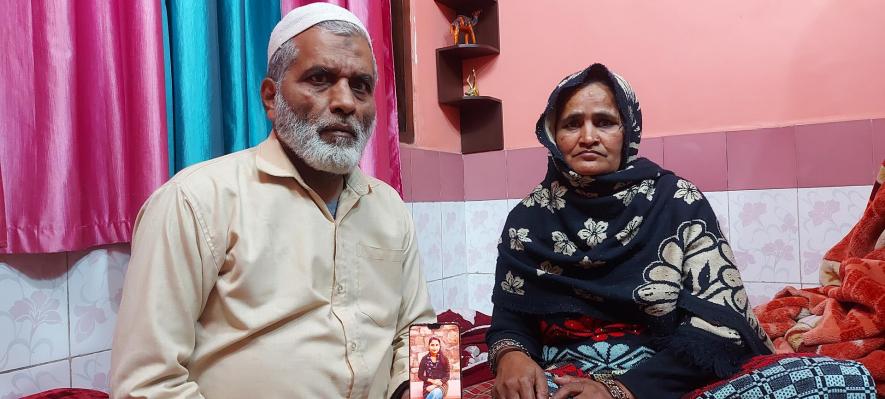 Syed Tasneef Hussain and his wife Shakra Fatima, the parents of Gulfishan Fatima.
An exception in the working-class settlement of Jaffrabad, Tasneef (58), who makes ends meet from his grocery, wanted Fatima to go for higher education and pursue a carrier of her choice. He never pressured her to marry and instead let her do an MBA and then try for a PhD.
However, Fatima's arrest in April 2020 aborted her quest for a better life. Tasneef claims that his daughter is the most educated in his family. "No one in my family has done master's except her. One of her cousins has now got into MBBS after cracking NEET." 
He never discouraged her from joining the anti-CAA protest as he always believed in her. "Since she is informed enough to understand what is good or bad, I left the decision to her," he says.
The proud father listed her qualities. "Apart from studies, she is also skilled in sewing, stitching, cooking and poetry. She is perfect. She never sits idle. Even in jail, she teaches people the way she was teaching young children at the agitation site," he says smilingly.
The arrest of Fatima, the eldest among her three siblings, has increased his depression. Tasneef was battling depression even before her arrest. "His sugar level often goes haywire, and he often faints. "I am surviving on higher doses of anti-depressant and insulin. Sometimes, my brain stops functioning. I faint more frequently than before," he says showing a bundle of medicines. 
Tasneef has become demented of late. "Memory lapse has also become very frequent. Whenever I step out, I often forget why and where I am going to," he says. For example, on way to his relatives-in-law's place at Nehtaur, Bijnor, he "couldn't remember the location of the house" he had been visiting for the past 30 years. "The street and alleys leading to the house faded away from my memory."
"Sometimes, I lose hope of seeing her again. I may die before her release like Natasha's father," he says struggling to control his composure.
Asked how strong Fatima is after three years in prison, Tasneef says, "She is like steel. Even after spending around three years in prison amid dwindling hopes, she never looks upset or disturbed. She greets us with a smile and asks us not to worry."
But at the same time, spending all the years with her daughter in jail in "inhuman" conditions has not been easy for the distraught parents. Eid and Baqreid are as insipid to him as saltless food.
Tasneef's wife Shakra Fatima says they could talk to Fatima only three months after her arrest. "I don't know what happened to her during police remand. Neither we asked her nor she discussed it," she adds.
Asked how hopeful she is about the HC reserving its order on Fatima's bail application, she says, "There will be a morning after this night".
Fatima challenged the trial court's order last March denying her bail in case of "larger conspiracy" to organise the riots in the HC. "Arguments heard; order reserved," the HC said on Monday.
As a result of the Central government's indifference to the nationwide protests, a call for Bharat Bandh was given. Responding to the call, the Jaffrabad protesters shifted their site of sit-in to Jaffrabad Metro Station on the evening of February 22, blocking the main thoroughfare.
Flanked by a senior police officer, Mishra led a mob to a nearby crossing in Maujpur on February 23 and started spewing anti-Muslim venom. He threatened to evict the protestors from the metro station. Soon after he left, the protesters were pelted with stones, triggering violence in several northeast Delhi localities.
The Delhi Police's Special Cell, which is probing the "larger conspiracy" case, accused Fatima of continuously being involved in the "conspiracy" and "planning" to spread "misinformation" regarding the CAA.
Referring to certain "incriminating" WhatsApp chats exchanged between the accused, the police told the court that a "secret" meeting took place at Chand Bagh on the night of February 16, 2020, to discuss the sustainability and coordination of the protest. The meeting, they alleged, was not open for all, and only those who were invited could attend it.
Reading out the selective portion of the group chat, the police said that the accused were planning "something which can't be disclosed". They alleged that Fatima's involvement was "continuous through and through".
The police submitted that she was part of a WhatsApp group called Warriors and used to speak in codewords like "Chand raat" or "Kal Eid hai, kal Nainital jaana hai" for organising "roadblock". She was "involved" with girls from the Pinjra Tod group who would decide when the road would be blocked.
The police referred to a statement of protected witness 'Saturn', who allegedly claimed that he saw former AAP councillor Tahir Hussain giving a bundle of cash to Fatima and saying, "This money can be used for riots."
Fatima's counsel advocate Sushil Bajaj had earlier submitted that the statements of prosecution witnesses were either hearsay or of persons not present at all the protest meetings. He argued that the first step should be to corroborate the evidence. Bajaj had also alleged every witness was a "pardoned" accused and were "masquerading" as witnesses against his client.
Interestingly, Swaraj India leader Yogendra Yadav, CPI(M) general secretary Sitaram Yechury, economist Jayati Ghosh, Delhi University professor and activist Apoorvanand and documentary filmmaker Roy also figured in the chargesheet.
'I KEEP MEETING HIM IN DREAMS'
Shamshad Ahmad often meets his son Shadab Ahmad in dreams only to wake up with a jolt when he goes close to hug him.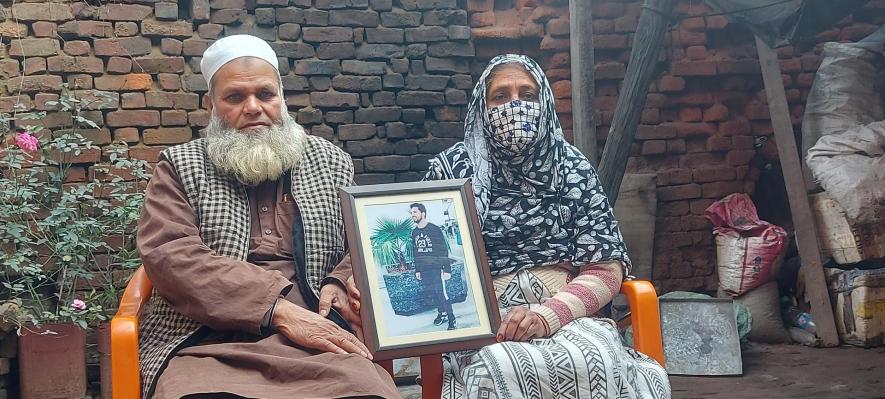 Shamshad Ahmad and his wife hold a photo of their son Shadab Ahmad.
"Dressed in jeans and blazer with an executive lather bag hanging from his right shoulder, I always seem him stepping into my room, which has a separate bed for him. He says, 'Salam'. But as I try to hug him, I wake up to realise that it was just a dream," says the 70-something tall, bearded smiling man, who wants to continue dreaming and never wake up. 
Shadab was arrested under the UAPA on April 6, 2020, under for alleged conspiracy.
After completing BCA, he was employed with an IT company in Delhi's Jagatpuri and supported his father, who is a hawker of baker products at Bashta, Bijnor, where his family of four stays.
"My son raised his voice against the anti-constitutional CAA, which provides a pathway to a Hindu, Sikh, Christian, Buddhist, Jain or Parsi (from Pakistan, Afghanistan and Bangladesh) to get Indian citizenship but not a Muslim," says Shamshad.
"He did not do anything unconstitutional; he only protested to save democracy. But sadly, he has been languishing in jail for the past three years under UAPA," he says adding that "Shadab used to attend sit-ins at different locations in Delhi". 
Shadab was summoned by the police for interrogation a month after the riots. "Following questioning, the investigators used to let him go. But when he was called for the fifth time, he was taken into custody and booked in several cases, including the 'conspiracy' case," he says.
Rubbishing the conspiracy allegation, Shamshad says that "except alleged statements of 'compromised' witnesses, the police haven't produced any substantial evidence to establish the charges against any of the accused".
Showing Shadab's videos shot during the protests in his cell phone, he says, "None of the videos show him making any inciteful statement. He had spoken only within the ambit of the Constitution." 
Shamshad has full faith in the judiciary. "We feel his absence and are in pain. Allah is testing our patience but will rescue us from this situation. My son is innocent. He will be absolved of all the charges and come out clean," the confident father adds. 
Get the latest reports & analysis with people's perspective on Protests, movements & deep analytical videos, discussions of the current affairs in your Telegram app. Subscribe to NewsClick's Telegram channel & get Real-Time updates on stories, as they get published on our website.
Subscribe Newsclick On Telegram