'This System is Reducing us to Nothingness, We Can't Accept it'
Around 5,000 ad-hoc teachers in Delhi University are on strike, demanding one-time absorption. The strike was triggered after the admin reduced their status to guest teachers through a letter dated August 28, this year.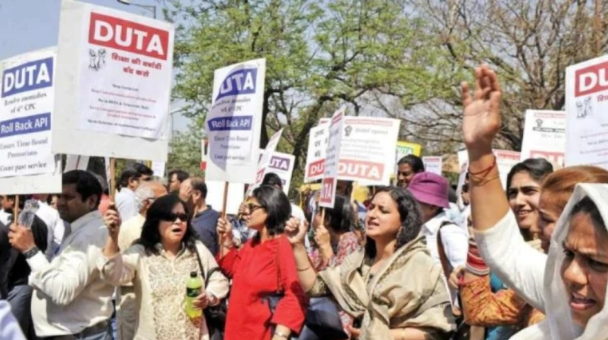 Representational Image. Image Courtesy: India Today
New Delhi: Delhi University teachers have been on strike since December 4 this month to press for their demand of one-time absorption, a move to provide a solution to the long-pending issue of ad-hoc recruitment.
The current strike was triggered after the Delhi University administration reduced the status of ad-hoc teachers to guest teachers through a letter dated August 28, this year. The teachers allege that this letter is only the tip of the iceberg and they can no longer cope with further pressure and humiliation from a system that has denied them a secure job for decades. 
After the outpouring of protesting teachers on the streets, the university administration, the Human Resources Development Ministry asked it to withdraw its letter. It also advised the University Grants Commission (UGC) to the start the process of permanent recruitment in a time-bound manner. 
This correspondent talked to some teachers to know their sufferings, expectations and what they think about the role of a university in a knowledge driven society.
Background
Delhi University is a central university. It is known for its quality of teaching, research, and academic discipline, and annually attracts over one lakh students from across the country for its certificate, diploma, undergraduate, postgraduate and research programmes.
To teach this mammoth number of students, the university, quite understandably, needs a large number of teachers. However, the process of appointments in this premier university has hardly been initiated in the last decade. The university currently employs approximately 10,000 teachers, out of which 5,000 working on ad-hoc basis.
The university, through its colleges, also employs guest teachers. So, Delhi University has three kinds of teachers -- permanent, ad-hoc and guest. The permanent faculty gets all the benefits of allowances and leaves listed by the UGC. However, they allege that they are still awaiting their due promotions and implementation of the Sixth Pay Commission. Remember, Central government employees have already got increased salaries and allowances under the 7th Pay Commission.
The second tier of teachers belongs to ad-hoc teachers, perhaps, the most crucial workforce in the university. These teachers are appointed because colleges have not advertised permanent posts for long. The third tier -- guest teachers -- are employed to discharge teaching duties when permanent faculty is on leave or on any other engagement. 
In this scenario, the teachers went on strike after the Delhi University administration wrote to colleges asking them to discontinue appointments of ad-hoc teachers and convert the positions into guest ones. The university argued that it would be advertising permanent posts and there was no need for ad-hoc teachers.
The teachers, however, do not buy this argument. They allege that the new system makes them feel more vulnerable and economically deprived. While an ad-hoc teacher is employed at the starting salary of an assistant professor, the guest system ensures reimbursement at the rate of Rs 1,500 per class. So, if they teach 20 classes a month, the entire remuneration they get is Rs 30,000, which is lower than the salary of a schoolteacher.
But this is only half the picture. Ad-hoc teachers have been alleging for long that they are being burdened with disproportionate work pressure, often leading to problems their personal lives. 
The Struggles of Ad-Hoc Teachers
Newsclick visited Delhi University to get a first-hand picture of the problems and struggles of ad-hoc teachers, who make up for half of the total teaching strength of the premier university.
It's a usual night in December in Delhi. The temperature has nosedived to 8-degree celsius outside the Vice Regal Lodge in Delhi University. An incomprehensible chatter can be heard among a few people camping outside the lodge that houses the office of the Vice-Chancellor. As we move closer, we see teachers enraged at the state of affairs with regard to their appointments and promotions.
A group of ad-hoc teachers is heard discussing the ways through which they can be absorbed in the university system. While one group is of the opinion that Delhi University should pass a resolution and send it to the MHRD for further action, another group wants Parliament to bring an ordinance. One teacher finds the first option unviable as the resolution is sure to get defeated in the Academic as well as Executive Councils, given the lack of teacher representatives in these decision-making bodies. 
When asked about the perils of the existing system, Deepak Bhaskar, a teacher in Daulat Ram College, said: "This system is turning us into a bad teacher. I guess, I was a much better teacher when I had joined a few years ago. We are under constant pressure to not displease your seniors in order to keep your job safe and can't even express our opinion. The contract of an ad-hoc teacher is renewed every four months. The terms of services are worse than that of a slave. You can be fired any moment without any reason. Do you think a teacher can do teaching-learning in such an environment?" 
To a question on migrating to other countries, Bhaskar said: "It's a fair question. Why do not we move to other countries when this system is not serving us well? But it is this very system that has failed us. Today, I have offers from three private universities, including one in Ethiopia. But how many teachers will get this opportunity? People have served here for 15 years because they were told that interviews will be conducted soon. That has not happenned. Second, we all were taught in public-funded education systems. It became a ladder for our social mobility. When we teach students from the unprivileged sections, we see our pasts in them. We see our future in them. No private university can give you this opportunity. This system is reducing us to nothingness, and we cannot accept this. We performed our duties for years. Now, we want our rights." 
Pankaj Sarma, a teacher at Kirori Mal College, while speaking on the crisis in the country' higher education, said many teachers have had to abandon family expansion and other major decisions in the absence of a secure job.
"I know several friends who are getting married or extending their families. Leave the personal issues aside. A teacher is expected to do a lot of research. But can ad-hoc teachers do research? Certainly not. We are not eligible for research funds by the Indian Council of Social Sciences Research or any other research institute. We cannot convene seminars. As far as moving out is concerned, where can we move? I hail from Assam. The state has two Central universities but with limited courses and departments. Tezpur University does not have a political science department," said Sarma.
Another teacher, Seema Mathur, said that this was her tenth year as an ad-hoc teacher. Addressing a gathering outside the VC's office, she said, "Most of the female teachers plan their babies in a way that it does not affect the academic calendar. For this, the babies must get delivered in the summer vacations or else we may be asked to leave. Second, it is often argued that ad-hoc teachers are afraid of facing interviews. This is a blatant lie. I have been interviewed 20 times, but I still do not have a secure job. This is nothing but abuse of human rights."
Corroborating these accounts, Abha Dev Habib, Former Executive Council Member, Delhi University, said: "I also worked for five years as an ad-hoc teacher from 2001-05. As ad-hocs do not get maternity leave, we had to plan our baby so that we could use the summer vacation. We were lucky as it worked out for us. Today, much worse is happening to many more teachers. As appointments have hardly taken place in the past 10 years and over 4,500 teachers are working on ad-hoc basis, the magnitude of the tragedy has increased. This has created exploitative situations in which ad-hocs work, she said.
Habib added: "We need to understand that government policies are behind denying permanent positions to teachers across State and Central universities. We need to remember that our present will be students' future. Right now, our present is dark. We appeal to students and parents to stand by us. We appeal to MHRD to open a dialogue so that absorption can be made a reality and DU can be given much needed stability."
Meanwhile, a lean man walks up to the center stage to narrate his story. Vinod Kumar teaches at Vivekanand College. He tells the audience to record his story because it's more dramatic than a film. Born in a farmer family, Vinod endured all obstacles to teach in Delhi University.
"No member of my family is literate. I learned while selling peanuts in buses. I saw a well-dressed person in a bus. I asked people why he was so well-dressed.  People told me that he was well qualified. I vowed that I too will be like him. I somehow passed my 12th class. Since my family could not afford my studies, I sold vegetables in Jodhpur to fund my education. I did my graduation. Then the same hurdle resurfaced -- money. Then someone told me to go to Jawaharlal Nehru University because it was the only university I could study without much pain and financial pressure. When I arrived at the university, some students, who later became friends, gave me shelter and food. I studied hard and cracked the entrance. When I had joined the university, I was the least performing student. When I left it, I was among the toppers," said Kumar.
He went on to recount: "A few years later, my wife was expecting a baby. The doctors had warned me about complications. A few months later, my baby died due to a lack of treatment. Had I been a permanent teacher, I could have saved my child." 
Psychologists believe that constant pressure has a worse impact on expectant mothers. C P Kapoor, a teacher of Psychology at Vivekanand College, said: "The quality of life of these teachers is worsening. It adversely affects cognitive and behavioural ability. We know of female teachers who miscarried their babies because they could not cope with the pressure."
New Education Policy to Increase Vulnerability
The teachers' apprehensions are also fuelled by the New Education Policy. They believe that the new policy may wreak havoc on public-funded institutions. Citing one example, a teacher, who requested anonymity, said the policy talks about the introduction of a tenure track system under which the performance of teachers will monitored for years and only then they will be given permanent status. Recently, the IIT Council gave its nod to the system under which the new faculty's performance will be monitored for five years.
Kumar said this system was being imported from the United States.
"The policy makers must understand that the realities of India are very different from the US. We know the biases, both casteist and communal, that exist within the system. If a young talented boy or girl comes from the marginalised background, s/he can be easily hounded. We have seen this happening in campuses. We saw how Fatima Lateef was harrassed in IIT Madras," said Kumar.
Also, there is need for a system where the poor can access universities and study. "With the provisions advocated by the NEP, the fee is bound to increase multi-fold. Whatever lacuna we have, this very system created the largest diaspora of Indians who were taught in these universities and institutes. In one stroke, one cannot the reject the contribution of our universities. The new education policy undermines it", Kumar adds.
Get the latest reports & analysis with people's perspective on Protests, movements & deep analytical videos, discussions of the current affairs in your Telegram app. Subscribe to NewsClick's Telegram channel & get Real-Time updates on stories, as they get published on our website.
Subscribe Newsclick On Telegram