This is what We Feared: Sanjay Tickoo on the Rising Attacks in Kashmir Since March
Kashmiri Pandits had warned that The Kashmir Files movie made them and others who lived in the UT more vulnerable; appeals for enhanced security have fallen on deaf ears.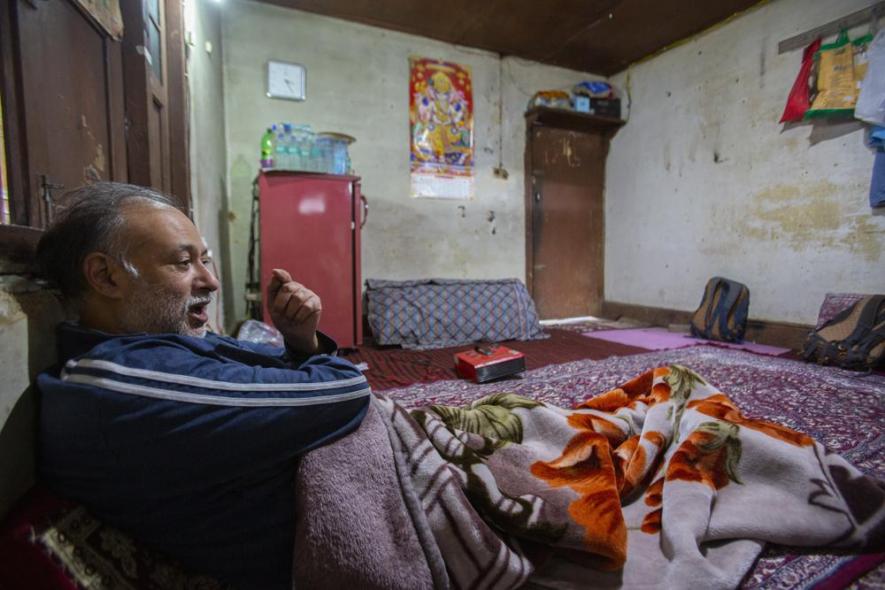 Sanjay Tickoo |  Image courtesy: AP Photo/Mukhtar Khan
Violence has once again been unleashed in Jammu and Kashmir, and the victims are migrant workers and members of the Kashmiri Hindu minority community.
On Sunday, suspected militants shot at and injured a driver and a conductor, both from Pathankot in Punjab, at Nowpora village of Litter, reported the Indian Express. One of the men was hit in the chest and is serious. A senior police officer told the publication that the purpose of this attack seemed to be "to create fear among migrant workers and drive them out of the Valley. Otherwise, the militants could have easily killed them if they wanted."
Then, on Monday, Patlashwar Kumar and Jakku Chowdary from Bihar who were working as labourers in Kashmir were shot at, reportedly by unidentified gunmen in Pulwama district. According to a report in India Today, the two are under treatment now. One of the men was shot in the chest and the other had a leg injury. As per a report in the IE, hours later, on Monday evening, "suspected militants fired at a Kashmiri Pandit in South Kashmir's Shopian." 
"This is what we feared," said Sanjay Tickoo, President of the Kashmiri Pandit Sangharsh Samiti, a group devoted to upholding and defending the rights of non-migrant Kashmiri Pandit families. When the Kashmiri Pandit exodus took place, 808 families stayed behind, and even today, continue to live in refugee camps in the Valley. They had raised safety concerns in wake of the release of the movie The Kashmir Files. "We were expecting this [violence] when the movie came out… This is the outcome of this movie, I have said it before. I also said we don't know how many poor people will be killed in the future," reminded Tickoo and further said, "Even yesterday, a Kashmiri Pandit was shot at, three times, and seriously injured."
Tickoo had previously told SabrangIndia that The Kashmir Files had made "resident Kashmiri Pandits unsafe." KPSS is a partner organisation of CJP, and it has been closely observing the hate generated online and offline soon after the movie was released. In fact, CJP had also pointed out the possible impact of a movie like this, especially given how different senior members of the government had been promoting it, despite there being some distortion of facts under the guise of artistic license. We had invited all Indians to join us as we petitioned all Chief Ministers, top police officials and administrators of all Union Territories to step in and put an end to the prevalent culture of hate, in order to prevent blood from being spilled on the streets. We had also appealed for the setting up of Mohalla Committees, or groups of local residents in each neighbourhood that will interact with the local administration during a crisis situation and prevent an escalation of violence, as well as protect vulnerable minorities. You too can sign the petition here.
Meanwhile in Kashmir, the victim of the incident referred to by Tickoo has been identified as Bal Krishan, of Chotigam village, and according to a report in the Indian Express, he remains "in a critical condition." The attack on him on Monday, April 4, was the first on Kashmiri Pandits this year. In October 2021, militants had shot dead a well known businessman, Makan Lal Bindroo at his shop in the high-security zone of the Iqbal Park area of Srinagar. Makhan Lal Bindroo had been settled here since 1947. Other victims of violence at this time included a street food vendor named Virendra Pasan, and Mohammed Shafi Lone, a resident of Naidkhai village, who headed Sumo Car Stand, an association of taxi owners in Shahgund village in Bandipora. Then school principal Deepak Chand and a female teacher Supinder (Satinder) Kour were killed in Safa Kadal area of Srinagar. 
Anguished at the series of attacks on minorities and Muslims by terrorists in the Valley, Sanjay Tickoo had told Sabrangindia at the time that repeated pleas with Lt. Governor Manoj Sinha to enhance security for Pandit families had gone unanswered. It is noteworthy that though security had been provided previously, it was withdrawn in 2016, leaving the minority Kashmiri Hindu non-migrant families vulnerable! "Welcome back to 1990," Tickoo had said at the time, a chilling warning of what was to come.
Now more innocent lives have been lost, most of the victims are economically weak people working hard to make a living. "Yes. Bal Kishan Bhatt is just around 40, and runs a medical shop. This month is very crucial. All these attacks are (the result of) intelligence failure, and there are no punishments given for that," said an anguished Tickoo recalling that it was the government who in 2016 had "removed security covers" in over 200 vulnerable areas. "We keep asking for security, but the government ignores it. The establishment is not listening. They must see to the security of the people," he says. According to Tickoo, even locals share inputs with the authorities. "Act on those inputs by citizens. They should be taken seriously and acted on. They [administration] just hear them, and say 'ok'. Then an attack happens. Attacks are rising…" he warned. 
In Monday's attack, a CRPF personnel was shot dead, and the two migrant workers from Bihar were injured in the heart of Srinagar's crowded Maisuma neighbourhood, reported IE. Head Constable Vishal Kumar succumbed to his injuries at hospital. The attack on migrant labourers was the second in two days and the fourth in a fortnight, reported IE and other media. All of the attacks were reported from South Kashmir's Pulwama district. The report cited another attack on March 19, by suspected militants in which Mohammad Akram, a carpenter from Uttar Pradesh, was targeted. This was followed, just two days later, with an attack on Biswajeet Kumar a labourer from Bihar, who was shot at. 
In a bitter irony, these attacks took place even as the government told Parliament that 30 people from outside Jammu and Kashmir have purchased property in the Union territory" a sensitive issue in the Valley, reported IE. According to the news report, on Monday, a team of the Delimitation Commission arrived in the UT to hold public consultations over redrawing of constituencies. 
Tickoo had said last month, that he feared The Kashmir Files will only "polarise communities, spread hate, and even fuel violence that people of Jammu and Kashmir, and elsewhere do not want repeated ever again." His words of warning have been prophetic. 
Get the latest reports & analysis with people's perspective on Protests, movements & deep analytical videos, discussions of the current affairs in your Telegram app. Subscribe to NewsClick's Telegram channel & get Real-Time updates on stories, as they get published on our website.
Subscribe Newsclick On Telegram